Hatch Baby Reviews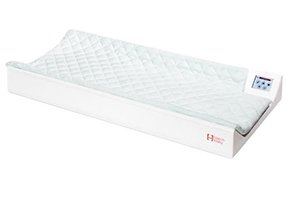 The Hatch Baby changing table with smartphone connectivity can help you keep track of your baby's weight, feeding information, diaper changes, and much more.
About Hatch Baby
And you thought being pregnant was exhausting!
Caring for a another human being is a ton of work. Right now, your world seems upside down and you're constantly worried that a) you're doing the right thing and b) your baby is as healthy as possible.
Well, Hatch Baby just might be able to give you some peace of mind. This smart changing table makes it easy to track your baby's weight, length, feeding information, diaper changes, sleeping, and more, and then sync everything directly to your phone.
Upcoming pediatrician's visit? You'll be able to export the information to your physician. More than one caregiver? Share your account so you can both view and track. Going back to work soon? Feel more connected with your precious baby during the day.
But here's the question: Sure, it seems great to have as much information as possible at your fingertips, especially when it comes to your child. In the grand scheme of things though, how useful with this information actually be? And how much extra time will it take out of your already hectic schedule to constantly track it?
We know you're busy, so we'll try to make this as brief as possible. But we also want to make sure you have everything you need to make an informed decision about Hatch Baby. So, let's start with the details.
Hatch Baby's Form & Function
Founded by Ann Crady Weiss after she constantly worried if her new baby Maya was getting enough breast milk to gain weight, Hatch Baby claims to be "reinventing the nursery" by offering "a connected version of the traditional foam diaper changing pad."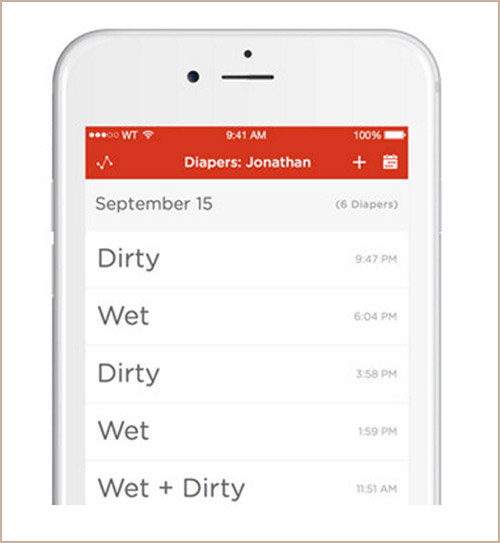 A sample of Hatch Baby App showing your baby's diaper schedule
What You'll Be Able to Do With Hatch Baby
With it, you'll be able to automatically track your baby's diaper information and weight before and after each feeding (measurements to the 0.25 ounce, or 10 g/ml in metric), and compare their growth percentile with standards published by the World Health Organization (WHO). Then, the Hatch Baby changing table will send this information to your iOS or Android app, where you can track and view it by daily, weekly, and monthly averages.
With the Hatch Baby app, you'll also be able to manually track your baby's growth, sleep times and patterns, and feeding data (amount, duration, etc.). You can even upload photos and instantly export all your data to your physician via email.
Hatch Baby's Tech Specs
Taking a quick glance at the pictures of Hatch Baby, it looks pretty much like any other changing station. You've got a white plastic BPA and phthalate-free base that slopes up at the edges to keep your little one in place. On top, there's a quilted pad made of machine-washable polyester microfiber, next to which sits a small touchscreen display.
Overall, this brings Hatch Baby to a weight of about 9 pounds, and a size of 31" X 15" X 3.5". In other words, it should fit fine on most standard changing pad tables.
The Hatch Baby changing table runs on 4C batteries that will last at least 6 months, and will communicate with your smartphone via an 802.11 b/g/n 2.4GHz network. Speaking of which, you'll need to be running at least iOS8 or higher or Ice Cream Sandwich version 4.0 or higher in order to use the app.
Although you can only track one child (or twins) with the Hatch Baby app, you can download it to as many smartphones as you like, and can even invite others to share your account (such as a nanny or caregiver). This way, you can stay up to date while you're at work or running errands.
And with its "innovative, modern" design, you won't have to worry about any small or dangerous parts (you've already got enough on your plate!).
How much will all this innovative technology cost you?
Hatch Baby's Pricing
Each Hatch Baby smart changing table is currently priced at $199, and you'll have the choice of four different quilted pad colors: Sky, Rose, Ash, or Sand.
You'll also be able to purchase additional soft pads for $29.99 each.
Note: As of this writing, Hatch Baby was only available within the continental US.
All Hatch Baby changing tables come with a 30-day refund policy, less S&H charges. Keep in mind that it needs to be in new, unused condition with original packaging in order to qualify. You'll also have a 1-year warranty in place.
Given all these features and its relatively reasonable price (especially from a new tech perspective), what's everyone saying about Hatch Baby?
Is Everyone Raving About the Hatch Baby Changing Table?
As such an innovative product, Hatch Baby has received a lot of media attention, with articles in popular publications like TechCrunch, Forbes, CNBC, and more. However, these were high-level overviews and didn't provide any hands-on insight.
The blogs A Mommy In the City, Project Nursery, and Pregnant Chicken did get to try the Hatch Baby changing table and tell us about their experiences. Mommy In the City calls it a "game changer," Project Nursery found it easy to set up and use, and Pregnant Chicken concluded: "Is it an essential baby item? Probably not. Would I have found it helpful when I had a newborn with my data-loving type A personality? For sure."
Is There Any Real Advantage to the Hatch Baby Changing Table?
Even as a parent of two young girls, I immediately dismissed Hatch Baby as just another piece of tech that might complicate your (and your baby's) life more than it helps. Sure, it's cool that you can track different important data, but other than weight, you'll have to manually enter every other piece of information (length, diaper change information, feeding times, sleeping, etc.). And with a newborn, who's got time for that?
However, every new parent inevitably worries that their baby is getting enough food to grow properly (especially if you're breastfeeding), so the fact that Hatch Baby automatically monitors weight might make it worthwhile alone. And when you add to this that your child's diapers are the first thing your pediatrician will ask you about during each visit, having detailed information readily accessible can also be of immense help.
On the other end of the spectrum though, if you have a fretful personality, then you might experience some information overload with Hatch Baby, or worry that something's terribly wrong if your baby gains 0.5lbs less this week than last.
But other than the Withings Smart Kid Scale, there doesn't seem to be anything quite like Hatch Baby. So if you're in the market, your options are fairly limited. Will it be able to compete with other products in the same space? Is it worth the higher price? Will any Sharks invest? We'll just have to wait and see.
Love it.

Saw on Shark Tank. Called my daughter and told her about it and got it for her baby, had it waiting for her. We all love it. I even get an email when my daughter feeds or changes her and and I love the daily picture. Great invention.

Bottom Line: Yes, I would recommend this to a friend

---

Advertisement

---