Haven Life Reviews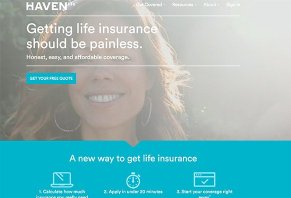 Using a proprietary algorithm and an online application, Haven Life can approve your term life insurance policy in less than 20 minutes, without a medical exam.
What Is Haven Life Insurance?
Compared to the traditional process of buying life insurance, which can be confusing and time-consuming, Haven Life's proprietary technology promises to help you purchase fully medically underwritten term life policies online in less than 20 minutes.
Or, as Haven Life puts it, they're focused on making the process easier, faster, and better. In fact, we're told the process works over just three steps:
Calculate how much insurance you need.
Apply in under 20 minutes and get an immediate decision with InstantTerm.
Start your coverage right away.
Qualified, healthy applicants won't be required to submit a medical exam and all policies—which are backed by MassMutual, a 160-year-old life insurer—are said to be written in plain language and are not based on commission.
Despite this, Haven tells us they're able to offer up to 10 times more affordable, comprehensive coverage than traditional no-exam policies.
Clearly, Haven Life's business model offers some distinct differences compared to the competition. But does that necessarily mean they're the right option for you? This is the primary question we'll help you answer here.
Your Quick Reference Guide to Term Life Insurance
The Haven Life website does a good job of outlining the essentials surrounding term life insurance, as well as how to determine your needs and choose a policy, so we won't rehash everything here. However, it's important to quickly reiterate some basic ideas to ensure we're all on the same page.
As the name implies, term life insurance only provides coverage for a certain amount of time and is only intended to help your family if you pass away unexpectedly. This is in contrast to whole life insurance, which provides lifelong coverage and can even accumulate cash value over time.
Because of this structure, term policies are considered the most basic form of life insurance, but they also tend to come with the lowest annual premiums. As a result, term life insurance policies can be a solid choice if you're looking to pay as little as possible, or only need coverage for a certain period (such as when raising children).
Pro tip: Some term life insurance policies can also be converted into whole policies before a certain date, which might be worth checking into if you're looking for the best of both worlds.
Just keep in mind that, unlike many whole policies, term life insurance premiums (whether from Haven Life or another company) tend to increase as you get older. So, while their price-to-coverage ratio might be ideal when you're younger, this might dwindle as the years go by.
Need help figuring out which option is best suited to you? Be sure to speak with your financial advisor or planner.
Haven Life Insurance Pricing & Qualification Criteria
Just like any other type of insurance, exactly how much you'll pay for your Haven Life insurance policy can vary a great deal, depending on your risk factors. These include:
Age
Gender
Current health (especially whether or not you smoke)
Amount of coverage needed (between $100K and $1M)
Policy length (between 10 and 30 years)
With this said, running some quick quotes (30-year old male, 20-year term, very good health) on the Haven Life website returned premiums ranging between about $11 ($100K coverage) and $48 ($1M coverage) per month. If you smoke, you could pay several hundred times this, though!
From an eligibility perspective, to qualify for a Haven Life policy, you much be a non-military U.S. citizen age 18–65, have a valid U.S. driver's license, and not intend to use the policy for business purposes, or to replace another policy.
You'll also have to live in a state other than California or Montana, although the company claims they'll be expanding soon.
What happens after you press the enter button? Haven Life's algorithm will perform basic underwriting using information provided in the application process, including 1) information form your past life and health insurance application, 2) medications you've taken in the past or are currently taking, and 3) even motor vehicle records.
Have additional questions? Haven Life customer support can be reached at 855-744-2836 and help@havenlife.com.
Based on these prices, are Haven Life policyholders reporting positive feedback?
What's Everyone Saying In Their Haven Life Insurance Reviews?
From a company perspective, Haven Life was founded in 2015 after co-founder Yaron Ben-Zvi and his wife experienced long waits and frustration trying to take out a life insurance policy when expecting their first child.
Before co-founding Haven Life, Yaron co-founded GoalMine.com and Coverpath, which helped employees quickly figure out how much life insurance to buy from their employer plan.
However, it's important to note that Haven Life is only the agency selling you the policy. On the other hand, your coverage will be issued through MassMutual, the eighth largest health insurance policy writer as of 2015, who wholly owns and backs Haven Life.
In other words, it might be easiest to think as Haven Life as MassMutual's online term life insurance portal.
MassMutual has been in business for more than 160 years and, at the time of writing, had an A.M. Best financial strength rating of A++ (superior).
On TrustPilot, Haven Life had an average rating of 9.2 stars, based on 95 customer reviews. There, most compliments seemed related to ease of use, efficiency, helpful support, and competitive rates.
What few complaints there were seemed to revolve around service or underwriting issues.
Many of the same compliments and concerns were noted on Consumer Affairs, where Haven Life had an overall rating of four stars.
Long story short? Haven Life seemed to have mostly positive online feedback from clients. And when complaints were present, the company seemed to respond in an attempt to rectify the situation.
But is it the same with other no-exam term life insurance providers?
Haven Life vs. Other No-Exam Term Life Insurance Companies
Type "no-exam term life insurance" into any search engine and you'll quickly learn there are hundreds of different companies—spanning thousands of different plans—competing for your business.
As advertised, the biggest difference between Haven Life and these other companies is their online portal, which, if everything goes as planned, means you can have coverage in less than 20 minutes. And without a medical exam.
However, this doesn't mean they're the only game in town. Remember: Haven is simply the online portal—the technology—that allows MassMutual to qualify and price new term life insurance applications. In a very real way, they've replaced a physical underwriter with a proprietary algorithm.
What's the point? SoFi and Protective Life have recently joined forces to accomplish much of the same. Like Haven, they claim to provide no-exam coverage up to $1 million, deliver decisions in less than 20 minutes, and are backed by a carrier with 100+ years in business.
In fact, Haven and SoFi Protective Life utilize almost identical questionnaires to help you determine appropriate coverage limits!
We even found they provided similar pricing. For a 30-year male in very good health, SoFi Protective Life's premiums ranged between $11 ($100K coverage) and $51 ($1M coverage).
Outside of this, the only major difference we noted was available terms. While Haven Life provided policies ranging between 10-30 years, SoFi Protective Life's were limited to 15-20 years.
From a user perspective (after all, we're consumers too!), we found SoFi's website slightly more informative, since it provided clear definitions as to what differentiated health levels ("very good" vs. "good," for example), along with some eligibility criteria.
What's the Bottom Line About Haven Life?
Algorithm-based underwriting has swept the lending industry over the last couple years—even giants like Quicken have entered the marketplace with Rocket Loans—so it was really just a matter of time until this same approach entered other underwriting-based markets like life insurance.
You can almost certainly expect the trend to continue.
For the time being, though, if you're looking for a no-exam term life insurance policy that can a) be completed completely online and b) provide coverage in less than 20 minutes, your only current options are Haven Life and SoFi Protective Life.
Both seem to offer similar underwriting approaches, coverage limits, and pricing, so the biggest deciding factor might be whether you're looking for the broader coverage terms provided by Haven Life.
Just keep in mind that, in either instance, the "no-exam" benefit won't always apply, which might be especially the case if you're looking for higher limits, are older, or aren't in the best of health.
Expensive, risky, deceptive practice to allure customers

By Steve K.

,

Texas

,

Jun 27, 2018
Verified Reviewer

First, Haven Life is expensive.

Second, Haven Life is a new company with not very strong finance compared to large insurance companies. That means it might not exist after 30 years.

Third, Haven Life advertises that it does not require a medical exam. But, that is not true. After spending almost one hour on the application, you will meet the statement that you need to have a medical exam. Haven Life will lie anything to make people apply. Haven Life does not care whether you wasted your valuable time or not. All Haven Life cares is to make you apply.

Bottom Line: No, I would not recommend this to a friend

---

Advertisement

---