HD Mirror Cam Reviews
Claimed This company has claimed this profile, is getting alerted on any new customer reviews entering this page, and may engage in dialogue with its customers to address their matters.

Companies cannot pay money or provide goods in order to remove or alter customer reviews.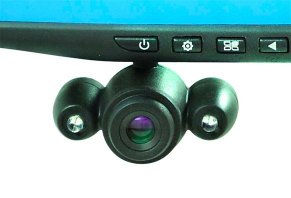 HD Mirror Cam is a dashboard camera that attaches directly to your car's rearview mirror, records in full HD, features an adjustable wide angle lens, and more.
What Is HD Mirror Cam?
Featuring a built-in 2.5" LCD, HD Mirror Cam installs in seconds and acts as a temporary replacement for your factory issued rearview mirror, while providing the ability to capture video, photos, and audio.
Using this LCD (with screen shut off mode for safety while driving), the device allows you to immediately view your footage and other media, or download it directly to a computer with the included SD memory card reader.
Like many other models, HD Mirror Cam's motion detection allows you to record even when you're not in the car, while the automatic ignition start will begin recording when you turn your car on, and then stop when the ignition is turned off.
Unlike the competition, though, the company claims it comes with exclusive night vision that automatically adjusts for different levels of light.
It certainly seems like HD Mirror Cam includes a lot of must-have features. But will it deliver meaningfully better value in the long run? Let's kick off our conversation by taking a closer look at the device's features.
How Does HD Mirror Cam Work?
Perhaps the easiest way to think of HD Mirror Cam is as a standard rearview mirror, but without an arm that attaches to a windshield. Instead, it uses two flexible rubber straps that attach to the top and bottom of the device, which then wrap around the back of your existing mirror.
Directly underneath is the device's rotating camera, which features a central lens and one infrared LED on each side. These emit a specific wavelength of light that allows the camera to see clearly at night, which is a very common technology found in these types of cameras.
Everything the camera records is displayed on the built-in 2.5" LCD, which can also be switched off to maximize mirror space and avoid distractions while driving.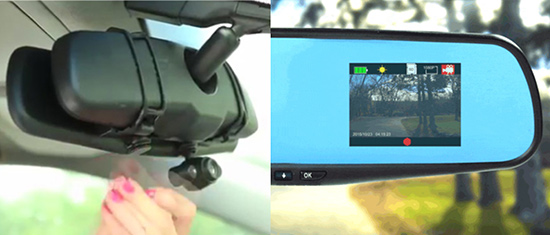 In the left image, we can see how HD Mirror Cam attaches using flexible rubber bands, while the right image shows the 2.5" display. Image credit: Taken from www.hdmirrorcam.com June 2017
How Much Does HD Mirror Cam Cost?
One HD Mirror Cam is priced at $49.99 plus $9.99 S&H, although the site indicates you'll earn free S&H if you order two or more.
Each camera comes with a car charger/adaptor, two soft bands, a USB SD card reader, an instruction manual, and mounting wire clips.
Note: The commercial indicates you'll be able to upgrade your kit to include a micro SD memory card for as little as $7.99, although this offer wasn't presented when we attempted to check out. However, third-party options could be found elsewhere online for between $15 and $60+, depending on storage size.
All HD Mirror Cams come with a 60-day money back guarantee, less S&H. You can request one by contacting customer support at 323-375-1042 or customerservice@inventel.tv.
Which Features Should You Look For In a Rearview Mirror Camera?
Even if you recently started researching dashboard cameras, you probably already recognize that there are thousands of different options available, in all sizes, designs, and price points. How can you choose the best model for your needs?
While they admit there are many more, CarCamCentral lists three key features they always look for when purchasing a dashboard camera:
1. Messaging – They recommend looking for "persistent and highly visible written messages," and even audible warnings. Why?
Because these cameras (and the SD cards they contain) are repeatedly exposed to big temperature fluctuations and humidity, so failure is inevitable. And you want to know about any potential problems before you get into an accident.
2. Video Quality – The higher the video quality, the more protection you ultimately have (and that's probably why you're thinking about purchasing one in the first place, right?), since you'll have a better chance of catching details like a license plate number or a person's face after a hit and run.
3. Battery – If no battery is present, then the camera can't record once your car is turned off.
From these perspectives, HD Mirror Cam seems to check most of the boxes, although some of the customers above reported that its video quality left something to be desired. Are there any other noteworthy points?
Important Points to Consider About HD Mirror Cam
There are some other important considerations to keep in mind before deciding on any dashcam option:
How visible do you want the camera to be? While HD Mirror Cam attaches to your rearview mirror and won't impede your line of sight, it seems like it could add a meaningful amount of bulk (aesthetically or otherwise). Also, you'll need to be comfortable with the added wires running along your windshield and dashboard.
Next, while HD Mirror Cam claims to record up to 14 hours (on an endless loop, if you choose), remember that this wholly depends on the size of your SD card. Which, again, isn't included with your order.
We've mentioned this aspect in some of our other dashboard camera articles, but keep in mind that HD Mirror Cam can only record in one direction at a time. So, if your vehicle is parked while motion detection is activated, and the camera is pointed forward (for example), it likely wouldn't do much good if someone broke in through your driver's side door.
If a situation like this is your primary concern, some companies manufacture dual-lens (or two-channel) dash cams that simultaneously record front and back (or any other two directions you'd like), usually with a picture-in-picture real-time display.
Lastly, it's certainly positive that HD Mirror Cam features night vision, which uses two infrared LEDs to emit a wavelength of light not visible by the human eye, although it can be detected by the device's camera.
This way, these LEDs provide illumination for the camera, without causing a glare off the windshield, which could lead to distorted video quality and impeded vision for the driver.
While useful, this type of night vision is a common feature found on dashboard and rearview mirror cameras at most price points.
What Can We Learn From HD Mirror Cam Reviews?
Since writing our original article, 29 HighYa readers provided feedback about their experiences with HD Mirror Cam, giving the device an average rating of 1.8 stars.
Here, common compliments referenced ease of use and solid value, while complaints seemed related to lower quality than expected, difficult customer service experiences, and ordering concerns (primarily higher charges than expected and a drawn-out automated ordering process).
We also encountered more than 29 customer reviews on HSN.com, where HD Mirror Cam had a slightly higher average rating of 3.7 star rating. Except for ordering concerns, many expressed the same compliments and complaints as those found on HighYa.
From a company perspective, HD Mirror Cam is manufactured by Inventel Products, a popular ASOTV company who's responsible for other hits over the years.
Granted, our goal isn't to insinuate that you'll experience any of the same—only to make sure you have everything you need to make a fully empowered buying decision.
Our Bottom Line About the HD Mirror Cam
Obviously a final—and perhaps the biggest—factor to consider is price. And at $60 including shipping, HD Mirror Cam seems very reasonable priced compared to the competition, some of which could exceed $200 at the time of our research.
If you watched the full 15-minute video from CarCamCentral above, they outlined that purchasing a new dashcam largely comes down to a mixture of 1) cheap, 2) reliable, and 3) high performance.
In other words, you might find an option that leans heavily toward high performance, although it might not be very inexpensive. Or, if you focus on the lowest possible price, you could sacrifice performance and reliability.
And with some of HD Mirror Cam's essential features like HD 720p video, a 350° rotating camera, and one-touch photo snap, it might be the case that this option provides an even balance between these factors.
And if you find that it doesn't, Inventel seems to stand behind the device with a two-month return policy. Just keep in mind you'll lose your initial S&H, plus whatever it'll cost to ship back.
Article Last Updated on June 9, 2017
---
Waste of money

By Chris Hatcher

,

Philadelphia, PA

,

Jun 26, 2017
Verified Reviewer

Save your money people. The rear view mirror vibrates a great deal, and the parts inside can be heard shifting around. It say's it can be set for up to 10-minute loop time, but it only goes as high as 5 minutes.

I contacted the customer service people and got a vague reply that led nowhere. When you set the motion activation feature, you can forget about catching anything that might happen while in the store or your driveway, because when you shut off the vehicle, the motion action resets to off and you have to turn it back on every time you restart the unit. If it is a bright sunny day out, the screen is nothing but glare.

I contacted returns to return it, but get no reply. The next step will be consumer affairs and local news. As far as getting a ticket for using other makes, any officer will tell you as long as they are not in direct line of site, you have no problem. Most people have more obstructions hanging on their mirrors.

Bottom Line: No, I would not recommend this to a friend

Jun 28, 2017

Hi Chris,

We sincerely apologize for your experience. Our customers, their opinions, and needs are very important to us. So please give us a call at (323)-375-1042. Together we can resolve the issue, and we can send you a replacement.

Thank you,

InvenTel Products

---

Terrible customer service

By David F

,

Oregon

,

Jul 13, 2017
Verified Reviewer

This was bad from the start. First, I was on the phone for 20 minutes to place a simple order for two units. Then, I got switched up to "save $25" on my order by buying into two other services.

I got a charge on my credit card for 3 units even though nothing was shipped! I checked the tracking and was told everything was on backorder and that when (if) I got the package to just send one back.

As of today, I did see two credits on my credit card except for $68 which I have no idea why I didn't get a full credit.

Seriously, I will never, ever buy from a TV commercial again!

Bottom Line: No, I would not recommend this to a friend

Sep 26, 2017

Dear Customer,

We apologize for the inconvenience. We would have been more than happy to help you, please get in touch with us for any future issues at 323-375-1042 or customerservice@inventel.tv

---

Defective product

Everything was fine until the LCD went bright white. Unfortunately, it was outside the 60-day return window, and the company would not replace it; so, I'm out the money. I will never use this product again and won't recommend it to anyone else.

Very bad customer service!

Bottom Line: No, I would not recommend this to a friend

Jul 13, 2017

Hi William,

We apologize for your experience with our product. Please give our customer service a call at (323)-375-1042. Together, we can come up with a solution, whether it's replacing your product or refunding you in a check. We would be happy to help you for your satisfaction. We hope to hear from you.

Thank you.

---

Worst service

I canceled my order within hours of ordering, and it was shipped anyway. I called immediately on receiving it, and the customer service rep was to send a return label. It has been about a week and a half and no return label. I called customer service and was on hold for OVER ONE HOUR without a response.

Bottom Line: No, I would not recommend this to a friend

Sep 26, 2017

Dear Customer,

We apologize for the inconvenience. We would have been more than happy to help you, please get in touch with us for any future issues at 323-375-1042 or customerservice@inventel.tv.

---

Advertisement

---

No SD card

By Ann Degen

,

Michigan

,

Jul 29, 2017
Verified Reviewer

It states in both brochures included with the HD Mirror Cam that the micro SD card is included. They are not! I contacted them, and they insist the cards are not included even after I sent them copies of their own paperwork stating that the Micro SD card is preloaded in the Micro SD slot. I sat on hold with their customer service for over 25 minutes and never did speak to anyone. I finally just emailed them.

Bottom Line: No, I would not recommend this to a friend

Aug 8, 2017

Hi Ann,

We are sorry to hear about your experience. Fortunately, we can work together for a solution. Please give us a call at 862-437-1114 ext 6604, and I will personally work with you to solve your problem by sending you your SD cards. Thank you and we hope to speak to you soon.

InvenTel Products

---

Do not buy this product!

My unit lasted two months before it died. I cannot get in touch with anybody.

Do not buy this product!

I purchased this a few months back from Walmart. It stopped working after one month, and I have spent five months trying to get a refund from Inventel HD Mirror Camera.

Finally, they said they would help me and send me a return label. After waiting for three weeks and no return label, I called them back and was told they could no longer help me.

Walmart and Amazon stopped carrying the product because of extremely poor ratings and lack of Inventel HD Mirror Cam customer service.

Bottom Line: No, I would not recommend this to a friend

Sep 26, 2017

Dear Customer,

Since you purchased the product from Walmart, the return has to be done by Walmart, but we will be more than happy to assist you if you can call us on 323-375-1042 or email us on customerservice@inventel.tv.

---

Order never sent

I ordered two of these HD Mirror Cams on 8/14, and although I was to get free shipping, I opted for Priority Shipping. The next day I received an email saying that the UPS label has been created. UPS said to expect delivery on 8/18 by the end of day. I called customer service on 8/21 to check on the status of the order. After being on hold for some 30 minutes I informed the person that UPS tracking shows that they have not picked up packages. I was told that they were shipped on 8/15.

I sent an email on 8/23 to customer service asking for some help on this matter. I explained that I work for USPS and could not understand why I was being told one thing that is not true. I did not get a response until four days later. As of yesterday, 8/28, UPS has not received the package. I canceled my order this morning via email. Wish me luck.

Bottom Line: No, I would not recommend this to a friend

Sep 26, 2017

Dear Customer,

The item is was shipped and delivered to you via UPS tracking #1Z87214FYW90176128, and delivered on Saturday, 02/09/2017 at 16:25.

If you any further issues, you can call us at 323-37-51042 or email us on customerservice@inventel.tv.

---

Don't buy

Atlanta, GA

,

Sep 1, 2017
Verified Reviewer

I was satisfied with the HD Mirror Cam until the operation became flaky and it quit altogether. I have had it a little over two months, just beyond the warranty period. I actually bought two and have not installed the second one yet. I will do that but have no expectations that it will last any longer.

Bottom Line: No, I would not recommend this to a friend

Sep 26, 2017

Dear Customer,

We apologize for the inconvenience. We would have been more than happy to help you, please get in touch with us for any future issues at 323-375-1042 or customerservice@inventel.tv.

---

Not reliable service!

By Tonumaipea

,

San Diego, CA

,

Sep 5, 2017
Verified Reviewer

I ordered two cameras on 8/12/17 and received an email receipt that the order shipped on 8/15 and my credit card has been charged, which had a tracking number that did not exist in the UPS system. I waited a few days and checked UPS again, but the number still don't exist.

On 8/22 I sent an email to the address on my receipt and received no response. I sent another on 8/25 and still got no response. So I called and spoke with Laura. She tells me my package was just shipped on 8/25 (which conflicts with the email date of 8/15) and I should get it by the week after.

Today is 9/1/17 and still no cameras. I called again and spoke with Fernando. By this time, I was angry and no longer want the cameras. Fernando tells me my order was just shipped will arrive 9/6/17. I told him I don't want the cameras anymore and I want a refund. He said I will get my refund within 3-5 bank(?) days. We will see what happens next week.

Bottom Line: No, I would not recommend this to a friend

Sep 26, 2017

Dear Customer,

We apologize for the inconvenience. We would have been more than happy to help you, please get in touch with us for any future issues at 323-375-1042 or customerservice@inventel.tv.

---

Wanted to believe!

Palm Springs, CA

,

Sep 5, 2017
Verified Reviewer

I purchased three Mirror Cam units, one for each car. I drive extensively and saw a huge value in the product since I had two previous accidents I could not prove were not my fault. Unfortunately, a huge disappointment! The Mirror Cam does not fasten tightly on the mirrors of any of my cars, so it constantly jiggles as you drive. It's very distracting when using the mirror as everything behind you jiggles.

I contacted customer service. They suggested getting rubber bands to fasten the mirror tighter. Rubber bands?

Second issue: after a few days, the 32 gig SD card I purchased WITH the system could not be read. I tried to reformat and the card was no good.

I contacted customer service again, and this time got no response. Two days later, I contacted them again. They responded and wanted to know what size was the card, which I gave them card size and order number in the first email. I responded with the card size. it has now been more than ten days and no response!

The idea is great, but this product falls short of a quality item by most standards. Wait for better versions and save your money!

Bottom Line: No, I would not recommend this to a friend

Sep 26, 2017

Dear Customer,

Please let us know what do you need refund/replacement.

We apologize for the inconvenience. We would have been more than happy to help you, please get in touch with us for any future issues at 323-375-1042 or customerservice@inventel.tv.

---

Very poor item

By Michael Link

,

Las Vegas, NV

,

Sep 7, 2017
Verified Reviewer

I have used it on and off a few times. Tonight I was giving it a final test before I sent the two that I had purchased back. It was working okay then I looked at the screen and it says no card. I powered it off, checked card, removed and reinstalled, and still the same thing. Tomorrow they both will go back.

The other one I never used and don't want to try.

Bottom Line: No, I would not recommend this to a friend

Sep 26, 2017

Dear Customer,

We apologize for the inconvenience. We would have been more than happy to help you, please get in touch with us for any issues on 323-375-1042 or customerservice@inventel.tv.

---