HD Smart Ear Reviews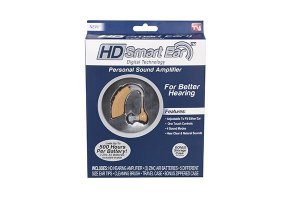 HD Smart Ear claims to feature must-haves like four different settings, high-definition sound, one-touch control, and long battery life, all at an affordable price.
What Is HD Smart Ear?
With a slim, discreet design that fits either ear, HD Smart Ear is a high-definition behind the ear amplifier that promises to deliver full, rich, high-definition sound, without requiring a prescription.
Additional advertised features include four advanced sound settings that help you achieve amazing clarity in any situation, one-touch control, long battery life, and an external on/off switch, volume button, and mode change button.
Compared to the ultra-high price of traditional hearing aids, HD Smart Ear might represent the new, high-definition behind the ear way to hear, as advertised on their website. But will the low price you pay deliver a solid level of value?
This is the central question we'll focus on in this article—starting with an important distinction.
Hearing Aids vs. Personal Sound Amplification Products (PSAPs): What's the Difference?
It used to be that if you were suffering from hearing loss, you'd have to visit your doctor, obtain a prescription, and then potentially pay many thousands of dollars for professional hearing aids.
But due to the OTC Hearing Aid Act of 2017, customers can now purchase hearing aids directly from manufacturers, without requiring a prescription. The result has been a huge decrease in many hearing aid prices, which is certainly good news for consumers.
However, because of rapid advances in sound technology over the last several years, the lines have become increasingly blurred between traditional hearing aids, and more recent devices known as Personal Sound Amplification Products, or PSAPs. Often, to the untrained consumer, it can be difficult to discern the difference between them when placed side-by-side.
According to the Food and Drug Administration, though, the differences between these two devices aren't necessarily related to design or functionality, but instead in their intent.
Specifically, they explain that both can help improve our ability to hear sound, are wearable, and use much of the same technology. However, "hearing aids are intended to make up for impaired hearing," whereas PSAPs "are intended for non-hearing-impaired consumers to amplify sounds in the environment for a number of reasons, such as for recreational activities."
Given this important distinction, since HD Smart Ear is advertised as amplifying sound in recreational activities (watching TV, eating at a restaurant, etc.), it would be classified as a PSAP (which have never been subject to the need for a prescription).
Are there other PSAPs competing for the same customers as the product in question? We'll first discuss the price and the company, before moving on to the competition.
» For Further Reading: Personal Sound Amplification Products: A Comprehensive Buying Guide
How Much Does HD Smart Ear Cost?
One HD Smart Ear PSAP is available exclusively at Walmart for $59.88
What Do We Know About the Company Behind HD Smart Ear?
HD Smart Ear is manufactured by Idea Village, a Wayne, NJ-based company founded in 1999, and who's responsible for past and present releases like Copper Fit Advanced Back Pro, Yes! by Finishing Touch, Micro Touch Tough Blade, and HD Vision Visor, to name just a few.
Idea Village held an A+ Better Business Bureau rating, based on four customer reviews (three of which were negative) and more than 80 closed complaints, as of 5/10/18. Very few details were available, although most appeared to revolve around support issues. A company representative responded in each instance.
How Can You Choose Between HD Smart Ear & Other PSAPs?
Considering the sheer number of hearing devices out there, it can be difficult to identify which models might best meet your needs. As we discussed earlier, though, keep in mind that PSAPs like HD Smart Ear are only intended to amplify sound for recreational purposes—not make up for hearing loss like traditional hearing aids.
As such, if you're considering one, be sure to speak with your doctor (as well as an audiologist, potentially) in advance, who can run the appropriate tests to discern which way you should go.
If they recommend a PSAP based on your results, according to Consumer Reports' 2017 testing, the price could be one of the biggest indicators of quality. Specifically, they found that models under $50 tended to provide very little sound amplification (even overamplifying sharp noises like a fire engine's siren), and also blocked some sounds, similar to earplugs.
Just like most other electronics purchases, consumers often get what they pay for when it comes to PSAPs. In other words, the more you pay, the greater number of features you'll often gain access to.
But it's next to impossible to compare HD Smart Ear's features with competitors since we're not provided insight into questions like:
What level of sound amplification does it provide, as measured in decibels (dB)?
Does it use a directional microphone?
Is the amplification digital or analog? (It advertises high-definition sound, but is this actually the case?)
What are the dimensions? How much does it weigh?
What kinds of batteries does it use? How long does each battery last?
What's does replacing each battery involve (i.e., a quick unclipping, or locating several very small screws, thereby requiring good vision and hand dexterity)?
Specifically, what are the four sound settings? How do they differ?
We reached out to several support staff looking for additional insight, although they only had access to the same information provided on HD Smart Ear's website.
Despite these unanswered questions, it still comes with an ultra-low price. As such, is it worth rolling the dice on HD Smart Ear?
Our Final Thoughts About HD Smart Ear
In the end, HighYa's goal is to help save you time by laying out all the important facts related to a product or service, and then leaving the final decision up to you.
To this extent, HD Smart Ear comes from a company with nearly 20 years in business, a long line of successful products, and a mostly positive online customer reputation. They also offer a 30-day refund policy, which should give you plenty of time to decide if this PSAP will meet your needs and preferences.
However, it seems there are more key factors about HD Smart Ear we don't know, compared to what we do. Added to the fact that you'll lose your original $7.95 S&H and have to pay to ship it back to Idea Village, it's not exactly a risk-free transaction, either.
Just keep in mind that when it comes to these types of devices, getting the most value for your money often begins by having an in-depth conversation with your doctor. Also, remember that the prices listed above will only get you one HD Smart Ear, so make sure you budget accordingly if you need two.
» For Further Reading: Which Hearing Aid Is the Best? A Comprehensive Buying Guide
Works great!

By Donna A.

,

Las Vegas, NV

,

Feb 3, 2020
Verified Reviewer

I love this product! It has made such a difference. I finally can watch TV (much lower volume now) and understand what is being said. I would've given this 5 stars, but the 500-hour battery life does not even come close. This is my second battery and it's 10 days now and the quality is not up to par. I'll change the battery in a day or two; the first one made it almost 3 weeks, using it 2-3 hours each evening.

Bottom Line: Yes, I would recommend this to a friend

---

HD Smart Ear

By Penny W.

,

Ingleside, TX

,

Dec 2, 2019
Verified Reviewer

We purchased the Smart Ear at Walmart about 3 months ago. This was our second one the first one quit working after 1 week. We took it back and purchased another one. This one stopped working last week. I've tried to call customer service and either no one answers or I get hung up on.

Bottom Line: No, I would not recommend this to a friend

---

Advertisement

---

Product not worth the money

By Tammy T.

,

Puyallup, WA

,

Sep 23, 2019
Verified Reviewer

We purchased this AMPLIFIER (it is not a hearing aid) for my mother. In less than a year's time this unit completely stopped working. Throughout the time she used the unit we were replacing batteries every 3 to 4 weeks. I guess that old adage holds true, you get what you pay for. Customer service did offer to send a new unit but why would I want the same problems for the next 10 months. Moving on.

Bottom Line: No, I would not recommend this to a friend

---

Best I've found for the money!

By Roy B.

,

Manchester, TN

,

Jul 30, 2019
Verified Reviewer

After 25 years of military service, 2 wars and an additional 25 years of aging...I found myself turning my head and straining to hear the conversation.

As I was walking thru the local Walmart I noticed the As Seen On TV Smart Ear personal sound amplifier. Being a non believer in hearing aids (as I have heard too many stories) from veterans about the high dollar hearing aids and then not using them, complaining about them not working, etc., but being almost deaf in one ear, 90% and 40% loss in my good ear, I decided to try it...WOW! Works beyond belief. It worked so well I purchased another for a (just in case).

Wasn't long, maybe 3 months, and the first one quit. Not the battery this time, it just didn't work anymore. I put in the backup and it worked fine for approximately 5-6 weeks and it quit...was on vacation at the time in El Paso, Texas so I stopped by the Walmart there and they were in stock. I purchased my 3rd As Seen On TV Smart Ear and it's still going strong today. About 3 months old now so I'll be looking for another soon as I expect this one to belly up soon...

A longer lasting Smart Ear would have gotten a 5-star rating. Sorry.

Bottom Line: Yes, I would recommend this to a friend

---

Advertisement

---

No customer service

By Alvin C.

,

Tulsa, OK

,

Jan 17, 2019
Verified Reviewer

I got it at Walmart. It worked fine for two months, then it went dead.

I got it ready to send back for repair at the customer service, no such place. As listed in their instructions, I called their customer service at (888) 616-6466 and the guy said they don't repair them, take it to Walmart.

Bottom Line: No, I would not recommend this to a friend

---

Great product

By Hector M.

,

Illinois

,

Dec 29, 2018
Verified Reviewer

I purchased the Smart Ear device for my dad. He has been in denial about his hearing, many times having to repeat ourselves and speak very loud for him to hear. Very skeptical, I purchased this product. I couldn't believe he really could hear with this product! A 5-star product! After day one, I was blown away! I recommend this to anyone, the price was excellent. Thanks for this product, I would highly recommend.

Bottom Line: Yes, I would recommend this to a friend

---

Great for the price

By Jeff H.

,

San Antonio, TX

,

Sep 26, 2018
Verified Reviewer

I had the expensive hearing aids for three years. I paid $5,000 for them and had to send them in for repairs three times in those three years. Batteries only lasted 3-4 days, depending on the noise they "supposedly" filtered out. They quit working all together right after the warranty went out. So I bought these to try out. I had these for five months and just now went through the last battery that came with them. These Smart Ears work just as good as the $5,000 ones, and they haven't fallen apart on me or quit working (not counting dead battery). Pound for pound...price to price...Hands down these HD Smart Ears are a clear winner.

Bottom Line: Yes, I would recommend this to a friend

---

Smart Ear - don't waste your money

By Pete C.

,

Morgan City, LA

,

Sep 22, 2018
Verified Reviewer

I tried using for less than a month. When it worked, it worked fine, but just didn't last. I went through all three batteries that came with the Smart Ear (were supposed to last 500 hours! Each.). Finally, I gave up, tried the customerservice@HDSmartEar.com (there is no such address!). It also said in the literature that came with Smart Ear not to return to the dealer (why I'm trying to contact customer service!) I will try returning it to Walmart, but the literature said not to try. Any ideas on how to reach the Smart Ear folks? Thanks.

Bottom Line: No, I would not recommend this to a friend

---

HD Smart Ear

By George S.

,

Fort Worth, TX

,

Sep 21, 2018
Verified Reviewer

I bought mine about five months ago. It does help, but it also amplifies sounds you don't want. But overall, for the price, they are ok. I can't afford $3000 for the good ones. It does help with my tinnitus. I use it every day and I am going to buy another for my right ear.

Bottom Line: Yes, I would recommend this to a friend

---

Great product

By Debby A.

,

North Carolina

,

Sep 6, 2018
Verified Reviewer

I was shopping in Walmart today and my husband spotted this hearing device. I thought oh no, here we go again, another hearing device that will be thrown in a drawer in a few days. So I asked about the return policy while hubby looked at HD Smart Ear. When they said he had 60 days to try it, we bought it. As we drove home, unknowing to me, he put batteries in and had it on. He says talk to me. I whisper very softly and he repeats every word back to me! He heard every word I said and we had a nice conversation, the first in a very long time, so nice. When we get home he adjusts it and is right now watching TV at a low volume; it's not blasting me out of the next room. Nice product. Thank you.

Bottom Line: Yes, I would recommend this to a friend

---

It works

By Allen S.

,

Madisonville, TX

,

Jul 31, 2018
Verified Reviewer

This is an amazing hearing aid. It brought hearing back to an 88-year-old Korean War veteran. From the moment he put it in, and we properly adjusted the volume level and sound mode, he could actually hear everything, again, for the first time in years. He immediately turned down the TV and told all of us who were present at that time to quit talking so loud! After years of trying various hearing aids, including an expensive, useless hearing aid from an expensive audiologist (with no success at all), we thought, why not try this, for the price, might be worth it. WOW, instant hearing brought back to an old guy for the first time in years. Can't say it would work for everybody, but it sure did for this one man.

Bottom Line: Yes, I would recommend this to a friend

---