HDFX360 Reviews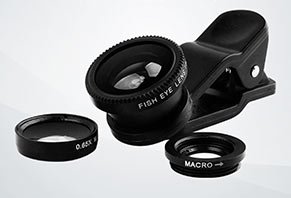 HDFX360's mobile lens kit features aerospace polymer construction and scratch impervious aspheric lenses that claim to turn your smartphone into a DSLR camera.
About HDFX360
Designed by professional photographers, the HDFX360 mobile lens kit claims to be machined from aerospace polymer and scratch impervious aspheric lenses, so you'll be able to take professional DSLR-quality photos—but without breaking the bank.
Each HDFS360 kit comes with three German designed precision lenses:
Macro: 0.5" tall, 20X optical zoom
Wide: 0.78" tall, 0.67 magnification
Fisheye: 0.98" tall, 180° field of view
These lenses attach directly to any mobile device using a spring-loaded clip, which are claimed to work without harming or modifying your device and without downloading any apps. When you're finished using your HDFX360, you'll be able to store them in a microfiber Carry Clean soft case.
Taking all of this together, along with the fact that HDFX360's lenses were voted Best Mobile Product 2014 and 2015, the company claims they've sold more than 30,000 lenses just this month.
Just because they might be popular, does this necessarily mean HDFX360's lenses are worth the money? Can you realistically expect them to perform as well as a much more expensive DSLR? We'll break it down here so you can make an informed decision.
What Is a DSLR Camera?
While there's no need to go into too much detail here, in a nutshell, a DSLR (or digital single-lens reflex) camera uses built-in mirrors that "allow you to see exactly what the lens sees through the viewfinder," and also uses interchangeable lenses.
In addition, DSLR cameras generally feature large imaging sensors, which translates into better image quality, including in low light, with speeds of at least 4 frames per second. And taking into considering the fact that a DSLR camera can be customized further using external flashes, filters, and upgraded battery packs, the possibilities are almost endless.
What does this mean when it comes to HDFX360?
Will HDFX360 Turn Your Smartphone Into a DSLR Camera?
Based on what we just learned, we can see that a DSLR is much more than just a lens. As such, simply attaching an external lens to your smartphone doesn't automatically turn it into a DLSR, or allow it to take the same quality images.
Instead, it will only change what your smartphone's camera sees, but not its overall quality. For example, imagine taking two pictures of the same thing and under the same circumstances (lighting, etc.): one using an HDFX360 lens, and the other using only your camera's lens.
Afterward, when looking at your screen, you'll notice that any imperfections will be identical (such as graininess, pixelation), although the composition might be different. The fish eye lens might include a wider view, the macro lens will zoom in, and so forth.
Even if HDFX360 won't turn your smartphone into a DSLR camera or necessarily provide the same image quality, is it still worth the price?
How Much Does HDFX360 Cost?
HDFX360 lens kits are available in the following quantities:
1 Set: $56
2 Sets: $97
4 Sets: $169
5 Sets: $196
10 Sets: $350
15 Sets: $450
20 Sets: $550
During checkout, you can also purchase lifetime protection (no additional details about this were provided), the cost for which varies depending on the number of kits you buy.
According to the company's Terms, it appears refunds are only available in the event of a defective or damaged product, and only within 30 days. In order to request a refund, you'll need to call customer service at +3129-772-8113 (note: long distance charges may apply).
How does this price compare to similar lens kits? Or, is there anything else out there like HDFX360?
Is HDFX360 the Only Smartphone Lens Kit?
Not by a long shot. So, if you're in the market for some aftermarket smartphone lenses, you've literally got thousands of choices at just about every imaginable price point.
Comparatively, HDFX360 claims their lenses are constructed of an "aerospace polymer," which is such a broad term that it tells us little about the product itself. We're also told they contain aspheric lenses, although this technology only affects the profile (i.e. the thickness) of the lens, but not necessarily the performance.
From a price perspective, you'll find similar three-lens sets only selling for as little as $7. Without more concrete details about HDFX360's lenses, there's no way to tell how they stack up against these other options based on quality and functionality.
What are customers saying about HDFX360? Are they pleased with their performance?
Online Customer Feedback for HDFX360 Camera Lenses
We came across only a handful of online reviews for HDFX360 during our research, the most detailed of which was on ICTPLD.com. There, the author noted that they were "very impressed with the quality of the photos":
As for all of the extravagant claims made by the makers, I cannot vouch for the truthfulness of those claims. The product appears to be professionally designed, but I wasn't there to witness its inception so I can't be 100% sure. Apparently, the HDFX 360 has won various awards from important organizations in the camera industry. And they are proud to tout about those awards."
As for how these lenses might stack up against a traditional (and much higher priced) DSLR camera? One user on Singletrack World's forum mentioned: "They're probably ok for producing 'quirky' smartphone images, but I really don't think they'd be much cop beyond that. Quality lenses cost loads for a reason. These are very cheap."
Should HDFX360's Lens Kit Be on Your Radar?
We've already talked about the fact that lenses alone don't make a DSLR camera, so it's reasonable to conclude that HDFX360 will not turn your smartphone into one.
What if you're just looking for a neat new way to enjoy photography and open up new creative possibilities on your smartphone? In our opinion, as long as you understand that HDFX360's lenses will only change the composition—not the quality—of your pictures, you might be satisfied with the performance. Just remember that they're competing with thousands of different options, some of which might offer a better bang for your buck.
Regardless of which option you choose, just remember that although these types of lenses often claim to fit any mobile device, they might not work with your case. This means that you might find yourself having to constantly remove your case in order to enjoy your lenses.
A scam!

By Stephen S.

,

Colorado

,

Jan 22, 2020
Verified Reviewer

They do not even include a "Product User Guide" that they claim is included. I gave it away! No use trying to deal with them because you can only return for "Credit on their other Junk". They will be a memory very soon I predict. "Quick Hit" money maker and, POOF, gone. The "Warranty" is less than worthless!

Bottom Line: No, I would not recommend this to a friend

---

Report to BBB

By Lisa N.

,

Lighthouse Point, FL

,

Jul 23, 2018
Verified Reviewer

I ordered this Zoom lens a few weeks ago. I ordered one lens, but when I finished my checkout, three lenses had been added to my order. I immediately called the company, and they said it was too late to change the order, it had already been processed. I told them that it was impossible, I had literally just placed the order. I then called my bank to stop payment, but that didn't work either.

All three lenses arrived today. I am an amateur photographer, not a professional, but I do spend a lot of time with both my smartphone and my DSLR. This lens is nothing but a piece of crap. I will send them all back tomorrow. I don't expect to see my money again, but I will be reporting them to the BBB. I sincerely hope that someone shuts these ripoffs down.

Bottom Line: No, I would not recommend this to a friend

---

Advertisement

---

Service and timely delivery from the company do not exist.

I placed my order directly to the company on 11/30/2017. It was supposed to be a Christmas present. It did not arrive until the middle of January 2018. I tried to cancel the order on several times but the customer service person "Leo" would not help me at all. When I did finally receive the product, I promptly sent it back in a box with the product inside and unopened. The box was returned to me a month later and was returned because it was damaged. The product inside, still unopened and I have written to find out what my recourse is at this point. Let the saga continue.

Bottom Line: No, I would not recommend this to a friend

---

Such a ripoff

By C McLaughlin

,

Grand Junction, CO

,

Jan 18, 2018
Verified Reviewer

My husband ordered this for me as a Christmas gift. Such a joke. Cheaply made (nice box, that's about it!), and they do not work as advertised. When I tried to contact the company to return, the customer support number is non-existent and they do not reply to emails. Save your money and save yourself the frustration!

Bottom Line: No, I would not recommend this to a friend

---

Advertisement

---

This is not a real company

By Jackie Besse

,

Massachusetts

,

Dec 21, 2017
Verified Reviewer

I would give them zero stars if I could. I purchased directly from the company. I received a confirmation. When I tried to contact them to cancel because I saw the reviews, I can't get anyone to answer the phone or return an email. This company is a scam.

Bottom Line: No, I would not recommend this to a friend

---

They got my money, I got nothing!

By Jan Powers

,

Dallas, TX

,

Dec 19, 2017
Verified Reviewer

I paid for it up front. I have been waiting for over two months for the product. At this time they have not answered calls or emails concerning the order, and I have nothing. The order was placed on November 17, 2017, and it is now December 18, 2017. So much for Xmas presents!

Bottom Line: No, I would not recommend this to a friend

---

Completely worthless product

This product is nothing but a complete piece of garbage and Facebook should block these thieves from posting. This scam product couldn't even focus on a tree in my front yard. These are thieves from China infesting the internet.

Bottom Line: No, I would not recommend this to a friend

---

Scammed!

By Gri Hanson

,

Alaska

,

Oct 31, 2017
Verified Reviewer

I will never again pay attention to this sort of ad for buying stuff on Facebook, without doing some research. This product is total crap! I feel used and scammed. Communication with them (Netherlands/China/wherever) was minimal. It took so long that I finally asked PayPal to intervene. THEN they answered and said to be patient.

I got the product and wow, it is totally useless on my iPhone SE, a very smart small phone that takes amazing photos without the zoom. Stupid me, I was thinking I'd go to Europe with just my iPhone and this zoom, and leave my Canon behind. I'll think again on that one. I will definitely try again with a more reputable company.

DO NOT buy from these people! Also, no instructions, lens cap, baggie to protect, etc; nothing in the box but the zoom and clip.

Bottom Line: No, I would not recommend this to a friend

---

Do not buy these lenses from this company!

By Belinda Wurn

,

Melrose, FL

,

Jul 28, 2017
Verified Reviewer

I ordered two lenses from this company for my iPhone 6S. When I got the lenses, they do not fit unless you take your iPhone out of the case. I am not willing to do that, and they did NOT make that clear at their website before I ordered them.

I packed up the lenses in the packing materials they came in and returned them the next day. Somehow I misplaced the tracking receipt from the post office from when I returned the lenses, so I didn't have it to send to my credit card company. The company is claiming that I never returned the lenses, and that is a patent LIE.

DO NOT buy anything from this company! It is a rip-off, and they need to be put out of business!

Bottom Line: No, I would not recommend this to a friend

---

Nice box

By Chris

,

Victoria, Australia

,

Apr 18, 2017
Verified Reviewer

It makes it probably the most expensive box on the planet because what's inside is complete rubbish. As noted earlier, it does not even warrant one star.

Please don't buy it or you'll be sorry.

Bottom Line: No, I would not recommend this to a friend

---

Never ever do business with this company

By Cay

,

Copenhagen, Denmark

,

Mar 18, 2017
Verified Reviewer

They don't deliver, they don't answer mails, and they completely ignore you. One exception: they take your money. You should never do business with HDFX360 or HDZoom360.

Bottom Line: No, I would not recommend this to a friend

---