Headway Capital Reviews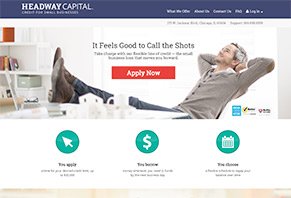 Headway Capital provides businesses with loans ranging between $5K and $35K, along with non-traditional underwriting criteria and funding in as little as a day.
About Headway Capital
Need money to run your business, but tired of dealing with banks or merchant cash advance providers?
If so, Headway Capital provides small business loans and lines of credit up to $35K, allowing you to borrow money whenever you need it and receive your funds by the next business day. And once you receive your money, you can use it for any legitimate business purpose, including bills, payroll, marketing, and more.
Unlike banks and other lenders, Headway Capital takes a "holistic view" of your business when evaluating your application—not just your credit score (more about this shortly). On top of this, Headway Capital allows business owners to choose from several flexible repayment options, and any money you repay immediately becomes available for you to draw again.
According to the company, all of this makes Headway Capital simpler and quicker than working with the competition, as their small business loans can help "move you forward."
As a business owner, you probably feel like your hands are tied when it comes to taking out loans. On one hand, you have traditional banks, with their strict criteria. On the other, you have cash advance lenders with ultra-high interest rates.
Is Headway Capital a good middle-of-the-road solution? Let's start by taking a look at how much the company charges to take out a loan.
Headway Capital Eligibility, Pricing, & Fees
Headway Capital provides lines of credit ranging between $5K and $35K.
During the application process, Headway Capital claims to "incorporate a variety of factors into our decision model to determine your eligibility and credit limit," although your personal credit score appears to be one of the biggest factors.
Along with your application, the company might also require "bank statements for your business bank account, corporate tax returns, personal tax returns, and profit and loss statements."
In order to be eligible for a Headway Capital line of credit, your business must have been in operation for at least a year, and located in one of the following states: AL, AZ, CA, CO, FL, GA, IL, IN, KS, KY, LA, MA, MO, NJ, NC, PA, SC, TN, VA, WA, or WI.
No details were provided (whether in the Terms or elsewhere on their site) about the types of interest rates you can expect, although Headway Capital's payment calculator was based on a monthly interest rate of 5%. According to SuperMoney.com though, this rate is non-compounding, which means you'd have an annual percentage rate of 60%.
However, Headway Capital does note that you'll be able to select a repayment schedule for each draw you take (weekly or monthly), which will be subject to a 2% "draw fee" and will be automatically debited from your account via ACH. Note: Some states will have a minimum draw amount of $5K.
Finally, there are no penalties if you wish to pay your Headway Capital balance in full in advance.
In order to ask questions about Headway Capital's fees or loans, or whether or not your business is eligible, you'll need to call customer service at 866-698-8494.
What are Headway Capital's clients saying? Are their fees too high, or is everyone pleased?
Customer Feedback for Headway Capital
On TrustPilot, Headway Capital had an average rating of 8.7 stars. There, common compliments revolved around smooth application process, pleasant customer service personnel, and quick funding times.
Headway Capital also had a 5-star reputation on Lendio.com, which referenced many of these same compliments.
Finally, Headway Capital, founded in 2011, held an A+ rating with the Better Business Bureau at the time of our research, with zero closed complaints. Headway Capital is a subsidiary of Enova International, who also owns Cash America Inc., a personal short-term lender.
How does this compare to the competition?
How Does Headway Capital Stack Up?
Although Headway Capital claims to make it easy for business owners to get they money they need, they're not alone in the marketplace.
In other words, there are dozens of other business lenders out there, such as Fast Business Funding, and Wall Street Funding, and even lead generation websites like Fundera that claim to help you find the best business loans that match your situation.
And don't forget about companies like BlueVine and Fundbox, who can provide short-term loans based on your outstanding accounts receivables.
Granted, Headway Capital seems to have a slightly better online reputation than some of these other options, although their business model and underwriting criteria won't be a good fit for everyone (for example, if you live in a state where Headway doesn't conduct business, or need more than $35K).
Given all of this, is Headway Capital the right choice for you?
Will Headway Capital Work for Your Business?
When reviewing many of the other business lenders above, they seemed to be fairly upfront about what makes their lending criteria different, as well as the rates and fees you can expect.
However, other than claiming that they evaluate your application "differently than a bank would," which involves inputting "a variety of factors into [their] decision model," Headway Capital doesn't provide any meaningful information about what separates them from the competition. They also provide little information about what kinds of interest rates you can reasonably expect.
Based on what we do know though, your personal credit score will play a huge role in whether or not you're approved for a Headway Capital loan. So the higher your credit score and the longer you've been in business, the more likely you are to be approved (or, at least to receive favorable terms).
Despite this overall lack of information, Headway Capital seems to have a positive online customer reputation, although we'd expect more online feedback considering the company's been in business for nearly five years.
What's your experience with Headway Capital? Did they provide the money your business needed? How was the process? Tell us about it by writing a review below!