Health IQ
Claimed This company has claimed this profile, is getting alerted on any new customer reviews entering this page, and may engage in dialogue with its customers to address their matters.

Companies cannot pay money or provide goods in order to remove or alter customer reviews.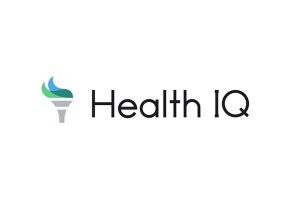 Health IQ is a unique life insurance broker designed for the healthy and active via discounts they negotiate with insurance carriers based on your health knowledge, habits, and choices.
Health IQ Review: Will It Help You Save on Life Insurance?
What Is Health IQ?
Health IQ is an online insurance broker that uses calculations about your current health, activity level and understanding of health to help you save money on life insurance, life insurance for diabetics, and disability insurance.
What makes this company unique is that they ask you to perform a Health IQ quiz and answer questions about your exercise habits, the results of which they leverage (when possible) to get you a lower insurance rate.
Munjal Shah, Health IQ's founder, started the company in 2013 after having a health scare in which he felt chest pains while running a 10K. Those moments sobered him to the importance of health. He made radical changes to his lifestyle, including losing 40 pounds and overhauling his diet, according to the Health IQ website.
"Through it all, I realized that being health conscious was really hard work, and the health-conscious are unsung heroes in society. I began to wonder if we could improve the health of the world by financially celebrating the health conscious instead of harassing those who were not," he writes in Health IQ's "Mission" page.
The result of his and his colleagues work is Health IQ. In our review of this company's services, we will talk about how their site works and what types of insurance they offer, how much their plans cost and what customers are saying about them. We'll conclude our review with a section featuring our research-based conclusions about the service's pros and cons.
Pro tip: Health IQ is licensed to sell insurance in all 50 states.
How Health IQ Works
Health IQ creates a profile they provide to insurers that, in theory, will save you money. To create this profile, they require you to:
Do a phone interview with a Health IQ rep
Take a medical exam
Take Health IQ quizzes
Provide information about your fitness
We wanted to get a sense of what it was like to get a quote so we clicked on the site's quote button. We answered some basic questions about our age, height, weight, and income. Health IQ asked us for our phone number and email address.
At the end of the quote process, the site told us they would call us to ask us a few more questions. It also recommended we take the Health IQ quiz, as our answers could have an impact on our premium.
The quiz was 30 questions long and multiple choice. Questions were all health-focused. For example, our first question showed a photo of four different color carrots. It asked us which color of carrot had the highest amount of anthocyanins.
We answered 27 of the 30 questions correctly. Many of those questions were difficult to answer. At the end of our quiz, Health IQ told us we could save up to $10,000 on premiums over the life of a 30-year term policy because of our knowledge.
Health IQ believes your health intelligence can reduce your rates because "a high Health IQ correlates to a 36% lower risk of early death," their website says.
Your health intelligence, however, is just part of the profile Health IQ builds on your behalf. They will also call you after you request a quote to find out more about your lifestyle.
If the representative concludes you have a healthy lifestyle, you have an opportunity for significant savings because being active and eating right reduces your risk for a variety of diseases.
For example, Health IQ lists the following exercise-related data:
Running lowers cardiovascular mortality by 45%
Swimming lowers death risk by 28%
HIIT workouts lower heart disease risk by 51%
Elite athletes have a 40% lower risk of cancer
Cycling lowers cancer risk by 45%
Some of the qualifications for an "active lifestyle" include running a mile in eight minutes or less or riding a bike at least 50 miles a week.
Depending on how you rate (health IQ, activity and health level), Health IQ says you can earn a 4% discount for a healthy lifestyle, 4% discount for an active lifestyle, and up to 25% in underwriting credits.
"Underwriting" refers to the number-crunching and standards working in the background to decide if you'll get a policy and how much you'll have to pay.
Again, Health IQ packages all this information together and presents it to insurance companies they believe are the best fit for your profile. Insurance companies are willing to offer better premiums and coverage to those who are healthy and who present characteristics that indicate you'll be healthier over the long-term.
In other words, insurance companies are more willing to offer you lower rates if you have less of a risk of dying before your policy ends.
The Policies You Can Get Through Health IQ
Health IQ uses your information to negotiate rates for term and whole life insurance. Term insurance takes place over a period of time (usually 30 years), has lower premiums than whole-life and, if you're still alive when the term is over, you lose all the premiums you paid.
Whole-life is different in that it lasts your entire life, has higher premiums but part of those premiums go to a savings account that has cash value. So, unlike term life insurance, you can recoup some of your premiums to pay future premiums, pass on to your children, etc.
Health IQ has a series of preferred life insurance carriers as well as non-preferred carriers through which they get you a policy. The preferred carriers tend to give better rates, rates which Health IQ then compares to 30 other insurance providers.
Screenshots from the company's website indicate some of the carriers with which they work are:
Ameritas
Prudential
Transamerica
Pacific Life
John Hancock
Health IQ nuances the life insurance policies they get, too. They specialize in finding policies for those who have type 2 diabetes. The same principles of healthy living discounts apply here. If you can provide evidence that you lead an active lifestyle and practice healthy habits.
The insurance carriers shown on Health IQ's type 2 diabetes life insurance page include:
Protective
Prudential
Transamerica
John Hancock
Lincoln
Pacific Life
The final type of insurance Health IQ procures is disability insurance. They argue disability insurance is important because 1 out of 4 people will experience a disability by 67 years old. Also, the short-term disability most employers offer is good for only 90 days of missed work.
They leverage your healthy/active lifestyle to get lower rates. However, the effect of your lifestyle is a bit different. Rather than providing data about living longer, Health IQ asserts that those who lead a healthy/active lifestyle have a 49% less chance of becoming disabled and 24% less likely to miss 21 or more days of work.
The insurance carriers they show on their site are:
Ameritas
Principal
Illinois Mutual
Lloyd's of London
Assurity
The Standard
We wanted to know how Health IQ verifies that you can run a mile in 8 minutes or less, so we called and talk with one of their phone reps. The rep told us that verifying how fast you run a mile or how many miles a week you bike is something that the insurance agent with whom you connect will ascertain through medical and fitness tests.
Comparing Health IQ to Other Insurance Brokers
That Health IQ offers life insurance through their site isn't unique. Sites like Fabric, Ethos, and Ladder provide term life insurance, whole life insurance, and accidental death insurance in minutes.
Each of the sites has slight differences from the other. For example, Health IQ offers term policies between 10 and 30 years, whereas Fabric offers policies between 10 and 20 years long.
Ethos has policies of up to $1 million while Ladder provides policies of up to $8 million.
So, which site works best for you has a lot to do with how much coverage you want and how long of a policy you want. However, because Health IQ offers the ability to lower your rates based on how well you manage your health and fitness, it becomes more than just another option for cheap rates.
If you're someone who is in shape and can meet one of the physical requirements of lower insurance, then Health IQ is the superior choice because they offer discounts the other sites don't.
HighYa's Bottom Line About Health IQ
We believe our research indicates that Health IQ truly sets itself apart from its competition by catering to those with healthy and active lifestyles. We like how they claim to be able to lower your rates if you manage your diabetes well, too.
However, keep in mind that how far your premiums will drop is hard to understand. Health IQ says you could save as much as 33% over the life of a 30-year term policy if you max out your health literacy, active lifestyle and underwriting credits. Health IQ says this can save you up to $9,906 over 30 years.
This is going to be the best possible scenario, though. If you qualify for 8% discounts because of your healthy and active lifestyle, you could save $2,472 on $30,950 worth of premiums over 30 years.
So, while the prospect of saving money through Health IQ is attractive, the savings per month is as little as $6.86 per month and as much as $27.51 a month.
Based on this information, we think that your monthly savings could be disappointing if you don't qualify for the maximum number of discounts. So, keep your expectations realistic when you pursue a policy from Health IQ.