Hear.com Reviews
Claimed This company has claimed this profile, is getting alerted on any new customer reviews entering this page, and may engage in dialogue with its customers to address their matters.

Companies cannot pay money or provide goods in order to remove or alter customer reviews.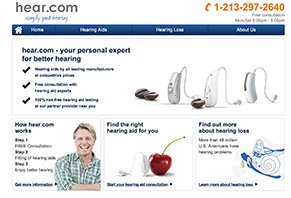 Owned by Sivantos, Hear.com claims to bring competitive hearing aid prices to US shores, along with free consultations and personalized customer service.
About Hear.com
Hear.com is a hearing aid specialist that offers competitive pricing and a wide selection from leading manufacturers, including Oticon, Phonak, Siemens, and more.
Hear.com also offers free phone consultations with audiologists, local hearing tests and hearing aid fittings, as well as a 100% satisfaction guarantee on every hearing aid they sell. Why? Because Hear.com wants to address your hearing loss and improve your quality of life.
According to the company, the process works over 3 steps:
A free phone consultation with one of Hear.com's audiologists.
Afterward, you'll attend a fitting at one of Hear.com's local partner providers. There, you'll also be able to receive a hearing test based on "strict medical criteria."
Once you've received your hearing aids, Hear.com will adjust them to meet your needs until you're 100% satisfied.
Have you ever heard of Hear.com? Probably not. But their prices seem great, so you're here to find out if Hear.com is the real deal, or just another scam.
First, let's take a look at exactly what kinds of prices you can expect.
Hear.com's Hearing Aid Pricing, Quality, & Guarantee
Hear.com offers 3 different levels of hearing aids, depending on your needs and budget:
Basic: $700 - $1,600
Ideal for optimal speech comprehension in a home environment, and for those with mild to moderate hearing loss. Includes digital sound processing, feedback cancellation, and up to 4 hearing programs.
Mid-Range - $1,600 - $2,200
In contrast, mid-range hearing can be used for helping you hear in a variety of daily living situations, and might be better for individuals with moderate hearing loss. This includes wireless TV and phone connections, adjustable speech recognition, speech enhancement, directional hearing, and enhanced acoustic orientation.
Premium - $2,200 - $3,000
Regardless of your level of hearing loss, premium hearing aids will provide you with the best hearing in the highest number of situations. These will also come with the widest range of styles and colors, 360-degree hearing, automatic adjustments, and more.
Depending on the price category you choose, Hear.com offers up to 3 years of warranty coverage, along with up to 5 free service appointments.
You'll also have 45 days to get your deposit back if you change your mind.
In order to request a refund on your deposit, speak with an audiologist, or find a local partner, you can call Hear.com's customer service at (786) 574-3799.
Reading through the differences between hearing aids might have caused your eyes to glaze over. But in real-world terms, what's the difference between these levels?
Differences Between Hearing Aid Levels
You probably noticed that Hear.com calls modern hearing aids "small, high-performance computers with intuitive controls," instead of the bulky models of yesteryear. And like any other electronic device, the more you pay for your hearing aid, the more features it will come with and the smaller it'll be.
Whether you pick a behind-the-ear (BTE) or in-the-ear (ITE) hearing aid (the Mayo Clinic website provides an excellent article on how to decide which is right for you), the goal is to help you hear your best.
However, you have to remember that your ears are complex structures, which pull in a variety of different sounds, including voices, background noises, intermediate sounds, and more.
Then, these sound signals are quickly processed by your brain to provide real-time feedback. Among other things, this whole process provides spatial awareness. Without it, we wouldn't be able to know where different sounds are coming from or how close they are to us.
To provide this spatial awareness, hearing aids have to do a lot of different things at the same time, including:
Processing all incoming sound
Differentiating between voices and background sounds (while reducing feedback/reverberation and wind noise)
Immediately recognizing different voices to "tune in" better
Automatically adjusting when moving from one environment to another (e.g. a noisy restaurant to a quiet cab). Some lower end hearing aids include settings, but you must manually change them when going from one environment to another.
Recognizing sharp, sudden sounds and reducing their level (known as impulse sound reduction)
Many modern premium hearing aids also feature smartphone connectivity to make discreet adjustments, save settings, and even connect to other electronic devices!
And in general, the more features a hearing aid has, the more expensive it'll be. Can you get by with a basic hearing aid? Sure, but you'll also have to deal with its limitations.
Regardless of your budget, the best thing to do before ordering a hearing aid is discuss your hearing loss with your physician. Sure, Hear.com's consultation might help, but you'll always want to get your medical provider's opinion first.
A Note about Your Brain & Hearing
As we mentioned above, your ears collect sound, but it's your brain that processes them into something you can recognize. So in a very real way, we actually hear with our brains.
As our hearing deteriorates, our brain makes up for this deficiency as well as it can. And the longer you suffer from hearing loss, the more your brain compensates.
But when you get a hearing aid (whether from Hear.com or elsewhere) and are able to hear appropriately again, your brain might have difficulty adjusting. In many instances, readjusting your brain might take therapy sessions through an audiologist (not one through Hear.com, obviously), which can involve patience on your part.
The short story? A hearing aid might help you hear better, but until your brain becomes reaccustomed to hearing well, you might not hear very comfortably.
What about Hear.com's reputation? Are they a good company to do business with?
How Long Has Hear.com Been in Business?
According to a September 10, 2015 press release, Hear.com was recently founded by a company named Sivantos, who has been in business for more than 100 years and is one of the world's top manufacturers of hearing aids. In fact, Sivantos claims to "develop and manufacture one out of every four hearing aids being used worldwide."
Before launching Hear.com, Sivantos strategically purchased audibene.de, who is currently the number one hearing aid retailer in Europe. Now, Sivantos plans to create this same success in the US with Hear.com, by targeting a younger, first-time hearing aid user.
What's the Bottom Line with Hear.com?
Hear.com is a very new company, so there wasn't a lot of information available about them at the time of our research. They are backed by the merger of two very successful companies though, who is trying to recreate their European success here in the US.
When it comes down to it, Hear.com almost certainly can help you find a brand name hearing aid that provides all the features you need, within your budget. They also seem to stand behind their services with free, local consultations, and behind their products with a 45-day refund window on deposits.
Only time will tell if Hear.com is as successful as its European sister company, but they seem to be starting out on the right foot.
Have you purchased a hearing aid through Hear.com? Tell us about your experience by writing a review below!
Updated review

Update

By Jerry M.

,

League City, TX

,

Feb 29, 2020
Verified Reviewer

Why did the salesperson say I could extend the trial period? I have been told by the local rep that he has adjusted all he can. I am hung with these pieces of junk for the duration. Should have stayed with Miracle-Ear.

Bottom Line: No, I would not recommend this to a friend

Previous review
Feb 19, 2020

Pieces of junk

I was told by the sales rep that the hearing aids would help the ringing in my ears. False! The man with whom I have to deal with is a nice man but really can't do much with the hearing aids I was sent. They are supposed to be Bluetooth. The one in the left ear doesn't work that way, I was told that was Apple's fault. I'm sure this review will be deleted when read. I play the guitar and the right hearing aid has an echo where the left doesn't. I wasn't satisfied within the 45 days but was told by my sales rep that she had the trial extended, was told later by her manager she did not have the authority to extend when I did take them back. Beware of this company.

Feb 25, 2020

Hi Jerry. Thank you for taking the time to share your feedback. We take your feedback seriously and wouldn't delete your review. I do apologize for the experience you had with our product. If you are having issues with your product you can visit the local partner provider to get an adjustment, and if there is something wrong with the hardware then we can send them to the manufacturer for a repair if you haven't done so already. As mentioned you have a 45-day trial, which you can return the devices at any point in time and 100% get your money back. However, this does need to happen within the 45-days. We'd be more than happy to get you rescheduled with our partner provider for an adjustment. Please feel free to reach out so we can get it scheduled. I hope we can further assist in the future. - hear.com team.

(

read more

read less

...)

---

Took a chance...glad I did.

By Louis B.

,

New Braunfels, TX

,

Feb 24, 2020
Verified Reviewer

I had two different hear assessments prior to finding Hear.com, both said I had severe loss and needed aids. Those two places said aids would be $3500-$5000 in cost and there was no way I could afford it. Found Hear.com by accident on the internet and filled out the questions, 5 minutes later Terri Gilbertz was calling. She got me approved for the aids and set up the test. I got my aids two months ago and it is the best blind chance on a company I've done. Everyone involved was top notch, my aids are wonderful, and I will be a client until the end. If you need aids and cannot afford them, please contact this company before you give up completely.

Bottom Line: Yes, I would recommend this to a friend

Feb 25, 2020

Hi Louis! Thank you for taking the time to share your review of hear.com. We are happy that we were able to help you achieve better hearing at an affordable price. We know that hearing aids are an investment, so we've focused on developing different payment plans to make sure we can accommodate every budget. Glad to know your new devices are wonderful. Happy Hearing! - hear.com team.

---

Advertisement

---

First time hearing aid wearer

By Bob N.

,

Cincinnati, OH

,

Jan 21, 2020
Verified Reviewer

Everyone at Hear.com has been very helpful and knowledgeable. They were very good about the insurance and the financing needs. Quick responses and super friendly hearing specialist assigned. I worked with Tanya who was amazing to work with.

The hearing aids are awesome and really help with reducing my tinnitus.

Bottom Line: Yes, I would recommend this to a friend

Jan 23, 2020

Hi Bob. Thank you for taking the time to share your experience with hear.com. We are glad that you found our colleagues helpful and knowledgeable. Your hearing specialist, Tanya, is the best! We hope you continue to enjoy your new hearing aids. Great to hear the devices are improving your tinnitus. Happy Hearing! - hear.com team.

---

First time with hearing aids

By Stuart H.

,

Western Springs, IL

,

Jan 20, 2020
Verified Reviewer

Met with Adam at Audibel Westmont and was immediately put at ease. The hearing test confirmed an earlier result at a different company - they didn't inspire confidence, just a business and no relationship.

It was different with Adam - he explained in detail my issue, the options, the costs and I was convinced, so I took the step of purchasing the hearing aids.

While the difference at home is marginal, the difference in church, at meetings, and in restaurants is very obvious.

We have a wonderful relationship after only 4 visits.

Bottom Line: Yes, I would recommend this to a friend

Jan 20, 2020

Hi Stuart! Thank you for taking the time to share your experience with hear.com. We love Adam as well, he's great! We're happy you took the next step to better hearing. Church, meetings, and restaurants are often the most difficult environments so we're happy to hear that you see an improvement in those areas. However, we aren't surprised! We hope you continue to enjoy the sounds life has to offer. If there's anything else we can do, please let us know. - hear.com team.

---

Advertisement

---

I can hear clearly now!

By Paul G.

,

Ohio

,

Jan 20, 2020
Verified Reviewer

Hi, from the beginning I was treated well. I was told of trying hearing aids I could have for a trial period. Free for 45 days. Of course I already had tried a couple of aids before. I was using what's called mostly amplifier. This would increase the volume of all sounds, even sounds that hurt my ears. I had tests before and now in my left ear I'm deaf. My hearing in the right ear is not great and I needed help to hear even the TV. Unless I turned the TV up. In the past, I was told of needing a hearing aid for aid. Cost was not in my budget. But to my surprise, Hear.com had a payment plan I am currently paying on. This payment is low enough for my low income budget. I was sent to a nearby ear doctor for testing. I was told after they were going to set me up with hearing aids for my ears that were state of art, new recharging Bluetooth and have 4 different settings to control the hearing aids, with an iPhone could even adjust more. Now as I said before, for my left ear, a hearing aid would not help. But because I was given a left hearing aid that's called Cross. I was able to pick up sounds from left ear transferred to right ear hearing aid. Wow, this really works. Before I only heard sounds from the right ear. Now I hear from both left and right. Amazing. I never knew I could be able to tell sounds coming left. I'm very happy with the results. Hearings have filters to keep sounds out that are overbearing. These hearing aids are not just amplifying sounds. I'm able to understand speech much better then before. I can turn volume down if in a loud area like a restaurant. Or crowds of people talking at one time. I am thankful for all Hear.com has done for me. I pray these last me a long time. I would say to those we are thinking of trying them do it, the follow-ups and service people also have been kind and helpful. Thank you Hear.com.

Bottom Line: Yes, I would recommend this to a friend

Jan 20, 2020

Hi Paul! Thank you for taking the time to share your journey on getting hearing aids. We are extremely happy to know that we were able to help you improve your hearing situation. Many people don't know that CROS devices exist, which help those that are deaf from one side. There's a solution for everyone! We're also happy to hear that we were able to provide an affordable option for you. Hearing aids are an investment, but we aim to make the process easy and affordable for our customers. If there's anything else we can do for you, please let us know. Happy hearing! - hear.com team.

---

Very happy with Signia product.

By Patricia C.

,

Norwood, MA

,

Jan 19, 2020
Verified Reviewer

I am more than happy with my Signia hearing aides. They have made a huge difference in my interaction with family and friends. That is all I have to say. Thanks.

Bottom Line: Yes, I would recommend this to a friend

Jan 20, 2020

Hi Patricia! Thank you for taking the time to share your review regarding your experience with hear.com. We're delighted to hear that you're happy with your new Signia hearing aids. Getting hearing aids not only impacts you but also those around you. Continue enjoying the sounds of life! - hear.com team.

---

Great service

By Paula B.

,

Burnt Cabins, PA

,

Jan 13, 2020
Verified Reviewer

I called to see if hearing aids were for me. Was sent to a specialist and l was losing my hearing. I liked the fact that l could try them for 30 days before l made a decision. They have really helped, especially at work where l used to misunderstand everyone. Now l understand more clearly and rarely make a mistake with what someone had told me.

Bottom Line: Yes, I would recommend this to a friend

Jan 14, 2020

Hi Paula. Thank you for taking the time to share your experience with hear.com. We're happy to hear we could help improve your hearing situation at work. It's great that you took the next step toward better hearing. We hope you continue to enjoy your devices. Happy hearing! - hear.com team.

---

Hearing aids

By Michelene G.

,

Belleville, MI

,

Jan 12, 2020
Verified Reviewer

I have had a good experience with Hear.com. They listened to my concerns about my hearing loss, answered a lot of questions, then set up an appointment with a really good audiologist in my area. She then tested me and recommended a certain brand of hearing aids per my lifestyle. I am very pleased with the hearing aids. I can now hear everything and not miss out on anything. Thank you Hear.com, I would recommend you to my friends.

Bottom Line: Yes, I would recommend this to a friend

Jan 13, 2020

Hi Michelene. Thank you for sharing your experience with hear.com. No need to thank us, it was a pleasure to be able to help you. We are happy to know that we were able to deliver a good experience. Enjoy the perks of better hearing! - hear.com team.

---

I can hear now and loving it!

By Sylvia V.

,

St. Louis, MO

,

Dec 29, 2019
Verified Reviewer

My experience with Hear.com was so amazing! Their knowledge so willing to share and willingness to help find a great audiologist in my area made my search and the stress of it effortless. I was made to feel important with the follow-up call backs. I would recommend this service hands down.

Bottom Line: Yes, I would recommend this to a friend

Jan 2, 2020

Hi Sylvia. Thank you for taking the time to share your experience with hear.com. We are happy that you enjoyed the service we provided. Our follow-up calls are an integral part of your success. If there's anything else we can do, please feel free to reach out. Happy hearing! - hear.com team.

---

Best decision I ever made.

By Dean Y.

,

Sahuarita, AZ

,

Dec 23, 2019
Verified Reviewer

I had been experiencing a hearing loss problem for many years and said "can you speak up" or "sorry, can you repeat that" more times per day than I could possibly keep track of. This was even more troublesome at home where I would continuously say "what did you say" to my wife, children, and grandchildren. When I finally decided that hearing aids might be the answer, the Hear.com folks were extremely helpful as I went through the hearing test, procurement, and interfacing with my insurance, to the initial trial run and follow up tuning of the hearing aids. It was a very good experience and the ability to control the hearing aids with my cell phone is priceless. I am 100% satisfied with the service and performance of my hearing aids.

Bottom Line: Yes, I would recommend this to a friend

Dec 27, 2019

Hi Dean! We appreciate the time taken to share your experience with our company. We are happy to hear that getting hearing aids with hear.com was the best decision ever. It's truly life-changing, not only for you but also for your family. We hope you continue to enjoy the benefits of modern hearing aids, and if there's anything we can do for you please let us know. We wish you a happy holiday season! - hear.com team.

---

A great experience

By Garvin A.

,

Vestal, NY

,

Dec 23, 2019
Verified Reviewer

From the beginning, dealing with the representative from Hear.com was a pleasant and reassuring experience. I was expertly guided through the process by someone who was empathetic to me and my expressed needs.

I was put in contact with a local experienced audiologist who conducted the tests and designed my hearing aids. When they arrived at the office, I was contacted and an appointment was made for the fitting.

I am very happy with my new hearing aids and wearing them has definitely been a great experience, and a boost to my confidence.

Thank you, Hear.com!

Bottom Line: Yes, I would recommend this to a friend

Dec 27, 2019

Hello Garvin! Thank you for taking the time to share your experience with hear.com. It's incredible what wearing hearing aids can do to your mood. Happy to hear that you are enjoying and wearing your devices. We are here to help you, so if you need anything please feel free to reach out. Happy holiday season! - hear.com team.

---