Hearing Assist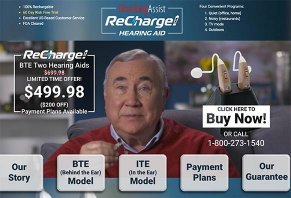 With two models in the lineup (behind-the-ear and in-the-ear), Hearing Assist's ReCharge hearing aids offer many essential features—including four noise programs—for an ultra-competitive price.
Hearing Assist ReCharge Hearing Aids Review
Hearing Assist's ReCharge hearing aids are available in behind the ear (BTE) and in-the-ear (ITE) models, as well as multiple color options, and use a magnetic station to recharge. This means you'll never have to worry about changing a battery again.
And despite their competitive price, each of these FDA cleared models also features four convenient programs to accommodate your needs across a variety of situations:
Quiet (for the office and at home)
Noisy (for public areas, like restaurants)
TV mode
Outdoors
Compared to traditional hearing aids prescribed by a doctor, Hearing Assist's models represent a fraction of the cost. But will they deliver a similar level of value? What's more, will they change your life, as advertised in the commercial?
Let's start with a few basics before diving into the company's different devices.
A Quick Note About Recent Innovations in the Hearing Aid Industry
For years, the only way to purchase a high-quality hearing aid was by first obtaining a prescription from your doctor (and paying the associated costs), and then potentially paying many thousands of dollars for the devices themselves.
In 2016, though, the US Food and Drug Administration eliminated the "physician waiver" system, which HearingReview.com explains "required consumers first to seek a physician for a medical evaluation or sign a waiver prior to obtaining a hearing aid.
Then, in August 2017, President Trump signed into law the OTC Hearing Aid Act, which was "designed to enable adults with perceived mild-to-moderate hearing loss to access OTC hearing aids without being seen by a hearing care professional."
HearingReview continues explaining that this law "will require the FDA to create and regulate a category of OTC hearing aids to ensure they meet the same high standards for safety, consumer labeling, and manufacturing protection that all other medical devices must meet."
And while this regulatory category doesn't have to be created for three years after passage of this legislation, the FDA still regulates all medical devices sold in the US. Of these, Class I devices like Hearing Assist are considered the lowest risk, a category which nearly 50 percent of devices fall under.
Using these core details as our foundation, let's zoom in a find out more about the specific technology offered by Hearing Assist.
Taking a Closer Look at Hearing Assist ReCharge Models
Currently, Hearing Assist manufactures two ReCharge hearing aid models:
ReCharge BTE (Behind the Ear)
This model features 43dB of crystal clear digital amplification, advanced layered background noise reduction, and feedback suppression. Each one is about 3.5 x 1.4 x 0.8 cm in size, weighs three grams, and features a volume dial and an On/Off/Program button on the exterior.
The latter allows you to switch easily between four programs to suit your environment:
Quiet – A high-fidelity setting with low noise reduction, ideal for at home or the office
Noisy – Uses higher background noise reduction to help you hear in louder environments like restaurants
TV Mode – Helps you watch TV by reducing low and high-frequency sounds
Outdoors – Mainly focuses on reducing wind interference and noise
Hearing Assist's website indicates their BTE model will last up to 20 hours per charge. When the time comes, the magnetic SnapCharge technology used by the charging dock helps ensure a fast, easy, reliable connection every time, with no small plugs to mess with. All you have to do is set the hearing aid on the base, and it will automatically secure in place.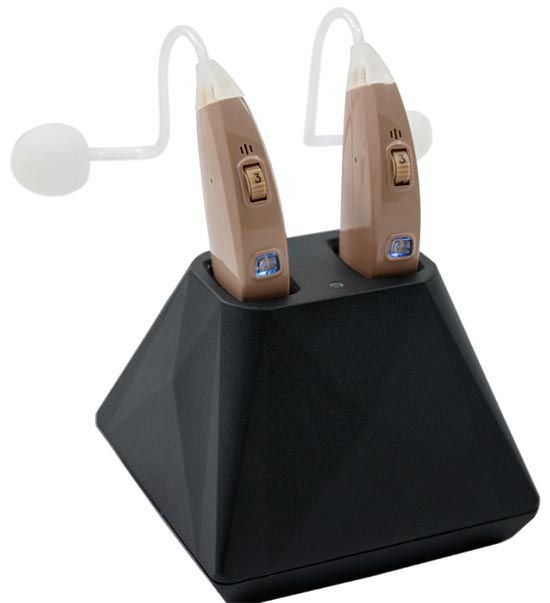 Hearing Assist's ReCharge BTE hearing aids, shown here in their magnetic charging dock. Credit: Hearing Assist II, LLC
Once connected, the LED will glow blue and turn green once the Lithium-Polymer battery fully recharges (after about 3.5 hours from full depletion). According to the user manual, the recharging process will automatically shut off when the battery is finished charging, so you won't have to worry about damaging it.
When handling, make sure you avoid dropping your BTE model on a hard surface (e.g., countertop, table, floor, etc.). When cleaning, Hearing Assist emphasizes that you should on wipe with a cloth and avoid using water, harsh chemicals, strong cleaners, or other fluids.
ReCharge ITE (In the Ear)
While smaller in size, Hearing Assist's ReCharge ITE model features slightly less digital amplification at 35dB. However, it comes with the same layered background noise reduction, feedback suppression, a magnetic charging dock with SnapCharge technology, four sound settings, and up to 20 hours of operation per charge.
Because of its meaningfully smaller size than the BTE, it only takes about three hours to fully recharge the ITE hearing aids. They also don't feature an on/off button (they automatically turn on as soon as they're removed from the charging case), although it does come with a Program button on the exterior to cycle between sound settings, as well as a small built-in microphone.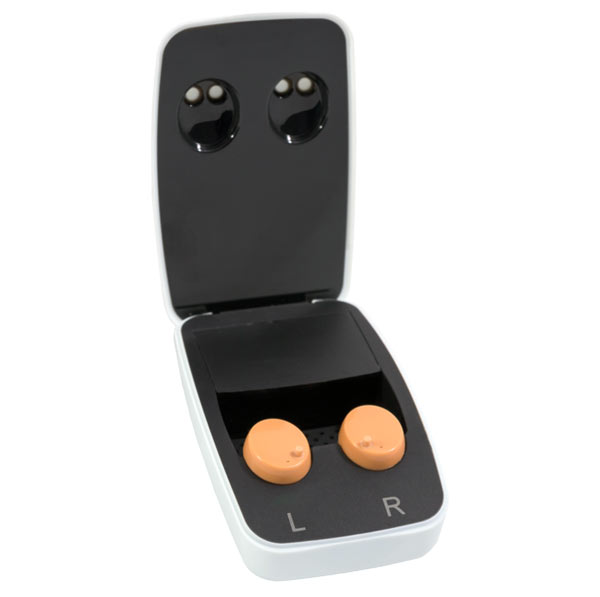 Although the ITE ReCharge model from Hearing Assist comes with less amplification and a more streamlined design than their BTE model, it delivers all of the same technological features.
How Much Does Hearing Assist Cost?
Recharge logo Behind The Ear Bluetooth Hearing Aids: $599.98 or as low as $50/per month with Affirm financing
Recharge logo Behind The Ear Hearing Aids (Without Bluetooth): $499.98 or as low as $42/month with Affirm Financing
Recharge logo In The Ear Hearing Aids: $599.98 or as low as $50/month with Affirm Financing
The complete kit includes two rechargeable hearing aids, multiple ear cap sizes, replacement tubes (if applicable), one recharger, one power cord, one AC adapter, and illustrated user instructions. It also comes with a one-year warranty against defects from the manufacture.
How Does Hearing Assist's All-Inclusive Plan Work?
Alternately, you can choose to sign up for Hearing Assist's All-Inclusive Plan during checkout, which their website explains is like a cable service—you receive the hardware, and the company supports their service with troubleshooting guidance, as well as replacement hardware if it's deemed defective. Then, when you cancel the service, you send the hardware back to the company.
It's much the same in this instance, but instead of a cable box, Hearing Assist will ship you a pair of brand new rechargeable hearing aids, which are backed by free replacements if they stop working as a result of defect, damage, or normal wear and tear. They'll even send you a free shipping label.
This plan also allows you to receive replacement ear caps and tubes whenever they're needed, as well as to upgrade your unit every 18 months at the same price.
Cost? Going through this plan, the BTE model is priced at an initial payment of $99.99, and then $39.99 per month thereafter. For the ITE model, the initial payment increases to $199.99, followed by the same $39.99 monthly payment.
Whichever payment option you choose, all orders come with free shipping and 60-day risk-free trials. If you decide your ReCharge model isn't for you and request a refund, Hearing Assist will send you a free return shipping label.
To cancel your subscription, request a refund, or speak with a customer service representative, you'll need to call 800-640-9785 or send an email to cs@hearingassist.com.
What Do We Know About the Company Behind Hearing Assist Hearing Aids?
Avento Inc. (dba Hearing Assist II, LLC) is based out of Virginia Beach, VA and has been in business since 2008. Their original product was the Lee Majors Rechargeable Bionic Hearing Aid (aka Bionic Ear), which went on to become a big hit among consumers.
According to their bio on the Hearing Assist website, they created ReCharge hearing aids in order to take advantage of the huge leap in technology that's taken place over the past decade, as well as to bring more affordable, high-quality hearing solutions to consumers.
But are there any other hearing aids competing for the same customers?
ReCharge by Hearing Assist vs. the Competition
Before diving in, let's quickly make an important distinction:
The Difference Between a Hearing Aid & a PSAP
Even before the passage of the OTC Hearing Aid Act, technology had advanced to a point where devices that looked—and performed—very similar to traditional hearing aids were entering the market, but at much lower price points. To distinguish themselves, though, they were labeled personal sound amplification devices, or PSAPs.
In fact, interviewed for an FDA article, Eric Mann, M.D., PhD, and deputy director of FDA's Division of Ophthalmic, Neurological, And Ear, Nose, and Throat Devices, said "Hearing aids and personal sound amplification products (PSAPS) can both improve our ability to hear sound, they are both wearable, and some of their technology and function is similar."
The key difference, he explains, is that "only hearing aids are intended to make up for impaired hearing," whereas PSAPs are only built to amplify environmental sound—a small, but important, difference. He even emphasizes that "Choosing a PSAP as a substitute for a hearing aid can lead to more damage to your hearing."
As a result, if you're experiencing signs of hearing loss, speak with your doctor first about whether a PSAP or formal hearing aid is the right choice based on your specific diagnosis.
» For Further Reading: Personal Sound Amplification Products: A Comprehensive Buying Guide
How to Choose Between Hearing Assist ReCharge & Other Hearing Aids
Because Hearing Assist advertises that ReCharge can help address impaired hearing, it's categorized as a hearing aid, which is why the company emphasizes it's an FDA Cleared Class I medical device.
Specifically, both ReCharge models are known as air conduction (also called acoustic) hearing aids, since they pick up exterior sounds, digitally amplify them, and transmit them into the wearer's ears via waves that travel through the air. This is in contrast to other technologies, such as bone conduction, which send sound waves through bones in the head.
The problem is that if you type "air conduction hearing aid" into any search engine, you're met with hundreds of different viable options in thousands of different configurations. How in the world can you start off on the right foot?
As you might imagine, the Mayo Clinic recommends you start by getting a checkup, where you can have your hearing tested and formally diagnosed by your doctor, as well as a reputable audiologist.
When selecting a model, you'll want to make sure it comes with a trial period, so you're not making a 'blind' purchase, as well as a warranty that includes coverage for parts and labor.
Last, but certainly not least, make sure the hearing aids you select don't just accommodate your current needs, but your future ones as well. Features you might consider based on this assessment include:
Noise reduction
Directional microphones
Rechargeable batteries
Variable programming
Environmental noise control
Our Final Thoughts About Hearing Assist's ReCharge Hearing Aids
There's a lot to like about Hearing Assist's ReCharge Hearing Aids, including ultra-competitive pricing and essential features (rechargeable batteries, adjustable modes, external microphones, discreet design).
The FDA also classifies them as hearing aids, so—with the help of your doctor, of course—they could potentially make up for some of your hearing loss. This is compared to PSAPs, which are only designed to amplify sound.
Just make sure to keep your expectations realistic, as no hearing aid, at any price point, is designed to restore your normal hearing; only to help you hear meaningfully better.
Finally, although they seemed to have a limited online customer reputation, Hearing Assist has been in business for a decade, manufactured a highly successful hearing product in the past, and provides a 60-day trial and one-year warranty on all ReCharge purchases. They'll even send you a free shipping label if you're dissatisfied.
» For Further Reading: Which Hearing Aid Is the Best? A Comprehensive Buying Guide
No support.

By Charlie L.

,

Michigan

,

Apr 2, 2020
Verified Reviewer

Hearing aid wouldn't hold a charge for left earpiece. Returned after customer service said that since I bought a protection plan they would take care of it. A week or so later it was shipped back with a note that read that because the credit card that I bought the aids and protection plan with had since expired. What the card expiration after the purchase has to do with them honoring their protection plan is not relevant. It was valid at the time of purchase of the product and protection plan and they got paid in full. They don't keep their promises or honor their plan. Don't trust them.

Bottom Line: No, I would not recommend this to a friend

---

Less than straight forward

By Mike J.

,

Lexington, KY

,

Mar 16, 2020
Verified Reviewer

I am a long time hearing aid user but am reviewing these for an elderly family friend who asked for my help when they couldn't get their newly purchased hearing devices set up.

This review will be not only about these but will apply to a broader base of an influx of low-cost low-performance hearing aids.

These particular devices have hardware issues that ought not be approved by any engineering staff. Poor.

These devices, like so many of the recent devices being marketed as a very cheap alternative to expensive prescription hearing aids, it looks like the advertising is set up to prey on the older generation who might not be tech-savvy. Common denominators between these Hearing Assist devices and the other super cheap aids sold online or at big retailers are crucial. They are not programmable. They are not very powerful. That means they have little flexibility to adjust for different hearing losses. They don't have enough power to help anyone effectively who has anything but very mild hearing loss.

Good quality hearing aids cost too much, that is a fact.

However, the level of technology they offer is incredible. But these cheap devices being marketed as effective for everyone with mild to moderately severe hearing loss is very misleading. I put these in my own ears to try to determine what I might do to help the user. My experience with these particular devices tells me they don't have enough power and they don't have any dynamic range, nor any digital adjustment. Hearing aids are complex. These devices are simple low power noise magnifiers with very limited effectivity.

Bottom Line: No, I would not recommend this to a friend

---

Advertisement

---

Cheap, cheap, cheap

By Recer T.

,

Florida

,

Nov 7, 2019
Verified Reviewer

Within a month of purchasing the Hearing Assist, the plastic ear inserts separated from the hearing device. The metal was screwed to the plastic. After reattaching the two pieces a few times, it became more and more difficult to reattach.

This device is a waste of money. If it is too good to be true, it probably is not true.

Don't waste your money.

Bottom Line: No, I would not recommend this to a friend

---

Don't waste your money

By Rid Cole

,

Washington

,

Aug 9, 2019
Verified Reviewer

You know the old saying, you get what you pay for? Well, here is a good example. I purchased these thinking it was a good deal and after just one night I released that the sound quality was just awful. Real tiny sounding and the sounds came back like you were in a metal barrel. I took them back the next day. Get the Kirkland brand from Costco. Better quality and still a good price.

Bottom Line: No, I would not recommend this to a friend

---

Advertisement

---

In the EAR hearing aids - fit and wear well; good service

By Lloyd E.

,

Wapakoneta, OH

,

May 30, 2019
Verified Reviewer

I had these for a short time. I was very well please but the right hearing aid increased in volume, for a very high volume, and the volume button would not lower the volume. It way too high. I notified the service department, explained it to them, the rep was very friendly, extremely nice, and very interested in my problem. Then, he told me that he would immediately send me a brand new set in seven days. I received them in a week. The aids work great and they even sent me a priority order envelope to return the old ones, POSTPAID. I am very happy with the aids and the service was exceptional and appreciative.

Bottom Line: Yes, I would recommend this to a friend

---

Not your best, but you get what you pay for.

By Henry E.

,

Texas

,

Apr 8, 2019
Verified Reviewer

I just spent two days trying to adjust the noise settings on a pair and it was impossible. Everything was either too loud, echoing, or not loud enough. There is too thin of an adjustment between low and high on the volume control also. I had just tested another brand hearing aids that were $2000, but they were easy to adjust on the noise reduction and volume. So I guess you get what you pay for.

Also, I want to add that it took Hearing Assist one day to pull the money out of my bank account, and it's been 14 days since they received the return and haven't seen a penny. What's the difference from withdrawing one day and deposit?

Bottom Line: No, I would not recommend this to a friend

---

Horrible purchase

By Sue C.

,

North Carolina

,

Mar 9, 2019
Verified Reviewer

These are less than cheap, they are horrible. You can't dial down the outside noise, they are bulky and can be seen behind your ear, and they are uncomfortable. That's the nicest comments I can make. I know they have a return policy, but too much bother. Will keep them as a backup pair, but they are definitely not quality.

Bottom Line: No, I would not recommend this to a friend

---

Better than a competitive brand

By Ed C.

,

Florida

,

Feb 15, 2019
Verified Reviewer

I bought these to replace a $3,200 pair that I had bought 4 years ago. I have been really pleased. They are better than the $3200 set that I had purchased from another company. I have recommended them to friends who purchased them and are very satisfied. The recharging unit works fine and the experiences that I have had with customer service have been excellent.

Bottom Line: Yes, I would recommend this to a friend

---

They lost a customer...

By Michael D.

,

California

,

Jan 16, 2019
Verified Reviewer

I purchased the BTE model, they charged me for the unit, the shipping, the insurance...$694. Then while checking the status of the order, they tell me it was "rejected."

Why would a profit making company reject a fully paid order? They couldn't tell me, nor could they contact me. No call, no email...nothing.

Despicable way to do business. So while I can't review the product, I can review the company, and this is NOT the way to do business.

Bottom Line: No, I would not recommend this to a friend

---

These work every bit as well as the ones my mother-in-law paid 6 grand for.

By William L.

,

North Benton, OH

,

Jan 16, 2019
Verified Reviewer

I've had progressive hearing loss, especially in my left ear, since (and probably before) I retired from the Police Department. It had gotten so bad that I would rather stay home on Saturdays than go out with our friends for dinner because I couldn't participate in the conversation. I couldn't talk on the phone at all using my left ear and could barely hear using my right. I saw a commercial for these devices and decided to give them a try as there is no way I can afford $6000.00 for hearing aids. I tried those cheap over the counter hearing amplifiers, but they were pretty much worthless. I mentioned these to my wife and, without telling me, she bought a set for me.

When they arrived I charged them up and selected the proper ear cap after some trial and error got a perfect fit. After some more trial and error, I got them adjusted properly and was astounded. I did not realize how hard-of-hearing I had gotten. I can now hear sounds that I haven't heard in years. The volume setting on the bedroom TV went from 35 to 17 (probably why the wife was so anxious to buy them). I got the behind the ear model because it seems like the controls are easier to get to and I could care less about aesthetics.

As far as performance, these work every bit as good as the ones my mother-in-law paid $6000.00 for and maybe even better in my opinion. She gave me her old set and, while they fit pretty well (I got new caps for them), they didn't work, for me at least, nearly as well as these do and I finally just donated them to the church. They mostly just squealed. Now, granted, they were older and not made for me, but you would have thought for six grand they would have worked at least marginally well.

My wife is thrilled at not having to repeat herself three or four times every time she talks to me. As to their support that the guy was complaining about, I can't say as so far everything has worked out fine. If you're like me and experiencing some mild to moderate hearing loss give these a try, they have a 60-day trial period, so what do you have to lose?

Bottom Line: Yes, I would recommend this to a friend

---

Terrible customer service

By Ron J.

,

Ouray, CO

,

Jul 15, 2018
Verified Reviewer

I called twice needing an invoice for hearing aids I purchased. Terrible run around by the same person both times. Still waiting for an invoice. I unfortunately lost one of my hearing aids and will do without before ordering a replacement from this company. Simply ridiculous. Never a good excuse to not follow through with something you say you are going to do. Rule number one of customer service. "say it, do it."

Bottom Line: No, I would not recommend this to a friend

---