Heartwatch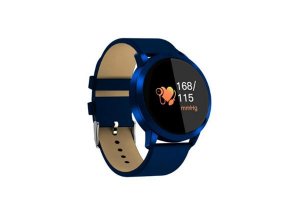 Heartwatch's combination of a color OLED screen, iOS and Android app connectivity, and ability to monitor heart rate, blood pressure, sleep, and oxygen levels promise to improve health.
Heartwatch Review: Ideal Smart Watch for You?
Heartwatch is a new smartwatch with a premium, stylish look that promises to monitor your vital functions in real-time and help you achieve a healthy lifestyle.
These include heart rate, blood pressure and oxygen, steps, calories, and total distance, as well as an IP67 waterproof rating. Heartwatch also connects to iOS and Android phones via their health app, which allows it to display call alerts and text notifications.
Together, the manufacturer advertises that Heartwatch was named as a Top 65 Gadget by the T65 Health Gadget Awards.
Does this mean that it's the best fitness activity tracker for your needs, though? This is the central question we'll help you answer in this article, starting by zooming in on its functionality.
Taking a Closer Look at How Heartwatch Works
There wasn't a Heartwatch user manual available at the time of our research, and the device's website was relatively light on details. With this said, here's what we know.
Heartwatch features a 0.95" OLED color flip-touch screen, 512 KB of memory, a USB rechargeable Lithium polymer battery, and an SMD motor.
From a functionality perspective, it boasts blood pressure and oxygen monitors, a heart rate monitor, activity tracking (step count, distance, calories), a sedentary reminder, sleep monitoring, alarms, and iOS and Android app connectivity.
Once connected to a smartphone, Heartwatch's app interface supports multiple languages and can provide incoming call and text reminders, along with the ability to take photos via Bluetooth and refuse calls. It can also help you locate your watch if it's lost.
It seems to offer several of the same essential features as competitors.
However, a ton of unanswered questions remained, so we emailed customer service and learned that Heartwatch's fabric and metal bands feature an 80 mm x 120 mm length they say will fit most wrist sizes.
We also learned the device's 170 mAh LiPo battery and energy-efficient chipset provide up to 150 days of standby power. With normal use, the battery life falls somewhere between seven and 10 days, with 1-2-hour recharge time. It recharges using an included magnetic USB compatible cable.
The representative who responded to our inquiry pointed out that Heartwatch's free app is available on Google Play for Android devices with OS 4.4 and above, as well as from the App Store for iOS devices with OS 9.0 OS version and above. However, after comparing screenshots, the only results we encountered appeared to feature entirely different user interfaces.
With this said, the representative pointed out that they don't recommend using third-party apps with the watch, since the original is "adjusted for the device hardware." The app is also responsible for analyzing the data accumulated by the watch, although users cannot export data to a third-party program like Apple Health, Google Health, and so forth.
Finally, they advised that while Heartwatch's face comes with three built-in time/display options, users cannot individually customize their screens like they might on devices like the Apple Watch.
How Much Does the Heartwatch Cost?
Available in Blue and Black finishes, Heartwatch is available for the following prices:
1 Watch: $89
2 Watches: $ ($79 each)
3 Watches: $ ($69 each)
Stainless Steel Special Edition w/Stainless Steel Band (available in Black or Silver Steel finishes): $119
During checkout, you can purchase a three-year protection and replacement warranty for an additional $14. Again, we sent an email regarding warranty length and coverage details but hadn't received a response as of publishing.
All orders come with free standard shipping, or you can pay an extra $9.95 for priority shipping. Note: Our test address was in California, and the system also charged an additional $6.45 for tax.
Heartwatch comes with a 30-day guarantee, which begins the date you receive your watch. Per the refund policy page on the website, keep in mind it must be unused, in its original packaging and condition, and include any accessories, manuals, and documentation.
Specifically, they point out that "Stains, folded cards, broken seals/ plastic foiling broken will not be accepted." Also, if your watch is defective, they may require a photo or video in order to process a refund and may take up to 14 business days to complete.
There isn't a phone number to reach someone at the company, so you'll have to send an email to customerservice@juicytrends.co.
Are There Other Heart Rate Monitor Smart Watches Like Heartwatch?
If you search on websites like Google Shopping and Amazon, you'll quickly gain access to thousands of wristwatch-type heart rate monitors and fitness trackers competing for many of the same customers as Heartwatch.
Most also feature heart rate, blood pressure, oxygen, activity, and sleep monitoring; color screens, iOS and Android app connectivity, some level of waterproof ability, USB rechargeable batteries, cameras, alarms, and the option to receive text and call alerts.
And while not all of these feature the same design as Heartwatch, the vast majority are priced somewhere between $20 and $60.
On the other hand, we encountered several top-rated products on Amazon that appeared identical to Heartwatch, but that were priced meaningfully lower and offered additional functionality details. Here's how they compare:
| Brand | Price | Special Features |
| --- | --- | --- |
| Heartwatch | $89 | 0.95" OLED screen, IP67 waterproof, |
| BingoFit Fitness Tracker Smart Watch | $38.59 | 1.3" screen, fits wrists 5.9" to 9.4", plays music, customizable dial face |
| YoYoFit Edge Plus Smart Fitness Watch | $39.99 | Crystal OLED display, IP67 waterproof, 5-7 day standby time, recharges in 2 hours |
| Huangchao Inc Fitness Tracker | $45.99 | 0.96" screen, IP73 waterproof, drinking reminder, can change faces, gold color |
| Nekbow Fitness Tracker with Heart Rate Monitor | $45.99 | 1" OLED tempered glass screen, 12/24 hour format selectable, IP68 waterproof |
| TEYO Fitness Tracker Smart Watch | $49.99 | Customizable watch face, 3-month warranty |
How can you use these details to make a more informed purchase?
As mentioned previously, we can see that Heartwatch is priced meaningfully higher than its close competitors. In fact, you could purchase two BingoFit or YoYoFit models for less than the price of a single Heartwatch. On top of this, the others are only a few dollars more expensive.
And based on their online descriptions, it seems like many of these third-party wristwatch heart rate monitors might deliver additional features not offered by Heartwatch.
These include access to weather, the ability to play music, customizable watch faces, longer warranties, slightly larger screens, different color bands and exteriors, and higher protection against water intrusion.
Our View: Will Heartwatch Deliver Maximum Value?
There are several factors to consider carefully before handing over your hard-earned money.
First, the Heartwatch website provides far less detail about the device's functionality than seemingly identical competitors and comes with a price that's more than twice as high as several.
Next, the only Heartwatch retailer we encountered during our research (JuicyTrends) is headquartered in Israel, with no Better Business Bureau listing, online customer reputation, or method of contacting customer service other than via email.
With this said, we received a quick response from customer service, who provided detailed answers to our questions, which is definitely positive.
However, we also didn't encounter any online evidence of the T65 Health Gadget Awards during our research, or that Heartwatch won an award from them.
Together, it seems like many of these functionally identical wristwatch heart rate monitors might deliver a better overall value.
Still, JuicyTrends stands behind Heartwatch with a 30-day refund policy if you feel like giving it a try, although it's not a completely risk-free transaction since you're responsible for return shipping charges.
» Related: Running vs. Walking: Weight Loss, Injuries and Health
Poor service

By Paul K.

,

Seminole, FL

,

Dec 4, 2019
Verified Reviewer

Purchased two health watches in January 2019. One watch is working perfectly, the other fails to charge. I called support, they gave me a possible solution, which did not work. Emailed support numerous times...have never responded back...so I have one useable Heartwatch.

Bottom Line: No, I would not recommend this to a friend

---

Buyer beware

By Deborah H.

,

Wisconsin

,

Sep 6, 2019
Verified Reviewer

I ordered 2 watches in May. Money pulled from my account the same day. It's now August 30th and still no watched delivered. So disappointed. Would never recommend this watch to anyone.

Bottom Line: No, I would not recommend this to a friend

---

Advertisement

---

Never received the product

By Denise T.

,

Windsor, Ontario, Canada

,

Sep 4, 2019
Verified Reviewer

I ordered two watches at the end of December 2018. They were supposed to be delivered within 21 days. They were not delivered within that time frame but later, at a time when we were not at home, Canada post sent them back after a number of days. Contacted Sandra Ellen as soon as we got home to be told they would be reshipped. As of today, still nothing! I have kept a copy of all the emails between Sandra and myself. She always had an excuse for the delay. I have made a complaint with the BBB. My next step will be to contact the fraud department in Alberta. If you deal with this company, you are asking for trouble. Stay away! If I could, I would give this company a -10.

Bottom Line: No, I would not recommend this to a friend

---

BEWARE!

By Lori H.

,

Bentleyville, PA

,

Jul 30, 2019
Verified Reviewer

This company is a scam. You may never get the product you ordered and queries to the company get you vague replies with no info. They state on their site that it MAY take up to 21 business days to receive your watch depending on your location and you will receive an email confirming shipping and tracking when it ships. After 27 business days, I have not received the watch and never received a shipping notification. After contacting them once again, I was told I was in luck; my watch shipped the Friday before but there is no tracking info due to it shipping regular mail. I have begun a dispute and request for refund with my credit card company and will not accept the watch even if it should finally arrive after all of the unprofessional behavior. They have an F rating on the BBB.

Bottom Line: No, I would not recommend this to a friend

---

Advertisement

---

Heartwatch

By Ian G.

,

New Zealand

,

May 14, 2019
Verified Reviewer

Hi. I bought two of these via the Wish website. First one suffered a major system failure 3 months after purchase. Wish didn't want to know. Agreed the advertised features are misleading and many could not be accessed. The watch is not for for the purpose given, it has failed within 12 months of purchase.

When the first failed I opened the second and tried to charge it. It was enough to want to swear. It would not charge. Total waste of money.

When it works it looks great. However, the heart monitor and blood pressure readings were misleading and inaccurate. Each time I had a cuff on the watch rate was lower and that is not good. I'm 25 years a heart patient and seriously do not buy this watch if you want to be safe.

Thanks for reading this.

Bottom Line: No, I would not recommend this to a friend

---