Heineken 0.0 Reviews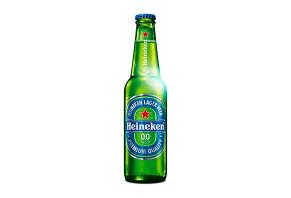 Heineken 0.0 is the newest in a recent wave of zero alcohol beer options available for European customers, which claims to feature an all-new, natural recipe.
About Heineken 0.0
Launched in May 2017, Heineken 0.0 is the brand's first non-alcoholic beer, which they claim is a recipe based on years of exploring and brewing, with a perfectly balanced taste that's refreshing fruity and softly malty.
In their press release, the company outlines that their rationale for creating this zero alcohol brew was to meet increasing European demand, a market segment that grew about five percent a year between 2010 and 2015.
While the Heineken brewmasters started with the same ingredients as their original version, such as water, barley, malt, hop extract, along with their unique A-yeast, 0.0 represents a completely new blend that has the alcohol content gently and naturally removed after brewing.
Together, Heineken markets 0.0 as an ideal choice for "all people, moments and drinking occasions, which might call for a beer but not for alcohol."
Are you considering picking up a few bottles of new Heineken 0.0? If so, what can you realistically expect as far as taste? Will it satisfy like a regular beer, but without the alcohol content? Let's start with the basics.
What's the Difference Between Regular & Non-Alcoholic Beer?
Obviously, the main difference is in the alcohol content. But are there any other meaningful differences, and how does the process work?
In The Science of Non-Alcoholic Beer, Gizmodo's Brent Rose tells us that non-alcoholic (NA) beer is processed and brewed exactly like regular beer. However, whereas regular beer will be bottled and aged immediately after being brewed, NA beer has to go through an added step to strip away most (or all) of its alcohol content.
This is often accomplished using one of the following methods (Heineken doesn't tell us which of these is used for 0.0):
Boiling – After brewing, the beer will be heated to a temperature of 173 degrees F (although a process called vacuum distilling can lower this temperature to 120 degrees) until it contains no more than 0.5 percent alcohol content.
Reverse-Osmosis – Without going into unnecessary detail, this essentially involves filtering out alcohol of the beer.
Finally, carbonation is added, either manually using CO2 (like soda), or by adding a small amount of yeast and sugar to the bottle, which results in some natural fizz.
As we can see, with these added processes, the chemical composition of the beer is significantly changed, typically resulting in a much different taste and flavor profile than the starting brew. This is why Heineken claims to have started from scratch with 0.0 in order to find a well-balanced taste.
Other than the starting recipes, how else does the original version and Heineken 0.0 differ?
How Many Calories Does Heineken 0.0 Have Compared to the Original?
Just to reiterate, Heineken 0.0 isn't simply an alcohol-free version of their original brew. Instead, it's a completely new recipe formulated from scratch to optimize its taste as a non-alcoholic beer.
In addition to alcohol content, this also resulted in other nutritional differences across the board:
Heineken Original
5% ABV
Energy 176kJ / 42 kcal
Fat 0 g
Saturated Fat 0 g
Carbohydrates 3.2 g
Carbs From Sugars < 0 g
Protein 0 g
Salt < 0.01 g
Heineken 0.0
0% ABV
Energy 90kJ / 21 kcal
Fat < 0.1 g
Carbohydrates 4.8 g
Carbs From Sugars 1.3 g
Protein 0.4 g
Salt < 0.01 g
In summary, not only does Heineken 0.0 have no alcohol content compared to the original recipe, but it also features about half the calories, a little more protein, and slightly more carbohydrates (mostly from sugars).
With these key differences in mind, what will you pay for Heineken 0.0?
How Much Does Heineken 0.0 Cost & Where Is It Available?
Like almost every other adult beverage, exactly what you'll pay for Heineken 0.0 largely depends on where you live (taxes) and the retailer from which you purchase it.
Heineken tells us that 0.0 will initially be available in 14 markets in 2017, including those in Europe, Russia, and Israel. However, According to Mike Pomranz at Food & Wine, "the brewer has no plans to launch 0.0 in the States."
Although it's a relatively new product, what are beer drinkers saying about Heineken 0.0?
What Can We Learn From Heineken 0.0 Reviews?
Continuing with Mike Pomranz's article in Food & Wine, he provided the most robust description of Heineken 0.0 we encountered during our research:
"Heineken 0.0 certainly isn't bad. Non-alcoholic beers run the gamut from tasting like sweet unfermented wort (the sugary liquid that eventually turns into beer) to actually somewhat resembling the taste of a beer. Heineken landed in the latter category. Though the body was thin, 0.0 was refreshingly dry, lacking the fruity qualities that some major non-alcoholic beers like O'Doul's suffer from. Like every N/A beer I've ever tried, if you're truly craving a beer, this won't scratch the itch. However, 0.0 would certainly make a solid replacement for a soda or some other sparkling beverage."
On RateBeer.com, 26 users gave the brew an average rating of 2.47 out of five, with "Palate" the seemingly lowest rated overall component. Heineken 0.0 had a similar rating of 2.3 on UnTappd among 3,500+ reviewers.
As a company, Heineken is the second largest beer manufacturer in the world. They hold a portfolio of more than 170 brands, including Amstel, Birra Moretti, Desperados, Foster's Lager, Lagunitas, and Newcastle, with a reported revenue of nearly €21 billion in 2016.
Their USA division, based out of Pleasanton, CA, had an A+ Better Business Bureau rating and no closed complaints as of 6/7/17.
Does Heineken 0.0 Have Any Zero-Alcohol Beer Competition?
While there are perhaps hundreds of non-alcoholic beer options (including for several of the other brands in Heineken's portfolio), the reality is that they can be classified as such and still contain up to 5 percent ABV. So, if you're looking for a zero percent alcohol, otherwise known as alcohol-free, beer, your options will be much more limited.
But there are still many popular options competing with Heineken 0.0, (especially if you live in Europe), such as Bavaria Premium Malt, Ambar 0.0, Carlsberg 0.0, Jupiler, Nix Zero Premium Wheat, and Estrella Damm Free.
Like Heineken 0.0, you'll find that many non-alcoholic beers are lagers, or lighter options like wheat beers, since the alcohol removal process discussed earlier can strip away the body and hoppiness.
So, while the "best" option will almost wholly depend on your personal tastes and preferences, if you're expecting to find heavier, hoppier brews (such as IPAs) in alcohol-free options, you're likely going to be disappointed by your overall selection.
What's the Bottom Line About Heineken 0.0?
Since there's currently no plan to release the recipe in the U.S.—the company undoubtedly takes their beer seriously.
In fact, they claim to have crafted a completely new recipe to satisfy their European customers' increasing demand for high-quality, good tasting non-alcoholic beer. And based on their middle-of-the-road online customer reputation, they seemed to be meeting these demands about half of the time.
Is the brew right for you? Like any other beverage, this will wholly hinge on your specific preferences. But if you're looking for good taste and zero alcohol, it seems like you have another solid option available with Heineken 0.0.
Before you click away, be sure to tell us about your Heineken 0.0 experience below!
It's DYNAMITE!

By Riley G.

,

Southwest Florida

,

Feb 1, 2020
Verified Reviewer

Holy cow people! After a Thanksgiving blackout, crying in my yard in the pouring cold rain with pneumonia AND having neighbors, sleepover friends, and my entire family COMPLETELY freaked out...I decided that I'm breaking up with alcohol PERMANENTLY. Contracts were written to each of my loves and the life of tee-totaling began. My GOD was I having a difficult time. NOT for lack of alcohol, but for lack of a good beer taste! New Year's day I was strolling past the beer cooler...wishing there was a light of hope at the end of my dry, beer-free tunnel. Low and behold, there it was...ahhhhaaahhhaaahaaaaaaa (angels singing)...Halo of florescent light shining upon...the gorgeous glint of a green glass bottle...my HEINEKEN...with ZERO ALCOHOL! WHAAAAATTTTT? Oh yeaaaaa..I actually love these BETTER than regular Heinies! I can only pray they continue to brew this wonder elixir of a non-drinkers fancy! Give it a try...what do you have to lose really? Many blessings to all of you and happy alcohol-free days for the future!

Bottom Line: Yes, I would recommend this to a friend

---

Better than many zero alcohol lagers

By Mark W.

,

Liverpool, United Kingdom

,

Jan 2, 2020
Verified Reviewer

I've tried most of them, and there seem to be new ones every week. Some non-alcoholic beers are truly appalling; Nanny State IPA being by far the worst, but this Heineken product is pretty good, provided you follow these recommendations - firstly the bottle has to be really really cold, and never use a glass. Secondly, a slice of lime on the top as we would normally use with a bottle of Corona or Sol helps enormously, particularly in disguising the lack of alcohol in the brew. The only product that can match Heineken zero alcohol beer is an Australian beer called Swan or Swan light, no longer available in the UK.

Bottom Line: Yes, I would recommend this to a friend

---

Advertisement

---

Incredible!

By Mark M.

,

Buffalo, NY

,

Nov 6, 2019
Verified Reviewer

Why Heineken chose to wait two years to introduce their double zero to a nation of raging alcoholics is beyond me. I have not had a drink is almost six years and the guilt of the "less than .05%" still lingered at the temptation of other "non-alcoholic" brands. I guess if you drink them, you're magically a step-free non-alcoholic.

A friend offered this to me and I was skeptical but willing to look as Heineken was my favorite. I tried it and it was like seeing an old friend without the guilt of not having associated with them because of the trouble that ensued every time we got together. This truly non-alcoholic beer had a great taste and full body as compared to it's distinguished N/A colleagues.

Was I drinking? No.

Did it tempt me to move to shots and liquor? No.

I think if this was around in 1935, it would have been an approved alternative to easing into not drinking alcohol at all...which is the "new drinking."

Bottom Line: Yes, I would recommend this to a friend

---

A great tasting beer

By Warren Z.

,

Irwin, PA

,

Oct 2, 2019
Verified Reviewer

I enjoy a regular beer at a restaurant about once every six months. I don't drink wine or hard liquor. The other day I saw a Heineken 0.0% six-pack at the grocery store and I decided to purchase it. I chilled the six-pack in the refrigerator for the rest of the day. The next day I had a chicken sandwich with potato salad and I opened a bottle of Heineken 0.0%. I enjoyed Heineken 0.0% more than a regular beer because Heineken 0.0% doesn't have a bitter or fruity taste. Heineken 0.0% will be my preferred drink at lunch in the future. Heineken 0.0% sure beats the heck out of any soda. Finally, a beer without alcohol that has a great taste.

Bottom Line: Yes, I would recommend this to a friend

---

Advertisement

---

Way better than "real" Heineken

By Karl A.

,

Vermont

,

Sep 24, 2019
Verified Reviewer

On the wagon for a month now, so glad to have found Heineken 0.0! Really enjoy this brew. I would recommend this to people who enjoy the flavor of beer, but don't want alcohol in their diet. Still empty calories, so only a couple a day for me!

Bottom Line: Yes, I would recommend this to a friend

---

Amazing

By Chase K.

,

New Hampshire

,

Sep 15, 2019
Verified Reviewer

I have a bad liver first from years of being prescribed mega amounts of HydroCodone and Acetominifen mix which has been determined to actually kill liver cells directly. Then I found out I had developed an allergy to Acetominifen. So I self-medicated with alcohol to stop the pain enough to function with my back injury from 1873 on Nato ops in the northern Baltic. So no alcohol allowed and I was an avid homebrewer and Spanish wine connoisseur. So to find a no-alcohol beer that doesn't taste like badmash was used was a life-saving find. Literally in my case as I don't like soda (too sweet even homemade root beer). This is the real deal and shows what can be done if people really put their minds to it. I'll leave the Sherrisac to Falstaff. Hand me another Heinie.

Bottom Line: Yes, I would recommend this to a friend

---

I can drink beer again

By Mike T.

,

Miami, FL

,

Sep 15, 2019
Verified Reviewer

I had to stop drinking beer several years ago because each time I did, I ended up with the worst headache imaginable. The pain was excruciating. I tried all kinds of beers and even some low alcohol brews but was never satisfied with them.

Let me tell you, Heineken 0.0 is the real deal. It tastes like freaking beer. I am not sure how they did it but it has a feel and flavor of beer...but without the splitting headache.

I can finally enjoy a beer again. Thanks for this amazing brew.

Bottom Line: Yes, I would recommend this to a friend

---

I'm in a program with the court system where I can no longer consume alcohol

By Tracy B.

,

Harvey, LA

,

Sep 6, 2019
Verified Reviewer

I love the taste of beer but without any alcohol content, it's even better, for many reasons. Now I can enjoy drinking beer with my friends and not get drunk because my brain has had a lot of trauma as a young man playing football and a professional boxing career, I was a journeyman fighter with 43 fights, been in the ring with the best fighters in my weight class. Was knocked out twice. Now at 57 years old, I can see how the trauma has taken a toll on me. No more alcohol for me. Maybe a glass of wine on a special occasion.

Bottom Line: Yes, I would recommend this to a friend

---

Omg, so good

By Jim W.

,

Milltown, NJ

,

Aug 2, 2019
Verified Reviewer

Can't drink alcohol because of medication. I reluctantly bought this and tried it. IT WAS FANTASTIC. I seriously question if it contains alcohol. Maybe my memory of beer has faded but it taste like the real thing. THANK YOU HEINEKEN 0.0. I feel normal again. This is a must try.

Bottom Line: Yes, I would recommend this to a friend

---

Love it.

By Mary T.

,

West Lebanon, NH

,

Jul 26, 2019
Verified Reviewer

I love this 0.0 beer. I like the taste of beer but because of medications I take, I don't do alcohol. 0.0 quenches my thirst for beer. It's so good.

My problem is I'm having a hard time finding it in my town.

Bottom Line: Yes, I would recommend this to a friend

---

I don't believe it!

By Todd O.

,

Perth, Western Australia

,

Jul 26, 2019
Verified Reviewer

Having taken the pledge for Dry July to raise money for cancer research, I spotted this in a local merchant and bought a six-pack.

On getting it home and refrigerated, I opened a bottle and, with trepidation, took a swig, fully expecting to hate it (my previous experience with alcohol-free beers were Caliber and Barbican in UK - ghastly stuff). What a shock! If someone had served this up to me in a pub, I would have suspected nothing. I'm a beer fan and I can't praise this stuff enough; it's delicious! I never previously drank during the week but I'm finding myself drinking two or three of these every night and looking forward to it.

I feel certain I'll still buy Heineken 0.0 long after Dry July is over.

Bottom Line: Yes, I would recommend this to a friend

---