Helix Sleep Reviews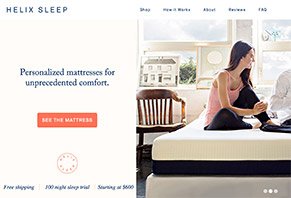 Helix Sleep's online buying experience claims to provide you with an ideal mattress that can help you get a great night's sleep, without paying too much.
About Helix Sleep
Time for a new mattress? Dreading going to a store, with its high prices and pushy salespeople?
If so, Helix Sleep makes personalized, custom-built mattresses that can provide an "unprecedented" level of comfort, for individuals and couples alike. Helix Sleep believes that your preferences can't be categorized into just soft, medium, and firm, so they individually design each of their mattresses to be the most comfortable bed for you and your partner.
Helix Sleep mattresses are also priced much lower than comparable products from mainstream stores, which can give you a good night's sleep without worrying about haggling or paying too much.
Ready to buy? Before you do, let's cover some important topics so you can be a more informed consumer.
How Is Helix Sleep Different from Other Mattress Companies?
Personalization aside (we'll come back around to this next), Helix Sleep claims to use cutting-edge biomechanics and ergonomics research, as well as proprietary technology in their mattresses, in order to maximize your comfort.
This includes:
2" of Dunlop latex for air flow and bounce,
1.5" of pocketed coil spring units for weight distribution and pressure relief, and
6.5" of high-grade poly foam for firmness and durability.
In addition to different densities and thicknesses, the order of these layers vary so that the "feel, support, point elasticity, and temperature regulation" can provide comfort for a range of body types and sleep positions.
What's up with Helix Sleep's questionnaire? Is it any different than the competition?
Helix Sleep's Customization Questionnaire
After you've chosen the size during checkout (more in the Pricing section), you'll have the opportunity to customize your Helix Sleep mattress through a 2-3 minute personalization questionnaire. Just because it's short doesn't mean that it isn't thorough, though!
First, you'll indicate the number of people who'll be sleeping on the mattress. You'll also enter their names, age range, height, gender, and weight.
After entering this information, the Helix Sleep website will choose an "optimal midpoint" based on your answers. It will also indicate whether a blended (same firmness and density) or split (2 different firmnesses and/or densities) mattress is recommended.
From there, you'll be able to customize your mattress even more by indicating:
Body shape,
Normal sleep position,
Sleep temperature,
Mattress firmness preference,
Rating your current mattress and quality of sleep, and
Listing any medical conditions, as well as whether or not you experience back or neck pain throughout the day.
Finally, you'll be shown a circular chart (see below) that measures where you fall for several different metrics, including elasticity, support, feel, and temperature regulation.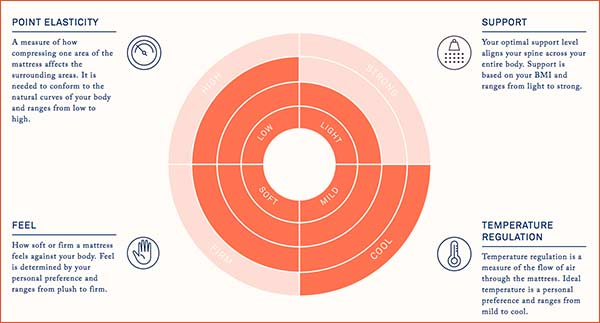 An example of the chart you'll see after completing Helix Sleep's Customization Questionnaire.
Like what you see? You can hit the Add To Cart button and begin checking out.
Pro tip: For more, be sure to read about the in-depth research that goes into Helix Sleep's made-to-order mattresses.
But how much will your new Helix Sleep mattress cost?
Helix Sleep Sizing & Prices
Helix Sleep mattresses are available in 6 sizes:
Twin (39" x 75" x 10"): $600
Twin XL (39" x 80" x 10"): $700
Full (54" x 75" x 10"): $800
Queen (60" x 80" x 10"): $900
King (76" x 80" x 10"): $995
CA King (72" x 84" x 10"): $995
Important note: Helix Sleep mattress is designed to work on any sleeping surface but does not come with a box spring or frame.
Regardless of the size, all mattresses come with free shipping. You should receive yours within a week, although split beds can take 2-3 days longer to receive and cost about $100 more.
Like most other online mattress companies (more shortly), Helix Sleep mattresses will arrive roll packed. Unlike the competition, they'll include a personalized label indicating your specific metrics.
Note: If you're in the NYC metro area and would like to get fitted for a Helix Sleep mattress in person, you can stop by their showroom.
All Helix Sleep mattresses come with a 100 night sleep trial. If you're not satisfied, give them a call at (646) 854-5860, and they'll refund your money and have someone pick it up at no cost to you.
How do these prices compare to the competition?
Other Online-Only Mattress Companies
Online mattress buying is a currently a hugely popular trend, so you have a lot of other companies to choose from, with more seeming to come online every day. This includes Casper Mattress, Tuft and Needle, Leesa, Saatva Mattress, and more.
Overall, the online consensus for companies like these is generally positive, but is it the same for Helix Sleep?
Helix Sleep has been featured on several different popular websites, including Fast Company, Digital Trends, Inc., and others, although they only discussed the company's business model, and not necessarily their experience with Helix Sleep's mattresses.
However, SleepSherpa provided a fairly in-depth review about their experience with a split Helix Sleep mattress. They appreciated the easy checkout process and noted that their mattress provided little motion transfer with good temperature regulation, but found it to be firmer than they expected.
Overall, they stated: "If you are looking for a mattress to accommodate sleepers with very different sleep preferences, this is the ticket."
Mattress Clarity also provide a quick review about their visit to the Helix Sleep showroom in NYC.
Helix Sleep was recently founded by Jerry Lin, Kristian von Rickenbach, and Adam Tishman, who met when they attended Wharton School's MBA program. Most of the articles posted about the company were very recent, and it didn't appear that Helix Sleep had been around long enough to be listed on the BBB's website.
Will You Get a Better Night's Sleep with a Helix Sleep Mattress?
Like clothing, beauty products, or just about anything else in life, what you like (and what you don't) largely comes down to personal preference. How to address this? Through customization!
From this aspect alone, it seems like Helix Sleep can help you maximize your comfort when slumbering. Helix Sleep's customization abilities also separate them from much of their competition, whether we're talking about other online-only startups, or some of the biggest names in the mattress industry.
And when you top this off with prices that are very competitive, it seems the combination could make Helix Sleep a huge contender.
Now you know what we think, let's hear from you! Have you tried a Helix Sleep mattress? Tell us your thoughts by writing a review below!