Hempvana Arrow Posture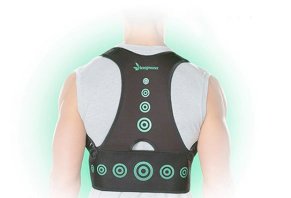 Using a system of straps and buckles, the Hempvana Arrow Posture pulls your shoulders back, promising in improved posture while sitting or standing.
Hempvana Arrow Posture Review - Legit or Hype?
Hempvana Arrow Posture is a posture corrector that wraps around your torso and shoulders, pulling your shoulders back to improve posture.
The product claims to be a cure for those who are dealing with bad posture from spending too much time looking at their phone.
However, it's important to understand how the device works, what experts say about its therapeutic ability, what customers say about their experience with the device and how much it costs.
Our review will cover each of these areas, then conclude with a section in which we give you our opinion about the Hempvana Arrow Posture's pros and cons.
Editor's note: We will use the terms "posture corrector" and "brace" interchangeably.
How To Use Hempvana Arrow Posture
This posture corrector is simple to use. It's a one-piece device that wraps around your torso and has a harness that goes over your shoulders.
To use it, you adjust the tightness around your torso until you've got a snug fit, then pull the harness over your shoulder. The brace pulls your shoulders back, correcting the slump that you'd normally have without any back and shoulder support.
The brace comes in two sizes based on your waist measurement:
S/M: 25" to 36" waists
L/XL: 37" to 58" waists
These waist sizes will fit the majority of consumers. According to the latest data from the Center for Disease Control, the average waist size for men older than 20 is around 40 inches, whereas the average waist size for women is 39 inches. However, as we'll point out later, some customers feel the brace fits a bit too tight.
The posture straightener is made from a fabric infused with cannabis saativa. While your instinct may be to think the cannabis in the Hempvana Arrow Posture is for pain relief, the saativa is used to create a lighter fabric that wicks moisture.
In fact, Hempvana offers an upgraded version of their posture corrector that includes twice the cannabis sativa in it. We'll discuss this option in the pricing section later in this review.
What Experts Say About Posture and Posture Correctors
There are two issues at stake with the Hempvana Arrow Posture. First, Hempvana assumes that posture issues are prevalent. They call the phone-induced posture problem "text neck." Second, Hempvana assumes their posture corrector will help your back, not hurt it.
Regarding the first claim that "text neck" is a problem, there is plenty of research indicating that people all around the world are experiencing rounded necks and the resulting symptoms as a result of cell phone use.
A 2016 study from Daegu University (South Korea) said that the tendency to move your head forward when using your phone or computer can lead to posture and breathing problems. The issues from "forward head posture" (FHP) get worse if you use your phone at least four hours a day.
"FHP is one of the most common (spine) abnormalities that predisposes individuals to pathological conditions, such as headache, neck pain, temporomandibular disorders, vertebral body disorders, alterations in the length and strength of soft-tissue, and scapula and shoulder (spasms)," the study concluded. "If people concentrate on watching the relatively small screen, they tend to bend their neck more to look at the screen. This may be the reason for the development of more severe problems."
This study links to several other studies that show device-induced posture issues are prevalent and legitimate.
With this established, we'll turn to experts to examine how effect back braces like this one could be.
Because we've examined other posture correctors in the past, we've been fortunate to speak with chiropractors and trainers who provided a wealth of excellent information.
Dr. Allen Conrad, owner of Pennsylvania-based Montgomery County Chiropractic, told us that products like the Hempvana Arrow posture are "more popular than ever" because of society-wide posture problems.
"Many companies are trying to sell braces and products that may make you 'sit up straight,'" Conrad told us. "It's a good thing that the general public is more conscious on ergonomics and biomechanics, but unfortunately these products are merely a band-aid and are not recommended."
Conrad calls posture correctors "band aids" because he said they don't get to the real cause of your bad posture: your spine and muscles are out of alignment. A brace won't fix this, he said.
"Products that attempt to straighten you up with braces...do not fix your posture, and are not recommended," he said. "The reason your posture is off is from your spine and its associated muscles have been misaligned, and a brace will not fix that."
Basically, the Hempvana Arrow Posture may make your posture better while you wear it but the underlying issue—spine and muscle misalignment—is only being compensated for, not fixed.
Dr. Cheryl Lee-Pow, a member of the American Chiropractic Board of Sports Physicians, said that if you continue to use a posture corrector and don't strengthen the underlying muscle issue, your problems could get worse.
"The longer a body part stays braced, the weaker and more atrophied the supporting muscles become," Lee-Pow said. "The core muscles that protect the spine and control posture will essentially weaken the longer you wear the brace."
Hempvana Arrow Posture Pricing and Return Policy
Hempvana gives you multiple options for buying your posture corrector:
All sizes of the Arrow Posture cost the same
You can also purchase the brace through Amazon or Walgreen for $19.99.
Hempvana's return policy provides a refund for items returned "in their original condition" and postmarked within 30 days of when they shipped your purchase, according to the fine print. If you don't meet these qualifications but send it anyway, Hempvana will not return your posture corrector.
The company allows you to make a return after 30 days, too. If you do this, you'll get a store credit you can use to purchase items on the Hempvana website. Remember, though, you'll need to return the item in its original condition.
Hempvana Arrow Posture Customer Reviews
Hempvana's posture corrector has more than 116 reviews on Amazon for an average rating of 3.5 stars.
Customers' main complaints focus on how the device fits. There are multiple complaints that the straps and buckles chafe against the skin and make wearing it uncomfortable. Specific irritation points were under the arms and on top of the shoulders.
This is an important drawback to consider if you're someone who has a bigger chest or big/broad shoulders. If that's you, there's a chance that even the L/XL size will cause you some discomfort.
The Bottom Line: Will Hempvana Arrow Posture Work?
All the research and analysis we've done points to the fact that this posture corrector could correct your posture while you wear it.
However, as Conrad pointed out, correcting your posture with a brace is only treating the symptoms and not the cause.
Therefore, the Arrow Posture should be part of an overall plan to strengthen your back through posture exercises, Conrad said. If not, then your posture will look great when you wear the brace but the muscles in your back will get weaker.
Now, just because the Hempvana Arrow Posture won't solve your underlying posture issues doesn't mean it can't be helpful. It's a great way to provide interim posture improvement while you strengthen your back through exercise.
Also, wearing a brace like this could be a quick-fix if you're worried that poor posture could leave a negative first impression for an upcoming appointment or date.
If you're looking for a long-term solution that will strengthen your back and you don't have the money for multiple trips to the chiropractor, consider an alternative device.
It is an alarm-type device that fixes to your upper back and buzzes when you slouch. The buzz encourages you to sit up straight and, in theory, strengthen your muscles to remedy your bad posture.