Hempvana Hands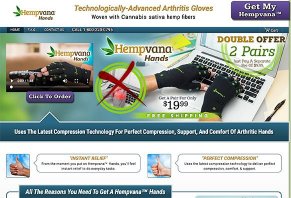 Hempvana Hands compression gloves claim to weave cannabis into their fabric to make them lighter, while they provide pressure that might reduce the pain and stiffness you feel in your hands.
Hempvana Hands Review - Pain Relief or Hype?
Hempvana Hands are fingerless gloves you wear that supposedly can provide pain relief via the compression produced by the lightweight fabric from which they're made.
Telebrands, the company who sells Hempvana Hands, says the gloves use "the latest compression technology for perfect compression, support and comfort of arthritic hands."
Telebrands is a well-known for a variety of products they sell online and via As Seen on TV-style commercials. Some of their more popular products include Atomic Beams flashlights and Red Copper cookware.
In this review, we'll talk about how the Hempvana Hands work, what the experts say about the effectiveness of compression gloves and what these gloves cost.
We'll combine these various factors to provide a solid comparison of these gloves to other solutions for hand pain, then wrap up with a conclusion section that talks about the general pros and cons of these gloves.
How the Hempvana Hands Gloves Work
As we mentioned earlier, these gloves use compression, the site says, to help ease the pain you feel in your hands from daily tasks like typing, opening jars or writing. The site features phrases like "instant relief" and "perfect compression" to reinforce these facts.
A commercial available on their site includes testimonials from a couple of different people, one of whom says the gloves started working the moment he started putting them on.
Later in the commercial, a doctor by the name of Anthony Baldizzi says it's the gloves' "continuous compression" that help provide relief.
"Hempvana Hands are a great way to help reduce discomfort of arthritis just by virtue of their continuous compression. Hemphavan hands compression gloves do a great job achieving that," Baldizzi said.
The gloves can be worn throughout the day and even while you're sleeping, the commercial says.
What makes the gloves an all-day solution, the site notes, is that they're lightweight, a goal they achieved by using cannabis sativa hemp as part of the material used to make the gloves.
It's important to note that nowhere does Telebrands claim that the cannabis included in the gloves aid in pain relief. They make it clear that the cannabis is used only to make the gloves lighter.
Editor's note: The Dr. Baldizzi in the video appears to be the same Dr. Anthony Baldizzi who plead guilty to "conspiracy and receiving illegal kickbacks related to a federal health care benefit program" in March 2018, according to a press release from the U.S Attorney's Office Middle District of Florida.
Do Compression Gloves Work?
Hempvana Hands gloves claim to use constant pressure to help your hands feel better.
"Waking up with stiffness in your hands is a thing of the past," the site claims. "If you suffer from arthritis or weakness in your hands, you need Hempvana Hands woven with cannabis sativa fibers as your arthritis gloves," the site notes.
In general, the experts say that compression gloves can work for those who feel pain in their hands as the result of overuse or in diagnosed conditions like rheumatoid arthritis.
In an interview with arthritis site Creaky Joints, Boston University Clinical Professor Karen Jacobs noted that the science behind compression gloves can be legitimate.
"Particularly when you're having a flare in the fingers and joints and just feeling really uncomfortable, the compression seems to help reduce the swelling and can help with some joint stiffness as well," Jacobs was quoted as saying.
She went on to say that gloves can be a good option for those experiencing pain in their hands but want to maintain an active lifestyle.
"Occupational therapists sometimes do recommend gloves and that's very appropriate. If someone is saying, 'I'm having a lot of pain and discomfort but I want to keep typing on the computer' or 'I want to continue playing squash or racquetball or tennis' or 'I want to keep gardening,' the gloves may help them continue doing everyday activities and hobbies they enjoy," Jacobs said in the article.
The key to finding the right glove is to find the right fit, she noted. It's also important to wear them for long periods of time so you can get used to them.
Hempvana Hands Pricing and Return Policy
One pair of gloves will cost you $19.999 and comes with free shipping. Two pairs of gloves are $29.98 with free shipping, too. It will take 3–6 weeks for your gloves to ship, the website's FAQ page says.
The gloves come with a 30-day refund policy. If you aren't satisfied with the gloves, you can contact Telebrands to start your return. Their customer service phone number is (855)668-1655 and their address is: Telebrands Customer Care; 79 Two Bridges Road; Fairfield, NJ; 07004.
Once customer service okays your return, you'll send the gloves back to them. You'll need to include in your return packaging your order number, an explanation of why you're returning the gloves and whether you want a refund or replacement.
Comparing Hempvana Hands to Other Compression Gloves
Because arthritis is a common condition along with normal hands aches and pains, there are a plethora of compression gloves you can choose from. A couple of the top-rated gloves on Amazon that we found during a search at the time of writing were:
Comfy Brace Arthritis Hand Compression Gloves: $21.97, 4.6 stars from 940 reviews
Sanbo Arthritis Gloves: $12.77, 4.5 stars from 26 reviews
Vive Arthritis Gloves: $12.99, 4.3 stars from 2,254 reviews
What we noticed about these three pairs of gloves is that they have what some might consider a better visual design. The Hempvana Hands are black with green circles, whereas the three gloves we saw on Amazon all use a uniform color: speckled grey.
The other factor is price. We believe, based on our research, that Hempvana Hands are reasonably priced but, as two of our three examples above show, there are cheaper options.
In general, we think that you may have a better experience buying gloves from Amazon because they ship for free if you are a Prime member and, in some cases, you may not have to pay for return shipping if you aren't satisfied with your gloves.
The Bottom Line on Hempvana Hands
Based on our research, we believe there are some distinct advantages and disadvantages.
First, we believe that there's sufficient evidence to support the claim that these gloves and compression gloves in general. Exactly how well they work depends on your particular condition. In other words, the results will vary from person to person.
The downside to these gloves, in our opinion, is the shipping. Their site says it can take up to six weeks for your gloves to ship. If you're experiencing pain and discomfort in your hands, the fact that it could take up to a month and a half to get your gloves could be a deterrent.
1 out 1 people found this review helpful

Hempvana Hands

By Annmarie P.

,

Las Vegas, NV

,

Nov 18, 2019
Verified Reviewer

My hands hurt so bad from RA and I happen to come across Hempvana Hands at CVS. I put them on as soon as I purchased them and have been a happier girl ever since! The fit was perfect, they are soft and for me, the pressure points are spot on! I wear them every chance I get to relieve my pain...I absolutely love them.

Bottom Line: Yes, I would recommend this to a friend

---

3 out 3 people found this review helpful

Durability

By Nick M M.

,

Point, TX

,

Oct 2, 2019
Verified Reviewer

Your glove's seams are splitting putting on and taking off. You need to make them larger or reinforce the seams. I'm currently using your competitor's gloves that do not have hemp in them and perform better. Their seams are reinforced. Copper hands.

Bottom Line: No, I would not recommend this to a friend

---

Advertisement

---