Henry Tax Reviews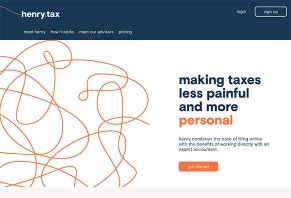 High earners who would normally hire a CPA and don't want to take the time to do online tax returns could benefit from Henry, a new tax site for 2018 that provides tax returns by experienced CPAs.
About Henry Tax
Henry is a new tax service that focuses on providing tax refund filing for HENRY's, an acronym for High Earners Not Yet Rich, or those who have lots of income but have yet to build up substantial retirement funds or investment portfolios.
Henry's founder is Michael Chen, a New York-based CPA with more than 20 years of experience advising families with high net worth. According to Chen, he has advised "a number of families on the Forbes list," a list which ranks the richest people in the United States.
Henry is an interesting new company because it's breaking into an industry that, as you probably know, is dominated by big names like TurboTax and H&R Block. While that novelty may be fun, you're probably a little hesitant to use a new company for your taxes.
After all, trust is an important part of letting someone do your taxes; nobody wants the IRS sending them letters in the mail because mistakes were made.
Is Henry.tax right for you? That's something we're going to answer in this review by analyzing the site's services, comparing those services to other tax return sites and then discussing the service's fees.
Along the way we'll incorporate quotes and insight we gathered from an email interview with the site's founder.
What Henry Tax Offers You
When we first went to Henry.tax's website, we noticed that they didn't have a bunch of different tiers of tax returns like you'd see on TurboTax. In fact, they don't offer much information about how your particular tax situation would affect your price.
We've all been trained by the popular tax sites to find a price point we like and then drill down all the features and various tax situations it offers you.
However, Henry is different. Their site lists one price: $250. Most people, they say, are covered by this price.
Basically, you know your actual price once you provide Henry with information about your tax situation. Their application process asks you 10 questions. At the end of those 10 questions, the site provides you a quote for your tax return based on your answers.
Also, your return will be classified based on its level of difficulty: a Level 1 tax return is the easiest and Level 4 is the hardest.
If you accept the price quote, then you'll be required to pay 50% of the fee up front. The remaining balance is paid when the tax return is filed.
Henry then matches you with a CPA whose skill set matches your return's complexity level. A Level 4 CPA, for example, will process a Level 4 return.
"Our platform is meant to streamline the process," Chen told us. "We don't want the consumer to spend more than 10 minutes on the site."
Basically, all the documents your CPA will need to file your return are uploaded via those 10 questions we mentioned earlier.
For example, one of the questions asks if you have a mortgage. If so, then you're asked to upload documents pertaining to how much interest you paid on your home during the previous year.
This is one of the main differentiators between Henry and TurboTax, H&R Block, TaxSlayer or TaxAct. You aren't filling out your returns via a lengthy online process; your assigned CPA is doing all the work.
How Does Henry Choose Your CPA?
If you've always done your returns through an online service, you may not be familiar with what a CPA is.
Accountants with the CPA title mean that they've completed extensive training and testing in the area of accounting and their expertise is top-notch. This doesn't mean there are bad CPAs out there; they do exist. However, the good ones have a lot of experience and continually study up about their industry.
Chen said that the CPAs chosen to work on tax returns have at least 10 years of experience with taxes. In other words, the quality and accuracy of your tax return are put in the hands of a true professional, not you.
But this expertise comes at a cost; at least $250.
Why Pay at Least $250 for Henry?
That price tag may scare off many consumers and for good reason. Self-employed individuals can pay as little as $39 to do their taxes online. So why pick an accountant versus tax software?
Part of that answer is comfortability, Chen said. In his experience, high earners don't always feel comfortable filing their taxes through an online software platform. There seems to be a level of uncertainty about the outcome of the return.
Allowing a CPA to do your taxes eliminates that uncomfortability, in theory, because you've put your return in the hands of a professional. They should be able to take the risk out of the return.
Another factor to consider is that Henry Tax is intended for people who are earning $75,000-$300,000, so paying for $250 isn't as much of a financial burden for them as it would be for someone who makes $30,000 a year.
The final feature you get with this service is audit protection. If, for some reason, the IRS audits your taxes, your CPA will fight on your behalf.
Henry Tax Versus a CPA or Brick-and-Mortar Store
At this point, you're probably wondering why you would use Henry Tax over, say, a local CPA you could meet with face-to-face or an H&R Block or Liberty Tax office.
I recently asked a CPA for a quote for a tax return for me, a freelancer with a wife, two kids and a mortgage. Their response: at least $325. Chen said that it's hard to find a CPA in New York that charges anything less than $750.
In terms of national averages, CPA Practice Advisor said that the average price of a 2016 tax return with itemized deductions was $273.
From a cost perspective, it seems like Henry is competitive, particularly if you consider the fact that those who live in New York City and other major cities with high costs of living will most likely pay significantly more than the national average.
As for brick-and-mortar stores, Chen said that the people preparing your taxes at H&R Block, in particular, may not have logged a lot of hours doing taxes.
"Based on our research on their website, some of their preparers have as little as 69 hours of training," Chen said.
Henry Versus Online Tax Returns
It's difficult to compare Henry.tax to major sites like TurboTax and H&R Block because Henry connects you with a CPA who does your taxes. That type of service, as we've pointed out, comes at a cost.
However, it's worth noting that, in 2018, TurboTax added a "TurboTax Live" option that connects you with CPAs and Enrolled Agents (experts about IRS rules). These experts can answer questions and will review your taxes before you file them.
The cost for this service is $150, $100 less than Henry. However, you'll have to fill out your tax forms yourself.
If you want audit defense services from TurboTax, you'll have to pay an extra $44.95 for that service.
Our Final Thoughts About Henry Tax
Based on our research, we believe that Henry's strengths are that the application process is very simple and you have the added bonus of being able to get a quote for how much your taxes will cost you before you pay for anything.
However, what it does is save you is the time you'd spend researching local CPAs, a process that will probably take a few hours of narrowing down your list and doing a couple of free consultations to get estimates.
We also believe the free audit defense you get is a huge bonus. When you add up the fees you'd pay for a CPA or EA and audit defense on TurboTax, your bill would be around $195, or $55 less than a $250 return with Henry.tax.
As for disadvantages to using Henry.tax, we believe that the biggest drawback could be the price. We say "could be" because there's no way to know for sure how much your tax return prep will cost. The $250 fee covers most taxpayers, the site says, but it's hard to tell which factors in your tax situation would raise that price.
The upside to this is that you can go through the questionnaire and get a quote without having to pay anything.
If you aren't sold on Henry.tax's services and still want to weigh your online software options, then take a look at our article comparing the four most popular tax filing sites. We talk about the strengths and weaknesses of each one and compare prices and services.