Hercules Hose Reviews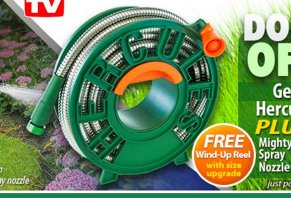 The Hercules Hose is a steel garden hose that features a no-leak connector, as well as a solid steel construction that the manufacturer claims will never break, kink or tear.
About Hercules Hose
The Hercules Hose is an "As Seen On TV" garden hose that claims to be the solution to heavy hoses that tend to kink and break over time. The hose utilizes a steel design that is virtually indestructible, according to the manufacturer.
One of the central claims behind the Hercules Hose's design is that it won't tangle, kink or break like other, more traditional hoses tend to do over time. The hose features an interlocking armor design that the manufacturer says allows the hose to keep water in, while keeping everything else out.
This means that in theory, you can use the Hercules Hose to reach various spots you might not otherwise be able to. For instance, you might want to clean out your gutters and drainage pipes using the hose, which the manufacturer claims is well within its capabilities. The steel design also allows you to be a bit rougher on the hose than you might usually be able to be, meaning you can use it without worrying about it getting caught under fences, tires, sharp objects, or other obstructions.
The manufacturer even goes so far as to claim that not even a lawnmower blade or a 400 pound shark can damage the steel outer shell that surrounds the inner hose, providing video evidence of both on the website for potential customers to view.
They also claim that the hose can stand up to extreme heat, even over the longer-term. Regular hoses have been known to rot out in the sun over time, but seeing as the steel coating completely surrounds the hose on the Hercules Hose, this shouldn't be an issue here.
If you've got a green thumb, then chances are you've dealt with the frustrations that come along with a broken, kinked or otherwise damaged garden hose before. It always seems to happen at the most inopportune times, and there never seems to be a replacement nearby when you need it most. If this sounds like a situation you've found yourself in before, then the idea of a hose that won't break or leak on you is probably a pretty attractive one, at least in theory.
Obviously, the Hercules Hose could potentially be a huge asset to those who are constantly out in the yard, but in order to determine whether or not it's everything it claims to be, let's take a closer look at how the Hercules Hose claims to work.
How The Hercules Hose Works
The key to the Hercules Hose lies in its interlocked, solid steel construction. This design, according to the manufacturer, is what allows it to be flexible, adaptable, and durable. Additionally, the makers of Hercules Hose state that the hose will always stay cool to the touch, despite its steel construction.
To connect the hose to your water spout, all you need to do is screw on the included anti-leak connector. The makers of Hercules Hose claim that this device only allows water to go one direction, eliminating annoying leaks in the process.
Hercules Hose Pricing Information
Hercules Hose is currently available only by calling the company directly, or through the main website for the product. The hose itself comes in 4 different lengths; 25 ft, 50 ft, 75 ft, and 100 ft. Additionally, there is an option to receive two Hercules Hoses, as well as a Mighty Blaster nozzle that features a multi-mode operation, ranging from a fine mist to a concentrated blast of water. Finally, if you upgrade to a 50 ft, 75 ft or 100 ft hose, you'll also receive a rotating reel that allows you to easily store the hose and keep it organized and out of sight when not in use.
In full, here are all of the options for purchasing the Hercules Hose:
Single Hercules Hose
25 ft Hercules Hose: $19.99 + 7.99 Shipping & Handling
50 ft Hercules Hose & Free Reel: 39.99 + 9.99 Shipping & Handling
75 ft Hercules Hose & Free Reel: 59.99 + $9.99 Shipping & Handling
100 ft Hercules Hose & Free Reel: $79.99 + $9.99 Shipping & Handling
Double Offer
2 25 ft Hercules Hoses & Mighty Blaster: $19.99 + $7.99 Shipping & Handling + $9.99 Fee
2 50 ft Hercules Hoses, Free Reel & Mighty Blaster: $39.99 + $9.99 Shipping & Handling + $29.99 Fee
2 75 ft Hercules Hoses, Free Reel & Mighty Blaster: $59.99 + $9.99 Shipping & Handling + $39.99 Fee
2 100 ft Hercules Hoses, Free Reel & Mighty Blaster: $79.99 + $9.99 Shipping & Handling + $49.99 Fee
The manufacturer states that while most orders are shipped out within 1 week, it can take up to 6 weeks to receive the product during times of peak demand. This means that if you're trying to order the Hercules Hose in, say, June, you might possibly have to wait a bit longer than if you were ordering it during the winter months, though we can't confirm that this is a common issue for the manufacturer.
Hercules Hose Return Policy
If you receive your Hercules Hose and are not satisfied for any reason, the manufacturer has a 30-day money back guarantee on all purchases of the Hercules Hose, with a few notable exceptions. For instance, the terms listed on the website state that while the original purchase price is eligible for a refund, any additional fees are not. Depending on which package you opt for, this can mean that you will only be receiving a portion of the total amount that you paid back, potentially even if there's an issue with your order.
For example, let's say you opt to go with the 75 ft double offer with the Mighty Blaster. This package will run you for a total of $109.97, but out of that, only $59.99 will be refundable, according to the terms laid out by the manufacturer.
At HighYa, we feel very strongly that it is our duty to inform you clearly and concisely about these types of situations, so that you aren't at risk of being put in a frustrating situation with no easy way out.
If you'd like to return your Hercules Hose, you'll need to ship the product back to the manufacturer along with the following information:
Your order number and/or your complete name, address, and billing phone or email address
A detailed explanation regarding your reason for returning the item(s)
Information about whether you would like a refund or a replacement
As a final note on the return policy, there seems to be a bit of confusing messaging on exactly what is covered by the manufacturer. For instance, in the explainer video on the products main website, the company claims that the Hercules Hose is guaranteed against kinks, breaks and tears for life. However, there is no mention whatsoever of this in the official return policy, which might be a bit concerning for some. We reached out to customer support, and were told that the hose is indeed covered for life against breaks, kinks, and tears.
The Bottom Line: Is The Hercules Hose Worth It?
Bringing together everything we've learned about the Hercules Hose, it would appear (at least based on the provided information and videos) that the hose might possibly be able to live up to the standard set by the products marketing materials. Without having tested the product out first hand, we can't say with 100% accuracy that the hose will deliver on all of the promises made by the manufacturer, but with a straightforward design and a clear list of benefits, we don't see any particular reason why the Hercules Hose shouldn't possibly be the last hose you need for a long while.
That being said, the confusion surrounding the return policy gives us pause, and you should be aware of the risks going into the purchase. A good rule of thumb is to never make a purchase like this without being able to afford losing the money due to specific exclusions and nonrefundable items. We also aren't told about the hoses anti-rust features, if it even has any. Seeing as steel does have the potential to rust, we would have liked to see this addressed by the manufacturer.
At the end of the day, it will be up to you to decide whether or not the value presented by the Hercules Hose is enough to justify making a purchase. As always, we recommend reading through the terms and conditions carefully before placing an order, and we also recommend keeping the 30-day refund policy firmly in mind when going into the purchase.
Have you used the Hercules Hose before? Leave a review and share your experience with others!
Love this hose...I thought.

By Susan D.

,

Hudsonville, MI

,

Jun 21, 2019
Verified Reviewer

Purchased 3 of these hoses from a box store. First year was great on all hoses. This year 2019 I pulled one out and it worked fine watering plants. The next day I went out to water and now I'm only getting a trickle out of the hose...no leaks but barely any water. Husband checked everything out and could find nothing. So far the second one works fine. The third one is still stored on the garage shelf.

As far as the reel comments, I only use the reel for storage and it works well.

Bottom Line: Yes, I would recommend this to a friend

---

Waste of money

By Craig M.

,

Oakura, North Island, New Zealand

,

Jan 9, 2019
Verified Reviewer

The end fittings are only just threaded on, and when tightened, they don't leak, will jump the thread and become cross threaded. I replaced the washers with thinner ones so I could get more turns, and that worked. The reel is a waste of time, as you need to completely unwind the whole hose. Within six months the hose developed leaks. It has never been run over or attacked in any way. I am trying to see if I can cut the burst piece off and reinstall the fitting. A nice idea, but I don't recommend this product due to poor manufacture and quality control.

Bottom Line: No, I would not recommend this to a friend

---

Advertisement

---

1 out 3 people found this review helpful

Preview of my receiving my Hercules Hoses.

By Michael B.

,

Conyers, GA

,

Sep 10, 2018
Verified Reviewer

I have received my first 50-foot hose in September.

Last year I purchased four Bullet Hoses. All four were useless. Telebrands in Fairfield, NJ did honor me by replacing the original four, and I have already received a 50-foot stainless steel hose on 9/4/2018. I am now waiting anxiously to receive my 75-foot hose, which is to be here Friday, 9/7/2018. I did receive several reviews, on the Hercules stainless hoses, and did not like what I saw in the reviews.

I can only say, when I get ready to use these hoses, I better not have a problem from the start. I will demand a total reimbursement of all the trouble and money and the time that I have invested. And to state what I will demand will be the sum of the actual cost for the 50 and the 75-footers. If problems arise, let's be simple, return my money, you may hear from me. For which, I will feel sad. Your fine customer service manager, a young lady, knows of me. I hope and pray that all goes well. Thank you.

Bottom Line: Yes, I would recommend this to a friend

---

Rubbish

By Lucy I.

,

New South Wales, Australia

,

Jul 24, 2018
Verified Reviewer

Stay clear. It leaks worse than a dripping tap and it's supposed to be leak proof.

The hose real is crap, you can't extract the hose without turning the real yourself.

Not happy, if I can give it no stars I would.

Bottom Line: No, I would not recommend this to a friend

---

Advertisement

---

7 out 7 people found this review helpful

Very dissatisfied

Dover, AR

,

Mar 16, 2018
Verified Reviewer

I bought one right before the end of summer. I stored it in the garage over winter. When I hooked it up, it busted, and water sprayed everywhere. I am so furious! I am on disability, and do not have money to blow. I bought this because I have dogs who kept chewing through the traditional hoses, and this was promoted as being dog proof. The water is coming from the portion that is still on the roll, so I know they didn't puncture it.

Bottom Line: No, I would not recommend this to a friend

---

10 out 10 people found this review helpful

Garbage

I purchased four hoses; two 25-foot and two 50-foot. The Plastic fitting on the end of the hose striped on two of the hoses and one was squashed when a motorcycle ran over it. Tell your friends and others that these hoses are a piece of crap. I am going to put this on Facebook to let everyone know about them. And the warranty sucks.

Bottom Line: No, I would not recommend this to a friend

---

15 out 15 people found this review helpful

Leaks

My son bought this hose for me on my birthday, and that was over three months ago. I just hooked it up today in our new home, and it leaks like a sieve, and there is no water pressure, which probably is because they don't tell you it's only a 1/4" hose.

To return it you must have the receipt and original packaging, which has long since gone into the garbage and that's most likely where the hose will end up. I have a greenhouse and will need to go out and buy a hose to water my plants before I lose them. Very dissatisfied.

Bottom Line: No, I would not recommend this to a friend

---

16 out 16 people found this review helpful

Hose is not what it's cracked up to be

I purchased the hose several months ago and it took forever to get here. I got the 75 foot one. Not long after using, it sprung two leaks.

I called the company, and they sent me another one. It took forever to get here. I have not had it a month, and this one sprung a leak. My wife is the one that uses it, and she is not abusive at all.

I'm very unhappy with all of the above. I'm going to call and see what they are going to do about this.

Bottom Line: No, I would not recommend this to a friend

---

11 out 14 people found this review helpful

Troubling information from manufacturer

By Roger

,

North Carolina

,

Jul 12, 2017
Verified Reviewer

The Home Depot website states the hose is 5/8" diameter in the product description, but drilling into the detailed specifications, it states 1/2". I, therefore, emailed the company FOUR times and they told me twice the INSIDE diameter was 3/4," and when questioned why the difference, the last time they stated that the FITTING was 3/4" and the Inside Diameter was smaller. That's IT, after emailing the same question FOUR TIMES, they only said it is SMALLER. It may be too small to provide adequate pressure, and the company may know it, which is why they refuse to answer my questions.

Bottom Line: Yes, I would recommend this to a friend

---

27 out 29 people found this review helpful

Very weak

We bought four of these Hercules Hoses. One was placed on the gravel driveway to we could drive over it. It collapsed immediately. The tires are inflated at 36 PSIG, so the hose should have tolerated it easily according to their advertising. Horrible hose.

Bottom Line: No, I would not recommend this to a friend

---