Hero Pill Dispenser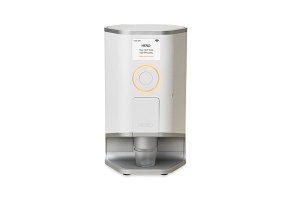 The Hero Pill Dispenser features 10 different chambers and connects with your smartphone app to provide medications when you need while keeping caregivers in the loop.
Hero Pill Dispenser Review - Does It Really Work?
By combining an app, a countertop device, and a home prescription delivery service, the Hero Pill Dispenser system automatically sorts, dispenses, and reminds you to take your medications and supplements.
This way, whether you're a patient or a caregiver, the system—which is designed in the US.A.—promises to help simply and easily ensure the right medications are being taken at the right time, thereby providing peace of mind.
But, based on its price, will Hero provide a high level of value for you and your loved ones? We'll combine details about the system with a breakdown of popular competitors to help you make a more informed decision.
How Does the Hero Pill Dispenser Work?
The FDA-regulated Hero device is shaped like a tall rectangle, with a deep cutout at the bottom, inside of which sits a small plastic cup—almost like a tiny soda fountain.
Above, its door opens and provides access to 10 individual chambers that hold up to a 30-day bulk supply of bulk pills of all shapes and sizes. However, these chambers can't accommodate half pills, liquids, or ointments.
After adding a single medication to a chamber, you'll connect to your Wi-Fi signal, download the free iOS or Android app, and create and confirm your new Hero account.
It's at this point you can search for your medications, add them to your schedule, enter a passcode for extra security (if you prefer), designate any caregivers with whom you want to share your progress, and set up your reminder preferences.
You can accomplish this via the app, or through a web browser. You can also handle this by manually pressing the selection wheel on the device's front.
Whether your regimen is simple or complex, the Hero device and app will start by analyzing your medications and letting you know if there are conflicts. Then, when it's time, it will audibly dispense your medicines into the plastic cup below, provide visual cues that this has occurred, and send you (and a caregiver, if preferred) an app notification on everyone's smartphones.
If you don't take the medication within 15 minutes, Hero can send reminders to you and your caregiver. It will also display a warning and send reminders when your pills are running low, and if you encounter any problems or issues along the way, you can call, email, or chat with support 24 hours a day, seven days per week.
The third and final part of Hero's ecosystem is their optional Fill service, which delivers your prescription drugs, over-the-counter medications, dietary supplements, and non-pill formulations (e.g., injectables, liquids, powders, ointments, etc.) directly to your door.
All you need to do is upload a picture of your health insurance card and provide Hero with the contact details for your doctor or pharmacy, and they'll coordinate the transfer of your records to their pharmacy partner, TruePill.
When the device detects you're low on medication, it will send a notification, automatically refill your prescription, and ship it out. If you need a new prescription, it will even put you in touch with your doctor.
Special Note: Hero's Margin for Error
It's important to point out that according to the Warnings and Intended Use section of the Hero instruction manual, the company says "Hero cannot guarantee the accuracy of medication dispenses due to potential human error and/or mechanical and software discrepancies."
As a result, they strongly recommend you "keep the original prescriptions or pill bottles for reference after loading appropriate medications into the Hero device, … verify that the types of pills and number of pills dispensed match the prescribed dosage," and, "keep track of pills inside the Hero device by size, shape, color, imprint, or form to help ensure that dispensed doses match prescribed doses."
Furthermore, it should only hold a single user's medications, and accuracy should always be "verified by person(s) trusted by the end user, i.e., a caregiver, a healthcare aide, and/or a healthcare professional."
How Much Does the Hero Pill Dispenser Cost?
The Hero pill dispensing system costs a single payment of $399, or monthly payments as low as $33 per month through Affirm with zero percent financing. The system is also HSA/FSA approved.
For this price, you'll receive one Hero device, one AC power adapter, an emergency key, dispensing cup, and travel lock, along with 10 pill cartridges.
Accessories are priced as follows:
Essential Kit: $29.99
10 Replacement Cartridges: $24.99
3 Replacement Cups: $14.99
AC Adapter: $34.99
All dispenser orders come with free shipping and returns, a 100-day trial, and a 12-month limited warranty. You can reach customer support at 855-855-9962 or hello@herohealth.com.
Hero Fill is also free, and you're only responsible for your standard health insurance copay.
Hero vs. Competing Smart Medication Management Systems
There are dozens of "non-smart" electronic pill dispensers on the market that require you to manually pre-fill each compartment, which then open and alert users at the specified date and time. However, there are no electronic screens, app connectivity, or medication tracking with these products.
Still, there are a couple of other pill-dispensing ecosystems competing for the same potential customers as Hero, and that promise many of the same benefits, including easy assembly and setup, helping seniors maintain their independence while keeping caretakers in the loop, bulk loading (no need to separate pills into individuals doses), app connectivity (along with related features like alerts, notifications, etc.), programmable functionality, and Wi-Fi connectivity.
Here are a couple of the most popular options and how they compare:
| | | | |
| --- | --- | --- | --- |
| Device | Price | Size | Special Features |
| Hero Pill Dispenser | $399 | 9" x 9" x 15", 10 lbs. | 10 pill cartridges that support any size or shape pill—simply add to cartridge and the device handles the rest, only option with pharmacy fill service |
| Livi Smart Home Medication Dispenser | $1,399, plus monthly cellular data fee | 13 lbs. | No Wi-Fi required, dispenses up to 15 pills 24 times per day, holds up to a 90-day supply, visual and audio alerts, Dispenses portable travel packs for up to 14 days, |
| MedaCube Automatic Pill Dispenser | $1,499 one-time payment, or lease for $99/mo | 9.8" x 9.8" x 10.5", 15 lbs. | Designed and assembled in U.S.A, 12 medication bins (4 large, 8 small) that hold up to 90-day supply, personalized and recordable audio messages, access to secure online portal, clinically proven |
If weight is a concern for you—such as if you'll frequently move your device to different locations—Hero is the lightest pill dispenser in the table above, followed by Livi and MedaCube, which is 50% heavier, despite featuring about the same dimensions.
However, Livi also offers the most medication compartments, which it can dispense from up to 24 times daily, and is the only option that creates travel packs for when you're on-the-go.
MedaCube is the most expensive pill dispenser of the group, with Livi following close behind. In fact, if the price is your top factor, these devices cost about three-and-a-half times as much as Hero.
With this said, you can also lease MedaCube for $99 per month, so it offers the lowest entry costs, and, like Hero, it's also designed and assembled in the U.S.A.
With the lowest price by a wide margin, the lightest design, and the only option that offers automatic prescription and supplement refills, along with a 100-day trial, let's conclude as to whether or not Hero's pill dispenser will deliver better value than the competition.
Our Final Thoughts About the Hero Pill Dispenser
With 30 customer reviews and an average rating of 4.8 stars on their website, the Hero pill dispensing system seems to come with almost wholly positive—if not limited—online customer feedback.
And based on what these customers report, as well as what we learned from the website and videos during our research, it seems like its device, app, and refill service really can help make the dispensing and medication management process more straightforward, as advertised. And considering its much lower price, it could provide many of the same features as competitors, but at a greater overall value.
Still, considering the importance of ensuring the correct medications are dispensed at the correct times, and that it works reliably each and every time, there remains an essential human element involved. As such, it might not be an ideal option if you intend to implement the system without the support of others.