Hexa Premium Briefs Reviews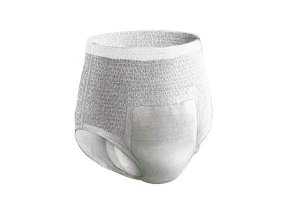 By selling direct to consumers and shipping to their door, Hexa claims to offer their premium briefs and other high-quality incontinence products at rock-bottom prices.
About Hexa Premium Briefs
Compared to the competition, Hexa Premium Briefs promises to deliver the high-quality construction, eco-friendly materials, and optimum fit you need, but at a fraction of the cost.
All you have to do is answer a few questions on their website to help them tailor your choices, and enter your billing details. Then, they'll start shipping you as many adult briefs as needed to your door each month, which will arrive in discreet packaging.
And because this high-absorbency, odor-neutralizing, ultra-soft briefs come directly from the manufacturer, Hexa says they're able to cut out the middlemen and pass the savings along to their customers.
Not having to regularly remember to buy adult briefs when you're running errands could save a meaningful amount of time each month—not to mention significant savings and avoiding potentially uncomfortable interactions at the store.
But, are customers reporting that it's easy to do business with Hexa (premium briefs or otherwise)? Are there competitors that might provide equal or greater value for your money?
We'll quickly cover it all, starting with signing up for an account.
A Quick Overview of Hexa's Premium Briefs Subscription
We found Hexa's website easy to navigate, and that it only took a few minutes to sign up for their subscription service, from start to finish.
First, you'll choose whether you're shopping for women or men, followed by the level of absorbency needed: Low (minor drips), Moderate (a good place to start if you're unsure), or Maximum (for heavier streams).
You'll then select if you need products for daytime or nighttime (or both), and which one best fits your needs (guards or underwear). If you select underwear, you'll also choose a size based on waist range (S/M 28-40", L 40-50", XL 50-60").
After choosing the number of pieces you usually use per day (1, 2, 3, or 4—if you're unsure, they recommend selecting two, since you can always change it later), Hexa's website will display a recommended product, followed by a detailed description and pricing.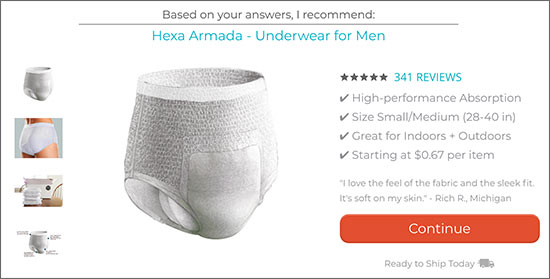 In just a few minutes, Hexa's website can help you decide if their premium briefs or pads might work best, and which model. Credit: Hexa & Co.
If you're ready to proceed, click the orange Continue button and enter your name, address, and billing details. From there, the website indicates the process works over three steps:
Get your samples delivered to your door discreetly.
Test them out to find your perfect fit.
Receive monthly refills. You're in control and can change or cancel your subscription at any time.
With these high-level details in mind, let's zoom in and take a closer look at the products you'll receive with a Hexa subscription.
Which Adult Incontinence Products Does Hexa & Co. Offer?
After going through the above personalization questionnaire several times, we learned Hexa currently offers a four-product lineup (two briefs and two pads):
Hexa Victoria Premium Briefs for Women
Advertised by the company as the "most high-tech, driest underwear on the planet," this maximum-absorbency lineup is exclusive to Hexa and was developed after working with Stanford Hospital's Department of Urology.
Compared to most adult briefs sold in the U.S., which can slowly hold up to 1,000 ml, the website indicates Victoria's single-layer design can absorb 1,240 ml of liquid in 19 seconds. This thin design approach also means that these briefs "look and feel invisible when worn," whether under pants or dresses.
Additional unique features include an ultra-soft nonwoven exterior, triple-stitch leg leakage barrier, extra-dry inner layer, along with a built-in odor reducing system.
Together, Hexa indicates this makes their Victoria premium briefs excellent for indoor and outdoor use. When the time comes, removal is easy by tearing open the sides. Ingredients include:
Single-Layer Absorbent Core - Paper (for softness), Sodium polyacrylate (for ultra absorbency).
Invisible Technology Pant Section - Polypropylene (Non-Woven Fabric with Aloe Vera and Vitamin E), Polyethylene (for structure), Styrene, Butadiene, Styrene (Synthetic Handle), Ethylene Vinyl Acetate Copolymer (waistband).
Hexa Armada Premium Briefs for Men
Based on the details provided on their website, Hexa's Armada premium briefs are simply a men's-specific version of Victoria and offer the same maximum absorbency, the ability to hold 1,240 ml of liquid in 19 seconds, ultra-soft nonwoven exterior, single-layer construction, and built-in odor reducing system.
Armada's listed ingredients are identical to Victoria's as well.
Hexa AirWave Pads for Women
Like their Victoria brief, Hexa's AirWave pad for women was developed in conjunction with Stanford Hospital's Department of Urology, which they advertise as the "most high-tech, softest pad on the planet."
Comparatively, their quick-drying top sheet can absorb 500 ml of liquid in 13 seconds, with the same nonwoven exterior and Invisible technology as their briefs. You'll also find a built-in odor reducing system and hypoallergenic and latex-free construction.
Hexa Men's Maximum Absorbency Guards
Hexa doesn't advertise their men's guards quite as grandiosely as their women's version, simply indicating that they deliver maximum absorbency, precise engineering for an invisible fit, and anatomical cup-shaped protection that can be used with regular briefs or boxer briefs.
Together, they're geared toward providing the "protection you need to get back into your running shoes or daily activities."
How Much Do Hexa Premium Briefs Cost?
Hexa's products are priced as follows:
Victoria: Starting at $0.67 each
Armada: Starting at $0.67 each
AirWave Pads for Women: Starting at $0.21 each
Men's Guards: Starting at $0.18 each
You can also add hypoallergenic wipes when checking out, which are initially free and will roll to $2.99 per month thereafter.
To begin your two-week trial of 10 pairs of underwear, you'll only cover $2.49 shipping. Afterward, you'll receive regular shipments of boxes of 20, 30, 60, or 80 briefs or pads/guards per month (including free shipping) and your credit card will be charged accordingly.
Hexa's terms emphasize that "payments are nonrefundable and there are no refunds or credits for partially used months." Also, while you can cancel your subscription at any time, you must do so at least five days before your ship date, or it will be canceled effective the following month.
A Hexa representative can be reached at (855) 231-4448 or support@hexanow.com.
What Can We Learn From Online Customer Reviews About Hexa's Premium Briefs & Guards?
A total of 16 customers left reviews about Hexa's subscription service on the Better Business Bureau website as of 7/3/18, 10 of which were positive, with the remainder negative. Compliments often revolved around convenience, reliable customer support, and quality products.
On the other hand, less-than-stellar reviews almost unanimously referenced customer support issues and repeated difficulty canceling subscriptions. In total, 15 customers had filed formal complaints as well (no details were available), three of which the company had yet to respond to.
Outside of these, the only other in-depth online Hexa feedback we encountered during our research was on Reddit, where the original poster indicated no issues with absorbency and good fit. Ultimately, they recommended at least trying a trial.
However, one other responder indicated they also had difficulty canceling their trial, and another experienced leakage.
Hexa Premium Briefs vs. the Competition
While we didn't test any subscription services ourselves, if you're only looking to purchase adult briefs, pads, guards, and related incontinence products, and then have them shipped directly to your door at competitive prices, marketplaces like Amazon have hundreds of popular options available. Plus, Prime members also receive free shipping and even more significant discounts for signing up for subscriptions.
Dozens of other online retailers offered similar services, including iDiaper, Walmart, Sam's Club, and CVS, to name just a few.
For the most part, though, we found during our research that Hexa's products seem to be meaningfully less expensive than popular national brands in most instances, even when factoring in any subscription discounts.
For example, the next most competitive option (from a strict price perspective) was Amazon, which offered Prevail's Extra Protective Underwear (80 ct) for less than $0.58, compared to Hexa's $0.67.
However, at $.0.21 each, Amazon sold Prevail's Maximum Absorbency Pads (192 ct) for the same per-pad price as Hexa's AirWave Pads. Hexa's men's guards came in lower at $0.18 each.
Does this price break necessarily mean that Hexa Premium Briefs (or any of their other incontinence products) are your best option?
Are Hexa Premium Briefs & Other Incontinence Supplies Right for You?
When choosing an ideal incontinence product, iDiaper recommends that you begin by discerning your level of incontinence, followed by whether you want reusable or disposable options. They indicate the former is less expensive initially, while the latter could save money in the long run.
Because these products are meant to contain, you'll also want to ensure you're getting a proper fit, which you can accomplish by carefully measuring waist and hip circumference.
From there, we're told it's mostly going to come down to style and design preferences, as well as intended use.
Together, we can see that you won't be able to accomplish most of this until you've paid for your briefs or other incontinence products, which could involve a fair amount of trial of error.
From this perspective, Hexa seems to stand behind their premium briefs and pads with a two-week trial. This will only cost you minimal shipping and handling charges and should be more than enough time to figure out if they're your best option.
If you're not fully satisfied, though, just remember to cancel your trial before it rolls over to a full subscription, since Hexa's terms indicate that no refunds are available and multiple online customers have complained about difficulty canceling.
Good luck trying to cancel!

By Ron A.

,

Minneapolis, MN

,

Oct 12, 2019
Verified Reviewer

My mother used their incontinence brief products for several months and found them to be of mediocre quality. The sizes seemed to be inconsistent and the leg openings lacked sufficient elasticity to keep them from leaking.

What was even more disappointing, was the difficulty we had trying to cancel our subscription after we found a better product elsewhere. They continually gave the runaround both via email and over the phone when I tried to cancel. I finally had to get very direct and quite nasty to get anywhere. Based on the other reviews, I will be checking my credit card closely to make sure we aren't still be charged. Buyer beware!

Bottom Line: No, I would not recommend this to a friend

---

2 out 2 people found this review helpful

Discontinued diapers, unapproved other diaper deliveries and credit card charges continue

By Barbara N.

,

St. Louis, MO

,

Sep 20, 2019
Verified Reviewer

My experience with Hexa Corp was outstanding for the period of October 2018 through June 2019. From their original online offering and sample diapers sent for my consideration through credit card charges and deliveries. I have chronic, uncontrolled incontinence of 2-3 bladderfuls several times per days and am literally unable to leave my home. Have seen five different urologists in the past seven years with no relief. I was delighted to have found Hexa Corp as a supplier of much-needed incontinence products that were just as they were described and very dependable.

In July 2019, I did not receive my usual diaper order. The delivery that I received consisted of 7 packs of 10 count diapers versus 14 packs of 10 count diapers. The diapers were not even remotely comparable to the diapers, I had been receiving the previous ten months. They were flimsy, half the thickness of the other diapers and just cheap looking.

Assuming that I had simply received the wrong order, I contacted Hexa Corp. They advised that the diapers (Hexa Catalina - Underwear for Women) had been discontinued. When I asked why I had never been had contacted regarding the status change of my diapers. The Customer Service Rep named Michael told me that they didn't have to contact the customer...only send an equally adequate replacement product at the same price I was paying for the previous diapers. This replacement statement was supposedly included in whatever agreement I had signed. I DO NOT remember being required to sign some kind of agreement of any kind for any purpose. The bad diapers were sent without my approval and charged to my credit card. A receipt did accompany the delivery.

I told the rep that I wanted to return the diapers. He told me I could return the diapers, but at my expense. I needed the diapers, whatever quality, so I decided not to pursue the return. Michael then asked if I would like to receive a sample package of thicker quality diapers. I asked what they were called and he told me they were Prevail diapers. The cost was never discussed. I was very upset and unfortunately accepted their sample. Later realized that Prevail is available from many resources/retailers. My credit card was charged $19.19 for the sample. No receipt was enclosed with the delivery. Also, the sample package sent had been previously opened and was taped shut with packaging tape. Now, I have a package of good Prevail diapers that feels as if one diaper is missing. Additionally, I will not use them, because I don't know who has/had handled the diaper contents. I wouldn't even use them to clean with under such circumstances.

I never replied to Hexa Corp after receiving the above sample. Then, as of yesterday, Thursday, September 12, I received another package from them. I will not open the package, but it feels like another package of the Prevail diapers. There isn't a charge on my credit card, so far? The order# 34002-2019-36421-043, HEX714511347H, USPS Tracking# 9261 2999 9894 4684 9976 68. The return address is: Because Market, 129 Worthington Ridge, Berlin, CT 06037.

I will be contacting my local post office regarding the return of this package to Because Market under the "Return To Sender" unopened package activity. My concern is that they will accept the package return, but not refund any charge to my credit card. I will also advise my bank of this situation.

This is outrageous!

These people are obviously taking pernicious and wanton advantage of their existing customers and any potential customers. I will be sending a copy of this review to both the Better Business Bureau and the Federal Trade Commission.

Summary of my orders (or not) and refills contained the following items:

- 1 x Hexa Catalina - Underwear for Women X-Large (50-60 in) / 140 Received from November 2018 through June 2019. Discontinued without notice.

- Because Classic Underwear (Maximum, X-Large (50-60 in) / 70 (7 Packs of 10). Received July 2019.

Order#: UUTUMX0XL020. Sent in lieu of above listed Hexa Catalina - Underwear for Women.

- Prevail Women's Underwear (Maximum, X-Large 48-64 in) Pack of 16 No receipt was enclosed with delivery.

- Because Underwear for Women (Overnight+) Large (38-50 in) /140. Listed online as one of my orders. Not sure what this order is and I don't think I ever received such an order. Size Large would not have ever fit me.

Bottom Line: No, I would not recommend this to a friend

---

Advertisement

---

2 out 3 people found this review helpful

Excellent product!

By Alicia B.

,

Bluefield, WV

,

May 21, 2019
Verified Reviewer

I'm surprised by the negative reviews. It's made very clear that you're signing up for a subscription service when you sign up for the free trial. And after I had surgery to correct my issue, it was very easy to cancel. After my surgery was, ultimately, disappointingly unsuccessful, I signed up again. I get more than I need to keep a large supply...just in case the SHTF and I no longer have access to supplies. Is there the occasional leak? Sure. But no product can 100% guarantee no leaks. I've been a customer for a couple of years now and I highly recommend Hexa and their products. Having a regular supply that is regularly and discreetly delivered is a huge relief!

Bottom Line: Yes, I would recommend this to a friend

---

5 out 5 people found this review helpful

What a mess!

By Mary K.

,

Illinois

,

Apr 1, 2019
Verified Reviewer

I decided to try this company in 2018, I had a friend who was staying with me that was having some incontinence issues. I ordered the free trial but I started receiving shipments of unsolicited merchandise and being charges for them. (they require a credit card to initiate business.). His closet was bursting with products that we had never gotten a chance to try.

I called the company in May of 2018 and canceled my business with them. All went well until the other day when a very large package of merchandise appeared at my house without my input and I was charged for it. I made numerous phone calls, was put on endless hold, was transferred to a phone without voice mail and assured that no more orders would be sent, but no one would address the return of the unordered goods and the refund of money.

I notified my credit card and started a dispute over the charge. I intend to contact the Attorney General of the State of Illinois. This is either the poorest run business ever or a scam that targets bilking the elderly out of their meager funds. The gentleman who had used the products in the past no longer resides here as he is in an ECF! I did not order, do not want nor have any need for this company's products. Beware of them!

Bottom Line: No, I would not recommend this to a friend

---

Advertisement

---

7 out 7 people found this review helpful

Try to charge you for subscriptions you want to cancel over and over again

By Brad W.

,

Ohio

,

Mar 5, 2019
Verified Reviewer

Like several other complaints filed against the former Hexa & Co./Because Market, my complaint deals with their unscrupulous tactic of attempting to continue to sign you up for and bill you for their refill/subscription model despite multiple requests both via email and over the phone to cancel any and all future orders.

After signing up for a "free" trial, I requested to cancel via email the same day the samples arrived in the mail (per their terms it says you must cancel 5 days prior to any scheduled renewal/future shipment). This was several weeks before the subscription was set to automatically begin, per the terms. I received an email reply saying they had processed my cancellation request and that a follow-up email would explain the next steps. Well, the follow-up email was a confirmation for a shipment of a full order for the following month. They simply delayed the shipment one month. So they do this so they can say they honored the cancellation request, yet all they are doing is rescheduling.

I then emailed three additional times over a 48-hour period and did not receive a reply to my request to cancel any and all future orders and to remove me from their system. When I called the number provided during the specified hours of operation for their cancellation line, I was told that "no one was available who could process my cancellation request and a supervisor would have to call me back." Even after I said I would wait on the line, I was told no, someone would have to call me. RED FLAG. I never received a call back, and this is a very sneaky tactic to make it next to impossible to cancel any authorization to charge your credit card.

There is no other recourse other than to contact your credit card company to put a block on BECAUSE...because why? BECAUSE they are scam artists, robbing credit card companies of reversal charges because they know once they charge a customer that customer can always dispute the charge, but they still get paid. This type of unethical business model is nothing new, but it's just sad that they have done it for so long without much recourse. To be clear, I'm sure there are paying customers who do use and enjoy this product - these people may not need to file a complaint like this. That is until they need to cancel. Maybe they target customers who utilize their free trial (as it seems to be the case) and then want to cancel. Either way, no company should operate like this and get away with it.

Bottom Line: No, I would not recommend this to a friend

---

13 out 14 people found this review helpful

SCAM - get credit card info with sample offer!

By Eddie P.

,

Georgia

,

Jan 6, 2019
Verified Reviewer

Like many others, I have been scammed by this company. I first saw a reference to them as Hexa, with ok product and price reviews.

Since then, they have changed to "because."

My wife has total bladder incontinence, therefore we spend a lot on supplies. When I saw the offer for samples, I thought it was worth a try. However, to get the samples I had to pay postage with my credit card. I called them and cautioned them to not make further shipment nor charges until my wife tried the briefs.

We kept waiting for the samples, and then a full shipment showed up. I called them and received an excuse "the samples probably were delivered to the wrong address."

They told my wife to try a few from the shipment and if she couldn't wear the briefs, they would send prepaid postage for return and refund our credit card.

A huge lie - instead, another shipment came and another credit card charge. I am still fighting for the chargeback and refund.

Finally, I put a block for them on my credit card account. I really don't trust that so I am getting a new card.

Bottom Line: No, I would not recommend this to a friend

---

3 out 5 people found this review helpful

Best I've tried - and I've tried many!

By Jan L.

,

Ipswich, United Kingdom

,

Dec 8, 2018
Verified Reviewer

I am hard to fit, so I let Hexa know that the samples didn't fit very well. No problem - they sent me others and I found my perfect fit.

So I bought them and tried them out. I really was surprised - after many years spent trying at least 7 different brands online and off, and even drugstore brands, I finally found a brand that not only fits well but has not leaked once during almost a year of use. As well as urinary incontinence, I suffer from bowel incontinence. No other brand has been able to prevent that leakage, but Hexa protects 100% for both incontinence problems.

I am so glad to have found this company, and I hope they do well in their venture. Also, I have found their customer service to be very good. I highly recommend this product to anyone looking for a good fit and great protection!

Bottom Line: Yes, I would recommend this to a friend

---

15 out 16 people found this review helpful

Product being sent and charged when not ordered

By Valerie C.

,

Tacoma, WA

,

Nov 13, 2018
Verified Reviewer

My mother tried this as a sample product but decided not to order any. However, an order of items she didn't want was sent and she was charged for them. When I called I was told we could not send it back and she did not get a refund.

Three months later she got an email that her order was being processed and I called and was able to cancel it. I told them not to contact her, and she did not want any of their products.

Another 3 months and the same thing happened. This time I was told I would be contacted within about 2 hours, but I am still waiting for that call. I also sent an email that the order needed to be canceled, if it arrived it would be considered a FREE gift and I contacted the credit card company to tell them not to accept the charges.

We are still waiting to see if the product arrives.

If this is the way a company does business and takes advantage of the elderly not able to process what is happening, they need to be shut down.

Bottom Line: No, I would not recommend this to a friend

---

13 out 13 people found this review helpful

They lie, cheat, and steal!

By Louis L.

,

Colorado

,

Nov 13, 2018
Verified Reviewer

My experience has been exactly the same as Pam B and Glenda S., preceding. "Because" sent samples as requested, requesting feedback so they could match me to the "exact product" that was perfect for me.

Not having time to try the product, I did not respond with an order. A short time later I got an order I did not want, and a bill (not authorized). I called and they were very apologetic, but since they had been shipped already, I would have to be billed, while assuring any further shipments had been canceled.

Since then, shipments (and bills) kept coming. I have got 7 shipments, I been charged in the order of $80.00. I have:

1. Emailed them.

2. Chatted with their customer support rep.

3. Spoken to a supervisor.

In each case, they lied to me. I have been promised 3 email replies, a $30 rebate, a $40 rebate, and instant cancellation.

Nice people, polite and sincere as could be. Just one problem: THEY ALL LIED. Not one thing they said was honest. They must have training seminars on what lies to tell while sounding sympathetic and sincere.

Use this company at your own risk. The produce MAY be okay, but the company is (beyond) despicable!

Bottom Line: No, I would not recommend this to a friend

---

12 out 12 people found this review helpful

Fed up!

By Pamela M.

,

Overton, TX

,

Nov 1, 2018
Verified Reviewer

Not a bad product. I have enough to last me years. I called twice to cancel. They are very nice and tell me it has been canceled then keep sending and charging me. What does it take? NEVER order from them!

Bottom Line: No, I would not recommend this to a friend

---

14 out 14 people found this review helpful

Beware, free samples are a scam!

By Pam B.

,

Iowa

,

Oct 12, 2018
Verified Reviewer

The free samples are a trick to get your get your credit card number.

9/7 – Requested "free" samples to give this product a try. Completed a survey so they could recommend what products would be right for me and gave them a credit card number to cover the $1.49 shipping fee.

9/7 – Received a "Thank you for your order" email.

9/7 – (This is where I messed up) Because Subscription email. I thought this was a promotion. I did not read thoroughly. Did not realize that by requesting the free sample I was signing up for monthly deliveries.

9/10 – Sample order shipped email.

9/17 – Sample order received.

9/25, 5 pm – Thank you for your order email. Invoice charged to my credit card = $92.42

9/26 – Phone call to Angela in Customer Service. Unable to cancel order because it had already shipped. Instructed not to worry. I would receive a full refund. I inquired about refusing or returning and was told they did want the product back. Suggested if I could not use I should donate to a nursing home or adult day care. She was referring me to the cancellation department for a full refund. I could expect to hear from them in 5 business days.

10/9 – Having not heard from the refund department or received a refund, talked to Lavina in Customer Service. She again assured me I would receive a full refund. She "escalated" my concern to "refund department."

10/9 - Email from Anne M in Support. Because I did not cancel order 5 days before the order shipped, I could not get a refund. NOTE: Since the subscription order shipped just 9 days after the sample order was received and I am a light user, it would not have been possible for me to really test the sample in 5 days - and nowhere did they make it clear this would be necessary.

Bottom Line: No, I would not recommend this to a friend

---