Hims Hair Kit Reviews
Claimed This company has claimed this profile, is getting alerted on any new customer reviews entering this page, and may engage in dialogue with its customers to address their matters.

Companies cannot pay money or provide goods in order to remove or alter customer reviews.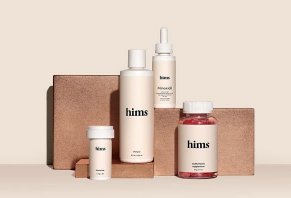 Hims offers three different Hair Kits that promise to help address androgenetic alopecia (male pattern baldness), including online prescription medications.
---
Great results, simple, and well-priced

By Carl B.

,

Los Angeles, CA

,

Jun 22, 2018
Verified Reviewer

Seems many are frustrated with their customer service. I've not interacted with them more than once, and that time I got help within a couple of hours. My experience has been very smooth. Took some pics, answered a few questions, paid $5 and got my first shipment in the mail within a week or so. I have now been using it for three months and have visible results. Hair loss has stopped, and there is budding regrowth. I do the whole package, with finasteride, multivitamins, shampoo, and minoxidil, and it really has been very successful. The pricing is amazing, the service of not having to think about these products being refilled is great, and with the results I've seen so far, I can't see myself not continuing to be a customer.

Bottom Line: Yes, I would recommend this to a friend

---

It really does work!

By Paolo Iñigo T.

,

South Orange County, CA

,

Jun 19, 2018
Verified Reviewer

I've been seeing Hims products on social media for at least a few months before trying it myself earlier this month. I didn't use the $5 hair kit that they are offering, but I just bought the shampoo. After a few days of trying it, I see some hopeful results. As a 33-year-old guy, my hair has started to lose rapidly since 2014. Being a single guy, I started to worry. I've tried over the counter hair growing shampoos here and there for the past four years, but neither of them worked. I'd say that Hims shampoo is the only hair growing shampoo product that has worked for me. I'd definitely buy this shampoo again once it runs out.

Bottom Line: Yes, I would recommend this to a friend

---

Hims scam

By Michael J.

,

Wisconsin

,

Jun 18, 2018
Verified Reviewer

So first off, let start off saying that I was recommended by a friend to use Hims, so I said why not. They ask questions about ED, so I told them my experience, and from what doctors told me, this is how I answered their questions. So I was denied by them. Their response was to see my primary doctor, which I did. This is why I came to their website, because my doctor wouldn't help me.

So I wait a while and try again. Now this time they tell me there's something wrong with my photos, I have to upload it, which I did FIVE TIMES! I get a few more emails, so today, 6/11/2018, I decided to call. Now mind you, I check my account and it says my order is being packaged, but once I get on the phone with customer service, they tell me the doctor denied me and I should check my messages again. Another doctor denied me for the fourth time.

Now let me say this, my brother is in his late twenties, and I'm in my early forties, and he has been approved. LOL. I don't feel like I should have to lie to receive their products, but I'm very disappointed with how things went.

Bottom Line: No, I would not recommend this to a friend

---

Never got anything

By Tony R.

,

San Francisco, CA

,

Jun 15, 2018
Verified Reviewer

I paid the five bucks and two weeks later still never got anything. I go on the web page and emailed them to both emails they have up and never got a real response. I don't even see a phone number so I can call them or else I would call and see why I haven't got anything. Don't buy it.

Bottom Line: No, I would not recommend this to a friend

---

Advertisement

---

It's not Amazon, fellas.

By Josh U.

,

Cincinnati, OH

,

Jun 5, 2018
Verified Reviewer

I'm not a review writing kind of guy. I don't even participate in social media. I do rely on others that write reviews for all of my online purchases. This has to be posted/read. I'm not sure if this will help me just yet, but it could help YOU with your hair. If you're serious about doing something for hair or lack thereof, don't listen to folks that are impatient. I use Amazon Prime and am used to getting stuff in two days with quick answers.

I prefer to buy stuff online unless it's something that is probably best to buy in person or local, like shoes or vegetables.

I'm 36 and my hairline has been, umm, high since at least my 21st birthday. However, over the past two years, my crown has been thinning too fast.

I've been taking nutritional supplements supposed to affect the DHT and some biotin for three months. I've seen some small improvements.

I didn't try Rogain because of the price and the mixed results from others. What brought me to Hims was the ease of getting finasteride because I don't have health insurance. I also like Hims openness of "this is what offer, this is what it does, this is how much it costs."

From the start of my process to the product in hand was just under two weeks, 8-9 business days with a holiday weekend in there.

Yes, you have to answer questions.

Yes, you send pictures.

Yes, there are doctor emails and maybe follow up questions.

Yes, the process takes time.

No, it's not a scam.

Minoxidil and finasteride are not proprietary, and you don't have to buy their other stuff.

I paid $5 for the complete hair kit, what's to lose?

Bottom Line: Yes, I would recommend this to a friend

---

Bad

By James Webster

,

New York City, NY

,

May 16, 2018
Verified Reviewer

You have to pay $5 just to get "diagnosed" on the website, as to what basis they do this I don't know. They can then just turn you down without so much as a word. Just go see a doctor in person and save yourself some trouble.

Bottom Line: No, I would not recommend this to a friend

---

Pretty good so far

By Tom Hanks

,

Los Angeles, CA

,

May 5, 2018
Verified Reviewer

I enjoy the service so far. A lot of people are complaining about customer service and giving it 1 star, and below I'll talk about that.

But for now, their products are pretty great for the pricing honestly. You get a free appointment, there's no "schedule" like someone down there said. You simply join the site, apply for what you need, they'll ask for some pictures of your problems, and they'll get back to you about how they think you could go about fixing it. This is honestly the best method to get a prescription to these meds; you don't pay over $100 for a consultation, plus other fees upon visiting and returning.

Next, the pricing is really great for what you're getting, since these things go from $30-50 and their supplements are worth at least $20 on other sites like Amazon for similar ingredients, for anyone complaining about that.

Overall, it's a pretty great service with one real rough patch that they're clearly working on.

As for the people asking about the support:

1. Understand that these are PEOPLE working here, not robots. I usually receive replies within two days through EMAIL (this usually takes much longer for other sites, unless clearly a BIG cooperation).

2. There ARE more options than just email! Some people here are crying about how they suck because you can only call and email them. Clearly they were just salty and didn't care to look around to find their contact us page before posting a review, lol.

3. They even warn you, stating they are delayed because of the amount of messages they're getting, and they're sorry! It's called patience; if you're looking into these services, this is the first thing you're going to need! These pills aren't magic fix it pills, they take plenty of time. If you can't wait 2-3 days for an email from a newer company starting up and getting thousands of new members every day so they're pretty backed up, then chances are you don't want to use these pills as they take 3+ months to work at times!

Support verdict: Yes, their support isn't the best at the moment, but again, it's a newer company trying to catch up to their demand, and they're clearly improving on it. These are genuine people trying to assist you.

Bottom Line: Yes, I would recommend this to a friend

---

Hims is pretty ok

By Alex F

,

Brooklyn, NY

,

May 5, 2018
Verified Reviewer

Hims is not a two-star company to be sure. All their products are fine, and the kits are nicely packaged, and I at least feel as though my hair looks thicker.

The main flaw is that sometimes a hold will get placed on your account because you need to get the prescription renewed. This process seems straightforward but ends up hitting snags for whatever reason, so they put a hold on shipping, but I have not been charged during these hold times. The real issue is you have to hope the CX team doesn't lose track of you while resolving the issue.

P.S. I write this only because of most reviews on HighYa seem as if they are purchased by competitors. That being said (and hopefully passing through), I wanted to say something in Hims defense.

Bottom Line: Yes, I would recommend this to a friend

---

Your order will not ship

I paid for my order about three weeks ago, there is always a problem, and my order still has not shipped. No customer service to call, only email, and you will get a generic response. I am wondering if this is a scam. I paid for my order and want my order shipped or I want my money back. I cannot tell you if the product works for I never received my order, and I tried to express my concerns with no answers to when my order will ship. STAY AWAY from this company!

Bottom Line: No, I would not recommend this to a friend

---

Seems like a scam

I placed an hour for the $5 welcome kit and provided some information about myself and received an email a day later from a supposed doctor. Then two days later they cancel my order based on my medical history. Even though I'm rarely sick and don't take any other prescriptions, they still canceled my order. This seems like a big scam.

Bottom Line: No, I would not recommend this to a friend

---

Poor products and experience.

By Andrew

,

Seattle, WA

,

Apr 17, 2018
Verified Reviewer

Their marketing is trendy and the simplicity of online ordering is very appealing. Having said that, I would never work with this company again. Their customer service is atrocious. After my order, I didn't hear anything from them for over six days (only after I contacted them) despite them saying I would hear from them the next day regarding the status of my order. No information on when my doctor's consultation would begin or when my information has been reviewed.

It's borderline impossible to cancel orders or talk to a customer service rep. They also save your personal information and credit card information, and there is nowhere on the site where you can delete this info. Very shady company. Stay away.

Bottom Line: No, I would not recommend this to a friend

---