HODINKEE Reviews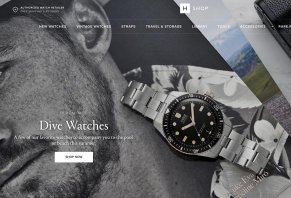 Hodinkee is an online watch marketplace that combines new and vintage watches, straps and other important accessories along with blog posts to provide watch lovers a comprehensive experience.
What Is HODINKEE?
HODINKEE is a vintage watch website where watch enthusiasts can go to buy vintage watches, purchases luxury items made for HODINKEE and learn about watches via the site's posts as well as HODINKEE's magazine.
The company is the brainchild of timepiece maven Ben Clymer, who founded the company in 2012 and now runs it out of New York. The company's CEO is Kevin Rose, a former Silicon Valley rock star who moved across the country to head up Clymer's startup.
According to the company's "Our Story" page, Clymer derived the name "HODINKEE" from a foreign language:
"The name, inspired by the Czech word 'hodinky' ('little watch') reflects founder Benjamin Clymer's desire to talk about watches in a casual way that is comfortable for all levels of readers."
Over the past few years, the site has earned multiple awards for its content and standing as a popular men's fashion cornerstone.
In the end, the most important questions you can ask about the site has to do with watches: What they offer and how their prices compare to competition sites? Also of importance are inventory, non-watch merchandise and shipping rules.
We'll wrap up with a quick section on the site's pros and cons.
How HODINKEE's Watch Marketplace Works
The company's online marketplace is the centerpiece of the site. Their "Shop" option is pretty extensive and, from our observations, tailored for casual watch enthusiasts all the way up to devotees who are looking for tools to work on their watches.
Their marketplace is split up into the following categories, as listed on their website:
New watches
Vintage watches
Straps
Watch tools
Travel & storage
Accessories
Rare finds
Limited
New Watches
HODINKEE is an authorized retailer of the new watches they sell, which is a designation that gives you the assurance that the TAG Heuer you're buying is actually a real TAG Heuer and not a knockoff.
At the time of publishing, the HODINKEE new-watch selection included pieces from Grand Seiko, Longines, NOMOS Glashutte, Oris, Ressence, Seiko, TAG Heuer, Vacheron Constantin, Zenith and Hamilton.
Their sale listings are split up into three different types. Most have no notice on them, but some watches have one of two notices: "Join Waitlist" or "Only X left!". For example, at the time of publishing, a NOMOS Glasshute Zurich Weltzeit Nachtblau was labeled with "Only 1 left!", while an Oris Divers Sixty-Five Bronze Bezel was waitlisted.
These watches come with a variety of protections and guarantees. Each new watch has the "HODINKEE Guarantee", which, according to their site, means that "if something goes wrong, you have our word that we will do everything possible to make it right."
Each new watch purchase includes free shipping and returns, too.
And, finally, new watches you buy from HODINKEE include an extended warranty that adds an additional year of a HODINKEE warranty to the watch's manufacturer's warranty.
According to their FAQ page, all of the watches they sell have two-year manufacturer's warranties with the exception of Grand Seikos, whose manufacturer's warranty is three years.
If you lose your warranty information, HODINKEE can send you scanned copies of the information you need, as they keep all warranty information on file.
Vintage Watches
New watches and vintage watches make up the bulk of HODINKEE's focus. Their vintage watch market is extensive and, at the time of publishing, included watches ranging from $250 (Excelsior Park stopwatch) to $175,000 (Rolex Paul Newman Daytona).
Of note is the fact that their vintage market is popular and, therefore, watches sell fast. At the time of publishing, their vintage market had more than 800 watches but only four of those watches were available. The rest were sold out.
Each listing describes the watch in detail and includes a series of photos that include notations about wear and scratches as well as key features of the watch. These photos can be enlarged to the point that you can see a detailed view of the watch face.
Also included in the watch's description is a formidable list of the watch's specs, including notes on whether or not the strap is original.
Based on our observation of several different watch listings, we believe HODINKEE does an excellent job of providing the photos and descriptions you'd to understand the exact condition of the watch. We also noted that the site's most affordable vintage watches (under $2,000) were sold out.
Watch Straps
The company's online shop also features watch straps. At the time of publishing, these straps ranged in price from $20 to $280. Like the vintage watches, the most affordable straps were sold out.
As for finding the right strap for your watch, HODINKEE has a search tool that helps you find the right strap for your particular watch.
Tools, Rare Finds, and Limited
The final three watch-related categories on the site are tools, rare finds and limited-edition items. The tools they offer are for those who want to DIY cleaning and repairs on their watch. Most of these tools bear the HODINKEE logo.
Rare Finds is a section of the store where you can go to discover a variety of items related to men's fashion. At the time of publishing, this section included vintage sunglasses, lighters, flasks, desk clocks and pocket watches.
Their Limited section features items that companies have made for HODINKEE. A good example of this is their TAGO Heuer Autavia Calibre Heuer 02, a watch that the Swiss company made exclusively for HODINKEE.
A Quick Word About HODINKEE Consignment Sales
Should you have a vintage watch you want to sell, you can sell it to HODINKEE. However, keep in mind that they don't accept all watches.
According to their site, they will appraise the watch in-house for free and provide a price. Once you agree on the sale price, then HODINKEE will do all the work to photograph and list the watch.
Their site doesn't say how much their fee is for consignments but is most likely a percentage of your sale.
Return Policy
With so much money on the line – many watches are worth more than $5,000 – it's important for you to have confidence in your purchase.
According to HODINKEE's fine print, you have seven days from the date of your purchase receipt to return you merchandise, whether it's a watch or other items you buy from the site. HODINKEE will send you a return postage label, the cost of which will be deducted for your return amount (this does not apply to watches that are more than $10,000).
Also of note is the fact that you can cancel an order within one hour of making the purchase.
How HODINKEE Compares to WatchBox
WatchBox is another popular online watch marketplace that offers a substantial vintage watch marketplace and also the ability to sell your watch to them.
Based on our observations, we believe the main differences between the two sites are, at the time of publishing:
WatchBox has far more vintage watches for sale (hundreds v. four)
WatchBox lets you trade watches; HODINKEE does not
HODINKEE's vintage watch warranty is 30 days; WatchBox's is 15 months
HODINKEE sells accessories, tools and more; WatchBox doesn't
HODINKEE has an extensive editorial side; WatchBox doesn't
Both sites allow you to consign your watch
Both sites sell new and vintage watches
After taking some time to compare both sites, we believe that HODINKEE is the better site if you're a watch enthusiast who loves watches and wants a comprehensive experience that includes new and vintage marketplaces, excellent editorial content and a marketplace that includes watch tools, bands and other items pertaining to timepieces and fashion.
WatchBox, on the other hand, seems to be the better choice if buying and selling is your focus. Their vintage watch marketplace has far more watches available than HODINKEE and they give you the option to trade your watches.
The Final Word: Pros and Cons of HODINKEE
We believe that HODINKEE's greatest strength is that it's a comprehensive online destination for those who not only want to buy watches but also want to keep abreast of the latest news and trends in the new and vintage watch markets.
The site's combination of new watches, vintage watches, straps and various other offerings along with their watch-based content are a powerful combination.
The downside of the site, in our opinion, is that their vintage watch marketplace is limited. As we mentioned earlier, only for of the more than 600 vintage watches listed on their site were available for purchase.
So, you're in the market to buy a vintage watch, you're going to find more options at WatchBox.
In general, we believe that HODINKEE is a great choice for watch aficionados who want a single destination for everything related to their passion.