Holigos IBS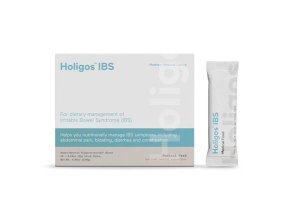 Holigos IBS is a digestive supplement designed to eliminate the symptoms of IBS by supplying your system with the prebiotics necessary to promote better gut health.
Holigos IBS Review: Benefits, Ingredients, Cost, and More
What Is Holigos IBS?
Designed and manufactured by the Danish company Glycom, Holigos is a brand of digestive supplements formulated to restore your body's microbiome to keep it in peak form. While the company offers several products, this review will look specifically at Holigos IBS.
According to the company website, Holigos IBS is a clinically proven treatment for managing the worst symptoms of irritable bowel syndrome.
These include stomach pain, bloating, diarrhea, and constipation. You're meant to mix each powdered packet in water or food of your choice for convenient consumption and quick relief, thanks to the proprietary blend of human natural oligosaccharides (HNO) it contains.
But what are these compounds, and can they really quell your IBS symptoms? In this review, we'll look at the facts behind HNO and the specifics of Holigos IBS to decide whether it's a good buy.
How to Use Holigos IBS and How It Claims to Work
The product website tells us that Holigos IBS packets come as individual 5-gram powder sticks sold in 28-day supplies.
You are meant to use up to one packet a day (though beginners may consider starting with half a pack) by dissolving it in at least two ounces of water, yogurt, oatmeal, or other food of your choice that you plan to consume immediately.
Glycom recommends Holigos for anyone over age 12 who deals with IBS symptoms. While they state that it doesn't matter what time of day you take the powder, you'll get the best results by taking it regularly. If you miss a day or two, you don't need to double your dose to catch up.
Regarding storage, Holigos suggests keeping your packages in a cool, dark place away from children.
The HNOs you find in Holigos are only consumed by breastfeeding infants. Holigos states that they strive to take this relationship one step further by giving adults a way to benefit as well.
The company states that its scientific team discovered how to recreate HNOs from scratch in order to better cultivate the bacteria necessary for better digestive health.
From what we found, Holigos IBS works by using a proprietary mix of lab-created HNOs to target the imbalances in your gut microbiome that lead to symptoms associated with IBS. In order words, the supplement contains glycans that are identical to the ones found in human breast milk and mucus.
These compounds modulate the bacteria within your digestive system to promote the growth of beneficial varieties, rebuild the intestinal barrier, and restore your immune system to better working order. This allows your microbiome to counter nutrient deficiencies and fight off IBS symptoms.
That sounds good in theory, but does the strategy work? Holigos' self-reported clinical research shows that more than 85% of participants in their study were satisfied with their results from the supplement and found that it worked to manage bloating, constipation, stomach pain, and diarrhea.
For this study, 300 participants who were classified as having mild to severe IBS experienced highly significant statistical improvement in every measure of IBS symptoms within one month of taking Holigos IBS. Their results continued to improve for the length of the study, which ended after 12.
There's other scientific evidence that these compounds really work. According to a 2016 report published in the British Journal of Nutrition, healthy adults who took these oligosaccharides experienced shifts in their intestinal microbiota, primarily for bifidobacteria, a beneficial bacteria known for preventing IBS.
Holigos IBS Ingredients
Holigos states online that each 5g IBS daily stick contains a proprietary blend of HNOs: 4 grams of 2'FL (2'-fucosyllactose) and 1 gram of LNnT (lacto-n-neote-traose). The sticks total less than 12 calories each. As the compounds are derived from lactose, those with milk sensitivities might want to be cautious.
Per their website, Holigos ingredients are certified by the FDA and considered safe to consume. They take that most users experience more energy, less irritability, and better moods after taking it.
However, the typical side effects of taking Holigos IBS can also include increased flatulence and stomach discomfort. The brand states that these effects are both normal and temporary, as in most instances, they are merely a sign that your body is adjusting to a new microbiome.
Any adverse symptoms will typically disappear after a few days of taking the supplement, but if your symptoms are more severe, the brand suggests talking directly with your doctor.
Looking Closer at HNOs: What Are Human Natural Oligosaccharides?
As reported by Holigos, human natural oligosaccharides are natural prebiotics and a key component in human breast milk.
This means that they act as a food source for bacteria, which promotes the proliferation of beneficial strands that lead to better gut health. That's important, as a well-functioning gut will better produce nutrients like vitamins and amino acids that lead to total body health.
Babies rely on oligosaccharides for their first few months of life in order to build up and fortify their digestive systems. As Holigos phrases it, millions of years of co-evolution between humans and HNOs has made them "one of the most targeted and effective means of establishing gut health."
Another benefit of HNOs this that they are naturally indigestible to humans. That means they can pass through your system untouched if not consumed by bacteria. This means that they can act as natural detoxifiers by removing the pathogens that latch onto them during digestion, which consequently lowers your chance of infection.
Holigos IBS Cost
At the time of writing, Holigos IBS cost $49.99 on the company website for a 28-day supply. You can sign up for a monthly subscription and save 15% per order, which brings the cost to $42.49. It's also possible to buy the product on Amazon at the same price point.
We didn't see a specific return policy online, but the company suggests contacting them directly at contact@holigos.com if you are unhappy with your order for any reason to work out a refund.
Analysis of Holigos IBS Customer Reviews
The studies sound promising, but does Holigos IBS work in the real world? We checked out verified customer reviews on Amazon to see the consensus. There, the product averages 3.8 stars, with more than half of reviewers awarding it five. Their comments show that many people found the supplement to work as promised.
Many Amazon reviewers reported they were experiencing better digestion, less gas, and even fewer headaches after taking Holigos IBS for several months. In some instance, reviewers said that they had suffered from IBS for decades without much improvement until they tried this supplement.
The negative reviews indicate that not all customers found relief with Holigos IBS, and a few reported that it made their symptoms worse.
It's important to note that many of the reviewers indicated that they tried the product for less than a week, so there's a reason to believe their symptoms might have improved as the brand suggests if they had given their digestive system time to acclimate to the change.
The Bottom Line: Should You Try Holigos IBS?
Online reviews and clinical research show that some people are finding relief with this prebiotic supplement.
One thing to keep in mind is that IBS isn't a one-size-fits-all diagnosis, and there are dozens of potential causes for the classic symptoms of digestive distress.
While Holigos IBS shows an aptitude for boosting your levels of bifidobacteria, this won't do you any good if that's not the root cause of your suffering.
Says Lisa Richards, a nutritionist and creator of the Candida diet, "If your IBS is caused by a fungal or bacterial overgrowth, prebiotics can make it worse! That's because all kinds of gut microorganisms feed on prebiotics – both the good microorganisms and the bad microorganisms."
Richards believes that prebiotics has their place, but that you should try to get them from food sources as much as possible rather than through a supplement like Holigos IBS.
"It is still important to consume some prebiotics, but it's better to get them from foods if you can. If you are eating a fiber-rich diet, you should already be getting plenty of prebiotics," she said.
Our view is this; if you're struggling with IBS and haven't found relief elsewhere, consider trying Holigos IBS and stick with the treatment for at least two weeks.
If your symptoms don't get better (or even worsen) there's a reason to believe your stomach problems are from something else and it may be time to look for a different solution.
» Related: Best Grains, Fruits, and Vegetables That Improve Digestion