HomeFinder.com Reviews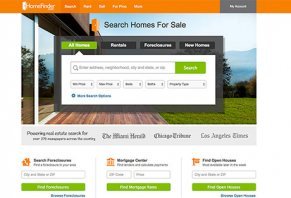 About HomeFinder.com
With more than 4 million real estate listings from all over the country, HomeFinder.com claims to connect home buyers, sellers, and real estate professionals by making online home shopping fun, practical, and hassle-free. In addition, HomeFinder.com claims to provide all the listings, tools, and resources you'll need during your real estate search.
If you're looking to buy or rent a home, HomeFinder.com is certainly one of the largest players in the industry. But does this mean you should use them?
How HomeFinder.com Works
Dubbing themselves as "the most trusted source for local real estate," HomeFinder.com claims to help you locate homes for sale (previously lived-in and new), foreclosures, and rentals in your area, and can even help you find local open houses and lenders, as well as to calculate mortgage payments. On the other hand, if you're looking to sell your house quickly, HomeFinder.com can help you get in contact with a local real estate agent.
When browsing the HomeFinder.com website, you can search by address, neighborhood, city, state, and/or zip code, in addition to minimum/maximum price, number of bedrooms and bathrooms, as well as property type (e.g. single family home, condominium, etc.). From there, you can also expand your search by minimum square footage, age, and more.
After processing your search, HomeFinder.com will display matching properties in a list format, which will include a preview image (if applicable), price, property address, and realtor information. After clicking on a listing's View Details button, you'll then be able to review additional pictures (if available), a full description and list of specifications, and even population information for the city in which the home is located, as well as school data. At the bottom of the page, HomeFinder.com will also display other nearby properties that you may be interested in based on the current home you're viewing.
In addition to searching for real estate, HomeFinder.com also includes guides for buying real estate, finding and purchasing foreclosures, and for "green" homes. If you need to search for real estate while you're on the go, HomeFinder.com also offers iPhone and Android mobile apps.
HomeFinder.com Pricing & Refund Policy
HomeFinder.com is completely free to use. As such, there is no refund policy.
Is HomeFinder.com the Best Way to Search for Real Estate?
It's no secret that if you're searching for a home to buy or rent, you've got a lot of options from which to choose. But when it comes down to it, should you use HomeFinder.com? Probably so, although there are a couple considerations to keep in mind:
Listings Displayed on HomeFinder.com
First, like much of its competition, including Trulia, Zillow, and Redfin, many (if not most) listings displayed on HomeFinder.com are aggregated from other sources. In fact, the company's website claims to power real estate searches for more than 375 newspapers across the country. On top of this, the company specifically notes in their Terms & Conditions that they do not monitor all the information posted to their site.
From a consumer standpoint, this means that you may encounter fraudulent listings on HomerFinder.com, especially when it comes to rental properties. While some of these may be intended to simply gather email addresses, others could be intended to draw you in and defraud you out of your hard-earned money.
Other Important Notes
Although signing up with HomeFinder.com and using the site to search for real estate is free of charge, according to the company's Privacy Policy, they may provide your information to other companies for marketing purposes. Ultimately, this means that you could receive unwanted emails/phone calls.
On the other hand, HomeFinder.com partners with other popular real estate websites such as Apartments.com, MovingTruck.com, and Auction.com, which might make your overall real estate search even easier.
Bottom line:
Whether you're looking to buy a house, for home loans, or for house buyers, HomeFinder.com appears to provide an extensive number of listings and sources of information.
Unbelievable SCAM, not reputable, no accountability

By Jacquelyn S.

,

Mesquite, NV

,

Mar 2, 2020
Verified Reviewer

I don't believe our house was ever on the website. I paid for one month and did not authorize ongoing payments. I could never find it. No one else could ever find it. I never got a call on it. They continued to charge me for 5 additional months that I did not authorize. Check out the D- Better Business Bureau rating. It speaks volumes and you can also read how others have been scammed by this company. Also, the customer service department responded to an email, with a phone call to me that was loud, threatening, and scary. I was unable to speak. I think the goal is to scare you out of trying to recoup your money! I was scared and couldn't get a word in, but I'm not going away! I wanted to give zero stars, but they make you give at least one.

Editor's Note: Employee information has been redacted

Bottom Line: No, I would not recommend this to a friend

---

This is just awful

By Matthew F.

,

Maryland

,

Feb 20, 2020
Verified Reviewer

The website cannot be worse. I found the perfect house but I cannot view any pictures without paying for it. So I take out my credit card and pay for it and now through the "full prescription package" I get a whole new list of results not including the house I want. I go back to my listing and it says "to view please pay or sign in" and so I sign in and the house is just gone. Tried so for twenty minutes. Just a terrible website and not worth it if they paid me to use it!

Bottom Line: No, I would not recommend this to a friend

---

Advertisement

---

Scam

By April B.

,

Tennessee

,

Oct 6, 2019
Verified Reviewer

HomeFinder is a complete scam. They use a secondary company called USRealtyRecords.com to bill you for services that you canceled through HomeFinder. The customer support manager Rob Lawler refused to admit to me through email that HomeFinder was affiliated with USRealtyRecords.com which by the way has four other names attached it. In short, USRealtyrRecordsus.com was very quick to say they would refund me the four months of fraudulent charges, but of course, the refund never came. They also refuse to send me any proof through email that "said" refund was given. I contacted HomeFinder about a refund and was told by Rob that they aren't responsible because my bank statements say USRealtyRecords, not HomeFinder. In short, they have a lovely shell game front going on.

Bottom Line: No, I would not recommend this to a friend

---

Do not recommend HomeFinder.com

By Steven Z.

,

Ohio

,

Aug 28, 2018
Verified Reviewer

I placed a home for sale by owner on HomeFinder.com ($39/mo) and Zillow (free) simultaneously. I received numerous emails and called right away. I asked the prospective buyers which website was used to find my listing. All used Zillow.

HomeFinder forces sellers to subscribe with a monthly fee that automatically renews. Auto-renewal policies produce revenue from some percentage of users that forget to cancel promptly. It is an inconvenience and a trick used by many online businesses.

After the house sold, I visited HomeFinder.com and found it impossible (after ten minutes of navigating) to find the webpage to cancel the auto-renewal subscription. I checked the confirmation email for a link to the page to unsubscribe, but there was none. I navigated to "contact" and in frustration, emailed a nastygram. The auto-renewal subscription was canceled within minutes via email.

The inconvenient navigation through the website to cancel combined with the unscrupulous nature of the auto-renewal terms are business practices that seem deliberate and thus, not trustworthy. Furthermore, you do not get what you pay for with HomeFinder.com, meaning they cannot compete with the free Zillow service. I was fair and unbiased at the onset of the experiment. I strongly recommend not using HomeFinder.com, instead, use Zillow.

Bottom Line: No, I would not recommend this to a friend

---

Advertisement

---

Contractors beware

By Josh

,

Atlanta, GA

,

Aug 28, 2015

Sales pitch is too good to be true, definitely do not attach your bank account to pay for leads. They are horrible at following instructions, and when they say your profile is mentioned in major magazines, or websites, it's a total scam they just Photoshop your profile to a non existing webpage. They are a fraud and I had to cancel my profile within the first week. They lied, cheated, and scammed me out of my money.

Bottom Line: No, I would not recommend this to a friend

---