Homeselfe Reviews
Claimed This company has claimed this profile, is getting alerted on any new customer reviews entering this page, and may engage in dialogue with its customers to address their matters.

Companies cannot pay money or provide goods in order to remove or alter customer reviews.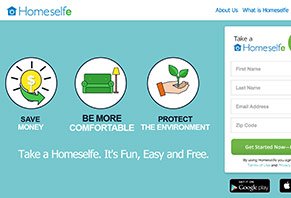 Using Homeselfe's proprietary technology, you can learn more about your home's energy efficiency, as well as ways you can save money on monthly utilities.
About Homeselfe
Who wants to save money on their home energy bills?
You certainly do, which is where Homeselfe's patent pending technology comes in.
All you have to do is complete a short, five-minute questionnaire, and Homeselfe will provide you with an easy-to-read report that outlines your home's energy efficiency, shows you where you need to improve, and what upgrades take priority.
Then, you'll be able to get money-saving tips, information about energy rebates, and connect with local contractors to "lower your home energy costs in no time."
In short, Homeselfe makes understanding your home's energy efficiency as easy as 1, 2, 3:
Complete the Homeselfe questionnaire in 5 minutes. During this step, Homeselfe will create a "digital mockup" of your home, making the process very straightforward.
Review your free energy assessment.
Lower your utility bills and save up to 35%.
If you're constantly on the go (and who isn't?), Homeselfe also offers iOS and Android apps. The company even claims to have the #1 DIY assessment app on the market!
Sure, this all sounds pretty cool, but how useful will you find Homeselfe's energy assessment? And what will the company do with your information?
We'll get to all of your important questions in this review, but let's first take a look at how Homeselfe works.
How Does the Homeselfe Assessment Work?
To begin your Homeselfe energy assessment, you'll first need to enter your first and last name, email address, and zip code on the home page.
Then, you'll see a cross section of a home, with each major room listed (e.g. attic, bedrooms, bathrooms, basement, etc.).
To navigate, simply click on each of these rooms, and click on any "hot spots" they contain (the main power draws in each area, such as TVs, ductwork, thermostat, and more). As you complete each hot spot, a green check mark will appear.
Finally, if you haven't already completed your profile, you'll be required to enter your address, phone number, type of home (single family, duplex, etc.), number of bedrooms, number of occupants, and home size, as well as your average electricity, gas, and water bills.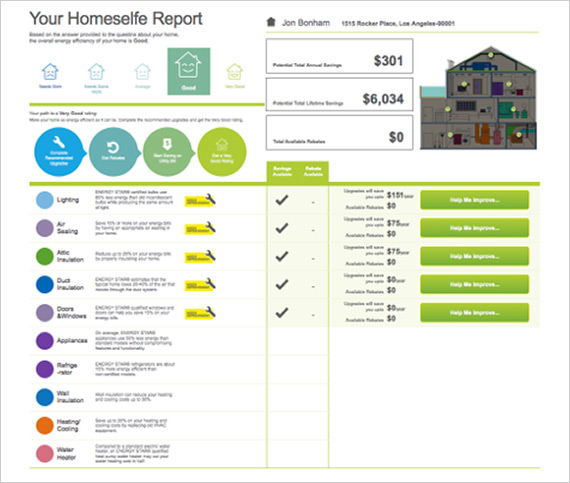 An example of what you'll see after completing your Homeselfe assessment.
Once everything is complete, you'll be able to review your energy report (see image above). Here, your home's energy efficiency will be rated on a scale from "Needs Work" to "Very Good."
Below that, you'll also find a list of recommended improvements that can help you achieve the highest ranking. And if you complete these improvements (such as adding more Energy Star certified bulbs, adding attic insulation, properly sealing your home, etc.), you'll see your potential annual and lifetime savings.
Finally, next to each area of improvement on the right, you'll see how much these improvements could help you save, along with a list of potential rebates. Important note: It appears that rebates are primarily based on your electricity provider and any promotions they might be currently running. In other words, if your provider isn't offering any rebates, you won't find anything here in your Homeselfe report.
In our case, we showed a potential rebate of up to $700. After clicking on the appropriate link, we were taken to a page outlining the different rebates available, such as the purchase of new Energy Star rated appliance or pool pump or motor.
Now, ask yourself this: How practical is all of this information? We'll answer this ultra-important question in just a moment, but let's quickly talk about the company behind Homeselfe.
Who Owns & Operates Homeselfe? Are They Unique?
Homeselfe is operated by Energy Datametrics, LLC based out of Austin, TX, who provides software and technology services to leading utility companies in order to help manage their energy efficiency programs.
Neither Homeselfe nor Energy Datametrics were listed with the Better Business Bureau at the time of our research, which isn't unexpected, since the former is free and the latter is a business-to-business company.
Despite this, does Homeselfe have any competition?
If you type "energy efficiency app" or "energy assessment app" into your favorite search engine, you'll quickly find that you have hundreds of options to choose from. Granted, you'll find everything from kilowatt trackers to energy cost calculators, so not all of these will provide you with the same information as Homeselfe, or display it in the exact same way.
But the truth is that one or more of these apps combined could probably provide you with much of the same information you'll receive through Homeselfe.
As promised, let's wrap things up and look at how useful Homeselfe is in your quest for energy efficiency.
Will Homeselfe Make Your Home More Energy Efficient?
Overall, we found the Homeselfe website quick and easy to use, and enjoyed how the assessment was graphics-based. In fact, we even found some fun in it, so it definitely wasn't like questionnaires you're probably used to.
On top of this, there's no doubt that taking some of the steps outlined in your assessment will improve your home's energy efficiency. But what kind of value do these improvements represent?
At least in our case, not very much. Why? Let's do some quick math (keep in mind that these are very rough estimates).
According to our Homeselfe assessment, in order to save about $300 per year or $6K over our lifetime, we would need to:
Add Energy Star certified bulbs: 47 lights in the average US household X $5 per bulb = $235
Properly seal home: About $1,100 (DIY – hiring a professional will likely cost more)
Properly insulate attic and ductwork: About $2.50 per square foot. This means a 500 square foot attic would cost roughly $1,250
Install Energy Star certified doors and windows: Let's say your home has 15 standard windows (no sliding glass doors, window walls, etc.). This means, on average, you'd pay about $7K to have all of them replaced.
Install Energy Star appliances: Here's where your costs can soar even more. After doing some quick research though, an average Energy Star refrigerator might cost $800, an oven $600, and $700 for a washer and dryer (add more if you need other appliances, likes dishwashers). Total cost: $2,100
In total, this means we'd pay about $11,685! Granted, we'd also be helping the environment, but we'd ultimately lose 50% of our investment, which doesn't necessarily seem like the best use of our money.
On top of this, according to Homeselfe's Privacy Policy, they might use your personal information "to optimize third-party offers of products and/or services." In other words, you might expect some spam soon after using their website.
Bottom line? Can Homeselfe provide you with some solid tips for improving your home's energy efficiency? Definitely. Will all of these tips be practical to implement? Probably not.
In fact, we think you could probably find many of these same tips elsewhere online, without having to hand over your personal information. They might not be as fun to use as Homeselfe though!
Good product and good customer service

By Sue M.

,

California

,

Nov 16, 2018
Verified Reviewer

I'm a realtor in California and recently purchased this. I wish I had bought it sooner. This is super user-friendly and is efficient, which saves me time (always appreciated). A good product and good customer service experience.

Bottom Line: Yes, I would recommend this to a friend

---

Horrible!

By Diana P.

,

Prescott, AZ

,

Aug 4, 2018
Verified Reviewer

I thought Homeselfe would be a great addition to my real estate business. Instead, it has been the complete opposite. The format is not what they promised. I have been trying to get ahold of customer service, and have not received any word back. I've sent four requests to cancel my account and they still have not done so. I have been looking for a phone number to call, and I can't find one. This whole process has been really frustrating. I would recommend to everyone not use their site ever! It's a scam!

I am so unhappy with the service I have been provided.

Bottom Line: No, I would not recommend this to a friend

Nov 12, 2018

Hi Diana,

We're sorry to hear you feel you were not given a response. For the record, you emailed us at support@homeselfe.com requesting your account be cancelled on July 30th at 2:17pm. We subsequently cancelled your account at 2:26pm July 30th (same day less than 1/2 an hour from when you wrote to us). We also left you a voice message at the number you left us, letting you know your account was cancelled and you were not charged. As far as the platform not being what you expected, we are not clear on what you expected. We can tell you the following:

What you get:

Proven Lead Gen Engine

Original RE Content, branded-for-you: Articles, Videos, Infographics PLUS a massive content library at your fingertips to post when you like.

We auto-post lead generating social content 10x a month. A monthly eNewsletter is sent to your contact list on your behalf...automatically. We are working diligently to convert post-engagement to leads with our proprietary HomeSelfe platform. The leads from your sphere are exclusive 1 to 1 and we have ZERO per lead fees. We market you to your top 5 zipcodes and we pay for that boosting. We hope you're having a great week so far and we wish you the very best this holiday season.

Respectfully, The HomeSelfe RE Team

---

Advertisement

---

Rebates are great!

If we can benefit from Energy Saving Rebates that our government provides we should take advantage and help our pockets and our planet. I understand the point about it may cost a little more to buy Energy Star Appliances like Refrigerators, Washers, etc., but I do believe that we need to be more environmentally conscious. It's really important that we understand that if we act responsibly with eco-friendly ways as individuals, and invest in businesses that support the environment, as a community we will prioritize the earth's well being.

Bottom Line: Yes, I would recommend this to a friend

---