Hoover Air Cordless Vacuum Reviews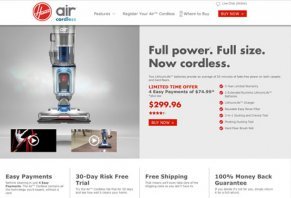 The Hoover Air Cordless Vacuum claims to be a lightweight, full-featured, full size vacuum that provides all the same benefits, without the hassle of a cord.
About Hoover Air Cordless Vacuum
In the world of vacuums, it seems like every manufacturer is constantly working to come up with something new that differentiates them from the competition, and the Hoover Air Cordless Vacuum appears to be no different. This new vacuum claims to combine the power of a standard full size, corded vacuum, without being tethered to a power outlet.
But is there any power behind these claims? Let's clean house and find out.
Quick Facts About the Hoover Air Cordless Vacuum
The Air Cordless Series 3.0 Vacuum (Model #BH50140) features Hoover's Windtunnel 3 technology, which is claimed to provide 3 channels of dirt-sucking power that will never lose suction. In addition, similar to the Dyson DC65, the Hoover Air Cordless Vacuum claims to feature steerable technology that allows you to turn around objects with just a flick of your wrist.
On top of the, the Air Cordless Vacuum is claimed to be the lightest full size bagless upright vacuum, weighing in at less than 10 pounds. Also, its low profile clearance gives you the ability to reach under furniture that other vacuums may miss.
Each Hoover Air Cordless Vacuum includes the following:
2 extended runtime LithiumLife batteries that provide an average of 50 minutes of operating time, which is claimed to be enough for a 2,500sqft home, and to provide more than 3X the power of other cordless vacuums. The Air Cordless Vacuum also features a battery level indicator, so you'll always know how much power remains.
An easily removable reusable rinse filter.
A 2-in-1 dusting and crevice tool, and a pivoting dusting tool that can be removed to clean hard-to-reach areas, such as stairs.
A hard floor brush roll that is claimed to go between carpeting and hard surfaces with just the push of a button.
Hoover Air Cordless Vacuum Pricing & Refund Policy
If purchased directly through Hoover, the Air Cordless Vacuum is available for 4 payments of $74.99, or one single payment of $299.96, and includes free shipping.
If you'd prefer to purchase from someone other than the company, keep in mind that the Air Cordless Vacuum is also available through Amazon.com, Home Depot, HSN, Walmart, and more.
All Hoover Air Cordless Vacuums purchased through the company come with a 5-year limited warranty, as well as a 30-day, 100% money back guarantee. In order to initiate the return/refund process, you'll need to contact customer service at 888-679-2121.
What Do Other Consumers Have to Say About the Hoover Air Cordless Vacuum?
The Air Cordless Vacuum is manufactured by Hoover (aka TTI Floor Care North America) based out of Glenwillow, OH. The company holds a D- rating with the Better Business Bureau, with more than 130 closed complaints over the past three years, most of which appear to reference problems with their products.
Regarding the Air Cordless Vacuum specifically, online customer reviews appear to be primarily positive, although some common complaints we encountered during our research included poor suction, poor hose/attachment design, and an inability to clean carpets with deeper pile.
What's the Bottom Line About the Hoover Air Cordless Vacuum?
Because the Hoover Air Cordless Vacuum provides limited power (simply due to the fact that it operates on batteries instead of a direct electrical connection), it doesn't appear to provide as much power as a standard corded vacuum—despite the company's claim otherwise. Because of this limited power, we read numerous customer reviews that complained the vacuum's brushroller is unable to adequately penetrate carpet with deeper pile, and that it works best on hard surfaces and thinner carpeting.
With this in mind, it appears that the Hoover Air Cordless Vacuum is best for quick, surface-level cleaning. As such, it very likely won't replace your current corded vacuum, which might mean that its performance doesn't match its price.
What's your experience with the Hoover Air Cordless Vacuum? Help others help themselves by writing a review today!
It sucks and not in a good way

By Eileen Rowe

,

Winnipeg, Canada

,

Dec 20, 2017
Verified Reviewer

The vacuum works ok, but every time the filter is changed it has to be taken into a vacuum repair shop to be put back together. I thought it would loosen up over time, but it hasn't. The vacuum repair shop says its a manufacturing defect.

When I called Hoover, they would do nothing about it and were rather flippant. I'm not impressed with the vacuum or with Hoover.

There are better ones out there. I bought this because Air Miles said I had to use my points or lose them. Boo on them too.

Bottom Line: No, I would not recommend this to a friend

---

Hoover Air Cordless

Kitchener, Ontario, Canada

,

Sep 27, 2017
Verified Reviewer

The batteries are terrible in these machines, nine months in and the batteries don't last two minutes. They wanted me to drive an hour and a half away to get a company to look at it and my receipt. I have registered it under the warranty and can't find my receipt, so now I have no warranty.

This is a terrible company to deal with; they don't want to honor anything. I don't recommend buying anything from this company. I asked to speak to a supervisor and they said they were putting me on hold and they hung up. Service is terrible! Don't waste your money!

Bottom Line: No, I would not recommend this to a friend

---

Advertisement

---

Broke twice within a year!

By Damien Infuso

,

East Windsor, NJ

,

Jan 6, 2016
Verified Reviewer

I was very excited when I bought his vacuum. For around $300, this vacuum is a complete joke just as their customer service is. I have a small 950 square foot condo and this vacuum broke twice now. I bought it right before moving in here, which is exactly a year now. The brush head has broken off twice now and there is not a lot to vacuum.

Before that, I had issues with the batteries staying connected to the vacuum. Any little bump would shut the vacuum down. As for their customer service, they replaced the brush head for me once, but they were very rude and acted like they were doing me a favor since that piece was not under warranty. It has been less than a year and they gave me a problem about replacing a horribly made major piece for this machine.

Even before any issues, this vacuum is very weak! I'm 40 and have had a bunch of vacuums. This was by far the most expensive and the absolute worst I've ever had. I was going to call and try to get another part replacement, but I think the same will happen. So after one year and $300, I'm just going to chuck it out or try to return it. Anyone in the market, please read this. Horrible warranty, no suction, bad customer service and made out of plastic and glue. If I could share a picture I would. Do not buy this vacuum. Thank you Hoover for making $300 junk and not standing by your product!

Bottom Line: No, I would not recommend this to a friend

---

Piece of Junk

By Jack Dietz

,

Jefferson City, MO

,

Jun 2, 2015

Piece of Junk. Broke 3 times in six months and have been waiting over 60 days for a roller brush that Hoover doesn't know when they will get them. Do not buy. Hoover they can't supply parts or warranty for their product.

Bottom Line: No, I would not recommend this to a friend

---

Advertisement

---