Hoover LiNX Cordless Stick Vacuum Reviews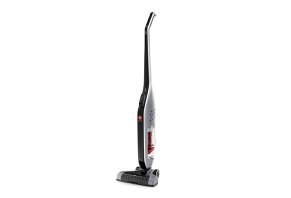 The Hoover LiNX cordless stick vacuum delivers many must-have features at an ultra-competitive price, including a long-lasting rechargeable battery and wider cleaning path.
About Hoover LiNX Cordless Stick Vacuum
Combining proprietary WindTunnel Technology and a rechargeable, fade-free Lithium-ion battery, the Hoover LiNX cordless stick vacuum promises to deliver powerful, upright-like performance on carpet and hard floors in a compact, lightweight design.
Not only does this provide you with the freedom to clean wherever you need, but the website advertises its combination of powered brush roll, edge cleaning bristles, wide cleaning path, and extreme recline allows you to remove surface debris, pet hair, and deeply embedded dirt from hard-to-reach places.
Based on everything we learned during our research and hands-on testing, there seems to be a lot to like about the Hoover LiNX cordless stick vacuum. In just a few short minutes, we'll help you decide if it's the right model for your needs.
How Does the Hoover LiNX (BH50010) Stick Vacuum Work?
The LiNX stick vacuum is 43.5" tall and weighs about 7 lbs.
At the top of the plastic handle, you'll find a three-position thumb switch, which allows you to select between off, suction only, and suction + powered brush roll. Beyond this switch are two clearly marked lights that will display the current mode.
Farther down the handle, opposite the 3.4-liter dustbin, is where LiNX's 18-volt Lithium-ion battery resides, which easily slides in and out with a quick unclipping. According to their website, the battery features fade-free operation for maximum power. When not in use, it's stored in a tabletop recharger that, based on our experience (more soon), takes only a few hours to charge fully.
LiNX's low-profile base boasts an 11" wide cleaning path, while the dry nozzle motorized brush roll cleans hard-to-reach edges. It also automatically transitions from carpet to hard floors.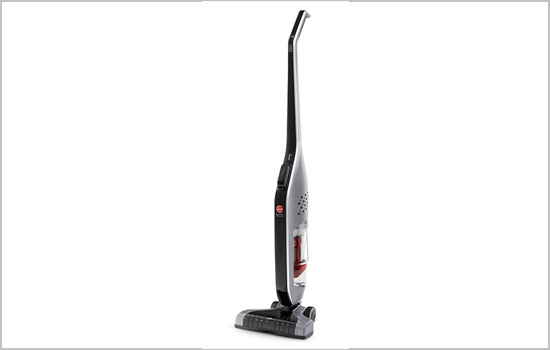 The most recent model (BH50010) of the Hoover LiNX Cordless stick vacuum. Credit: TTI Floor Care North America
As dirt and debris is suctioned, it's pulled into a bagless dustbin and removed by quickly pressing a button, without ever having to touch the contents. There isn't a 'full' indicator, although the bin is clear, so the contents are clearly visible.
Before air exits the vacuum, it first passes through a replaceable, washable prefilter and then through a secondary allergy filter (this is what Hoover calls their 'sealed allergen system').
Like many other stick vacuum models (more soon), LiNX doesn't feature any onboard tools or wands. However, it does feature a battery life indicator (or, what the company calls the 'Fuel Gauge') that turns on as soon as it's activated:
3 LEDs – Remaining battery capacity > 75%
2 LEDs – Remaining battery capacity > 50%
1 LED – Remaining battery capacity > 25%
1 LED Blinking – Remaining battery capacity < 25%
How Much Does the Hoover LiNX Cordless Cost?
The Hoover LiNX comes with a $149.99 MSRP, although it's also sold at a wide variety of third-party online and brick-and-mortar retailers, including Amazon, Walmart, Home Depot, and Best Buy, for as little as $99.99.
Each vacuum comes with one 18-volt Lithium-ion battery, battery charger, and reusable, easy-rinse filter. Replacement filters are priced at $2.05, although a variety of replacement parts are available directly through Hoover for between $1 and $85.
Refund policies will vary by retailer, but Hoover provides a 2-year motor warranty against original defects in material and workmanship under normal household use, regardless of where it's purchased. Customer support can be reached at 800-944-9200.
What Can We Learn From Hoover LiNX Online Customer Reviews?
Between the Hoover, Amazon, Home Depot, and Best Buy websites, we encountered more than 11,750 customer reviews for the LiNX cordless stick vacuum, who had cumulatively given it an average rating of about four stars.
Common compliments referenced ease of use, effective suction on hard flooring and carpet, cordless functionality, and solid battery life. Many pet owners also seemed pleased with how well it picked up hair and other pet-related dry debris.
The relatively few customer complaints appeared to frequently revolve around completing repairs otherwise covered under warranty.
Sites like CNET, NerdWallet, and VacuumsGuide.com gave the LiNX Cordless similarly positive reviews, with most agreeing that if you're looking for a top-performing, no-frills stick vacuum, it might be the one for you. This is primarily due to its strong suction and ease of use, although NerdWallet didn't experience good results with pet hair.
As a company, TTI Floor Care North America is based out of Glenwillow, OH and has been in business since 1905. They held an A- rating with the Better Business Bureau, based on four customer reviews and more than 160 closed complaints, as of 6/4/18.
When details were available, most seemed to reference problems with warranties. A company representative responded in each instance with a resolution.
Our Hands-On Experience With the Hoover LiNX Cordless
Our family (two adults, two children, and two smaller dogs) has used the previous LiNX Cordless model for about a year. We live in an older home consisting mostly of sealed wood floors, with a few low-pile area rugs, that's small and needs to be 'touched up' frequently, so the vacuum's certainly seen its fair share of use.
The verdict? Overall, we think it was a great purchase and continues to deliver a lot of value for the price. For homes with pets, the optionally-powered brushroll comes in handy, the swivel action makes it easy to maneuver, the low-profile design allows it to fit under most furniture, and it provides powerful, long-lasting suction for 20-30 minutes.
Once the time comes, we've found LiNX's battery recharges over the course of a couple of hours, and the bottom-release dustbin is super easy to use without getting your hands dirty.
However, no product is perfect, and there a handful of things we've learned about this particular stick vacuum model that we think is worth passing along.
Some Firsthand Considerations When it Comes to the LiNX Cordless
The biggest recurring issue we've encountered with the LiNX is the propensity for its suction tube (specifically, the section running between the debris opening and the 90-degree bend directly behind the base) to quickly become clogged and lose a great deal of suction power.
And when this occurs, we've found it's not exactly easy to dislodge any accumulated debris. In fact, the most thorough procedure involves removing the six screws attaching the nozzle plate underneath the base, and then using a flexible claw-end retriever to remove all the debris and then reassembling.
Hoover built a quick-release button into the back of the joint where the vertical portion and the base connect, but based on our experience, it doesn't provide sufficient access to enough of the air tube to fully dislodge all debris.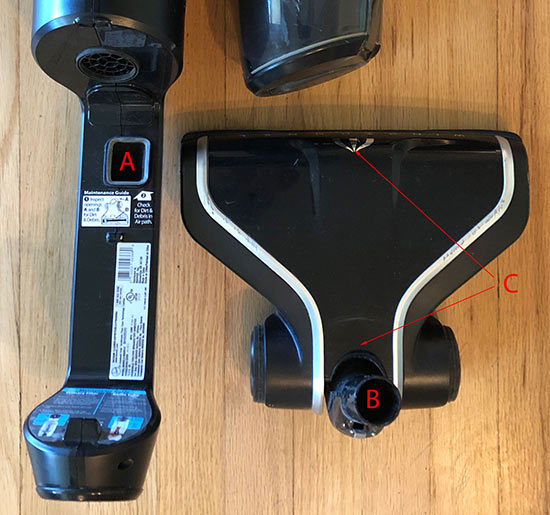 After using the Hoover LiNX Cordless for about a year, we've learned that the suction tube (A) tends to clog quickly with pet hair during normal operation. The vacuum features a quick-release button to clear the back portion of the tube (B), although, without the right tool, we've found it's difficult to remove debris between it and the suction opening (C).
Another issue we've frequently experienced is that the dirt cup is easily dislodged during operation. Fortunately, we've never had the lid open and spill accumulated debris everywhere, but we have had the dustbin take more than one tumble down a long flight of stairs.
Finally, while we've found LiNX's reach can accommodate a variety of heights, there's no adjustment. Also, like most stick models, there isn't a headlight.
Are There Other Stick Vacuums Like the Hoover LiNX Cordless?
Considering all of their potential benefits, it might not comes as any surprise that the Hoover LiNX cordless stick vacuum is up against dozens of competitors, including popular models and brands like the Dyson V6 ($290) and V8 ($450), Electrolux Ergorapido ($130), and Shark Rocket ($200), to name just a few. There are even potential competitors from within Hoover, such as the Cruise ($130).
Given all of the available models and the wide variety of price points, how can you start off on the right foot?
First, maintain realistic expectations. How so?
In our Stick Vacuum Buyers Guide [pending link], we outline the fact that these models offer a variety of potential benefits compared to traditional uprights or canisters, including light weight, ease of use, maneuverability, versatility, low price, and overall bang-for-the-buck.
On the flip side, they're often meaningfully less powerful, feature shorter runtimes (15-30 minutes, in general), come with few-to-no attachments, provide less filtration (in case anyone in your home suffers from allergies), and narrower cleaning heads that could translate into additional time spent cleaning.
Together, this means that unless you live in a small home or apartment with mostly wood floors, stick vacuums generally aren't suitable as standalone options. You'll still need a full-size model for more intensive cleaning.
From there, it's largely going to come down to your specific needs and preferences. Here are some common factors to consider:
Functionality – Details like real-world maneuverability (low-profile head, recline angle), weight (a couple of pounds can quickly add up over the course of 10 or 20 minutes), canister emptying, etc.
Corded or Cordless – Corded models are typically more powerful, but your reach is limited. Cordless models like the Hoover LiNX give you the freedom to roam but have limited power and battery life.
Filtration & Pets – Is there anyone in your home with allergies? What about other irritants, like pet dander?
Flooring types – Are most of your high-traffic areas hard flooring that might benefit from suction only, or do you require the additional agitation of a powered brush roll for carpeting?
Attachments & Conversion Ability – Although stick vacuums are supposed to be lean, mean cleaning machines; some come with hoses that can accept basic attachments like crevice tools and brushes. Some even convert into standalone handheld vacuums.
Considering all of these details, where are you left when it comes to the Hoover LiNX Cordless?
Bottom Line: Is Hoover LiNX Cordless Stick Vacuum Right For You?
Based on what we learned from thousands of online customer reviews on sites like Amazon, Home Depot, and Best Buy, as well as professional sites like NerdWallet and CNET, the Hoover LiNX is a standout stick vacuum model that comes from a company with more than a century in business, and almost wholly positive feedback.
Combined with our nearly yearlong hands-on testing and the model's ultra-competitive price, we feel confident when saying that the LiNX Cordless delivers a whole lot of value for the money. Most retailers also offer at least a 30-day refund policy, so you'll almost always have the option of returning it if it doesn't meet your specific needs and preferences.
Like any other product, though, it's not perfect. Based on our experience, while it suctions pet hair exceptionally well, it does have a propensity to become clogged and lose power.
Read next: How to Get the Best Vacuum for Your House