Hoover Quest 600 Robot Vacuum Reviews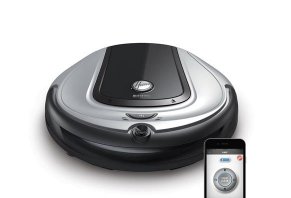 The Hoover Quest 600 is an automated vacuum that uses collision detection and a Tri-clean system to keep your home looking clean, even when you aren't there.
About Hoover Quest 600 Robot Vacuum
The Hoover Quest 600 Robot Vacuum claims to be able to effortlessly pick up dirt, dust, and pet hair using its fully automated system. The product comes with an included companion mobile app for Android and iOS that allows you to customize your experience and schedule the machine's cleaning cycle with ease.
Weighing in at 4.4 pounds, the device features a 90-minute runtime and a three to four-hour total charge time. According to the specifications listed on the product page online, its cleaning path is six inches wide, and it features an internal pull-out storage bin for debris that can hold 0.4 liters before needing to be emptied.
The website also lists that the Quest 600 uses a replaceable, rinsable filtration system, allowing you to change it out and clean it periodically, much like you would with a more conventional vacuum cleaner.
The vacuum utilizes what it calls QuestNav 1.0 technology to use three different cleaning patterns to maneuver itself along walls, under furniture, and around tight corners, claiming that its onboard cliff sensor helps it to avoid stairs and other drop-offs during the process. Hoover states that the tri-clean functionality allows for use on hard floors, small area rugs, and low pile carpet.
When the Hoover Quest 600 is done with its cleaning, it will automatically return to the included charging base, eliminating the need for you to find and manually charge it yourself. As we mentioned above, you'll also have access to the companion app, where you'll be able to customize your experience with the product in several ways. Let's take a closer look at this functionality below.
Hoover Quest 600 Companion App
As mentioned above, included with a purchase of the Quest 600 is its companion mobile app, available for both Android and iOS users on their respective app stores. Judging from what we're shown of the app on the product's web page, it appears to be complementary to its main functionality, meaning that you won't need to use it if you don't wish to.
You can manually turn the product on using the included remote control and it will begin vacuuming the area. However, you'll lose out on some added customization features in the process.
Specifically, the app allows you to check in on your Hoover product, alerting you to any maintenance needs and allowing you to download firmware updates as they become available. You'll also be able to set a custom schedule for the Quest 600, allowing you to dictate the days of the week and times that the device cleans. From the looks of things, the app connects to the Quest via Bluetooth, so you'll need to be at your home to use all of its features.
Hoover Quest 600 Robot Vacuum Pricing & Return Policy
As of this writing, the Hoover Quest 600 was available directly from the manufacturer's website, as well as from Walmart. From the former, it is sold for $269, while Walmart had it listed for just $178 as of our research. Shipping is free from Walmart, but $4.99 through Hoover directly.
As for the return policy, both Hoover and Walmart offer 30-day return windows. For Hoover, you'll need to print out a return form, and through Walmart, you can initiate a return in your customer dashboard online, or take it to any retail location.
Are Robotic Vacuums Like the Quest 600 Right for You?
Now that we know a bit more about the Quest 600, it's important to determine whether or not a robotic vacuum is right for your needs in the first place. Their low-profile design means that robot vacuum cleaners can effortlessly clean in areas that may be difficult for you to reach with a more conventional product, such as under furniture or around tight corners.
Although they still make noise, these types of vacuums are usually quite a bit less noisy than their counterparts, and many, like the Quest 600, can be programmed to run on a set schedule if desired.
For all of their strengths, robotic vacuums do have some potential downsides, depending on your preferences. For one, they tend to be quite expensive, especially considering that due to their smaller capacity and lower suction potential, they are largely meant for lighter cleanings in between deeper, more hands-on ones. You'll likely still need a standard vacuum regardless, possibly adding to your total costs.
If you feel a robotic vacuum is right for you, then your next task will be finding the perfect model for you.
Robotic Vacuum Buying Guide
If you've determined that a robotic vacuum cleaner is right for your needs based on the information above, you'll likely run into a brand-new problem; with dozens of different brands and product lines to choose from, which one is best for you?
During our research, we found a number of popular products on Amazon that were in the same neighborhood of the Quest 600 in terms of price, which we've included in the table below. In general, finding the right vacuum for you means choosing one that provides the features most relevant to your home.
For instance, if you have stairs, a cliff sensor like the one found on the product in question may be an important feature for you, but if you live in a single-story home, it may not be a game changer. Another factor to consider is the mobile app; if you would like to have a device run on a set schedule, looking for a product with this capability makes sense.
Finally, it's also important to think about your own cleaning habits when deciding on a unit. For instance, certain products, such as the Deik Robot Cleaner, have the ability to sweep and mop as well using included attachments, so if this is something you're interested in, it may be something to consider, given that the product is so similar in price to the Quest 600.
If you dislike having to constantly empty out a dustbin, it may also be important to look at its capacity for each product you consider. Though we know that the Quest 600 features a 0.4-liter bin, which isn't huge by any measure, many other products don't list this information. Below, you'll find a table of the product in question compared to four popular and well-reviewed options in similar price ranges on Amazon.
| Product Name | Price | Notable Features | Stated Runtime | Companion App |
| --- | --- | --- | --- | --- |
| Hoover Quest 600 | $178 at Walmart | Tri-surface cleaning, intelligent navigation, cliff sensor, auto return to home | 90 minutes | Yes, Android & iOS |
| Deik Robot Cleaner | $189.99 | Sweeping/wet/dry mopping, multiple cleaning modes, auto return to home | 75+ minutes | No |
| iRobot Romba 650 | $274.99 | iDapt navigation system, three-stage cleaning system, auto return to home, multiple floor types supported | 60 minutes | No |
| Shark ION Robot750 | $329.99 | Voice control with Amazon Alexa, Self-cleaning brushroll for allergens, smart navigation | 60+ minutes | Yes, Android & iOS |
| ECOVACS Deebot N79 | $298.99 | Three-tier cleaning system, collision and cliff avoidance, multiple floor types supported | 100 minutes | Yes, Android & iOS |
Interestingly, very few of the robotic vacuums we encountered during our research listed their raw suction power numbers. This is a spec usually measured in kilopascals, and upright and other conventional vacuums commonly include this in their technical information. Of course, these aren't meant to compete with the suction power of a full-blown standalone vacuum, but without this information, you'll largely need to try out a given product to know exactly how well it will work in your home.
Because of this, we feel that it's crucial to keep the return policy of the device you ultimately go with in mind going into a potential purchase. This way, if you find that it doesn't live up to your expectations, you'll be able to return it in favor of a different approach.
» For Further Reading: Best Robotic Vacuum Cleaners Buying Guide
The Bottom Line
Based on everything that we've learned about the Hoover Quest 600, is it the right robotic vacuum for you? The most straightforward answer is simple; it depends.
On the one hand, the Hoover device is less expensive than many other, popular competitors, and offers much of the same functionality to boot. It includes intelligent navigation and the ability to avoid stairs and other drop-offs, as well as the ability to schedule cleaning sessions for specific days and times throughout the week.
Having said that, without having specific suction power comparisons between units, we can't say with certainty that it represents the best bang for the buck when it comes to robotic vacuums in general. Ultimately, your choice of which, if any, product you go with will boil down to the one that includes the most features relevant to your home, as well as the one with the price closest to your budget.
If the Hoover Quest 600 fits the bill, be sure to keep the 30-day return policy in mind as you try it out. If you find it isn't what you were looking for, you'll be able to return it as described above, as long as you're alright with losing out in some shipping & handling fees to get the product back to the manufacturer.
Bought it in May 2018

By Sherry B.

,

Texas

,

Dec 9, 2018
Verified Reviewer

Like I said, I purchased it in May 2018. I had such high hopes. Our home burned down and we lost it all. We got our brand new mobile home in May. It had a much larger kitchen and dining area than our old home and the floor is that repurposed PVC. It feels like when you walk on it that it is dirty all the time. I do not like it at all. So I bought the Hoover Quest 600 and was so excited. It did a pretty good job. For about 3 and 1/2 months. Then it just quit. Will not charge no matter what. Don't waste your money folks. Buy a broom. Buy a dust mop and some entrust. It's a lot cheaper. Especially for poor people.

Bottom Line: No, I would not recommend this to a friend

---

Advertisement

---