Hoover SmartWash Vacuum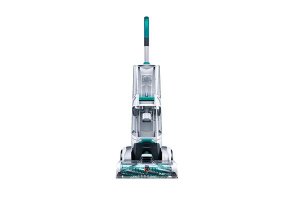 Using sensor-based cleaning technology and heat to dry your carpet quickly, the Hoover SmartWash offers good value for those looking for an affordable way to clean their carpets on a regular basis.
Hoover SmartWash Vacuum Review - Is It Worth It or Hype?
The Hoover SmartWash is a deep cleaning machine, that tackles everything from carpets to upholstered furniture to deliver an easy-to-use, at home solution, with the same ease as vacuuming.
Marketed as not just an ordinary carpet cleaner, the SmartWash uses sensor technology to release the precise amount of cleaning solution onto carpets to deal with tough stains and the regular wear and tear of your home or rental. Instead of dealing with bulky rental equipment, the SmartWash claims to leave your carpets fresh and looking as good as new, without putting a large dent in your pocket.
Having been around for over 100 years, the SmartWash is in a long line of Hoover floor-need products, which comes highly-rated and is the latest invention from this "household icon."
As we examine the SmartWash more closely we will get a better understanding of how the "smart" technology works, whether it delivers on its promise to be a simple way to clean carpets and how it compares to similar carpet cleaners.
How Hoover SmartWash Works
The carpet cleaner is designed to work as easily as a vacuuming. Pushing forward cleans your carpet while pulling back sucks up the cleaning solution.
The forward motion cleans the carpet by agitating the carpet fibers with the cleaner's angled power brushes, while the SmartWash's "auto mix" technology senses how much cleaning solution and water mixture to release on the desired area.
As you pull back, the "auto dry" feature kicks in with a powerful suction, which extracts the solution and any debris from the carpet. Additionally, the cleaner uses its "HeatForce" technology to blow hot air onto the cleaned surface to help it dry out.
The SmartWash has three different tanks:
A tank where you pour in cleaning solution
A tank for up to one gallon of clean water
A tank where the dirty water is collected
Before use, you'll fill the tank with up to 20 ounces of cleaning product. Next, you'll fill the water tank with clean water. And, finally, after cleaning the area, you'll remove the dirty-water tank, empty it and clean it.
Extras That Come With the Hoover SmartWash
Your purchase of the automatic cleaner includes:
A 2-in-1 multi-purpose tool, which allows you to clean upholstered furniture and stairs
An 8-foot hose to connects the multi-purpose tool
An accessory bag that holds all the extra tools while not in use
A 12-oz. bottle of Hoover Expert Pet Carpet Cleaner Solution
In addition to these extras, the Hoover SmartWash also comes with a year's worth of bonus items that include:
A 12-ounce bottle of pet cleaning solution
A 12-ounce bottle of deep cleaning solution
A 16-ounce bottle of stain remover
A 32-ounce bottle of pet odor/stain remover
It should be noted that Hoover defines a "year's worth" of cleaning solution as what you'd need to wash 850-square-feet of carpet twice.
How Much Does the Hoover SmartWash Cost?
At the time of writing, you could buy the SmartWash via five monthly payments of $39.99 or a one-time payment of $199.95. Shipping was free.
The Hoover SmartWash can be bought directly through Hoover's website www.hoover.com, where you can select the special offer for the SmartWash, or buy directly from this website- www.smartwashtvoffer.com
The website offers a 30-day money back guarantee, as long as all the parts are received back in their original packaging. They also cover the cost of return shipment- the item simply needs to be dropped off at a FedEx location.
The vacuum comes with a 5-year limited warranty, too.
Renting vs. Hiring a Cleaning Service vs. Buying the SmartWash
There are various options when it comes to cleaning your home's carpet, including hiring a professional service, and/or renting carpet cleaning equipment.
At the time of writing, our research in the Chicagoland area offered results for renting a carpet cleaner from a local Home Depot and hiring Stanley Steemer to come and professionally clean your carpeting:
Renting a carpet cleaner from The Home Depot:
Per hour: $22 (4-hour minimum)
Per day: $31
Per week: $124
Four weeks: $372
The rental requires a $50 deposit
Hiring Stanley Steemer using online specials:
Five rooms of carpet: $199
Three rooms: $150
Two rooms and a hall of carpet: $99
After examining the price points, there are a few things to consider when looking at the alternatives for buying a Hoover SmartWash.
Hiring a carpet cleaning service or renting out the equipment to achieve a top-quality cleaning costs from $30 up to around $375, whereas buying your own Hoover SmartWash can cost $39.99 for five months or a one-time payment of $199.95.
Now, if you hire a carpet-cleaning service two times a year to clean three rooms, it would cost around $300 on the research we did. Whereas, if you bought the SmartWash and cleaned your carpets the same amount of times, you would get your money back the second time you cleaned your carpets with it.
Also, if renting the equipment yourself, the machine offered at The Home Depot weighs 40 pounds, which can get quite heavy, especially if you need to go up flights of stairs to clean various parts of your home. On the other hand, the SmartWash weighs 18.9 pounds, which is half the weight and easier to handle.
How Does Hoover SmartWash Compare to Competing Carpet Cleaners?:
There are many carpet cleaners from competing brands that you can purchase. A prime example is Bissell's ProHeat 2x Revolution. Below is an overview of some key elements between the competing carpet cleaners:
| | | |
| --- | --- | --- |
| | Hoover SmartWash | Bissell ProHeat |
| Price | $199.95 | $189.00 |
| Tank Capacity | 1 Gal | 1 Gal |
| Weight | 19 pounds | 17.5 pounds |
| Quick Dry | Yes | Yes |
| Cord Length | 22 feet | 22 feet |
| Warranty | 5-year limited warranty | 3-year limited warranty |
| Amazon Rating | 4.7 | 3.9 |
The Bissell ProHeat claims to be a great alternative to renting a machine, as it is half the weight at 17.5 pounds, uses dual brushes to provide a deep clean, has an "Express" setting for quick clean-ups, and the dry-time is said to be around an hour.
At the time of writing, the cost for the Bissell ProHeat was $189. The cleaner received an average of 3.9-stars on Amazon from more than 1,000 customer reviews.
Many customers seemed pleased with the Bissell's performance. Some of the common phrases they used in their reviews were "easy to assemble", "easy to use" and "highly recommended."
A primary complaint about the Bissell was that the "deep cleaning" setting guzzled up a lot of water and it took more than just an hour to dry.
Both carpet cleaners have overall good ratings on Amazon, though the Hoover ranks almost a full star higher at 4.7, while the Bissell has a 3.9-star rating.
The Bissell is similarly modeled to the Hoover's SmartWash, both being a deep carpet cleaner, that uses dynamic extraction to dry out the space quickly.
Both of these competing carpet machines offer a powerful, easy-to-use tool for at-home deep cleaning. The price is very close as well, with the Bissell ProHeat being about $10 less than the Hoover SmartWash.
Overall, the differences between these two products are minimal but when taking a closer look at details like the warranty and consumer reviews, Hoover has the upper hand, offering two years more than the Bissell and boasting a better overall customer rating.
Bottom Line: Should You Buy Hoover SmartWash?
Because the SmartWash combines the familiarity of using a vacuum with quickly visible results and powerful drying capabilities, it seems like a great alternative to renting a machine or hiring a service to achieve the same kind of benefits but at a budget-friendly cost.
When compared to the Bissell ProHeat, Hoover stands shoulder-to-shoulder in what it can accomplish but edges ahead, in our opinion, with a more generous warranty and better reviews on Amazon.
In fact, the Hoover SmartWash was the third-highest rated at-home carpet cleaner behind two other Hoover models, the Power Scrub Deluxe Carpet Washer and the Power Scrub Elite Pet Carpet Cleaner. This tells us that Hoover is a reputable brand when it comes to carpet cleaners.
In our opinion, Hoover consistently stands out in the midst of competing brands by offering quality tools, generous warranties and incorporating new technology to make cleaning as easy as possible.
---
Frustrated

By Carol W.

,

Florence, AZ

,

Jun 9, 2020
Verified Reviewer

Length of Use: Less than 3 months

Overall Experience:

I purchased the Hoover SmartWash Advanced Pet Carpet Cleaner for a few reasons. One being I could make easy payments, another that I do have pets and I wanted something that could handle it, but the main reason was that it had the upholstery cleaning attachment. The day that I went to use this machine I had plans that required the furniture being cleaned, I was confident I could use this machine and get it done quickly, I open the box and I find a stair attachment, no upholstery at all, that must be purchased seperately, extremely furious! I decided to try the stair attachment but the hose for the attachment doesn't work at all, no spray comes out, nothing! Very let down and disappointed in Hoover. I had to spot clean the furniture by hand.

Pros and Cons:

No "pros" were specified in this review
False advertising
Poor quality merchandise
Disappointing

Bottom Line: No, I would not recommend this to a friend

---

SmartWash, not that great

By Sandra M.

,

Indianapolis, IN

,

Nov 27, 2019
Verified Reviewer

Overall Experience:

Today I received my new SmartWash carpet cleaner, and I was pretty stoked, the holidays are coming and I have white Berber carpet in my house so I just knew that I was going to be happy. NOT! First, Hoover should print a better manual with bigger print, and not once did they take the carpet cleaner apart and put it back together so that you could see just how the parts are to go back together.

Second, please do not assume that everyone has a pet, so do not send me some pet shampoo, send me your best carpet cleaning solution.

Third, send me the model # and serial # seeing as how I have to scan my serial number after I find it before I can register the product.

And fourth, it really does not clean that good. Today is the first day that I used it, and I just may send it back. And the fact that I can only use your products. What a gyp.

Bottom Line: No, I would not recommend this to a friend

---

Advertisement

---