Hot Shot Smokeless Grill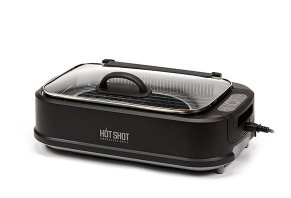 If you're looking for a way to grill indoors, the Hot Shot Smokeless Grill endorsed by ex-NBAer Charles Oakley claims to grill all types of food like you're outdoors but without all the smoke.
Hot Shot Smokeless Grill Review
The Hot Shot Smokeless Grill is an indoor appliance you can use to grill indoors via a cooking surface that can reach 450 degrees and an internal vacuum system that sucks up most of the smoke your food emits.
The Hot Shot is an As Seen on TV product whose spokesperson is Charles Oakley, the former hard-nosed forward for the NBA's New York Knicks. Oakley's promotional videos include input from various movie and TV stars, all of whom seem to marvel at the fact that the Hot Shot allows you to barbecue indoors.
The grill is the brainchild of Tristar Productions, a company that makes a variety of As Seen on TV products we've reviewed.
In this review, we're going to give you a rundown of how the grill works, talk about how much it costs and what the return policy is, cover existing reviews of the product at the time of publishing, and then compare the Hot Shot to other smokeless indoor grills.
What's Included with the Hot Shot Smokeless Grill and How It Works
Each Hot Shot grill comes with the grill itself, a removable grill plate, a griddle plate, a glass lid, and a recipe book. At the time of publishing, the grill came with a free appliance, which we'll talk about in a few minutes when we discuss pricing.
Using the grill is very simple. You press the power button and then use up and down arrows to adjust the heat based on six temperature settings: 220, 250, 320, 350, 390, and 450 degrees.
When you get to the point where you're placing food on the grill and you want to eliminate any smoke, you'll press a button to start the vacuum system incorporated into the grill's framework. This vacuum system "captures and extracts virtually all the smoke," the site says.
The non-stick cooking surface is big enough to fit eight large burgers, promotional video notes. We also noticed that there are two sizes of grills: the regular and the XL. To figure out how big the cooking surface is on each size, we called the grill's customer service line.
The phone rep with whom we spoke gave us the following dimensions:
Regular grill cooking surface: 13.5 inches long by 8 inches wide
XL grill cooking surface: 15.5 inches long by 9 inches wide
As you're cooking on your Hot Shot, there's a tray below the grill that catches any grease or fat that drips down. You can then pull the tray out, drain the grease or fat and then wash it.
The tray also doubles as a steam tray upon which you can pour water and place aromatics like lemons and herbs to help flavor your food.
The grill has a glass lid that you can use to cover the grill but you can also remove it. All removable parts are dishwasher safe.
Hot Shot Smokeless Grill Pricing and Return Policy
One Hot Shot Smokeless Grill unit costs $119.95 or it can be split into three payments of $39.95 with free shipping.
The unit is also available on Amazon for $119.99.
Hot Shot Smokeless Grill Alternatives
Comparing smokeless grills is an important part of your buying process because we can tend to get locked in on a product we see on TV and don't think about alternatives. Sometimes those alternatives can offer better value and sometimes they can't. Either way, it's important to know what your options are.
One of the higher-rated smokeless grill options on Amazon is the KRUPS Electric Indoor Adjustable Temperature Smokeless Grill. At the time of writing, the grill was $109.99 for Amazon Prime customers, with a four-year protection plan costing an additional $7.01.
The grill has a removable cooking surface and drip pan that are dishwasher safe. Also, it has five cooking temperatures: warm, low, mid, high, and sear. The final feature we'd like to point out is that it has two heating zones, which means the two halves of the grill can cook at two different temperatures.
The Hot Shot offers the advantage of a glass lid to cover up food if you want to do some steaming. You also get a cookbook and a griddle top, too.
In our opinion, the KRUPS grill provides a better value partly because KRUPS is a relatively well-known appliance company and because it costs around $10 less than the regular-size Hot Shot. However, the Hot Shot comes with more accessories and, if you're in the market for an air fryer, the $19.99 air fryer deal is virtually unbeatable.
The Bottom Line
Based on our analysis of this smokeless grill, we think there are some very clear pros and cons. On the positive side, the regular-sized grill is priced competitively. Also, considering that you can get add-ons at a discount, it presents some unique value that you aren't going to get from a smokeless grill you buy on Amazon.
We also liked how you have six temperature settings as well as dishwasher-safe parts.
The downsides to the grill, in our opinion, are that it's a bit more expensive than a reputable name brand and similar models of this grill have multiple negative reviews citing faulty parts.
The pricing on this product is, ultimately, subjective based on what you're looking for. If you like the fact that the grill has a celebrity endorsement and that it arrives with a recipe book and multiple cooking surfaces, the price tag isn't that bad.
However, if you typically buy name-brand appliances, it may be worth it for you to pay slightly less for a product like the KRUPS grill even though you're not getting the extras you get with the Hot Shot.
---
Poor workmanship

By Deborah M.

,

Juda, WI

,

Sep 27, 2020
Verified Reviewer

Length of Use: 3–6 months

Overall Experience:

I purchased this grill, it worked really good for a few weeks until the lid kept falling off when you opened it. I really am disappointed in the product.

Bottom Line: No, I would not recommend this to a friend

---

Didn't receive the product

By Russell N.

,

West Palm Beach, FL

,

Jun 24, 2020
Verified Reviewer

Overall Experience:

Below is an email that I received no response from. I have tried to call Customer Service several times and received no answer once being on hold for an hour. YES, an hour. I put my phone on speaker while cooking and after 103 mins I was disconnected. Now the line is busy, never a ringing to get through.

"Hello, I have not received this order as of this date. I have tracked it through Fedex tracking# (deleted for privacy) It was delivered to Fedex warehouse in Bell Isle Florida. When I called to inquire as to the status they stated that your company needed to place a claims order with them as you are their customer and I do not have the power to do so."

Left numbers on this but no response.

Bottom Line: No, I would not recommend this to a friend

---

Advertisement

---