HotelsByDay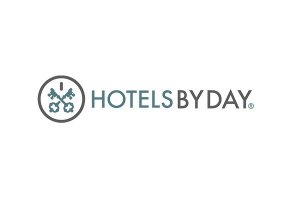 Since 2014, HotelsByDay has provided day-use access to hundreds of three-to-five-star properties across dozens of major US cities, for meaningfully less than regular prices.
HotelsByDay Reviews: Is This Service Worth It?
The HotelsByDay website and mobile app provide access to a collection of three, four, and five-star hotels where guests can check-in during the AM and check out in the PM, saving you up to 60% off nighttime rates.
This way, whether you need a daycation, a break during a shopping trip in the city, a place to get ready for a show, a remote office, or somewhere to recharge during a long layover, they're advertised as a smart, flexible solution.
With more than 450 hotels listed in 50 cities (and counting), HotelsByDay might seem like a logical solution if you're on the hunt for a day use (also referred to as a microstay) hotel. But, is there any competition you should be aware of? And which essential factors should you consider before committing?
These are just a couple of the questions we'll help you get a handle on in this review.
How Does HotelsByDay Work?
Whether through their website or iOS or Android app, HotelsByDay promises that you can make a reservation in mere seconds.
On the homepage, you'll start by selecting the country, city, and date required, and pressing the Search button. You can also click on the geolocation symbol next to the search bar, which allows you to browse the site's Hotel Map.
These pages will be followed by the results, based on your criteria. You can filter these by check-in/out times (e.g., morning (sometime between 7 am and noon), midday (10a to 4p), and evening (12 to 7:30)) and price, and then scroll down to select the hotel that best fits your needs.
If you find a listing you're interested in, you can click on it to learn more about rates, view pictures, find out about things to do in the neighborhood, as well as read through a list of amenities and services offered onsite.
If your booking shows a rate labeled as "Pay at Hotel," which is indicated by a black icon with a strike-through credit card, this means that you won't have to pay until check-in time, whether using a credit card or cash. On the other hand, a "Non-Refundable" booking (labeled with red credit card icon) means that you must "input your credit card to guarantee the reservation."
HotelsByDay allows you to book reservations for the same day, as long as you do so before 2 pm (14:00) local time. On the other hand, you can book up to 90 days in advance.
Either way, as a day use website, keep in mind that most reservations start past 10 am and will typically last between four and nine hours, depending on the specific property.
To proceed, you'll click the Book Now to complete the short booking form, which involves entering your first and last names, email address, and an optional message for the hotel.
Once a reservation is made, you'll receive a booking confirmation within five minutes. If you notice that something's incorrect, keep in mind that it can't be modified, so you'll have to cancel and re-book with the correct details.
All rooms are guaranteed to accommodate two adult guests 21 and over (children under the age of 10 are allowed to stay free of charge), although extra guests may be permitted at the hotel's discretion.
Keep in mind that the front desk will check your ID and a copy of your reservation during check-in, which must match the name of the person who booked the reservation, as well as the credit card used to make the reservation. Otherwise, you will not be able to check in.
How Much Does HotelsByDay Cost?
The prices offered by HotelsByDay depend on critical factors like location, star rating, and amenities, and can vary greatly. As an example of this, we searched four different major cities during our research, with a booking date for one week in the future, and encountered the following:
New York City – 65 results priced between $89 and $500
Los Angeles – 16 results priced between $75 and $200
Chicago – 15 results priced between $78 and $200
San Francisco – 11 results priced between $79 and $199
The website emphasizes that any rates listed are per room and that the checkout time is set in stone. If you're not out on time, the hotel can charge extra.
Keep in mind that a deposit is required at check-in (cash or credit card), which will vary by property, and that "Frequent Travel Club points will not apply to any HotelsByDay booking."
Need to cancel? It's entirely free up to 24 hours prior to check-in, which you can accomplish via the "Cancel My Reservation" link on their site (they emphasize you shouldn't call or email).
Otherwise, support can be reached at 855-925-2530 or frontdesk@hotelsbyday.com.
A Summary of HotelsByDay's Online Customer Reviews
Although they've been in business since 2014, all of the online customer feedback we encountered for HotelsByDay was on iTunes and Google Play. There, 30+ user reviewers had given it a four-star average rating.
Compliments revolved around ease of use and the access it provides to day-use hotels, although the relatively few complaints often cited less-than-stellar functionality.
Are There Other Microstay Websites Like HotelsByDay?
While the concept might seem strange at first, Shivani Vora at the NY Times wrote, "By-the-hour hotel rooms aren't a novel concept. In fact, they have a reputation for being used for illicit reasons, said Sean Hennessy, a hotel consultant and an assistant professor of hospitality at the Jonathan M. Tisch Center for Hospitality and Tourism at New York University."
Comparatively, though, companies like HotelsByDay focus on "higher-end properties and are targeting middle-class to affluent customers for considerably different purposes."
With these details in mind, it might not come as much of a surprise that HotelsByDay has a meaningful amount of competition. Many also feature website and app accessibility, hundreds of properties in larger cities and metropolitan areas, and lower advertised prices than overnight stays. There are, however, some meaningful differences:
Recharge – This app (no website) provides access to properties in NYC and near the San Francisco airport that you can book by the minute, with 30 minutes of complimentary time per reservation. Ability to book a room up to two weeks in advance (compared to HotelsByDay's three months).

Room For Day – Like HotelsByDay, this company only lists three to five-star hotels (in NYC and LA), which you can rent for just a few hours or for the whole day. You can also rent meeting rooms.

DayUse – Another website and app that allows guests to reserve hotel rooms for extended periods of time during the day, many far in advance.

DayBreakHotels – A website and app that also lists properties available during the evening and overnight. Additional amenities are available like spas and restaurants, meeting rooms, and even apartments.

ByHours.com – If you're looking for a hotel primarily in a European country, this company lists more than 2,500 properties and offers the ability to cancel at no charge up to 24 hours before the reservation.

As You Stay – Another service (app only) that provides access to properties all over the world, although guests can earn free credits with each reservation.
Bottom Line on HotelsByDay
HotelsByDay has been in business for years and seems to come with a mostly positive (if not limited) online customer reputation. We found HotelsByDay aesthetically appealing and easy to use.
However, regardless of the service you're using, keep in mind that you could pay significantly more per hour by booking a room for the day, compared to reserving the same room overnight. Here are three examples chosen at random from the HotelsByDay website:
The Manhattan Club, NYC: $179 for a 10am to 4pm time band ($29.83 per hour). Sites like Expedia and Priceline were as low as $288 per night, with check-in at 4pm and check-out at 11am ($15.15 per hour). A difference of almost 200%.

Le Montrose, Los Angeles: $169 for a 10am to 4pm time band ($28.17 per hour). Sites like Expedia and Hotels.com were as low as $220 per night, with check-in at 3pm and check-out at 12pm ($10.48 per hour). A difference of almost 300%.

LaQuinta Inn & Suites, Downtown Chicago: $79 for a 9am to 5pm time band ($9.88 per hour). Sites like Expedia, Hotels.com, and Hotwire were as low as $179 per night, with check-in at 3pm and check-out at 11am ($8.52 per hour). A difference of about 15%.
As you can see, the overall per-hour value provided by a day use property on a site like HotelsByDay.com can vary significantly.
So, as long as your schedule can accommodate it, it might be worth considering an overnight stay to maximize value. On the other hand, if you need something outside of standard check-in and check-out times, a site like HotelsByDay could deliver meaningful deliver value by providing rest and respite, exactly when you need it most.