Hulu and Live TV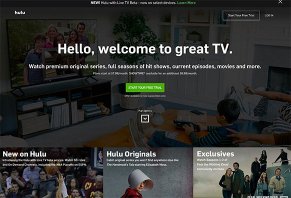 Hulu is a subscription-based content streaming service that gives you the opportunity to watch live TV and reruns, along with popular movies and original programming.
Our Review: Hulu and Live TV - Is it Worth Your Money?
In business since 2008, Hulu is an online video subscription service that allows you to instantly watch current and back season shows from ABC, Comedy Central, The CW, FOX, NBC, MTV, and Univision, on almost any Internet-connected device. As such, Hulu calls themselves the "premium streaming destination."
In addition to TV-centric content, though, Hulu also offers a variety of full-length movies, original series, documentaries, kid's choices, individual clips, and film trailers. And with their new Live TV service, you'll be able to watch 50+ live channels—including sports—and record to a cloud DVR, while maintaining your access to their extensive on-demand library.
But when it comes down to it, what benefits will Hulu provide? Is it worth your hard-earned money? And how do they stack up against the stiff competition? Let's start by taking a look at their two main services:
What's the Difference Between Basic Hulu & Hulu with Live TV?
Other than their prices (which we'll discuss in a moment), the primary differences between Hulu and Hulu with Live TV are the amount of content you'll have access to, along with the devices you can view it on. Quickly, here's how it breaks down:
Hulu's Basic Plan – Unlimited access to the entire library, including movies, original series and shows, and kid's programming. You'll have the ability to switch plans or cancel at any time.
Add-ons include the ability to minimize (and even eliminate in many instances) commercials, as well as gain access to SHOWTIME® premium content.
However, keep in mind that this add-on is in addition to what you already pay your cable service. In other words, you'll be paying for two different SHOWTIME® subscriptions for the exact same content, just on different devices.
Hulu with Live TV – Hulu also recently released their Live TV service, which provides subscribers access to more than 50 live and on-demand channels, including local channels, sports, and entertainment.
Like with a Basic plan, subscribers will gain unlimited access to Hulu's complete streaming library, but with the addition of 50 hours of Cloud DVR storage, which can be watched on two screens at the same time. The company tells us there are no hidden fees and you'll be able to cancel anytime.
Hulu's new Live TV service is pretty robust, so let's take a closer look at its details.
Hulu Live TV: Channels, Devices, & Add-Ons
After subscribing to Live TV, you'll find local network stations like ABC, CBS, FOX, and NBC; sports stations such as ESPN, ESPNU, CBS Sports Network, Big Ten Network, and the SEC Network; popular entertainment options like E!, Food Network, HGTV, SyFy, TNT, and Lifetime; and kid's channels like Disney and Cartoon Network.
Note: As with traditional cable, though, the Hulu website emphasizes that some games will be subject to regional availability and blackouts. Also, you won't be able to live stream NFL games to your smartphone due to rights restrictions.
Looking to learn more about the specific channels available in your area? You can quickly find out by entering your zip code on Hulu's Live TV page.

A list of the 50+ channels available with Hulu's Live TV subscription. Image credit: HULU
Which Hulu Live TV Add-Ons Are Available?
In addition, there are two main add-ons available with a Hulu Live TV subscription:
Enhanced Cloud DVR – This upgrades your available DVR storage to 200 hours and also allows you to fast-forward through commercials and stream recordings anywhere on supported devices, without any limit on simultaneous recordings.
Unlimited Screens – As the name implies, this add-on allows content streaming to unlimited screens while at home, and up to three screens when you're not.
As with the Basic plan, you'll also be able to add SHOWTIME to your Live TV subscription.
Which Devices Are Supported With Hulu Live TV?
Currently, Live TV can be enjoyed on Apple iPhone and iPad, Android phones and tablets, Xbox One, Apple TV (4th generation), and Chromecast.
However, the company notes that support is coming soon for Amazon TV and Fire TV Stick, Roku devices, and Samsung TVs and Blu-ray players, along with Mac and PC support through Hulu.com.
Related: Seeso Review
Speaking of devices, will you need any special equipment with your subscription?
What Do You Need to Use Hulu?
According to the Hulu website, "Users only need a Flash 10.1.53.64 enabled computer and an Internet connection to enjoy."
This is because Hulu is app-based, which means you don't necessarily need any specific kind of hardware to enjoy their programming. This also means you can pause a program on your computer, log in on your phone a day later, and pick right back up where you left off.
While this is the basic setup, the reality is that you'll be able to watch Hulu programming on just about any Internet-connected iOS, Android, or Amazon Kindle Fire device, in addition to Xbox, PS3, and Roku. For more information, be sure to browse through Hulu's full list of supported devices.
Regardless of whether you're watching on your computer or another device, Hulu runs on a pretty minimal user interface, which makes viewing easier on the eyes.
Other Streaming Subscription Services
Despite the amount of TV-related content featured on Hulu, as well as the app's widespread integration and ease of use, this doesn't mean that the service doesn't have some stiff competition. This includes popular options such as Netflix, Amazon Instant, and hundreds of content-specific apps (e.g. NBA TV, HBO Go, Pluto TV, and more).
And when it comes to watching live TV without a cable subscription, Hulu with Live TV is up against popular competitors like Sling TV ($20-$25/mo; add-ons $5-$15/mo), YouTube TV ($35/mo), Playstation Vue ($30-$75/mo), and DirectTV Now ($35-$70/mo).
When compared to these other options, the primary benefit of Hulu seems to be the sheer number of TV shows featured on the website (we'll talk more about price in a second).
However, it's important to note that the quality of your streaming content (720p or 1080p) depends on your device and your display's capabilities. Further, 4K content can currently only be enjoyed on the Playstation 4 Pro and Xbox One S.
Does Hulu Contain Advertisements? If So, Why?
If you're thinking about taking the plunge and giving Hulu a try, one of the first questions that probably came to mind was, "Why does Hulu contain ads?"
In the company's own words, they "have found that by including a modest ad load in Hulu's on-demand library, we can keep the entry price for subscribers under eight bucks, while still providing viewers with access to stellar shows – especially from the current TV season – on their favorite supported devices."
And while there's no indication on the Hulu website as to how much a "modest ad load" translates to in the real world, or how long each advertisement will be, many of us here at HighYa are Hulu subscribers and have found that—on average—you'll be forced to sit through eight to nine 15-second commercials for every half-hour TV show you watch.
Related Article: Streaming Services: With So Many Choices, How Can You Pick the Right One?
Perhaps to add insult to injury, we've also found that the length and frequency of ads has only increased over the years, and that only a few ads are on rotation at any given time. Ultimately, this means that if you watch several episodes of your favorite TV show in a row, you could end up watching (and re-watching) the same ads over and over again.
Their No Commercial add-ons could potentially help alleviate some of this, but will you pay a lot for a commercial-free experience?
Hulu Pricing & Refund Policy
Hulu's plans are priced as follows:
Basic: $7.99/mo
Hulu with No Commercials: $11.99/mo
Hulu with Live TV: $39.99/mo
A No commercials plan will increase your monthly cost to $11.99 and $43.99, respectively. Important note: According to TomsGuide:
"A note on that $5 commercial-free surcharge: It won't cut commercials out of on-demand shows from individual networks, nor will it even cut every Hulu ad; some networks require ads to be shown before and after shows rather than in the middle. Paying for content and still having to sit through ads has always been my least favorite part of Hulu's service, and unfortunately, it's as obtrusive as ever here."

As mentioned earlier, there is no commitment and your subscription can be changed or cancelled at any time. Add-ons will cost you:
SHOWTIME (Basic or Live TV): $8.99
Enhanced Cloud DVR (Live TV only): $14.99
Unlimited Screens (Live TV only): $14.99
Confused by all these different options? Hulu offers a handy comparison chart that allows customers to compare Live TV against their current plan to see how they differ.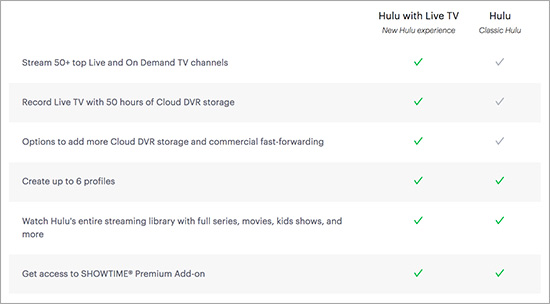 Compared to the standard plan, Hulu's Live TV subscription provides access to 50+ channels, 50 hours of cloud DVR storage, and multi-screen access. Image credit: Hulu
If you're new to Hulu, the company offers a free 1-month trial for their Basic plan and a 1-week trial for Live TV. At the end of this trial, your account will automatically roll over to a paid subscription if you don't call to cancel.
Unless the company suspends or cancels your Hulu account, no refunds are available. In other words, once you cancel your membership, it will continue until your pre-paid period expires, after which you'll no longer have access.
In order to cancel your Hulu account or ask questions, you can contact customer service at (888) 265-6650 or through an online form.
What Are Customers Saying about Hulu & Live TV?
HighYa Reader Reviews
Since writing our original Hulu review, more than 214 HighYa readers have provided their feedback about the service, giving it an average rating of 1.7 stars.
While the most common compliment included being able to watch popular TV shows at any time, by far the most common complaint (here on HighYa as well as elsewhere online) referenced that, even if you pay money to upgrade to Hulu, you'll still have to watch several commercials for each TV episode you watch. Because of this, many Hulu customers have called into question its overall value.
Other less common complaints appear to revolve around poor playback (constant buffering, freezing, etc.), which could be more related to a customer's router and internet connection than to the streaming service, as well as a less-than-stellar selection of non-TV content.
What About Third-Party Hulu Reviews?
At the time of our research, there were also a whopping 8,400+ Hulu customer reviews on Amazon, with an average rating of 3.7 stars. There, common compliments and complaints mirrored those found here on HighYa.
From a professional standpoint, Digital Trends wrote an in-depth comparison between Hulu, Netflix, and Amazon Instant Video earlier this year, and although they noted that Hulu does have some solid features, they recommended that you choose one of the other services, unless you need to keep up on your favorite network TV shows.
Similarly, Geek.com wrote, "Hulu has a significant library of content, and their attempts to bring a social element to their sharing and commentary may end up being a big deal to specific groups of users, but it is pretty clear which service is the better overall provider of content. If you have to choose between the two, Netflix is absolutely the way to go."
Can We Learn Anything From Customers About Hulu With Live TV?
Regarding their new Live TV service, PC Mag's Bill Greenwald gave it a 4-star rating and appreciated that it offers access Hulu's vast content library, along with a solid selection of channels (including many locals). They also liked the cloud-based DVR and the sharp picture when watching live TV.
On the other hand, they found it difficult to find out which live programming was available, but still called it a "powerful cord-cutting tool."
Similarly, Engadget and Gizmodo thought it's great to get live TV and access to Hulu's entire library at the same time, but they felt it still needs a little tweaking—primarily the interface. Both thought it was attractive, but that it was cumbersome to use (no show guide available) and not very intuitive.
Overall, they seemed to like the service and were excited about what's to come, but they lamented the absence of AMC or Viacom content, as well as channels like MTV, Nickelodeon, and Comedy Central.
As a company, Hulu, LLC is based out of Santa Monica, CA. They weren't rated with the Better Business Bureau at the time of our research, although they did have 57 closed complaints (as of 6/10/15). Most of these appeared to reference difficulty canceling subscriptions and stopping automatic charges.
Is Hulu Worth Your Money?
Chopping to the point: As we mentioned in 3 Easy Steps For Cutting the Cord, there are a lot of important decisions to be made when the time comes, most of which largely depend on your personal preferences. And while no service is perfect, Hulu is really the only game in town if you want quick and easy on-demand access to recent, popular TV shows featured on major networks.
And the new No Commercial and SHOWTIME plans can add even more entertainment value, although they'll also increase your monthly expenses by a decent amount.
Hulu's new Live TV service also catches it up with competitors like Sling TV and DirectTV Now, although online reviewers seemed to think it features some significant programming gaps and that the user interface isn't very intuitive.
At $40-$84 (if you choose all add-ons, including SHOWTIME), Hulu and their Live TV service are meaningfully more expensive than options like Sling TV and YouTube TV, although you'll also gain access to Hulu's extensive library.
Playstation and DirecTV's options come in a close second, although it's possible to pay more for Hulu with Live TV than all of them. And considering that the average cable bill is about $70, if you initially cut the cord to save money, you can see that it's easy to pay just as much—or more—if you're not mindful about your upgrades.
With all of this said, in our opinion, Hulu is definitely worth trying out if you've recently found freedom from cable. And once you become more familiar with your other options, you can then decide whether or not Hulu's advertisements and other quirks are worth your hard-earned money.
Hulu NOT commercial-free. ADS ADS ADS.

By Greg R.

,

Orlando, FL

,

Jan 17, 2020
Verified Reviewer

I purchased Hulu commercial-free and yet most anything I click on has commercials. When I call to complain they say those programs are "On Demand." There are less and less that are NOT "On Demand." The least they could do is have a category or notation warning me there are commercials before watching it. Reality told, what they are doing is collecting money for ad-free PLUS getting paid for every commercial they sneak by you...in the potato chip world that's called double-dipping! Don't get screwed. On Netflix ANYTHING I click on is commercial-free - it's not that difficult, they are scamming us at HULU, should be a class action lawsuit! Youtube Premium here I come!

Bottom Line: No, I would not recommend this to a friend

---

Unimpressed

Cutting cable and satellite TV was exhilarating...Hulu was 99% of that exhilaration for about 3 weeks. Prices went up and service takes a step back. Too bad they can't do that with the cost of Hulu. I am now unimpressed and considering my options. Hulu is not the only game in town but you would think they are the way they handle service. It is next to impossible to chat with them...without pushing off upgrades like TV EXPERT ON DEMAND FOR $49.00 A MONTH. Wow...how arrogant. So I must be off to search for alternatives to Hulu.

Bottom Line: No, I would not recommend this to a friend

---

Advertisement

---

Horrible

By Brice S.

,

Garland, TX

,

Aug 15, 2019
Verified Reviewer

Two times I have been charged for bills. 1) I don't use Hulu, 2) It is on a credit card that I don't use. Maybe it is a scammer unrelated to Hulu, or maybe Hulu. I do not know. If it isn't Hulu then they should be notified about scammers using them.

I will contact the Better Business Bureaus a second time.

Bottom Line: No, I would not recommend this to a friend

---

WORST Customer Support Ever, Shows Showing up Days Late

By Emily C.

,

Northern California

,

Nov 24, 2018
Verified Reviewer

Don't expect ANYTHING good by contacting customer service. Customer Support/Tech Support is Outsourced, Farmed Out.

When you call Hulu, the customer service reps know nothing about tech. They don't know how to problem solve, and they only speak from a script.

If you ask anything that requires an off-script answer, you'll get silence or an exact repeat of the last answer. If you ask again, a repeat of the same answer again.

Hulu's tech people are actually are SalesForce employees who do a terrible job. When they get a tech question they don't know how to answer, they say, "We'll pass your feedback along to our team." That's the big BRUSHOFF.

Your comment or your problem never goes anywhere. Your problem is probably never solved. The "team" is Salesforce, not Hulu Technology or Engineering or anyone actually AT Hulu.

And it appears, as this is a pattern, that the comment or problem or tech issue is NEVER escalated in a way that actually gets to Hulu. Escalations to Hulu are suppressed by Salesforce to make it appear that Salesforce is doing a better job of resolving customer issues than they are.

What Salesforce is doing is a complete scam, and Hulu execs should be alerted that what Salesforce is doing is a scam. BTW, Salesforce tech support for Lenovo and CBS All Access is also terrible. Why Hulu ownership would have selected Sales Force to outsource their support is a complete error.

It's the absolute worst as others have said, and Hulu execs should know about the intentional suppression of the customer concerns that actually reach the company.

The Shows, Programming: So, getting to the shows. They're supposed to show up the next day. I'm still waiting for a show from FIVE DAYS AGO to show up. So the next-day viewing thing is not where it should be for Hulu to make that claim.

The graphics interface is clunky, and it's hard to get categories organized so they're actually useful.

In the Lineup are tons of crappy shows that I'd never watch, and when I'm finished watching a show in my Watchlist, Hulu begins auto-playing some show I've never selected or wanted.

But there is some good programming. Handmaid's Tale is their original series and brilliant. Other good programming also. But Hulu has so far to go to have the ease of use of HBO or Netflix, I can't really recommend Hulu.

Hulu's CEO and Exec Management need to bring their tech in-house and train them well ditch Salesforce (OMG they are so awful), hire smarter tech people to solve the problems, hire a much better graphic user interface designer to design how the customer uses the app, and hire more tech programmers to upload programming so it shows up within the timeframe promised.

Bottom Line: No, I would not recommend this to a friend

---

Advertisement

---

Hulu sucks!

By John L.

,

Newport, PA

,

Oct 31, 2018
Verified Reviewer

Hulu's new platform sucks big time! I spend more time trying to navigate through all the BS than I do watching their programming. I used to be able to watch yesterday's show at 6 am, but here it is, 9:55 am, and I still can't watch it.

Bottom Line: No, I would not recommend this to a friend

---

Hulu sucks!

By Cara F.

,

Des Moines, IA

,

Oct 1, 2018
Verified Reviewer

Hulu is so dumb! It keeps saying, "We're having trouble loading this right now" on my Roku even though the internet is working just fine! I'm pissed off and they better fix it! Hulu is trash and a piece of crap!

Bottom Line: No, I would not recommend this to a friend

---

The very worst internet TV service EVER

By Daniel P.

,

Central Coast, CA

,

Oct 1, 2018
Verified Reviewer

This company has gone from offering a great service that was easy to use, to one that steals my money on my credit card without providing the service I signed up for; provides a customer non "help" line/chat that provides no help and misinformation, and cannot apparently understand the simplest of plain English. This company has turned into a band of thieves, and I'm not kidding and not exaggerating.

Then when I want to discontinue the service because I've torn out the last of my hair, I can't do it because I'm not currently at home on my billing address IP address. What difference does it make other than they want to continue debiting my card? I've put in a notice with my credit card company to stop paying them. Of course, that isn't easy either.

Bottom Line: No, I would not recommend this to a friend

---

Hulu, worst service, crashes all the time for hours

By Margaret S.

,

Missouri

,

Sep 30, 2018
Verified Reviewer

I have been experiencing the same issue as many others. This service crashes all the time, and their customer service tries to blame it on your internet or device.

It has crashed three times in two weeks, and they do insist it's your internet. Again, Prime and Netflix and many gaming sites work just fine. ISP is currently 342 Mbps download. When it crashes, it doesn't work on any device. Look at the star ratings and you will see MORE people give it a 1-star rating over all the others. They're stealing our money.

Bottom Line: No, I would not recommend this to a friend

---

Can't receive all the channels

By Sam D.

,

Johnston, IA

,

Aug 3, 2018
Verified Reviewer

I signed up for the free trial on July 25. I noticed that I do not receive all the channels in the Hulu lineup. There are about 60 channels in their lineup and I receive about 51 of them. I don't receive Boomerang, Cartoon Network, any of the ESPN networks, any of the Turner networks (TBS, TNT, Turner Classic Movies). I am using an Amazon Fire TV Stick and it must not be completely compatible with the Hulu system. I called Hulu customer support. They were very courteous but unable to solve the problem. I even reset my Fire TV stick to factory defaults but that didn't help. Hulu is a good service but only if you receive all the channels!

Bottom Line: No, I would not recommend this to a friend

---

Horrible customer service, buggy interface

By Harry J.

,

Arkansas

,

Jul 20, 2018
Verified Reviewer

I already have Netflix and Amazon Prime, but I thought I would give Hulu a try. I signed up for an $11.99 subscription through my iPhone. There was a 30-day free trial offer, so I chose that.

Everything worked fine on my iPhone. But when I tried to access the application through my TV, it was like trying to break into Fort Knox. Guys, relax a little, this is only entertainment, not the World Bank.

Customer service was ZERO. You had to send an email and wait who knows when to get a reply. The interface to Hulu was so confusing. I thought Sling TV was bad, but this is outrageous. It's like fighting through a maze to get to the shows you want. I actually wanted to start a subscription, but after all the hassles, I gave up.

Bottom Line: No, I would not recommend this to a friend

---

Hulu cares more about unauthorized use of my account than keeping my business

Think your Hulu account is safe?

So did we, we were wrong. Dead wrong.

I turned on the TV and got a message that I couldn't watch Hulu because too many devices already were. Too bad not one of them belonged to us!

It turns out less than 5 of the devices on this list belong to us, the others? Who knows, Hulu doesn't know, and it was just made painfully obvious by two customer service agents that Hulu does not care either. Not only did someone else use our Hulu account for free, Hulu won't look into it, and they don't think we should be compensated for their unsecured system either.

If you think your account is safe, think again.

Go online to hulu.com/devices and see for yourself.

I hope this is going to be enough to shame Hulu into caring more about their paying customers than they clearly care about others who are not paying for anything and are freely scamming those that do pay.

I have no plans to keep Hulu after this and continue to pay for a service that freely allows unauthorized devices to use my account for free and refuse to assist me in safeguarding my account from other further breaches. Obviously having my login info in another language wasn't enough, despite using Norton's antivirus and calling their helpline was a waste of time.

Their customer service is just about the worst there is. When I called in, the first person I spoke with was way too cheerful (like it was forced cheerfulness). This CSR could not stop talking in circles and repeating the same line over and over. Needless to say in reading her script she missed the part where you help the caller by listening to what's being said, as much as she missed the bit where you aren't going to have a positive call if you insult the caller's intelligence. She did apologize for that when I brought this to her attention, however, that does not excuse the fact that it happened in the first place.

I was also told at the beginning of the call that she could handle getting a credit on my account for the trouble and would be happy to do that. As the call dragged on and continued to spiral out of control, I requested a floor manager to speak with. Sadly things did not improve from there. The floor manager was incredibly snide and downright snarky even with his tone. After I gave a short explanation of the current situation that we never used a public device or gave our login information out he started off by telling me "oh well that would mean your account was hacked." I had already figured as much.

I was relieved that he understood what had happened, unlike his CSR. Next, he told me "well, we don't credit for this kind of thing." After she had stated they would do so. This is called a false promise, and most companies frown on such practices, apparently, Hulu is not that kind of company.

The very next problem according to him was the fact that I had to delete all of the devices from our account because I didn't know who all was on watching it when I wanted to use the service and that wiped the history, even though they said they could see 8 pages back and then he told me "yeah, well, it would take a subpoena to our legal dept and that won't happen" for me to find out how someone hacked our account. And that was from the floor manager!

All in all, it sure sounded like they could do more than he was willing to. As well as see what was going on and just refused to take any responsibility for this breach of security and my trust.

As for the CSR struggling with her script reading rather than addressing the problems at hand, I am sure more training can address the issues she had on the call.

However, I can see no reason or proper course of action for such rude and unprofessional behavior on the part of that manager.

If this is the best Hulu can do, I'll use Netflix from now on.

Bottom Line: No, I would not recommend this to a friend

---