Hurricane 360 Spin Mop Reviews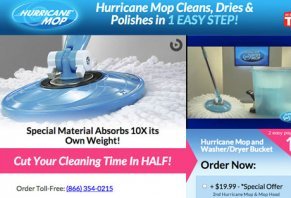 The Hurricane Spin Mop 360 claims to cut your cleaning time in half by using proprietary technology that allows you to clean, dry, and polish in one step.
About Hurricane 360 Spin Mop
Manufactured by TeleBrands and based out of Fairfield, NJ, the Hurricane 360 Spin Mop uses Centrifugal Drying Technology, along with a 360-degree swivel head, to cut your cleaning time in half. According to the product's website, you'll never have to touch your mop again, and you'll be able to clean hard-to-reach areas like never before.
The Hurricane Mop has been featured on CBS and the Hallmark Channel, as well as in Reader's Digest. Online reviews about the Hurricane Mop appear to be "average" to "poor," with most complaints citing that construction is cheap and that it doesn't perform as advertised.
How the Hurricane 360 Spin Mop Works
The Hurricane Mop claims to cut your cleaning time "in half" by providing several advantages over conventional mops:
360-degree swivel head reaches anywhere, and even pivots under furniture.

Mop head uses a special micro-fiber material that absorbs up to 10 times its own weight in liquids, doesn't leave scratches or streaks, picks up dust and dirt at the same time, and doesn't drip.

Bucket with patented Centrifugal Dryer Technology spins at more than 1,000 RPM to "spin the dirt away."
The Hurricane Mop manufacturer claims that it cleans, dries, and polishes in one step and that you'll never have to sweep or touch a dirty mop again. They also claim it is environmentally friendly, but no additional information is provided to support this claim.
Hurricane Mop Pricing and Refund Policy
The Hurricane 360 Spin Mop with machine washable head, hands-free bucket, and sticky buddy lint roller is currently offered directly through the manufacturer at two payments of $19.99 each, plus $12.99 shipping and handling.
Keep in mind that if you're located outside the continental U.S., you'll be assessed an additional $10 shipping and handling fee. As with most "As Seen on TV" products, you'll be given an opportunity to receive a second "free" mop, head, and sticky buddy for an additional $19.99 fee.
When checking out on the Hurricane Mop website, you'll also be given the opportunity to purchase the following additional items:
Hurricane Spin Mop Dolly – $14.94 plus $1.95 shipping and handling.
Set of Two Mop Heads – $19.98 and free shipping.
Set of Two Mop Duster Heads – $19.98 and free shipping.
TeleBrands will include your first $19.99 payment, your additional $19.99 payment for the "free" product, and the $12.99 shipping and handling in the first installment, bringing the total to $52.97 (if you don't include any add-ons). Your second $19.99 installment will then be billed 30 days thereafter.
However, keep in mind that the Hurricane Mop can also be purchased through other retailers such as Amazon.com, Bed Bath and Beyond, Walmart, Sears, QVC, and more, though many of the special offers and add-ons will not be available.
All Hurricane 360 Spin Mops come with a 30-day 100% satisfaction guarantee. If you're dissatisfied for any reason, you'll receive a full refund of the purchase price, less shipping and handling fees.
You won't need to contact the company for a Return Merchandise Authorization (RMA) number, but you will need to include your order number, complete name/address, phone number or email address, a detailed explanation for your reason for return, and clarification as to whether you'd like a refund or replacement.
Once received and accepted, your refund should be processed within 10 business days.
On top of this, the Hurricane Mop also comes with a five-year replacement guarantee. According to the company, if it breaks for any reason during this time, they'll replace it free of charge.
Bottom Line: Is the Hurricane 360 Spin Mop Worth It?
Based on our research, the general idea behind the Hurricane Mop and bucket appears to be unique, but the execution appears to be sub-par. Numerous consumers have claimed that it is poorly constructed and made of cheap plastic; that the bucket pedal and mop handle break easily; and that it does not pick up floor debris as well as advertised.
Furthermore, like most "As Seen on TV" products, the bulk of their money is made through non-refundable shipping and handling charges. At a minimum, this means that if you decide to return your Hurricane Mop, you won't receive your $12.99 shipping and handling charges back, and you'll also incur additional charges shipping it back to the manufacturer.
---
Works well

By Lea K.

,

Luling, LA

,

Oct 18, 2019
Verified Reviewer

Overall Experience:

Have been partially paralyzed since 2017 with NMO. Looking for something I could use without bending over and not using too much pressure. Live with daughter and three small grandchildren. I do have to go over the sticky stuff two or three times before it picks it up. It could just be me. I love it. Use warm water and cleaner, it is very fast and easy. I do have problems spinning long enough have to use my cane but I will figure it out.

Bottom Line: Yes, I would recommend this to a friend

---

Hurricane Mop

By Maggy M.

,

Reno, NV

,

Sep 3, 2019
Verified Reviewer

Overall Experience:

I absolutely LOVE my Hurricane 360 Spin Mop. I am 81 years old, have a big house, I have a Roomba for the carpeted floors and the Hurricane Mop for the tile floors.

It is honestly a fantastic product. I clean all my tile floors in no time...wash the mop heads in the washer...ordered 2 more. I wish they would have the soap power packs available again.

I never have to touch the water or the mops...

I cannot believe that people are complaining about this item.

Bottom Line: Yes, I would recommend this to a friend

---

Advertisement

---

Lying and fraud is company policy. Negative 500 stars.

By Sean M.

,

San Antonio, TX

,

Aug 31, 2019
Verified Reviewer

Overall Experience:

They claim it has a 10-year warranty which you can read TODAY on their website. Magically when you call in for a warranty issue, the policy you are under changed to 10 years right AFTER you bought yours but there is no mention of any "changes" or modifications to the warranty at all, anywhere on the website TODAY. THIS IS FRAUD!

Bottom Line: No, I would not recommend this to a friend

---

DO NOT PURCHASE THIS MOP!

By Zuriel Q.

,

California

,

Aug 12, 2019
Verified Reviewer

Overall Experience:

I am making this review anywhere and everywhere I can. I bought this mop years ago when it first came out and I have had to replace it every year or so since I've owned it because the pedal that moves the spinning mechanism keeps going out. I called today and they no longer replace their "LIFETIME WARRANTY" product unless you pay $12.99 replacement fee. So in actuality, they're no longer honoring the lifetime warranty that they advertise with their product. This would not normally be a problem but I have replaced it 4 times since I've owned it and if I have to replace it 4 more times then I may as well just purchase a new one from a better maker.

Bottom Line: No, I would not recommend this to a friend

---

Advertisement

---

Broke the agitator in my wash machine

By Glenn L.

,

Rockford, IL

,

Mar 28, 2019
Verified Reviewer

Overall Experience:

The spinner stuck when I push the foot pedal to wring the mop out. I tried to wash the mop head in my washing machine, and the mop head literally broke the washing machine agitator. Fortunately, the washing machine is fairly new and still under warranty. I will not be using or buying this product again.

Bottom Line: No, I would not recommend this to a friend

---

Not worth the money

By Patti L.

,

Arizona

,

Feb 7, 2019
Verified Reviewer

Overall Experience:

I just purchased the Spin Mop and was so dissatisfied. It is cheaply made and did not clean my floor in half the time. Corners? Forget about that one. The handle is not long enough, and I'm only 5'4" and it really hurt my back. I would not recommend this to anyone I know.

Bottom Line: No, I would not recommend this to a friend

---

Broken buckets

By Annette E.

,

Arizona

,

Feb 6, 2019
Verified Reviewer

Overall Experience:

First I want to say I love this product...but the bucket peddle is poorly designed so that it can not be fixed when it breaks! I wash my floors weekly. I have purchased two Hurricane Spin Mops in the last four years. I called the company, and of course, this product is outsourced to another country, so it was difficult to understand the woman I was speaking to. Bottom line is, I would never buy another product from this company again! I give them NO stars if I could!

Bottom Line: No, I would not recommend this to a friend

---

Less than one star

By Nakki R.

,

North Carolina

,

Nov 12, 2018
Verified Reviewer

Overall Experience:

I guess I am at fault for not checking reviews and product description more thoroughly. With that said, WHO sells/markets a MOP/bucket with NO wheels/casters? Yes, you can buy it optionally, for an additional $20 + $7 handling, but I am so furious, I will be returning the product after opening the box and finding the "offer" to buy the dolly. After reading the reviews, it sounds like I have not missed anything. Shame on you!

Bottom Line: No, I would not recommend this to a friend

---

Hurricane 360 Spin Mop is a spin flop

By Gary W.

,

Oklahoma

,

Oct 12, 2018
Verified Reviewer

Overall Experience:

I also have purchased 2 of these mop and bucket sets and neither one of them have lasted a full year yet. My most recent was October 10th, when it stopped spinning the mop head. I have read several fixes on the subject and I believe if I knew what the one-way bearing size was I could probably fix it. I did take it apart and cleaned it, re-greased it, and it worked for about two pushes of the pedal. I contacted Amazon and they gave me the phone number to the BulbHead Products place where I purchased it from thru Amazon. Their number is 800-887-2717, in case you need that number. I went around and around with them about it and ended up paying a $12.99 service fee for replacement of the bucket. I think I have come to the conclusion that the replacement will be my last Spin Mop product when it breaks (and it will break).

Bottom Line: No, I would not recommend this to a friend

---

Call me stupid!

By Karyn F.

,

Ohio

,

Oct 11, 2018
Verified Reviewer

Overall Experience:

I have had 5 or more of these Spin Mops. I know, how stupid to keep trying something that doesn't last. I love the mop and the job it does, but every time, after just a few months, the pedal sticks and will no longer spin the basket. For a while, I would return it to Bed Bath & Beyond and they would replace it for free, but I did it so many time, I got embarrassed to go back.

The last one I purchased at Walmart a few months ago and now it's stopped spinning too. I called the company to see if they have any plans to fix this, but I couldn't understand the guy on the phone so I just hung up. I went out and purchased a Libman spin mop. Works OK, not as many moving parts, so I guess I'll stick with this one. Makes me sad. If they would just fix the issue with the pedal, I would gladly purchase another Spin Mop.

Bottom Line: No, I would not recommend this to a friend

---

Overall Experience:

My daughter and I bought it online at Walmart. I used it about a month and the plastic spinner on the bottom started breaking off. I honestly feel like I was ripped off. It would be nice to get some kind of credit. Would I recommend it? No, absolutely not.

Bottom Line: No, I would not recommend this to a friend

---