Hurricane Fur Wizard Reviews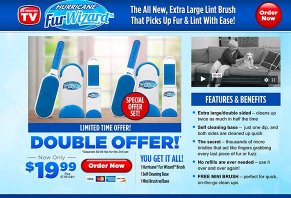 Hurricane Fur Wizard is a unique, oversized, and double-sided lint brush that uses a separate stand to help keep things clean and make the process easier.
About Hurricane Fur Wizard
Paired with its self-cleaning base and extra large, double sided design, the Hurricane Fur Wizard lint brush promises to help you clean twice as much in half the time.
The commercial explains that the brush works using thousands of micro bristles that grab any fuzz they come into contact with. When necessary, you'll dip the brush into its self-cleaning stand that features its own micro bristles, which will completely clean both sides in just one pass.
Then, once you've cleaned your couches, blankets, pants, pillows, and everything else, you'll quickly and easily remove the stand's base clip to empty all the collected lint and fur into the trash.
Based solely on what we learned from its website, the Hurricane Fur Wizard features a compelling concept that seems like it might help solve many of the problems associated with existing devices and tape-based lint rollers—including the need for constant refills.
But after running the math and comparing it to the competition, can you expect Fur Wizard to deliver a solid level of value? Let's start things off by discussing price.
How Much Does Hurricane Fur Wizard Cost?
Hurricane Fur Wizard will cost you $19.99, plus $7.99 S&H. For this price, you'll receive one device, one self-cleaning base, and one mini brush with base, which the company claims is perfect for quick, on-the-go clean ups.
During checkout, you'll be able to double your order for an additional $9.99 fee.
All Fur Wizards come with a 30-day money back guarantee, less S&H, as long as the product is in new or like-new condition. To request one, you can call the Bulbhead (a division of Telebrands) customer service line at 855-235-1850.
How Do Lint Brushes Like Hurricane Fur Wizard Work?
As it turns out, lint isn't an especially complex topic, as the Daily Dot tells us it's "just very small, tangled fibers from fabrics and textiles" that accumulate in our dryers and on our clothes.
And to get rid of it, some of the most common options include rollers with replaceable tape attached, as well as those that, according to WiseGeek, use "a special fabric designed to attract and hold dust and lint. This type can be brushed over fabric similarly to the way one brushes hair, although it usually only works in one direction."
In fact, when used in the opposite direction, it causes this special fabric's tiny 'fingers' to release any accumulated debris, which is certainly something you wouldn't want to do over your clothes. Presumably, this is one of the central problems Hurricane Fur Wizard might address, since its base contains the same type of fabric to help quickly remove piled up lint.
Based on this background information and what we viewed in the product's commercial and on the website, it seems this fabric is what's featured on Hurricane Fur Wizard. However, to verify, we contacted several different customer support representatives during our research, none of whom were able to tell us exactly what its 'micro bristles' were made from.
Other than the dispenser base, are there any other unique features related to the device?
Hurricane Fur Wizard vs. Other Lint Brushes & Dispensers
Did we find any lint brush models designed exactly like Fur Wizard during our research? No. Did we encounter a similar dispenser base, whether related to form or function? Again, no.
However, a quick online search or walk through the fabric care section of almost any local retailer will reveal that there are perhaps thousands of other lint brushes that use a functionally identical fabric on their heads, some of which we found priced as low as $4.
Most of these were sized between 8 and 11 inches high, and between 2 and 2.5 inches wide. When we called, none of the customer service representatives we spoke with could provide Hurricane Fur Wizard's dimensions.
Nonetheless, for just a couple dollars more, we encountered dozens of double-sided models, although the only remover/dispenser combo we came across was the Sunbeam SB30, which was priced the same as Fur Wizard (before S&H charges were accounted for).
Looking for a little more oomph in your lint removal efforts? Some battery powered models, often referred to as fabric shavers or fuzz ball removers, were available for as little as $19, which work by simply flipping a switch and allowing lint to accumulate in the attached dispenser.
Speaking of accumulation, since debris doesn't tend to fall freely from traditional brush material (not at least without brushing in a backward motion), we wondered how customers are supposed to detach the lint trapped inside Fur Wizard's base.
In the product's commercial, it's advertised to be as easy as opening the base clip and allowing the lint to fall out, although customer support personnel weren't able to provide any additional insight.
How to choose the right option for you? We'll end the article in the next section while answering this important question.
Our Final Thoughts About Hurricane Fur Wizard
For the most part, a lint brush is a lint brush.
In other words, while none of the customer support representatives we spoke with could verify and we didn't test the device ourselves, it appears that Hurricane Fur Wizard uses the same material as traditional options (although colored blue, whereas most third-party brush material is red).
Furthermore, without knowing its overall dimensions or head size, we can't be sure if Fur Wizard will allow you to de-lint more fabric in a shorter amount of time, or if it's worth the meaningfully higher price than the widespread—and often local—competition.
So, when the cloth meets the brush, we're not entirely sure it'll deliver better performance.
Granted, if you're looking for an intriguing dispenser base that features the same 'micro bristles' as the brush itself, then it appears Hurricane Fur Wizard is currently the only game in town.
If this is the case, the manufacturer seems to stand behind the device with a 30-day refund policy, although you'll lose your original $8 S&H fee, plus whatever you'll pay to send it back—which could vary widely depending on your location.
Fifteen cats

By Chris S.

,

Elko, NV

,

Jan 15, 2020
Verified Reviewer

With so many cats, a lot of them are outside, still almost everything I pick up then I leave in the living room is covered in cat hair. I've been using the Fur Wizard for roughly 2 years, the same one, hasn't fallen apart, works great, gets all the hair, doesn't always get all the lint but it gets all the hair. I think the travel one is a bit of a joke, but then I had 15 cats. I like it so much I've gotten one for both my daughters and I highly recommend them.

Bottom Line: Yes, I would recommend this to a friend

---

3 out 3 people found this review helpful

Watch out for knock-off look-a-likes

By Donald R.

,

Fort Collins, CO

,

Aug 25, 2018
Verified Reviewer

There are several products out there that look like the Fur Wizard but fall apart or become unusable in a very short time. I ordered what I thought was the Fur Wizard but it was a competitor's product. I returned both units and reordered the genuine Fur Wizard.

We are going to buy several more and gift them to our friends that have animals.

The Fur Wizard is one of the best products for removing pet hair and animal fur. I highly recommend this product.

Bottom Line: Yes, I would recommend this to a friend

---

Advertisement

---

3 out 3 people found this review helpful

Love my fur wizard

By Gayle D.

,

Redlands, CA

,

Aug 9, 2018
Verified Reviewer

I use my Fur Wizard often. It works great when I need a quick fix for my couch. I would definitely recommend this product you never know when company arrives unexpectedly, or you get dressed, get in your car and bam, hair all over your pants. Grab the pocket Fur Wizard and you are ready to go.

Bottom Line: Yes, I would recommend this to a friend

---

6 out 6 people found this review helpful

Fur wizard

By Kishor Shah

,

South Carolina

,

Jan 30, 2018
Verified Reviewer

The Fur Wizard, as they call it. The handle is not even glued properly. Once I tried to clean it with the holder, pulled the Wizard, and the blue handle came off. It's not even picking the fur according to the advertisement. I would not recommend this hazard.

Bottom Line: No, I would not recommend this to a friend

---

Advertisement

---

13 out 13 people found this review helpful

Poor quality product

By Kerrie

,

Brisbane, Queensland, Australia

,

Dec 4, 2017
Verified Reviewer

After a 7-week shipping delay, the Fur Wizard arrived. It is a great concept with lint collection etc., but a very poor design and quality. I used it about 6 times and the end snapped clear off while using. The product is overpriced and is definitely not worth the money.

Bottom Line: No, I would not recommend this to a friend

---

9 out 13 people found this review helpful

A good buy

By Liz

,

New South Wales, Australia

,

Nov 18, 2017
Verified Reviewer

I have three cats and I've been using the Fur Wizard for the last 2 months. I think it's great! I use it on my clothes before leaving the house; it's fast and easy to brush myself. I don't understand the bad reviews I see, it scoops up loose pet fur really well, what else do you want it to do?

Bottom Line: Yes, I would recommend this to a friend

---

24 out 26 people found this review helpful

Failure!

By Nira Artzy

,

Israel

,

Oct 27, 2017
Verified Reviewer

I can't get the wand out of the holder. As much as I tried, it remains stuck, and I can use only the small brush. It's faulty! I can't use it as intended, and I'm sorry I've wasted my money.

Bottom Line: No, I would not recommend this to a friend

---