Hurricane Lint Lizard Reviews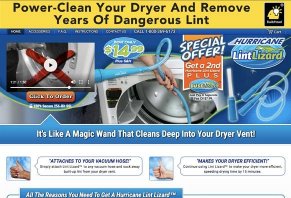 Because lint buildup can represent such a significant fire hazard, Hurricane Lint Lizard's unique attach-to-any-vacuum design allows you to quickly and easily make your home a safer place.
What Is Hurricane Lint Lizard?
With a thin, flexible, 3.5-foot hose at one end, Hurricane Lint Lizard is a cone-shaped device the manufacturer advertises attaches to any vacuum, reaches deep into your dryer's lint trap, and sucks away years of potentially dangerous accumulation.
Plus, the website emphasizes that this can help make your dryer more efficient, resulting in drying times that are up to 15 minutes faster. You can also use it to vacuum between your washing and drying machine, under other appliances, and even deep inside your outside dryer vents.
Lint Lizard comes to you from the same company behind other hits in the Hurricane lineup, including 360 Spin Mop, Spin Scrubber, and Spin Broom, to name just a few. But, does this necessarily mean that you'll find success with this specific model?
Why Is It a Good Idea to Regularly Clean Your Dryer Lint?
Writing for Popular Science, Jose R. Polonia explains:
"When clothes go through the washer, dirt and lint are lifted from the garments but remain on the fabric in its wet state. During drying, the lint is released as water is removed from the wet fabric and friction increases as a result of the tumbling action."
As it's released, this lint is caught in a screen-like trap inside your dryer, which should be cleaned and emptied after each cycle. Jose continues to explain that this is especially the case when drying "fabrics made of natural fibers like cotton and wool," which tend to "generate more lint than fabrics made of rayon or other synthetic materials."
If it's not cleaned regularly, as mentioned by Hurricane Lint Lizard's manufacturer, it can represent a very real fire danger. In fact, FEMA reports that nearly 3,000 annual house fires are caused by clothes dryers, and a significant portion of these from lint accumulation.
How Much Does Hurricane Lint Lizard Cost and Where Can You Buy?
One Hurricane Lint Lizard device is priced at $14.99, plus free S&H. You can purchase a second during checkout for an additional $7.99 fee.
At this same time, you can choose to pay another $7.99 fee to upgrade to the Deluxe Hurricane Lint Lizard, which features a 25% longer hose, along with a three-year guarantee.
Note: We also found the non-Hurricane branded Lint Lizard available on Amazon at the time of our research, although at a much higher price of $59.99.
Regardless of which option you choose, all direct orders come with a 30-day satisfaction guarantee, less S&H charges and any fees associated with the BOGO offer. To request one, you'll need to contact BulbHead (a division of Telebrands) customer service at 855-668-1655.
Let's continue discussing this other version in the next section.
What Can We Learn from Hurricane Lint Lizard Customer Reviews?
Other than the small differences in their branding, their hose lengths (43" vs. 42"), and their coloring (blue and white vs. green and clear), there don't seem to be any functional differences between the standard Lint Lizard version sold on Amazon, and the Hurricane model discussed here.
Given this nearly identical functionality, we think it's relevant to discuss online customer feedback for the standard model.
Between Amazon, Walmart, and Bed Bath and Beyond, we encountered more than 1,000 online customer reviews for the vacuum attachment, who had given it an average rating of about three stars. Common compliments appeared to revolve around ease of use, effectiveness, and quality construction.
On the other hand, customers who had less-than-stellar experiences often cited underwhelming functionality (specifically, that the hose wasn't long and/or flexible enough), along with reports that the hose is shipped bent, which can leave kinks in different areas that prevent lint from freely passing through.
Consumer Reports also performed some in-depth testing with the original Lint Lizard and found that it delivered on its claims and removed much more lint than a crevice tool and a vacuum cleaner. However, they pointed out that the sharp tip could cause it to miss lint in some areas, as well as potentially damage plastic venting if this is a concern in your home.
Are There Other Dryer Lint Vacuum Attachments Like Hurricane Lint Lizard?
The bottom line is that Lint Lizard (Hurricane-branded or otherwise) seems to be a unique product. In other words, if you're looking for a dryer lint vacuum attachment exactly like it, it's really your only current option.
We did encounter one very similar product on Amazon generically named 'Dryer Vent Vacuum Cleaner Attachment,' which was priced at about $22. However, it came with meaningfully lower average customer ratings, along with a suction hose only 38" in length.
Just because it's unique, does this necessarily mean that you should go ahead and place an order for Hurricane Lint Lizard?
Will the Hurricane Lint Lizard Add Value?
Hurricane Lint Lizard represents a compelling concept, is an almost wholly unique product, is competitively priced, and is backed by the manufacturer with a 30-day represent more than enough time to decide if the vacuum attachment meets your needs and preferences.
Just remember that you'll lose anything you paid for the second device, along with return S&H charges to the manufacturer, if you decide to request a return.
With all of this said, it's also important to point out that the manufacturer doesn't provide any support for the claim that Hurricane Lint Lizard can speed up your drying time by 15 minutes. However, experts agree that regularly deep-cleaning lint can maximize efficiency (regardless of the actual amount of time it saves).
Finally, while Hurricane Lint Lizard might be the only vacuum attachment of its kind, make sure that you don't completely ignore more traditional options like dryer lint brushes, which might meet your needs for meaningfully less money.
» Read Next: DIY Natural Cleaning Products That Actually Work
---
Really works!

By Beth T.

,

Rhode Island

,

Jan 23, 2020
Verified Reviewer

Overall Experience:

Put the Lint Lizard together and it really worked well. I used it in the dryer and also on my bathroom shower vent. Worth the money. Will use it regularly to prevent fires and improve dryer function.

Bottom Line: Yes, I would recommend this to a friend

---

Terrible design

By Dan D.

,

Apalachin, NY

,

Feb 5, 2019
Verified Reviewer

Overall Experience:

The hose is not a clear tube as some ads show, it's ribbed and very stiff. Our dryer lint trap is inside the bottom of the door. The ribbing on the hose makes it difficult to move it around, even on the top of the screen opening. Then to get it down to the lower part of the dryer was nearly impossible. I could shove it down but had no way to direct it to any one area.

Also, the return instructions say to follow the information on the enclosed packing slip - there was none.

Bottom Line: No, I would not recommend this to a friend

---

Advertisement

---