Hurricane Spin Broom Reviews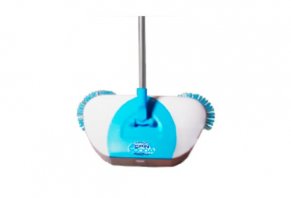 With the power of triple brush technology, Hurricane Spin Broom promises to help you easily pick up debris from any hard floors, without the need for power.
About Hurricane Spin Broom
Hurricane Spin Broom is a handheld, cordless, lightweight spinning broom that promises to work on every hard floor, regardless whether it's wood, laminate, or tile.
The manufacturer claims that Hurricane Spin Brush's triple brush technology rotates with cyclonic action, allowing you to pick up any mess with ease in just one pass. In addition, Hurricane Spin Broom promises to deliver revolutionary swivel action for increased maneuverability and a no-touch, large-capacity bin that empties in seconds. Which should be a breeze, since the broom weighs less than two pounds.
You're here because, once you sweep (pun intended) all the marketing hype aside, you want to know if Hurricane Spin Broom is the real deal, or if it will be a waste of your money.
Stick with us, and that's exactly what we'll help you decide—starting with price.
How Much Does Hurricane Spin Broom Cost?
Hurricane Spin Broom is available through three different offers:
Main Offer – Includes 1 Hurricane Spin Broom for $19.99 plus $9.99 S&H. The deluxe offer adds 1 LED Light and 2 Extra Brush Heads for an additional $9.99 fee.
Special Offer – Includes 2 Hurricane Spin Brooms and 1 Sticky Buddy for $29.98 plus $9.99 S&H. The deluxe offer adds 1 LED Light and 2 Extra Brush Heads for an additional $19.98.
Spin Bundle – Includes 1 Hurricane Spin Mop, 1 Hurricane Spin Scrubber, and 1 Hurricane Spin Broom for $99.97, plus free S&H. The deluxe bundle adds 1 Sticky Buddy for an additional $19.98.
According to the manufacturer, Sticky Buddy is a reusable sticky roller that removes hair and lint, works on "virtually any other surface in your home," and rinses clean when you're done.
All Hurricane Spin Broom purchases come with a 30-day refund policy, less S&H. to request one, you'll need to call Bulbhead (a division of Telebrands) customer service at 855-668-1655.
Our Experience With Hurricane Spin Broom Customer Support
We called Telebrands' customer service number and spoke with a very friendly rep, who let us know that Hurricane Spin Broom is not powered, whether via replaceable or built-in batteries.
Instead, as it moves along the floor, the circular brushes are engaged based on the force of your motion. In our mind, this brings up two important points:
Hurricane Spin Broom's lack of a motor could mean that it's not very powerful. On the QVC website, you can see it in action for yourself—and based on this, we'd be concerned it wouldn't pick up much more than flat, relatively lightweight items.
Second, while the manual power generated by Hurricane Spin Broom might technically create cyclonic action, it's important to point out this isn't the same as the cyclonic suction created by many modern vacuums.
Unfortunately, the service rep didn't have any information about Hurricane Broom's handle length or the dustbin size. Again, though, QVC lists the dimensions at 43"H x 12-3/4"W.
Finally, as you can see from the identical competition, as well as for other sweeping devices, Hurricane Spin Broom's swivel steering technology doesn't appear quite as "revolutionary" as the manufacturer might've made it seem.
What's the Bottom Line About Hurricane Spin Broom?
Compared to Turbo Tiger, Hurricane Spin Broom's customer service representative was able to provide us with some additional insight into the product. And what they weren't able to assist with, we were able to glean from EasyEdge's listing on QVC.com (including its extensive customer feedback).
Taken together, it seems like we have a fairly clear picture of what you might expect from Hurricane Spin Broom.
Are you looking for something that's lightweight, doesn't have to be charged, and can pick up relatively small items, especially near baseboards? If so, we can't foresee any reason why Hurricane Spin Broom wouldn't deliver.
But will it work exactly like the commercial makes it seem? Is there anything about it that's "revolutionary"? This remains to be seen.
But if it doesn't meet your expectations, you can always take advantage of Telebrands' 30-day refund policy. Just remember that you'll lose any S&H charges, as well as any fees associated with the deluxe offers.
---
$5.00 at Bed Bath & Beyond

By Mary H.

,

Northville, MI

,

Feb 19, 2020
Verified Reviewer

Overall Experience:

Took a little while to get used to. You have to use the right amount of pressure to get all 3 brushes to rotate. It works great for all those small pieces of "stuff" that always magically appear on wooden floors. It's good for little pickups but not the entire floor cleaning. Hair tends to wrap around the wheels and has to be ripped off often but not that bad. I like it for simple pickups.

Bottom Line: Yes, I would recommend this to a friend

---

JUNK

By Joyce B.

,

Lakeland, FL

,

Mar 12, 2019
Verified Reviewer

Overall Experience:

It worked for about 30 seconds. After the initial 30 seconds, the brushes don't turn and it doesn't pick up anything. I'm returning to the store today. It's just a piece of junk. Don't bother buying this product. Purchased from Bed Bath & Beyond.

I am very disappointed because the advertising makes it look like a wonderful cleaning tool.

Bottom Line: No, I would not recommend this to a friend

---

Advertisement

---

Should have read these reviews before asking for one as a gift!

By Joyce P.

,

Red Oak, IA

,

Aug 1, 2018
Verified Reviewer

Overall Experience:

I wanted it to pick up dog hair from wood floors; dog hair clogs up the rollers, as well as now the brushes that are to pull the dirt into the other brush will not turn, so consequently, nothing is getting picked up!

I called customer service, which was a joke! They asked if I was using and cleaning the brushes correctly! And, continually told me that he was "sorry for the inconvenience." I don't care about the sorry, but would very much appreciate if the problem was solved.

Why are companies allowed to continually rip the consumer off?

Bottom Line: No, I would not recommend this to a friend

---

Garbage!

By Doris A

,

Orlando, FL

,

Apr 19, 2018
Verified Reviewer

Overall Experience:

An absolute waste of money! I ordered this product based on the ad video in the official site. The video is a scam because it doesn't show the real performance. Simply it's a useless and noisy plastic piece. I bought this item online in Walmart, but I had to contact the vendor, Purple Turtle Products, to start the return process. I explained to them that I didn't want the product anymore because it is not as was described and claimed a full refund. I received a response from Barbara Seibert: "Yes you can return, but you will be responsible for the return shipping." So, the product was $19.95 and I paid $10.33 for the shipping. The worst customer service I ever had.

Bottom Line: No, I would not recommend this to a friend

---

Advertisement

---

Oh boy!

By Debra Ransom

,

Elk Grove, CA

,

Mar 20, 2018
Verified Reviewer

Overall Experience:

I can say that every review I read so far I've experienced. Literally, the last review about cleaning it well, I'm going to try that and see if it works because otherwise, it's doo-doo. I must say it's a great great idea because when it does work (because it does work sometimes), it definitely is lovely, so if they can figure out how to get them wheels to turn like they show it on TV constantly, then it's a great product. Because it does pick up big stuff too, but you got to work hard and maneuver and go back and forth and do all kinds of stuff, and it finally does do it. It's a great idea if they can get it to work. I wish they could because when it does work, I love it, and I will tell the world to get it, but since it hardly ever works like it's supposed to, I wouldn't recommend it.

Bottom Line: No, I would not recommend this to a friend

---

Overall Experience:

I used it six times, and it fell to bits. It doesn't spin. It doesn't pick up. It doesn't open to clean out rubbish. It doesn't work on wooden floors or tiles The spin just stops, and hair gets caught up In the spin wheels

I wish I had kept my receipt to get a refund. It won't empty at all. What a big con to rip poor people off. I will be chucking it in the bin.

Bottom Line: No, I would not recommend this to a friend

---

Overall Experience:

The outer round brushes lay flat on the floor, so far that they do not spin. The center brush pushes some things into the receptacle, but not enough that you do not have to do some manually. This is definitely NOT worth the money. Another RIPOFF.

Bottom Line: No, I would not recommend this to a friend

---

Crap

By Tracy Owens

,

Denton, TX

,

Dec 30, 2017
Verified Reviewer

Overall Experience:

I received the Hurricane Spin Broom as a gift. It is CRAP. I would have preferred a new BROOM and DUSTPAN. It does not pick up like it says, and you have to push down hard to even get the brushes to rotate.

Bottom Line: No, I would not recommend this to a friend

---

Overall Experience:

Total waste of money. Wheels don't turn on a regular basis. It does not pick up very good. When you pick it up to go empty the dirt that you may have been lucky enough to trap, it falls back on the floor. If I had the box and receipt, I would definitely return it for a refund.

Bottom Line: Yes, I would recommend this to a friend

---

Useless

Victoria, Australia

,

Dec 14, 2017
Verified Reviewer

Overall Experience:

I found this product to be totally useless. I have tile floors and it kept catching on the tile edges so I gave it to my niece who has vinyl floors. She tried it and threw it out.

Bottom Line: No, I would not recommend this to a friend

---

Bad product

By Gary Ces

,

Wooster, OH

,

Dec 3, 2017
Verified Reviewer

Overall Experience:

I have had for a week now, and it barely sweeps the tile floor, and rugs are very hard to get to; only gets about 1/2 of the mess and will not even turn on short nap carpet. The very bad product, not worth the money. I should have ordered a Bissel from Walmart or Big Lots for less money.

Bottom Line: No, I would not recommend this to a friend

---