Hurricane Spin Duster Reviews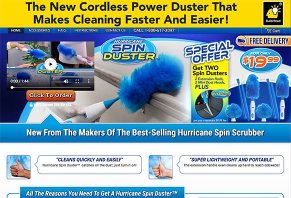 Using thousands of bristles that electrostatically attract dust, along with a rechargeable, cord-free design, Hurricane Spin Duster claims to help clean all your surfaces with ease.
About Hurricane Spin Duster
With its lightweight, cordless design, powered head that spins at 400 rotations per minute, and thousands of electrostatically charged fibers that attract dust like a magnet, Hurricane Spin Duster promises to help make cleaning faster and easier.
The website advertises that you just need to press the button and it will spin into action, while the "ultra-soft dust grabbing fingers" conform to any surfaces they encounter. You can also use the extendable telescoping handle to reach high-up areas, like ceiling fans.
Combined, we're told it makes it super simple to dust places like bookshelves, blinds, furniture, tabletops, corners, and crevices, along with fixtures and fittings.
When you're finished, Telebrands tells us you only need to rinse Hurricane Spin Duster's head and allow it to air dry, and it'll be ready to go again in no time.
There's no doubt that dusting without having to move a thing, while also avoiding the use of potentially toxic sprays and other chemicals, sounds appealing. But, can you realistically expect Hurricane Spin Duster to offer the lightest and easiest way to "evict those dust bunnies with a single spin"? In the end, will it provide more value than the price you pay?
This is precisely where we'll begin.
How Much Does Hurricane Spin Duster Cost & Where Can You Buy?
One Hurricane Spin Duster is priced at $19.99, plus $7.99 S&H, which also includes a mini dust head and extension wand.
During checkout, you'll have the opportunity to order a second powered spinning duster for an additional $9.99 fee, which will also include the Hurricane Dust Lizard, so you can "easily vacuum up dust and debris with precision."
The manufacturer provides a 30-day refund policy on all Hurricane Spin Duster purchases, less S&H and BOGO fees. Customer support can be reached at 855-668-1655 for assistance.
We also found the Hurricane Spin Duster motorized wand sold on Amazon for $24.99 at the time of our research, with free two-day shipping was available to Prime customers. Bed Bath and Beyond sold it even lower at $19.99, with free standard shipping on all orders over $29.
No other BOGO offers were available on either of these sites, though, and refund policies may differ.
What Do We know About the Company Behind Hurricane Spin Duster?
In addition to the Lint Lizard offered with your purchase of a BOGO Spin Duster, Telebrands is also the company behind other popular products in the Hurricane lineup, including 360 Spin Mop, Spin Scrubber, Spin Broom, and Twin Spin Mop, to name just a handful.
As a company, Telebrands is based out of Fairfield, NJ, is headed by founded AJ Khubani, and has been in business since 1983. In fact, they were one of the pioneers within the As Seen on TV industry as a whole.
Based on nearly 300 closed complaints with the Better Business Bureau, Telebrands held a B+ rating as of 8/16/18. Like many other companies within the industry (based on our extensive research experience), most of these appeared to reference lower product quality than expected, as well as customer support concerns. A Telebrands representative responded in most instances with a solution to the issue.
What Can We Learn From Online Customer Reviews for the Hurricane Spin Duster?
We encountered a total of eight customer reviews for the Hurricane Spin Duster on Amazon at the time of our research, who had cumulatively given the device an average rating of about 3.4 stars.
There, compliments often referenced effective dusting and ease of use. On the flip side, common complaints revolved around ineffectiveness. In fact, more than one reviewer stated that, instead of electrostatically adhering to its fibrous bristles, the device tended to fling more dust and spread it around than anything else.
Are There Other Motorized Dusting Devices Like Hurricane Spin Duster?
While the cleaning marketplace wasn't exactly swimming in motorized duster devices, we did encounter a couple of third-party options that promised to deliver many of the same core features as Hurricane Spin Duster.
These included electrostatically charged fibers that "attract dust like a magnet," built-in extension poles (although unlike the product in question, most provided exact pole measurements, which were up to three feet), and the ability to safely dust all surfaces and delicate objects with ease. These included the:
VIATEK SP360 Clean Spin 360? Spin Duster ($24, Amazon)
Generically named Multifunctional Electric Duster Set ($28, Amazon)
In fact, although it featured a meaningfully different design and color scheme, it appeared Telebrands offered another powered spinning duster—branded GoDuster—at the time of our research, which was priced at $17 on Amazon.
Although no additional heads or vacuum attachments were included as with Hurricane Spin Duster, it did come with a multi-surface spray. No details were provided about exactly what the formula contained, though.
What real-world criteria can you use to make a more educated decision about whether or not a powered spin duster might provide meaningfully more value and functionality than traditional options? Let's come to a conclusion.
Hurricane Spin Duster: The Easiest Way to Rid Your Home of Dust Bunnies?
Writing for Consumer Reports, Mary H.J. Farrell indicates that one of the most important factors you'll want to look for in a dusting tool, whether Hurricane Spin Duster or a manual, unpowered option from a third-party manufacturer, is one that "contains, rather than spews, dust."
Obviously, this isn't something you'll be able to necessarily test before handing over your hard-earned money, although after writing about hundreds of ASOTV products over the years, we've learned that online customer feedback can be a generally good indicator of what you might experience.
And to this extent, it seems like Hurricane Spin Duster comes with an—admittedly limited—middle-of-the-road online customer reputation, with one of the most common complaints that it tends to fling dust instead of trap it. Based on this, as consumers ourselves, this would give us a bit of a pause.
When you add the fact that you'll lose your initial $7.99 S&H if you're dissatisfied with Hurricane Spin Duster and decide to request a refund (plus any related fees if you chose to take advantage of the BOGO offer), along with whatever it'll cost to spin your spinning duster(s) back to the company, keep in mind that you'll be putting a decent chunk of change on the line.
>> Read next: DIY Natural Cleaning Products That Actually Work
0 out 1 people found this review helpful

Can't get my Spin Duster rod together

By Elizabeth D.

,

Dartmouth, Nova Scotia, Canada

,

Aug 14, 2019
Verified Reviewer

Can't get rod together, just got it today, ordered it from eBay, it looks like there is a piece missing. Thank you but I know I will love it once I get it together, it looks so nice and easy, so hopefully, I can get the missing part so I can start using it.

Bottom Line: Yes, I would recommend this to a friend

---

0 out 1 people found this review helpful

Spin Duster

By Lauri M.

,

Tennessee

,

Nov 6, 2018
Verified Reviewer

The first time I used it, it broke. It's easy to use, but the plastic parts are not strong enough for the rotation, which makes the extension wobble, therefore, the plastic piece that attaches to the long extension broke.

Bottom Line: Yes, I would recommend this to a friend

---

Advertisement

---