Hurricane Spin Scrubber Reviews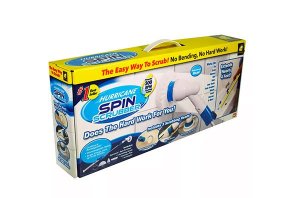 Summary
With its 3 interchangeable heads, flexible bristles, and torque, Hurricane Spin Scrubber promises to make cleaning your shower easier and faster. Watch our video review of this product and read what customers are saying.
Our Hurricane Spin Scrubber Hands-On Test
We had the opportunity to perform some in-depth testing the Hurricane Spin Scrubber. Did it live up to the manufacturer's claims? Here's the video:
For more product reviews: Click here to subscribe to HighYa's YouTube channel.
Cleaning a Stand Up Shower With Hurricane Spin Scrubber
After some quick and easy assembly and spraying the shower with a mild cleaner, we found that Hurricane Spin Scrubber's extension handle really did help us improve reach and scrub the floor without bending down.
While we didn't have to press down very hard on the Hurricane Spin Scrubber to get it to clean, we quickly learned that because of the head's spinning motion, it had a tendency to pull to the right when in use.
In order to maintain control, we found we often had to grip tightly; at times, even holding the device with both hands.
After we were finished, Hurricane Spin Scrubber seemed to have cleaned well while the floor was still wet. Once the floor dried for 24 hours, however, we found numerous spots that the scrubber didn't adequately clean.
Next, we used the corner brush on the shower's ledge and door rails. It did a great job of working its way into corners, but like the flat head, it was difficult to keep it stable without slipping from side to side.
We then used the dome brush on the same area, which seemed to do a better job than the corner brush at getting rid of mildew.
Finally, Hurricane Spin Scrubber's flat brush delivered a big improvement in soap scum and mildew after just a few minutes scrubbing the glass shower door.
Overall, we thought Hurricane Spin Scrubber did an OK job on the stand up shower, but to get stains out of the grout, we'd likely need to use a stronger cleaning agent.
What About Cleaning a Dirty Bathtub?
After spraying some mild cleaner on the wall of a shower that had seen better days, we used the dome brush on the tile wall, the corner brush for corners and grout, and the flat brush on the floor.
After spending nearly an hour cleaning the tub, we though Hurricane Spin Scrubber did a decent job of removing soap scum and mildew. However, this required quite a bit of time concentrating on each individual area to ensure everything was clean.
We spent so much time cleaning the shower, in fact, that Hurricane Spin Scrubber's battery died, although we would have probably needed another 30 minutes to fully clean (without using stronger cleaning chemicals).
Cleaning a Sink Faucet
For our final test, we used the corner brush head on a standard sink faucet. As with our other tests, we often found it difficult to keep it stable and in place. We also learned that the head was too big to get into all the small crevices.
In the end, we didn't find that Hurricane Spin Scrubber cleaned the faucet any better or easier than by hand.
The Bottom Line
After finishing, Hurricane Spin Scrubber was easy to clean; simply run under water to rinse and allow time to dry.
Throughout the process, we found that the device really can make cleaning bathtubs and showers easier, and in some instances, faster. It can also make the process physically easier since you won't have to bend down as often.
It seems to do a fairly good job of cleaning up everyday spots and stains, although it almost certainly won't be as effective without using cleaning agents or chemicals.
While Hurricane Spin Scrubber seemed to clean well, it's worth noting that we had to spend quite a bit of time focusing on each area in order to remove all the mildew and soap scum buildup. In short, don't expect this buildup to miraculously disappear, or you might end up disappointed.
The Hurricane Spin Scrubber is also a bit heavy and takes a lot of effort to keep it in place, so it's uncertain how ideal it would work for someone who suffers from arthritis.
Lastly, keep in mind that it took about 20 hours to charge the first time and 8 hours to fully charge every time thereafter, while power only lasts about an hour.
The Cost
The Hurricane Spin Scrubber is available at the following retailers:
Amazon: $39.90
Walmart: $39.37
Target: $39.99
Customer Reviews
Posted on Jan 2, 2021
Ripoff
Charged as directed. Worked a few minutes and died. After that, could never get it to work for more than a few minutes. Ordered via an online ad. Came with no return address. The manufacturer would not respond to me so I trashed it.
Length of Use: Less than 3 months
Bottom Line: No, I would not recommend this to a friend
Pros and Cons
No "pros" were specified in this review
Did not work
Posted on Nov 4, 2020
Can't charge the thing
Haven't used it yet. Purchased it for my wife so she doesn't have to stoop or bend to clean the shower. Can't use it because the charging cable won't plug into the wall outlet. Instead of the prongs being parallel to each other, they are at an angle to each other (like the prongs on a 220-volt plug).
Length of Use: Less than 3 months
Bottom Line: No, I would not recommend this to a friend
Pros and Cons
No "pros" were specified in this review
Can't charge it, which makes it unusable
Posted on Jul 14, 2020
Waste of money
Purchased Hurricane Spin Scrubber, used it two times. Wasn't very effective. Third time, would not charge. Assuming it needed a new battery, priced at $15.00, no...will not throw good money after bad. It is now headed for the trash.
Length of Use: 3–6 months
Bottom Line: No, I would not recommend this to a friend
Pros and Cons
Original price
Easy to assemble
Heavy to use
Not enough power in use
Charging time excessive
Posted on Apr 7, 2020
Great Scrubber, but?
I got, read the instructions, used it and was very satisfied, it worked as advertised.
BUT, after the third time I used it, I noticed that it didn't run as long as the first time.
The fourth time I used it after an all-night charge it lasted about ten minutes.
I should have known better, it has a Ni-Cad battery.
The worst kind.
If they had just put a Lithium-Ion battery in it, it would have been perfect and gotten my highest praise.
But, I wouldn't recommend it to anybody because of the battery.
If they made a conversion kit I would buy it and be very pleased indeed.
Bottom Line: No, I would not recommend this to a friend
Posted on Oct 9, 2019
Absolutely disappointed!
I bought the Hurricane Spin Scrubber hoping it would help with some nagging stains in my bathtub, but instead as I put pressure towards the scrubbing area, the rotating head starts to stop and slow down, thus I am pretty sure this is due to a cheap battery not providing enough torque, hence, in the end, it's garbage for me to use. Also, one of the removal bristle heads was badly packaged that it was bent on half the side making it look like a deformed mushroom. Not impressed!
Bottom Line: No, I would not recommend this to a friend
Posted on Sep 13, 2019
Does not work
This scrubber has never worked for me, I have never been able to get it to start...Very cheap, do not buy, very disappointed in this product. Great ad, but very poor product. I have tried and tried to get this to work, first it comes with no instructions and no number to call if you have a problem.
Bottom Line: No, I would not recommend this to a friend
Posted on Sep 6, 2019
So disappointed in this version
I bought the original Spin-Brush and absolutely loved it. I even bought my mother one. Well, my original one dies and I picked up the new one and it is horrible. Harder to put together. Once charged did not stay running. Totally dissatisfied with this. Breaks my heart and the original one was so fabulous. Don't change something that works. New version isn't worth the $0.99, let alone $39.99.
Bottom Line: No, I would not recommend this to a friend
Posted on Aug 13, 2019
Saved my back
I bought mine at Walmart in the As Seen on TV aisle for $29.99. It was constructed better than expected and very sturdy. I charged it overnight and tried it out on my shower. Wow! I am very pleased with it. Normally, I'd have to be on my hands and knees for half an hour scrubbing but this did it in five minutes with no stooping. I cannot tell you how thrilled I am with this product!
Bottom Line: Yes, I would recommend this to a friend
Posted on Jul 11, 2019
Scrubber is good, rechargeable system sucks
Purchased my Scrubber at Bed Bath & Beyond. The scrubbers worked well, the trick I found was not to put too much pressure with the scrubber on the surface you're working to clean. But the manufacturer in creating this product seems to have used the cheapest rechargeable batteries. It only works for about 45 minutes in total, then needs another 8-hour charge. While charging, the handle gets a little warm where the battery is too. I'm on the fence about recommending this to others, solely due to the batteries creating safety issues.
Bottom Line: No, I would not recommend this to a friend
Posted on Jun 27, 2019
There has to be something better...
I purchased this because of some medical issues that make it difficult to clean my bathrooms. The biggest disappointment is that the battery, after being fully charged, doesn't hold the charge very long. It does a somewhat decent job in cleaning but if it were a little more powerful I believe it could do a much better job. While the shaft makes it easy to reach the corners it creates the opposite problem for the close in areas. As I write this I can't use it because I have to wait 6 more hours for the battery to charge so I'm back to manually scrubbing... let's hear it for pain killer!
Bottom Line: No, I would not recommend this to a friend
Posted on Jun 13, 2019
Worst product ever
Should have known when we purchased this at a discount store (formerly 99 cent store), paid $14.99 for this piece of junk. Worked 2 times then quit, won't recharge. How do these companies get away with selling this? I have a bad back/knees, can't get on my knees to scrub shower, this would have been an excellent product had it worked. Have no way to scrub my fiberglass shower until I can buy a new (different brand) scrubber. Wish we could file a class action lawsuit.
Bottom Line: No, I would not recommend this to a friend
Our Promise to You
In order to safeguard you and ensure helpfulness and relevance, our compliance team manually assess every customer review before it goes live.
We have a zero-tolerance policy for fake reviews, and companies cannot control or alter any reviews at any time.