Hurricane Spin Scrubber Reviews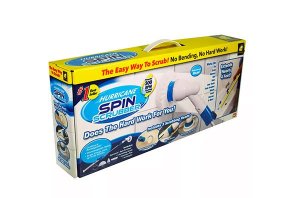 With its 3 interchangeable heads, flexible bristles, and torque, Hurricane Spin Scrubber promises to make cleaning your shower easier and faster. Watch our video review of this product and read what customers are saying.
Our Hurricane Spin Scrubber Hands-On Test
We had the opportunity to perform some in-depth testing the Hurricane Spin Scrubber. Did it live up to the manufacturer's claims? Here's the video:
For more product reviews: Click here to subscribe to HighYa's YouTube channel.
Cleaning a Stand Up Shower With Hurricane Spin Scrubber
After some quick and easy assembly and spraying the shower with a mild cleaner, we found that Hurricane Spin Scrubber's extension handle really did help us improve reach and scrub the floor without bending down.
While we didn't have to press down very hard on the Hurricane Spin Scrubber to get it to clean, we quickly learned that because of the head's spinning motion, it had a tendency to pull to the right when in use.
In order to maintain control, we found we often had to grip tightly; at times, even holding the device with both hands.
After we were finished, Hurricane Spin Scrubber seemed to have cleaned well while the floor was still wet. Once the floor dried for 24 hours, however, we found numerous spots that the scrubber didn't adequately clean.
Next, we used the corner brush on the shower's ledge and door rails. It did a great job of working its way into corners, but like the flat head, it was difficult to keep it stable without slipping from side to side.
We then used the dome brush on the same area, which seemed to do a better job than the corner brush at getting rid of mildew.
Finally, Hurricane Spin Scrubber's flat brush delivered a big improvement in soap scum and mildew after just a few minutes scrubbing the glass shower door.
Overall, we thought Hurricane Spin Scrubber did an OK job on the stand up shower, but to get stains out of the grout, we'd likely need to use a stronger cleaning agent.
What About Cleaning a Dirty Bathtub?
After spraying some mild cleaner on the wall of a shower that had seen better days, we used the dome brush on the tile wall, the corner brush for corners and grout, and the flat brush on the floor.
After spending nearly an hour cleaning the tub, we though Hurricane Spin Scrubber did a decent job of removing soap scum and mildew. However, this required quite a bit of time concentrating on each individual area to ensure everything was clean.
We spent so much time cleaning the shower, in fact, that Hurricane Spin Scrubber's battery died, although we would have probably needed another 30 minutes to fully clean (without using stronger cleaning chemicals).
Cleaning a Sink Faucet
For our final test, we used the corner brush head on a standard sink faucet. As with our other tests, we often found it difficult to keep it stable and in place. We also learned that the head was too big to get into all the small crevices.
In the end, we didn't find that Hurricane Spin Scrubber cleaned the faucet any better or easier than by hand.
The Bottom Line
After finishing, Hurricane Spin Scrubber was easy to clean; simply run under water to rinse and allow time to dry.
Throughout the process, we found that the device really can make cleaning bathtubs and showers easier, and in some instances, faster. It can also make the process physically easier since you won't have to bend down as often.
It seems to do a fairly good job of cleaning up everyday spots and stains, although it almost certainly won't be as effective without using cleaning agents or chemicals.
While Hurricane Spin Scrubber seemed to clean well, it's worth noting that we had to spend quite a bit of time focusing on each area in order to remove all the mildew and soap scum buildup. In short, don't expect this buildup to miraculously disappear, or you might end up disappointed.
The Hurricane Spin Scrubber is also a bit heavy and takes a lot of effort to keep it in place, so it's uncertain how ideal it would work for someone who suffers from arthritis.
Lastly, keep in mind that it took about 20 hours to charge the first time and 8 hours to fully charge every time thereafter, while power only lasts about an hour.
The Cost
The Hurricane Spin Scrubber is available at the following retailers:
Amazon: $39.90
Walmart: $39.37
Target: $39.99
---
I LOVE IT

By J. Clark

,

Fort Myers, FL

,

Dec 3, 2016
Verified Reviewer

Overall Experience:

I really love this product. It is light, affordable and works like a charm. I finally have a way to get the deep grout in my kitchen completely clean. Other products never got into the grout. The tile was clean but the grout remained dirty.

I used my Spin scrubber to get all of the dirt up and then I used my spin mop to mop the entire floor clean.

I also used it in the bathroom and it's wonderful.

Bottom Line: Yes, I would recommend this to a friend

---

Ive been waiting for this…

By Richard

,

Oregon

,

Dec 26, 2016
Verified Reviewer

Overall Experience:

I used a Black/Decker scrubber for years to clean my shower and tub. It finally wore out and getting a new one proved somewhat difficult as no one seems to carry it anymore.

I bought the Hurricane Scrubber and was pretty excited to get it home and try it.

With the factory charge on the battery, I knew I wasn't going to be able to use is fully until I did a complete charge.

What I did experience was a definite improvement on my old B/D scrubber. No more bending down and I'm doing yoga moves to get the corners, etc.

In no time, I was able to cover my entire double shower and tub. The whole area is now very shiny, light reflecting and absolutely clean.

The power, the thoroughness and the ease of use made this a real winner for me.

With its reach, I am eager to try it out on cleaning my hot tub as well.

Very happy in Oregon.

Bottom Line: Yes, I would recommend this to a friend

---

Advertisement

---

Amazing

By Cindy Shortt

,

Syracuse, NY

,

Aug 18, 2017
Verified Reviewer

Overall Experience:

I absolutely LOVE the Hurricane Scrubber. My kitchen floor looks brand new, and it was so easy to use! My floor looks like it did the day it was placed in my kitchen. I have been telling everyone about it. Thank you!

Bottom Line: Yes, I would recommend this to a friend

---

My expectations are high, and Hurricane Spin Scrubber exceeds them.

Overall Experience:

I am a Mechanical Engineer and I understand the principals of torque, horsepower, and RPM. Therefore my expectations are realistic. My wife purchased this machine, based on a friends recommendation. I had seen the TV advertisement once. When it arrived, we read the instructions and followed them. I observed my wife using it in her shower, and it performed as advertised, using all brushes.

Today I was cleaning the master bath, and the wife brought me the Spin Scrubber to use on the floor (she had just used it on her double shower). I put on the crevice brush, and was amazed at the torque Spin Scrub has while cleaning the baseboards and door jambs. After cleaning the machine, we discussed how pleasing the machine works, and we decided to buy two more so we have spares when our first one exceeds its life-cycle.

Good product and I highly recommend the Spin Scrubber.

Bottom Line: Yes, I would recommend this to a friend

---

Advertisement

---

Hurricane Spin Scrubber

By Sharon D.

,

West Conshohocken, PA

,

Aug 24, 2018
Verified Reviewer

Overall Experience:

I clean houses for a living, and some houses have nice tiles for the walls of the showers. Well, today one of my customers had me use this product. I was so amazed at how it could get all of the grime out of the creases of the tile/stone walls. I have scrubbed by hand with all of my might and could never get that stuff off. Today was a whole different story. I was smiling and couldn't believe my eyes and couldn't wait to come home to tell all my friends about it. So my customer had ordered hers through the mail. I'm going to go to Boscovs's and see if they have it because they have a whole section of items from As Seen on TV.

If not, I guess I will order one in the mail. Please try this product. I'm 60 years old and not as strong as I used to be, but thanks to this thing I don't need to use any muscle work. Excellent product. Anything that takes away the muscle work is top notch to my aching body. Thank you Hurricane Spin Scrubber. I was told it comes with a charger. I did four bathrooms and it never lost power or slowed down.

Bottom Line: Yes, I would recommend this to a friend

---

Saved my back

By Sharon B.

,

Cape Coral, FL

,

Aug 13, 2019
Verified Reviewer

Overall Experience:

I bought mine at Walmart in the As Seen on TV aisle for $29.99. It was constructed better than expected and very sturdy. I charged it overnight and tried it out on my shower. Wow! I am very pleased with it. Normally, I'd have to be on my hands and knees for half an hour scrubbing but this did it in five minutes with no stooping. I cannot tell you how thrilled I am with this product!

Bottom Line: Yes, I would recommend this to a friend

---

Met my expectations

By Jesse

,

Iowa

,

Apr 14, 2017
Verified Reviewer

Overall Experience:

I bought this scrub brush at a box store, so I didn't have to deal with shipping costs. I guess I'm one of the lucky ones because I have had no problem charging or changing the heads. This item is not meant for deep cleaning (yes the commercials exaggerate), but it does a great job for regular routine cleaning jobs.

I recommended this item to my sister, and she has had no issues with hers either. I would recommend buying in store as it is a lot easier to return if need be.

Bottom Line: Yes, I would recommend this to a friend

---

Met my expectations

By Nan Herrell

,

Augusta, GA

,

Jun 5, 2017
Verified Reviewer

Overall Experience:

I used the Scrubber for the first time today, and I'm really pleased. I haven't been able to scrub my bathtub because of arthritis and bad shoulders.

The scrubber got off a layer of dirt that's been driving me crazy. My tub is shining, as is the hardware that polished up nicely.

The trick seems to be letting the Scrubber do a polishing action, just going slowly back and forth. It took almost no pressure, just patience. I did have to use two hands, but it wasn't difficult at all. The whole thing took about 20 minutes.

The only negative was how long it took to charge the Scrubber the first time.

Bottom Line: Yes, I would recommend this to a friend

---

Hurricane Spin Scrubber works for me

Overall Experience:

Except for the long initial charge time, I was pleased with the results. Being handicapped it was very hard to clean the bathtub, so soap scum had quite a build up.

Using the long handle and the flat head brush, I first sprayed the tub with water and then my cleaner and let it set for several minutes, then put the brush in there and turned it on. I did have to use both hands to hold it for security, but was totally amazed as I watched those spinning bristles attack that scum. I stopped several times and rinsed the tub, saw where I needed more work in some areas so repeated the spraying of the cleaner, waiting and back to the brush. Did it take 30 seconds? Of course not, but it also did not take 30 minutes, and I am very pleased with a now clean, once again white, tub.

I did but this from Walmart, simply because had it not worked I could easily return it. I also would like to know how long the charge will last once it is fully charged and I remove the charger, since I don't have a place I can keep it plugged in all the time.

I tried calling Customer Service, and the woman was an idiot. I am fully aware that when the red light is on that means it's getting power (Ahhhh), but she couldn't get off that answer no matter how hard I tried to explain what I was asking. I just want to know how long a charge will last if it's not being used or will it drain down. How simple is that? So I am going to experiment to see for myself.

Bottom Line: Yes, I would recommend this to a friend

---

Outstanding

By S Wonders

,

Terre Haute, IN

,

Oct 11, 2017
Verified Reviewer

Overall Experience:

When I purchased this, I was skeptical. Most things don't work as they advertise. This one did! I let the unit properly charge, sprayed the cleaner and began scrubbing. I used all three heads and was able to get everything including the track, without breaking my back in the process. Would definitely recommend, and plan on purchasing one for my daughter as well.

Bottom Line: Yes, I would recommend this to a friend

---

Highly recommend

By C M.

,

Memphis, TN

,

Jun 1, 2018
Verified Reviewer

Overall Experience:

I have used this on tile floors, bathtubs, shower, sinks and now my white vinyl fence outside. It works as advertised. I even bought replacement brushes since I use it so much. No problem with recharging. I really like this. I purchased this at Bed Bath & Beyond using the 20% off coupon.

Bottom Line: Yes, I would recommend this to a friend

---