Hurricane Spin Scrubber Reviews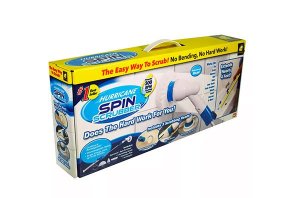 Summary
With its 3 interchangeable heads, flexible bristles, and torque, Hurricane Spin Scrubber promises to make cleaning your shower easier and faster. Watch our video review of this product and read what customers are saying.
Our Hurricane Spin Scrubber Hands-On Test
We had the opportunity to perform some in-depth testing the Hurricane Spin Scrubber. Did it live up to the manufacturer's claims? Here's the video:
For more product reviews: Click here to subscribe to HighYa's YouTube channel.
Cleaning a Stand Up Shower With Hurricane Spin Scrubber
After some quick and easy assembly and spraying the shower with a mild cleaner, we found that Hurricane Spin Scrubber's extension handle really did help us improve reach and scrub the floor without bending down.
While we didn't have to press down very hard on the Hurricane Spin Scrubber to get it to clean, we quickly learned that because of the head's spinning motion, it had a tendency to pull to the right when in use.
In order to maintain control, we found we often had to grip tightly; at times, even holding the device with both hands.
After we were finished, Hurricane Spin Scrubber seemed to have cleaned well while the floor was still wet. Once the floor dried for 24 hours, however, we found numerous spots that the scrubber didn't adequately clean.
Next, we used the corner brush on the shower's ledge and door rails. It did a great job of working its way into corners, but like the flat head, it was difficult to keep it stable without slipping from side to side.
We then used the dome brush on the same area, which seemed to do a better job than the corner brush at getting rid of mildew.
Finally, Hurricane Spin Scrubber's flat brush delivered a big improvement in soap scum and mildew after just a few minutes scrubbing the glass shower door.
Overall, we thought Hurricane Spin Scrubber did an OK job on the stand up shower, but to get stains out of the grout, we'd likely need to use a stronger cleaning agent.
What About Cleaning a Dirty Bathtub?
After spraying some mild cleaner on the wall of a shower that had seen better days, we used the dome brush on the tile wall, the corner brush for corners and grout, and the flat brush on the floor.
After spending nearly an hour cleaning the tub, we though Hurricane Spin Scrubber did a decent job of removing soap scum and mildew. However, this required quite a bit of time concentrating on each individual area to ensure everything was clean.
We spent so much time cleaning the shower, in fact, that Hurricane Spin Scrubber's battery died, although we would have probably needed another 30 minutes to fully clean (without using stronger cleaning chemicals).
Cleaning a Sink Faucet
For our final test, we used the corner brush head on a standard sink faucet. As with our other tests, we often found it difficult to keep it stable and in place. We also learned that the head was too big to get into all the small crevices.
In the end, we didn't find that Hurricane Spin Scrubber cleaned the faucet any better or easier than by hand.
The Bottom Line
After finishing, Hurricane Spin Scrubber was easy to clean; simply run under water to rinse and allow time to dry.
Throughout the process, we found that the device really can make cleaning bathtubs and showers easier, and in some instances, faster. It can also make the process physically easier since you won't have to bend down as often.
It seems to do a fairly good job of cleaning up everyday spots and stains, although it almost certainly won't be as effective without using cleaning agents or chemicals.
While Hurricane Spin Scrubber seemed to clean well, it's worth noting that we had to spend quite a bit of time focusing on each area in order to remove all the mildew and soap scum buildup. In short, don't expect this buildup to miraculously disappear, or you might end up disappointed.
The Hurricane Spin Scrubber is also a bit heavy and takes a lot of effort to keep it in place, so it's uncertain how ideal it would work for someone who suffers from arthritis.
Lastly, keep in mind that it took about 20 hours to charge the first time and 8 hours to fully charge every time thereafter, while power only lasts about an hour.
The Cost
The Hurricane Spin Scrubber is available at the following retailers:
Amazon: $39.90
Walmart: $39.37
Target: $39.99
Customer Reviews
Posted on Nov 14, 2016
Hurricane Spin Scrubber - Bait and Switch
I ordered this product on 11/6/16 for the advertised price of 39.99 and an additional one was free for 19.99 paying separate shipping costs. Well, I called the next day for verification of order and when it will be shipped. I found out my bill charge was 144.99. How did this happen? The Customer rep says he would give me a 20.00 dollar discount on my order. I cancelled my order. have to wait and see if I get my money reimbursed.
Bottom Line: No, I would not recommend this to a friend
Posted on Nov 24, 2016
They ship only once they get the product
I had order the deluxe model hurricane spin scrubber for the upgraded motor and lifetime warranty with expedited shipping (3-5 days). After a week and multiple calls to the company, they said to allow 3-6 weeks for delivery.
I explained to them I paid expedited so I wouldn't have to wait, well they said they were sorry and dropped the expedited charge but would still send expedited.
Then after another week I noticed a charge. GREAT. I will now get the scrubber, NOT. They are sending me the lower rated unit because they don't have the upgraded and I should have that shipped in 7-10 business days.
So I asked them how can they sell a product that they don't have. They say they are out right now and maybe in 2 weeks call back as they may have some in stock.
I just canceled my order. It's not worth the headache anymore and they won't tell you much.
I'm just going to order TURBO scrubber now and see how that goes
Bottom Line: No, I would not recommend this to a friend
Posted on Feb 17, 2017
Battery doesn't charge
It has been three days now since I received this machine and the battery is still not charging (the red light is still on).
Can I return this to any store that carries this junk? It's a waste of money to mail this back. I will just post this on Facebook, and I will run with it for ten days.
Thank you, but please, check it out before you send it to the consumers.
Bottom Line: No, I would not recommend this to a friend
Posted on Feb 24, 2017
Disappointed
It is still charging after one month and will not turn on I ordered the double package, and they are not working. I was promised a mesh bag, but it never arrived. I will be returning it.
Bottom Line: No, I would not recommend this to a friend
Posted on Jan 31, 2017
How can I test it if I can't get it to charge?
Here we go again with imports made in factories with absolutely no quality control.
I've been charging my Hurricane Spin Scrubber for 30 hours and it is still showing a red light, and no green light so I can start using it! Directions are very specific about the first charge being at 20 hours (and the unit being in the OFF position) and subsequent charges for eight hours.
I will be taking it back to Bed Bath & Beyond. Thank goodness I didn't order it online and have to go through all the return shipping. Save your money!
Bottom Line: No, I would not recommend this to a friend
Posted on Mar 3, 2017
Hurricane Spin Scrubber, piece of trash
I tried charging this unit for three days. The red light never turned off, and I tried using it with the charger it had, but it died in about two minutes of using. I wish I would have read the reviews before I bought this crap. If you haven't bought one yet, don't waste your money.
Bottom Line: No, I would not recommend this to a friend
Posted on Dec 16, 2016
Won't charge and customer service is non responsive.
I received this product and the box said the first charge would take 20 hours. It has been charging for 2 days now and still not charged. Called "customer service" and was placed on hold for over ten minutes. Would not recommend it.
Bottom Line: No, I would not recommend this to a friend
Posted on Feb 10, 2017
Hurricane Spin Scrubber
It will not turn on, which sucks, and I will be returning this.
Bottom Line: No, I would not recommend this to a friend
Posted on Jan 30, 2017
Not worth the money
The Hurricane Spin Scrubber I ordered from a commercial on TV is not the quality I had expected. The On/Off button does no work. When the upper and lower sections are put together, the unit starts spinning. Also, it's heavy and difficult to control. I am disappointed.
Bottom Line: No, I would not recommend this to a friend
Posted on Mar 26, 2017
Do NOT buy! Zero stars.
This is a piece of junk. It does not spin fast enough to clean anything. Big waste of money. Do NOT buy.
Bottom Line: No, I would not recommend this to a friend
Posted on May 19, 2017
Sorry Scrubber
I was sucked in by the commercial again!
I thought it would be great, no heavy scrubbing, no harsh chemicals, but it did "nothing." I was so disappointed. I had to use two hands to control it, and it still danced over the shower screen and floor.
After the first use, I noticed all the bristles were squashed like an old toothbrush! Even after using some detergent with it, it still didn't clean.
The saddest thing is I have two, and I wouldn't give the other one to an enemy.
Bottom Line: No, I would not recommend this to a friend
Our Promise to You
In order to safeguard you and ensure helpfulness and relevance, our compliance team manually assess every customer review before it goes live.
We have a zero-tolerance policy for fake reviews, and companies cannot control or alter any reviews at any time.