HurriClean Reviews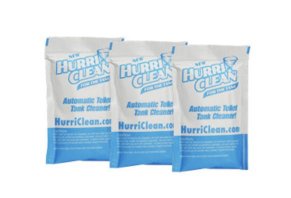 Offered by OnTel Products, HurriClean uses a foaming formula of ethylene glycol monobutyl ether (EGBE) and disodium metasilicate to help clean your toilet tank and bowl, without scrubbing.
What Is HurriClean?
With its fast action foaming formula that scrubs from the inside out, HurriClean is advertised as a double duty toilet cleaner that simultaneously "shocks, scrubs, scours, and devours" hard water and mineral deposits in the tank and bowl.
Together, the website indicates the septic-safe formula can also safely improve flushing functionality and clean the jet stream, without the use of chlorine or phosphates, or leaving behind odors. In fact, OnTel Products tells us the process works over three simple steps:
Pull open the package and pour its contents into your toilet's tank.
Let it sit for six hours or overnight, during which time "the foaming action cleans and scrubs until there are no more stains."
Flush.
Perhaps more than any area of the home, scrubbing toilets come with a big 'ick-factor.' So a product that could effectively clean them using a hands-off approach would be a welcome addition to any cleaning arsenal.
Is this what you can expect to experience with HurriClean? For the money, will it deliver a high level of value? Are there competitors, and how do they compare? Let's build a solid foundation by starting with the basics.
How Does HurriClean Toilet Tank Cleaner Work?
Writing for HowStuffWorks, Debra Ronca explains that most toilet stains, whether located in the tank or bowl, are caused by the accumulation of naturally occurring "calcium, lime, magnesium, and iron" in the water.
Even if you're doing everything correctly from a cleaning perspective, they explain, these water-borne substances will deposit themselves on the surface of the porcelain over time, which can leave behind "greenish stripes, a brown ring, [and] limescale."
She concludes by pointing out there are many sort-bought products available to help address these stains, although she emphasizes that "removing mineral stains requires some elbow grease, so don't expect it to be an easy process." Does HurriClean contain any ingredients that might make this part of the process less laborious?
HurriClean's Active Ingredients
According to its Safety Data Sheet, HurriClean's two active ingredients are ethylene glycol monobutyl ether (EGBE) and disodium metasilicate. Both have a wide variety of industrial uses, but focusing only on the product at hand, EGBE is a solvent that's especially useful for attacking both water-soluble dirt and water-insoluble oils and greases.
When dissolved in water, disodium metasilicate becomes a highly alkaline, corrosive compound that can help inactivate water hardness, which could be especially useful related to mineral deposits. According to Mistral Industrial Chemicals, it also "disperses grease and dirt deposits into small suspended particles that rinse away without redepositing on freshly washed surfaces."
Potential HurriClean Side Effects
While HurriClean's manufacturer frequently advertises that the formula doesn't contain harsh chlorine, according to the Centers for Disease Control and Prevention (CDC), EGBE can cause coughing, dizziness, drowsiness, and headache if inhaled.
Skin contact can result in dryness, while eye contact can cause pain, redness, and blurred vision. If ingested, EDBE can lead to abdominal pain, diarrhea, nausea, and vomiting.
Similarly, disodium metasilicate can cause side coughing, shortness of breath, sore throat, skin redness and burns, severe eye pain, and even shock or collapse if ingested.
Needless to say, you'll want to properly protect your skin and eyes when using a product like HurriClean, and also use in a well-ventilated area.
How Much Does HurriClean Cost & Where Can You Buy?
One HurriClean set (three packets) is priced at $19.99, plus free S&H. During checkout, customers will have the opportunity to purchase a second set for an additional $6.99 fee. All orders also come with a $1 web service fee.
We also found HurriClean sold online through a wide variety of third-party retailers, including The Home Depot, Bed Bath and Beyond, Walmart, HSN, and Kmart. In the instance of OnTel's page on Amazon, we found the same three-pack sold for $13.52 at the time of our research, including free delivery.
All direct orders come with a 60-day money back guarantee, less S&H, as well as any fees paid for the BOGO offer. To request one, you'll need to call customer support at 844-482-1451.
What Can We Learn from HurriClean Online Customer Reviews?
Between sites like Amazon, HomeDepot.com, Walmart, and Bed Bath and Beyond, we encountered hundreds of combined customer reviews for HurriClean, who had cumulatively given the toilet cleaner an average rating of about three stars.
In general, common compliments referenced ease of use, as well as its effectiveness at removing stains and buildup without scrubbing. On the other hand, common complaints included that the formula was ineffective at removing even light stains or other accumulation (at least, not without just as much scrubbing as traditional methods)
Pro tip: Many customers emphasized that the manufacturer recommends you use three packs of HurriClean the first time it's applied to each toilet, so be sure to factor this into your cleaning needs and overall budget.
HurriClean vs. Other Foaming Toilet Tank and Bowl Cleaners
As mentioned in the HowStuffWorks article cited earlier, the best way to remove stains and mineral deposits is by using some good old-fashioned elbow grease.
Searching online for variations of terms like 'no scrub toilet mineral deposit tank cleaner,' you'll find perhaps hundreds of options—everything from gels and powders to discs that slowly dissolve in your tank—that promise to help make the process easier. But if you want a maximally clean tank and bowl, be prepared to scrub.
As a handful of examples, top search engine results at the time of our research included:
Scrubbing Bubbles Continuous Clean Drop-Ins (5-count), $5
NeverScrub – Automatic Toilet Cleaning System, $22
Instant Power Toilet Tank Cleaner (16 oz), $8
Instant Power Toilet Bowl Restorer (30 fl oz), $6
Clorox Automatic Toilet Bowl Cleaner Bleach Tablets (2-count), $6
With these important details in mind, HurriClean was the only foaming tank and bowl cleaner combo on the market at the time of our research, so if this is among your must-haves, it appears to currently be the only game in town.
Does this mean that it will necessarily deliver better value than the competition for the money? Let's answer this final question as we wrap everything up.
Our Bottom Line?
Here at HighYa, our only goal is to provide all of the relevant information about a product or service and leave the final decision up to you—not to tell you how to spend your hard-earned money.
We also didn't test any of these products firsthand during our research, but when it comes down to it, we think the biggest question surrounding HurriClean isn't necessarily one of efficacy, but of value.
For example, at about $20 if purchased directly from OnTel, each pack of HurriClean will cost you roughly $6.67 per application. And this doesn't account for the fact that many customers report you'll need to use all three packets during your first application.
Comparatively, Instant Power Toilet Tank Cleaner above comes in at about $4 per application, while the Scrubbing Bubbles and Clorox Bleach options will only cost you about $1 to $3 per month.
If you feel like giving HurriClean a try, though, initial shipping is free and OnTel offers a 30-day refund policy, which should be more than enough time to figure out if it works for you. Just keep in mind that you'll have to pay to ship it back to the company if you request a return, and you'll lose the BOGO fees (if you took advantage of the offer).
» Related: DIY Natural Cleaning Products That Actually Work
Did not foam at all - did not work

I purchased the three-pack of this product. Since it was the first time using it I emptied the first packet in with no results so I added the 2nd pack - still with no results, and finally the third pack. It did not bubble or foam at all. Complete waste of money. Am still leaving it for the 6 hours but since it has not yet begun to work, I think it is a dud.

Bottom Line: No, I would not recommend this to a friend

---

Great value. Dollar Tree store, buy for $1.00

By Crystal M.

,

Florida

,

Oct 4, 2019
Verified Reviewer

Always willing to try something new. Sold at Dollar Tree store for $1. One dollar - plus tax. A senior and have a new toilet, 1 year in apartment. The only other way to "help" keeping stains manageable is to have a water softener or a filter (like I use on my showerhead). Recommend this "Hurry Clean" product. Monthly maintenance. Still use a toilet brush when needed!

Thanks for a great product.

Bottom Line: Yes, I would recommend this to a friend

---

Advertisement

---

3 out 3 people found this review helpful

Work in abundance, very little physical work, my trouble is finding more of it

By Jimmy S.

,

Lancaster, TX

,

Aug 2, 2019
Verified Reviewer

Exceptional product, I need more of it. I used this product and it worked incredibly. I can't find it at Walmart anymore, I am absolutely satisfied with it. I am going to search Home Depot for it. I highly recommend this product. I used absolutely zero amount of scrubbing, toilet looked like new.

Bottom Line: Yes, I would recommend this to a friend

---