HydraLight Reviews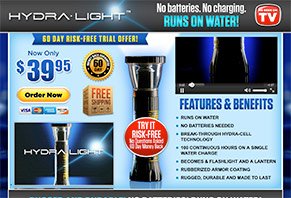 Using breakthrough technology that works like a traditional flashlight, HydraLight's Hydra-Cell Technology promises to light your way using only water.
About HydraLight
Instead of using batteries or charging with a cable, HydraLight is a rugged, durable flashlight that switches on and off like traditional models—but claims to run completely on water.
The company tells us HydraLight works using Hydra-Cell Technology:
Remove the Hydra-Cell from the body of the flashlight.
Immerse the Hydra-Cell in water, at which point it will begin generating power.
Place the Hydra-Cell back into HydraLight, and you'll have up to 100 continuous hours of light on a single water charge.
On the outside, HydraLight features a rubberized armor coating that makes it ideal for use in severe weather. And by simply expanding the barrel and placing on a flat surface, we're told HydraLight can be used as a hands-free lantern.
Having to constantly check your flashlights for batteries is a chore—especially if you forgot and the power suddenly goes out, you need more light in the garage, or you're in need of some illumination on a camping trip.
But can HydraLight's Hydra-Cell Technology make this inconvenience a thing of the past? Is it the only game in town?
Let's start by taking a look at how it works.
How Does HydraLight Work?
We'll talk about some variations in a second, but functionally, HydraLight works like any other flashlight; a power source illuminates a bulb, which projects light in any direction it's pointed.
Instead, the main difference with HydraLight is that its power source uses water to generate electricity.
Battery Basics
While there are many different types of batteries, most function with basically the same parts: The cathode (the positively charged end, usually made of metal), the anode (the negatively charged end, typically made of a different metal), and the electrolyte.
The electrolyte in most batteries is an often-toxic chemical substance where electrons from the anode's metal are released into the electrolyte, which are then accepted by the cathode's metal. This completes the circuit and generates an electrical charge.
For an in-depth look at the process, MIT's School of Engineering features a great explanation.
Using Water as an Electrolyte
How does this relate to HydraLight? While the manufacturer doesn't provide any additional details, the general idea is that the cells in water flashlights already feature a built-in anode and a cathode.
When you supply water, you're providing the electrolyte, or the liquid where electron transfers can occur. This completes the circuit and powers the bulb.
Longevity & Light Output
Although this is a novel method of providing light, it's certainly not new or unique to HydraLight. In fact, a quick online search for "water flashlight" will reveal that you can build one for only a few dollars in parts.
The biggest difference between homemade models and mass-produced ones like HydraLight is that DIY projects often won't remain powered for more than 30 minutes with normal tap water. The light output isn't anything to write home about, either.
How Does This Compare to a Traditional Flashlight?
According to the manufacturer, it'll provide up to 100 hours of run time. Even though it's unclear how many lumens this flashlight contains from a metric perspective, when comparing it to a typical 100-lumen flashlight, the HydraLight appeared weaker.
Are There Other Water Flashlights Like HydraLight?
If you search online for "water powered flashlight," you won't find anything identical to HydraLight.
However, we did find the Eton American Red Cross Blackout Buddy, which features a rectangular design, with three LEDs that can shine continuously for up to 72 hours.
Outside of this, we didn't come across any mass produced water powered flashlights during our research.
This Red Cross option can be found online for less than $10. Comparatively, what will you pay for HydraLight?
How Much Does HydraLight Cost?
HydraLight is available in three different pricing options, including free standard S&H (additional options are available for more money):
1 HydraLight: $19.95
2 HydraLights: $35.90
3 HydraLights: $50.85
Each purchase option comes with a free bonus battery for the unit.
Regardless of the quantity purchased, HydraLight comes with a 60-day, risk-free money-back guarantee, less S&H. In order to request one, customer service can be reached at 844-734-3650.
How Practical Is the HydraLight?
As battery and bulb technology has improved over the years, we're now at a point where most of us have access to small, inexpensive, well-built lighting that can withstand a lot of abuse and deliver solid performance.
This is obviously in addition to standard flashlight models you can find at just about any corner store or mega-retailer for just a few dollars.
Granted, nearly all of these options are powered by standard batteries, so, if they run out of juice, you're out of luck. Comparatively, HydraLight's water-powered cell seems like it might provide light in an emergency situation, without a traditional power source nearby (as long as you don't find yourself in a desert!).
According to our testing, after soaking the battery in water as instructed, the light did work. It did not appear to be stronger than a 100-lumen flashlight when comparing the two projections side-by-side.
That wasn't necessarily the showstopper, however. Instead, after letting the light sit for several days, it stopped working completely during our testing phase.
I call BS

By Mark B.

,

Galesburg, IL

,

Nov 20, 2019
Verified Reviewer

At first, I really loved my new HydraLight. I got it wet, and it worked for a few days periodically providing adequate light for mobilization of most darkened areas. However, after three days the light cell dried out and it's back to the water tap (with filter) to recharge. It seemed each time I went to recharge it was taking longer of a soak to get the same lumens from the light. It was not my imagination. I began timing the charging time soaking in water. It went from 30 seconds to two minutes, to five minutes, and after two months of this, my light now will NOT charge at all and the fuel cell emits a crumbling acidic powder all over the counter. I read the very limited instructions included with my light. I couldn't find anything supporting the time for soaking or duration of life of the flashlight. What happened to the 25-year shelf life it claimed? It didn't mention about it being a limited use system. So why are they allowed to charge so much for a crappy item that doesn't hold true to its advertising? How is this even legal? For this reason, I will have to rate this product and NEGATIVE 1.

Bottom Line: No, I would not recommend this to a friend

---

My HydraLight does not work

By John Y.

,

Gambrills, MD

,

Mar 20, 2019
Verified Reviewer

I use my HydraLight flashlight only once since I purchased it 12/2018; it gave me a dim light. The second time I attempted to use the flashlight it gave me no light at all and has not since. There is no contact information on the packaging other than the website which provides no way to contact the company. Do not purchase this product.

Bottom Line: No, I would not recommend this to a friend

---

Advertisement

---

This is a bad investment

By Paul M.

,

Missouri

,

Mar 6, 2019
Verified Reviewer

I recharged the battery cells twice. The flashlight started to develop a lot of acid type brown corrosion. The flashlight died and could not be revived. What a shame! This flashlight design needs to go back to the drawing board.

Bottom Line: No, I would not recommend this to a friend

---

Piece of junk!

By Shirley P.

,

Northern Virginia

,

Sep 17, 2018
Verified Reviewer

I bought this as a gift. It was used several times and recharged maybe two or three times! The cell will not recharge anymore and the flashlight will not work! A real waste of money, and to buy a new cell every two or three times is ridiculous!

Bottom Line: No, I would not recommend this to a friend

---

Advertisement

---

HydraLight has a fundamental problem - very unreliable batteries

By Robert F.

,

Lancaster, CA

,

Jul 20, 2018
Verified Reviewer

I am one of the backers that funded this company on Kickstarter. I thought it was a great idea to have batteries that can be "stored for 25 years" - according to campaign promises - and have the HydraLight ready to be activated with just salt water and providing light on moment's notice. As a backer, I was rewarded with SC1C-L lantern that uses the same magnesium batteries this flashlight does. The lantern worked great the first time, and the second time. I stored it in a dry place for a couple of months and when I tried it the third time it did not work. The batteries just could not supply sufficient current, meaning their internal resistance has gone way up. This might be caused by corrosion as other reviewers indicated.

I contacted the company several times about it, reporting symptoms and asking about buying replacement batteries. I used both their website and Kickstarter messaging system. I have been completely and utterly ignored so far.

Thus, this product, although promising in its idea does NOT work in practice. It seems the company dedicated no resources to long (well, at least a few months) research. The batteries CANNOT be stored for "25 years," as promised, but only a few months after which they become unusable.

Buyer beware! This product is not worth its price.

Bottom Line: No, I would not recommend this to a friend

---

Stopped working after one use

By Gary White

,

Lenoir City, TN

,

Feb 2, 2018
Verified Reviewer

I got the light for Christmas. It worked out of the box after adding water. I put it away for a week and took it out again and nothing. I added more water and still nothing. I let it dry out, added water and then tried again and nothing. Hardly as durable or reliable as claimed. A novel technology, but hardly reliable flashlight for emergencies.

Bottom Line: No, I would not recommend this to a friend

---

HydraLight review, negative!

We initially charged the HydraLight cell, and the light worked. However, after sitting (in OFF position) for a few days, now the light is not working, and the cell won't recharge. FAILURE!

Bottom Line: No, I would not recommend this to a friend

---

Horrible customer service

By Karen Moyers

,

Houston, TX

,

Dec 19, 2017
Verified Reviewer

I have been trying to speak with customer service for an hour now. Not the first time I have called. After being on hold to cancel the order, after 30 minutes I got hung up on. I should have known better but I thought it might have been a nice thing for a stocking stuffer. I probably will never see my $60.00 again. I would have rather given the money to my local dog rescue. Never again!

Bottom Line: No, I would not recommend this to a friend

---

Return policy reads "must not be used"

Legally, you have to use it to have a reason to return to need to return it. They say 60-day return no questions asked, but you pay to return it. You have no answers back from the company. I am going to go to buy it in a store. Wait. They're not sold in stores. If it seems to good, it is too good. Don't waste your money. My guess is you won't get it back.

Bottom Line: No, I would not recommend this to a friend

---