Hypoxi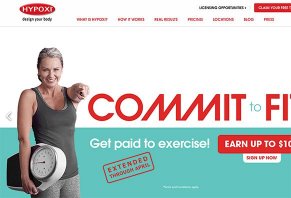 Hypoxi uses a combination of vacuum technology, compression, and low-impact exercise to help you burn stubborn fat in problem areas like the hips, buttocks, thighs, and stomach.
Hypoxi Review: Uses, Side Effects, Cost
By combining their patented vacuum and compression technology with low-impact exercise and healthy nutrition, Hypoxi's scientifically proven body shaping devices promise to help supercharge your body's natural metabolic system, get rid of stubborn fat, and reduce the appearance of cellulite.
The website advertises they can help you reclaim your shape, overcome your weight loss plateau, and experience targeted results that are 3X more effective at burning stubborn fat around the hips, buttocks, thighs, and stomach than traditional exercise.
Regardless of where you are along your fitness or weight loss journey, do Hypoxi's 30-minute sessions really represent the smarter way to get the body you want, as advertised? We'll explore several different important aspects of this discussion here, starting with a closer look at what the company has to offer.
How Does Hypoxi Work?
The science behind Hypoxi – According to the promotional video on their website, Hypoxi's central thesis is that fat is burned first from areas of the body where tissue is best supplied with blood. In other words, where circulation is best.
As such, their comfortable, non-invasive vacuum chambers add a light aerobic exercise component to help increase blood circulation in your target areas, while the compression phase removes fatty acid from the area.
Hypoxi's disclaimer emphasizes that "Individual results may vary based on diet, exercise, medical conditions, metabolism, and other factors. No results are guaranteed."
With these basics in mind, let's take a closer look at how each of Hypoxi's devices works, and then we'll bring everything together and discuss their program as a whole.
Hypoxi's In-Office Devices
Each of Hypoxi's devices is designed for men and women of all fitness levels and ages, and is gentle and pain-free on the body. They point out that you can read a book, answer email, or watch a TV show during each 20-30 minute session. Your heart rate and skin temperature will be monitored throughout.
Hypoxi S120
This device is advertised as perfect for pear-shaped bodies, since it targets stubborn fat and cellulite around the hips, buttocks, thighs, and lower back and stomach. If you're already active with a medium-to-high level of fitness, its upright position could be perfect while you lie still and it applies compression therapy to increase circulation in these specific problem areas over a 30-minute session.
Together, Hypoxi indicates it's perfect for women with cellulite or localized fat deposits, moms struggling to lose baby weight, athletes during recovery day, men and women unable to do traditional high-impact exercise, and those who work out regularly but can't seem to shed those last few pounds or inches.
Ideally (as well as with the L250 below), you'll want to wear loose fitting gym pants, a t-shirt, and athletic shoes, while bringing a gym towel along with you.
Hypoxi L250
Like the previous model, the L250 also targets fat and cellulite around the hips, buttocks, thighs, and lower back and stomach using gentle negative and positive pressure to increase circulation. It's also targeted toward the same female demographic.
The biggest difference is that instead of lying still, you'll cycle in an upright position.
Hypoxi Vacunaut
This device uses a complex network of 122 integrated pressure chambers to target the midsection (mid and lower stomach), as well as the love handles and hips, while you exercise on a treadmill for 30 minutes at the pace of a brisk walk.
Compared to the other devices, the Vacunaut is advertised as best for "apple-shaped women with excess fat around the stomach or waist, or men looking to get rid of their beer belly once and for all."
Since you'll wear a specialized under suit that's only available in the studio, you'll want to wear "skin-tight bike pants, a tight-fitted t-shirt, and athletic shoes."
Hypoxi-Dermology
A completely passive, whole-body suit that utilizes 400 individual pressure chambers located around the stomach, hips, buttocks, and thighs to help stimulate deep tissue and increase blood flow in problem areas, resulting in the reduced appearance of cellulite, puffy skin, and uneven skin tones.
Used on its own, Hypoxi indicates that this device can help reduce the appearance of cellulite, tighten skin and improve its texture, and even accelerate your results by up to 30 percent.
You'll want to wear loose-fitting pants, a t-shirt, and socks to your session.
Getting Started With Hypoxi
To begin, you'll need to book a consultation, where a trained Hypoxi consultant can assess your requirements and objectives, help you learn more about this unique system, and discuss an appropriate training schedule.
For best results, the company recommends undergoing three sessions per week over the course of four weeks (totaling 12 sessions), although they emphasize this will be dependent on your weight loss goals.
After completion, we're told "Many clients continue to do 3 sessions a week for 8-12 weeks. After you have reached your goal, clients can choose to move to a long-term maintenance plan that is 1-2 HYPOXI sessions per week."
During your first session, you'll simply arrive at the studio, be greeted by your coach, and then start your session. You'll also receive a free copy of the Hypoxi Nutrition Guide. Most customers report seeing results after their sixth session.
Could Hypoxi's Programs Potentially Cause Side Effects?
Hypoxi's vacuum and compression process are non-invasive and pain-free, and the training method is low-impact (it doesn't generate a lot of pressure on the joints).
However, the website points out that you'll be required to complete a client information form when you attend your studio, and you'll also need a medical certification "if you have health conditions that do not permit you to exercise."
Outside of this, they emphasize that you should not participate in any cardio or high-intensity exercise for 4-6 hours after your session, and you cannot undergo a session if you're pregnant. In most instances, they indicate it's likely acceptable to begin engaging in sessions again 12 weeks post birth.
How Much Does Hypoxi Cost?
In the U.S., the Hypoxi website currently only lists locations in Phoenix and Scottsdale, AZ. However, a quick online search revealed a third location in Houston, TX, which appears to have been in business since 2013.
Regardless of location, all first-time memberships come with a free 30-minute session for the L250, S120, or Vacunaut devices, while the Hypoxi-Dermology intro session is 20 minutes long.
With this in mind, pricing is as follows (all training sessions are valid for one year):
·Single Session (pay as you go): $49 per training session, $88 per combo session

Results Package (12 sessions): $39 per training session, $68 per combo session. The company claims you might expect to lose 6-10 inches (about one dress size).

Transform Package (36 sessions): $29 per training session, $48 per combo session. You could lose 13-18 inches, or about two dress sizes.

Lifestyle Package (72 sessions): $25 per training session, $40 per combo session. Lose 19+ inches across three weekly sessions, or maintain your results with two weekly sessions.
After your initial 12-24-session program, maintenance programs are available and strongly recommended.
Have questions? A Hypoxi representative can be reached at 844-449-7694 or info@hypoxibody.com.
What Can We Learn from Hypoxi Customer Reviews?
Hypoxi has been in business across Australia since 2005, so we encountered a fair amount of online feedback about the company's programs during our research.
While they didn't try the program themselves, Statslife.org.uk pointed out "It seems that the regular prolonged exercise regimen and the nutrition plan, which advises clients to "... consume a healthy, balanced, nutritious diet and drink plenty of water" are good enough guidelines alone and have served most of us fairly well in staying healthy."
Regarding the clinical evidence, they call the "presentation of results on the website" "far from convincing," based on the "lack of information provided."
Similarly, Hugo Berger wrote the following for The National's Lifestyle section in 2012: "A clutch of celebrity new mums, including the likes of Victoria Beckham and Miranda Kerr, have reportedly attributed their return to pre-pregnancy slenderness just weeks after giving birth to the Hypoxi. But scientists are as divided on the issue as the research."
On the other hand, reporting for MojoNews.com, Alexis Sherman of the Australian Psychological Association underwent 12 Hypoxi treatments in 2013, aimed at "reducing the look of [her] cellulite and gaining a more toned appearance."
And although medical researcher Professor Peter Leedman, who was interviewed for the article, indicated he was not aware of "any quality clinical trials using this approach that have been published to substantiate the method," Alexis reported losing a few centimeters over her hold body, "but no obvious reduction in the appearance of [her] cellulite."
After of her third Hypoxi session (of 12), MamaMia's Nicky Champ noticed that her "cellulite didn't completely disappear, but the texture of the skin was tighter, and I lost centimeters off my thighs." Specifically, she lost:
4 cm (1.5") from her stomach
2 cm (.75") from her hips
2.5 cm (1") from each thigh
3.75 cm (1.5") from her derriere
As a result, she recommended the program for anyone "having trouble shifting the last five or 10 kilos [11-22 pounds], people who want to kick-start a weight loss routine, or anyone wanting to reduce cellulite."
Along these same lines, after undergoing regular Vacunaut treatments over the course of four and a half weeks, Danny Allen from Lifehacker.com.au reported losing 4.5 cm (1.75") from his waist, 4 cm (1.5") from his hips, and 5.5 cm (2.25") from his stomach after, "almost entirely down to Hypoxi and eating smarter."
As a company, Hypoxi USA Pty Ltd. is part of Fitness and Lifestyle Group, which is headquartered in Australia. The method was invented by Dr. Norbert Egger in 1997 after "he noticed that many women were unable able to shift their problem areas through healthy diets and regular exercise."
While there are more than 80 Hypoxi studios located in Australia, the first U.S. location was opened in Scottsdale, AZ in 2015.
Hypoxi vs. Other Spot Fat Loss Treatments
Whether related to fat on the abdomen or anywhere else on the body, we've learned during our past research that at-home devices promising spot fat loss are largely ineffective. However, there are several popular noninvasive, in-office procedures available from your doctor that might provide area-specific sculpting as promised by Hypoxi, including:
Cavitation – A procedure where machines generate ultrasonic waves that heat and vibrate fat underneath the skin, causing it to liquefy. Light suction then removes this fat.

Laser Lipo – Uses lasers to liquefy fat, which is then removed via suction. A procedure called Cell IQ, which is seemingly only available in Australia, utilizes a similar laser to dissolve adipose tissue.

LPG Endermologie – Also referred to as 'lipo massage,' this procedure utilizes two motorized rollers to fold and knead tissue and boost circulation.

Velashape – RealSelf describes this as a machine that "combines four different technologies — infrared, bi-polar radio frequency, pulsed vacuum, and massage rollers — to improve skin texture and reduce overall volume of the treated area."

Coolscultping – Instead of heating fat cells, this technology freezes them and causes them to crystallize, ultimately killing them. Then, the body naturally metabolizes these cells and slims the treated area.
Our Final Thoughts About Hypoxi
The three independent studies listed on the Hypoxi website seemed to indicate a positive correlation between their technologies and weight loss, along with decreased circumference in common problem areas for women and men.
However, we didn't locate third-party copies of these studies elsewhere online, and there's no indication that they were double-blind, placebo-controlled, or published for peer review in reputable journals.
Despite this, as well as healthy skepticism from online professionals, it seems that most of those who underwent the program have reported solid results.
Just keep in mind that the company doesn't guarantee a specific outcome, so be sure to maintain realistic expectations and keep in mind that refunds aren't available.