iBand Plus Reviews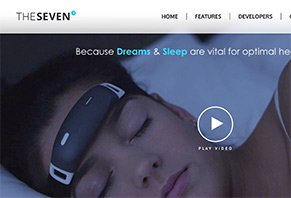 Used an EEG equipped forehead module, an under-pillow set of speakers, and a smartphone app, iBand Plus claims to help you easily experience lucid dreaming.
About iBand Plus
With "laboratory level accuracy," iBand Plus is an EEG brain-sensing headband that promises to induce lucid dreams and improve sleep.
To accomplish this, we're told that iBand Plus' integrated health sensors actively monitor your brain activity while you slumber.
Then, when the time is right, it activates customized audio-visual cues, like flashing lights from built-in RGB LEDs, as well as pre-loaded audio from the compact pillow speakers.
The company tells us that iBand Plus' auto-learning software algorithm will monitor your sleep, track your sleep quality and body movements, and then provide feedback for improvement. While you're asleep, the device will also play music that "intelligently adjusts to your sleep phases" to help calm your mind.
This also allows iBand Plus' "advanced smart alarm" to simulate natural sunlight and sounds at the most optimum period of your sleep cycle, so you feel refreshed.
Finally, iBand Plus promises to measure heart rate and body temperature, and then deliver all your sleep statistics to your iOS or Android app.
But will iBand Plus allow you to "control your dreams"? Is this some kind of real-life Inception?
And even if iBand can deliver on its promises, does this necessarily translate into any real-world benefits? What about the competition?
Let's help you find some answers by starting with the basics.
What Is Lucid Dreaming? Are There Any Benefits?
Have you ever been asleep and suddenly realized you were dreaming? Where you became conscious, but remained asleep, and were able to control—at least to some degree—what was happening? If so, you've had a lucid dream.
After you woke up from your lucid dream, did you wish you could re-enter that state at will? After all, you'd be able to live out your wildest fantasies every night!
Well, that's what devices like iBand Plus claim to help you accomplish. How?
We'll get to the nitty-gritty details next, but in a nutshell, they use electroencephalogram (EEG) technology to identify when you're in the deepest stage of sleep, known as REM (rapid eye movement). While dream-like states can occur in other stages of sleep, it's in REM where you're most likely to experience vivid dreams.
Then, they use some kind of stimulus to make you "wake up" inside you dream, giving you the control to do whatever you please. Why?
While the widespread study of lucid dreaming remains limited (both the ability to accomplish them in the first place, along with any potential benefits they provide), there is some evidence they can help address writer's block, ease post-traumatic nightmares, improve problem-solving, overcome addiction, and much more.
There's also some evidence that lucid dreaming can improve the quality of your sleep, which obviously has hundreds of benefits in our everyday life, including improved memory and information processing, immune system function, energy, and so forth.
But exactly how does iBand Plus help you accomplish all of this?
How Does iBand Plus Work?
Overall, there are three main components in the iBand Plus system: 1) the EEG-sensing headband, 2) the pillow speaker set, and 3) the iOS or Android app. Let's take a closer look at each:
iBand Plus Hardware
While there weren't any dimensions listed on their website, iBand Plus' module rests on your forehead and remains in place using a strap made of soft, breathable fabric.
At the bottom of the module, you'll find 4 RGB LEDs placed at interpupillary distances (eye distances) that allow it to work with almost all face sizes.
Once in place, the dry EEG electrodes touch the skin of your forehead and accurately monitor variations in your brain waves, aimed at determining when you've entered REM sleep. After detection, these LEDs will turn on and act as a visual cue to alert you that you're dreaming.
The iBand Plus module, with dry EEG electrodes and customizable RGB LEDs. Image credit: iBand Plus
The second piece of hardware is iBand's Pillow Speaker unit, which features two forward-facing high-fidelity speakers encased inside a soft anti-slip cover. All you have to do is place them under your pillow, inside your pillowcase, and they'll provide an audio cue at the same time as the LED's light cue.
Note: You can also play audio cues through your smartphone's speakers, although according to the company, this "will not provide you with discreet sound as iBand+ pillow speakers."
Both the headband module and Pillow Speakers sync wirelessly with your smartphone app via low-power Bluetooth 4.0, and can be charged through a standard micro USB interface.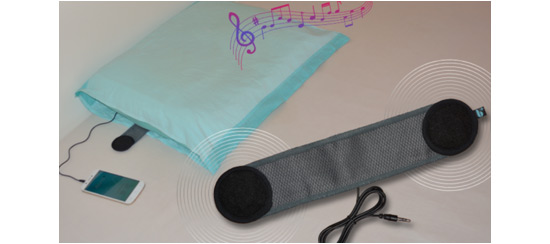 iBand Plus' Pillow Speakers, which are designed to fit discreetly under your pillow, inside your pillowcase. Image credit: iBand Plus
What Features Will You Find In the iBand Plus App?
Available for iOS and Android smartphones, the iBand Plus app acts as the central processing unit for the module and Pillow Speakers.
Here, you'll be able to view your information, modify your visual cues, such as light patterns, brightness, and colors; adjust audio cues, including adding your favorite music, sounds, and audio books, and more.
Remember the auto-learning software algorithm we talked about at the beginning? We're told this "monitors and analyzes information in your brain and body throughout the sleep cycle," and then delivers customized cues based on its analysis.
Over time, iBand's app will track the information it gathers and recommend suitable audio-visual techniques that can help improve your lucid dreaming results. It'll also do the same for sleep by displaying daily health and sleep information in an "easily interpretable format with graphs and ratings."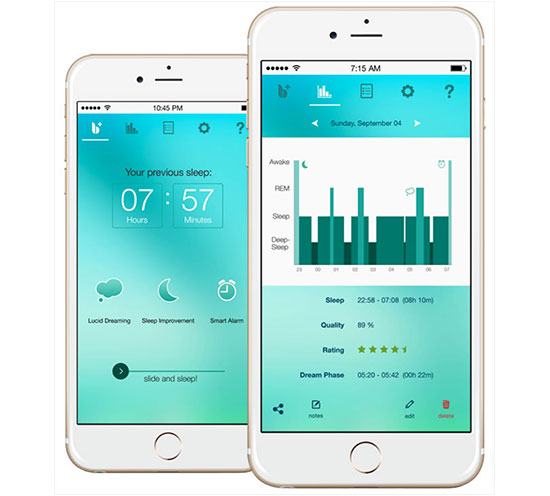 The iBand Plus smartphone app will monitor and track your sleep over time and display your results in an "easily interpretable format." Image credit: iBand Plus
The company tells us that future software updates could even allow iBand Plus to connect to home automation and control smart devices, such as lights, door locks, thermostat, your security system, and more.
Speaking of software…
iBand Plus Developer Capabilities
iBand Plus' developer edition provides software developers with access to processed and raw EEG data that can help them integrate the system with other Bluetooth controlled application experiences, such as improving focus, meditating, managing stress, and more.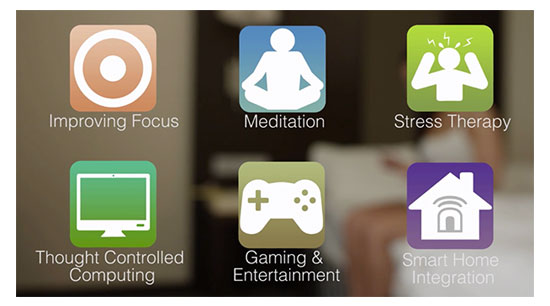 The company tells us that third-party developers will be able to create their own apps based on the iBand Plus platform. Image credit: iBand Plus
Now, how much will you pay for the iBand Plus system?
How Much Does iBand Plus Cost?
iBand Plus is currently available for pre-order on Indiegogo with perks ranging in price from $169 (1 system) to $699 (5 systems). Each system includes:
iBand Plus health Tracking Headband
iBand Plus Pillow Speakers
USB Charging Cable
User Manual Download
Free App Download
Note: According to the iBand website, "The prices are excluding taxes and/or import duties. You will receive iBand+ as a reward for your contribution and support to this campaign. You will have to check with your local authorities if any taxes or duties are applicable to you."
Estimate shipping is June through September 2017, depending on your chosen perk.
While the company will repair or replace a defective iBand Plus system, no refunds are available. To get in contact, you'll need to send an email to hello@ibandplus.com.
Given then the fact that iBand Plus hasn't yet shipped, is there any customer feedback?
Are There Any iBand Plus Reviews? Who Founded the Company?
Based on iBand Plus' multiple features, it's been widely written about on many popular websites, including Digital Trends, Wareable, and more. Since it's yet to see the light of day, however, these consist of little more than high-level overviews.
However, Dr. Stephen LaBerge, a "well-known pioneer of the study of lucid dreaming" was interviewed in the Wareable article, who "was skeptical, calling the lack of evidence currently "a bad sign":
"The method of stimulating the eyes with LEDs on the forehead can be seen as inadequate by a 60-second experiment with a small flashlight," he said. There's also the problem that the last device to promise something like this, the Aurora [Dream Inducing Headband], still hasn't shipped - nearly three years since the project launched - leaving a lot of people disappointed."
In response, co-founder Samir Raut noted: "We have been doing clinical analysis on sleep for the last five months, and we are getting amazing results with it."
Speaking of which, as a company, iBand Plus is based out of Amsterdam, Netherlands and was founded in 2015 by Samir and his wife Purva, after she experienced long-term sleeping problems.
Prior, Samir was a computer engineer for Philips and NXP semiconductors, while Purva was a software engineer who developed iBand's entire software architecture.
The iBand Plus system originally launched through a 2015 Kickstarter campaign, where it raised €644,249 (about $700K USD). Currently, their lucid dreaming systems are available through an Indiegogo campaign launched in October 2016.
With no customer reviews to go on, are there other lucid dreaming headbands competing for your business?
Are There Other Lucid Dreaming Headbands Competing with iBand Plus?
We alluded to it in the previous section, but if you're looking for something functionally similar to the iBand Plus system, the only real competition is the Aurora Dream Inducing Headband.
As mentioned, though, Aurora was originally set to ship in February 2014, although none of its backers have received a single unit to date (as of 11/11/16).
However, the reality is that you'll find all kinds of products that promise to help you achieve lucid dreams, including light masks, liquid extracts, books, meditation and visual techniques, and much more.
Furthermore, if you're only looking to track your sleep and improve its quality, you have several other electronic devices from which to choose from.
From this perspective, when writing about these sleep devices, one of the biggest questions that often comes up is: "What do you do with all this information?"
Since iBand Plus' app promises to "give feedback on improvement" based on what it observes, it might be a device that finally provides an answer to this question.
Is iBand Plus the Sleep System of Your Dreams?
While lucid dreaming is a very real thing, and mastering the skill seems to have some real-world benefits, as the Wareable article referenced above noted, the clinical evidence is thin indicating that these devices can help you get there.
Instead, like any other skill, becoming proficient in lucid dreaming can take repeated practice until you learn what works for you. Sure, some people might be especially talented at lucid dreaming, but for most of us, it will talk hard work and determination.
If you're looking to make the most informed decision possible, you might want to learn about few lucid dreaming techniques online (for free!) and try them out for yourself.
Then, if you find yourself making progress but just need an extra oomph, it might be the right time to place your iBand Plus order. Even then, though, given iBand's bulk and the speakers underneath your pillow, it might not be optimally comfortable for everyone.
Also, remember that once your order is placed, no refunds are available and that crowdfunding campaigns often have well-earned reputations for delays.
Were you able to suddenly control all your wildest dreams with the iBand Plus system, or was it a nightmare? Tell us in your review below!
Lost trust

By Roelien R.

,

Amsterdam, Netherlands

,

Jun 26, 2019
Verified Reviewer

I backed in March 2017 through Indiegogo. The delivery date was then December 2017, but we got updates every month about research and development. So far, so good as I was concerned, because I understand such projects almost always get out of hand and are delivered over time.

But then came the time they were calling for volunteers for the sleeping lab in Amsterdam. I live in Amsterdam, so that should make me a perfect subject for those tests. I wrote them a mail to volunteer, but I didn't receive a reply.

Meanwhile, in the monthly updates, they were talking about the sleep test they were taking. They added that they would get in touch with all others that volunteered.

Again, I heard nothing about the lab testing.

This is what really got me suspicious. How can they have enough volunteers? How many people from Amsterdam have backed this product? 3, 4, 5?

People, I think we have been scammed. I myself accept this as being the risk of crowdfunding.

By the way, Arenar is registered in Nijmegen and not in Amsterdam, according to the Chambre of Commerce.

Bottom Line: No, I would not recommend this to a friend

---

iBand continues to delay

By Everett A.

,

Washington, DC

,

Oct 6, 2018
Verified Reviewer

When I did an early buy-in for the iBand Plus through Indiegogo in October of 2017, they gave me an "estimated" shipping date of June 2018. Since then, I've received numerous "updates" at the end of each month, telling me what improvements and developments are being made to the product while also pushing back the shipping date. It has been pushed back several months and, as I have come to find out from others who pre-ordered, this product is more than a year late already in its production completion and distribution dates. The latest update for September 29, 2018 told us that they have, once again, pushed back the date that iBand is even starting production. They are pushing back the meeting to this month, where they are just now supposedly going to Asia to talk about production.

I wish I could get my $215 back, but I see now that this is most likely a ripoff, a scam, and I should not have invested the money I did. Lesson learned for me.

Bottom Line: No, I would not recommend this to a friend

---

Advertisement

---