iBillionaire Capital Reviews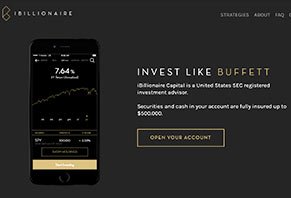 The iBillionaire app gives you access to the investment habits of some of the top investors in the country so you can pattern your investments after theirs.
About iBillionaire Capital
Have you ever heard the name Warren Buffet?
If you know anything about investing, your answer is definitely going to be yes. Buffet is a famed investor who has built astronomical wealth through his own sometimes unorthodox methods of investing.
Wouldn't it be great if you could look over his shoulder when he bought stock or sold it? The app from iBillionaire Capital claims to let you do just that.
Through the app, you supposedly can "track the investment strategies of the world's top billionaires" so you too can put your money in successful equities (things you invest in) the billionaires have known about for a long time.
iBillionaire sounds like a pretty attractive tool; after all, who wouldn't want "insider" access to the investment habits of billionaires?
But does this app live up to the hype? How does it work? What are the success rates for people who use the app? Are there other apps like this one?
Over the next few minutes, we'll answer each of these questions.
How Does iBillionaire App Work?
The iBillionaire app can be downloaded through Apple or the Google Play Store. To get a sense of how it actually works, we downloaded the app.
After a quick tutorial, you're taken to the home page of the app.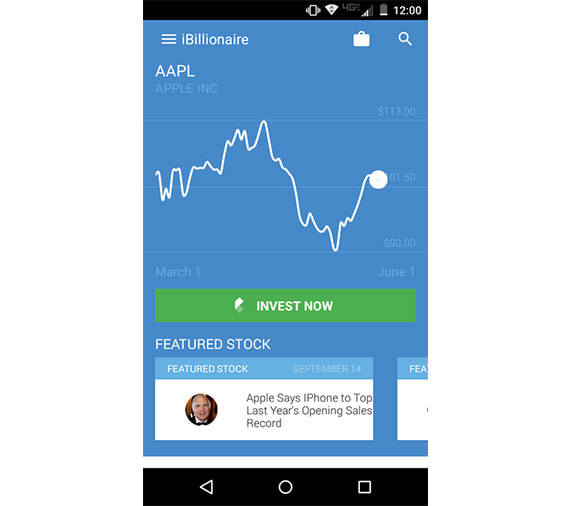 ​
From here, you can check out the latest news on stocks, as well as track the daily progress of 16 different billionaires, including: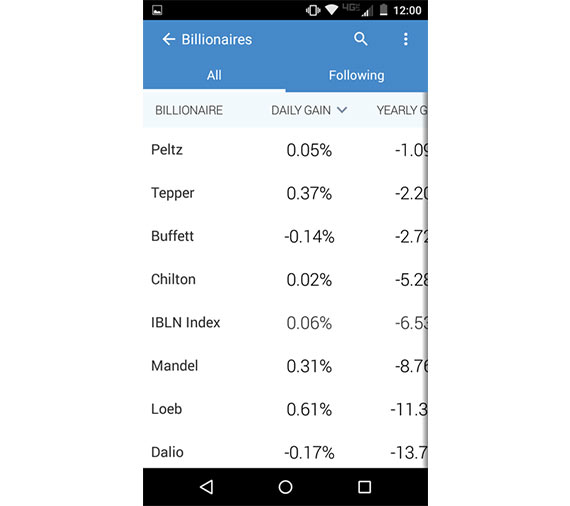 ​
You can add billionaires to your watchlist and get notifications when they buy, sell and hold stock.
In fact, the app actually shows you which stocks the billionaire owns and what percentage of his portfolio is made of up those stocks.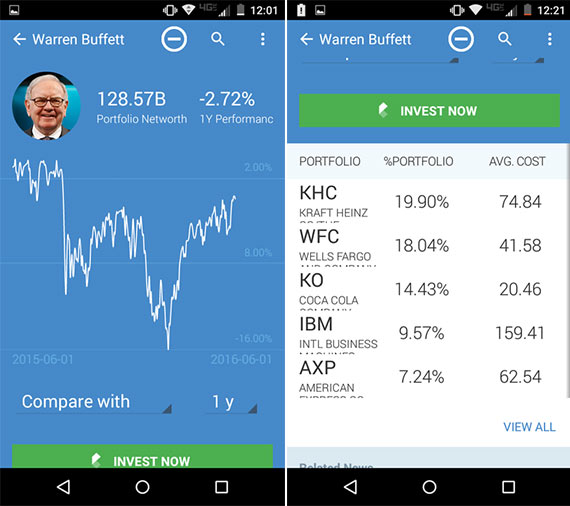 ​
This is, in our opinion, the most interesting aspect of the app because it gives you a day-to-day analysis of how the portfolios of some of the wealthiest people in the country are performing.
We want to point out, though, that all of this information is available in the "Strategy" section of the iBillionaire website. Through this part of the website you can view stock price-to-stock earnings (known as P/E), average market capitalization, number of stocks owned and more.
Who are the Founders of iBillionaire Capital?
Banking veteran Alejandro Estrada and tech expert Raul Moreno created iBillionaire App.
According to his LinkedIn page, Estrada has a long history in the banking and investment industries. He's held nine positions with banks, brokerages and investment companies, including 18 months at ING Bank in New York and nearly 10 years as a board member for Buenos Aires' Banco Privado.
Estrada's LinkedIn page says he has a master's degree in philosophy from the London School of Economics and Political Science, as well as a degree in economics from the Catholic University of Argentina.
Moreno's LinkedIn page indicates he received a bachelor's degree in finance (international business) from New York University, as well as a bachelor's degree in finance (general) from the New York University Leonard N. Stern School of Business.
His resume, as far as we can tell from his LinkedIn page, is pretty brief: an analyst with U.S.-based GFG Capital and a co-founder of Kinetik, an app that helps people discover social apps.
The iBillionaire Index Fund
iBillionaire Capital also includes the progress of the iBillionaire Index Fund (IBLN), a fund created in conjunction with American firm named Direxion Investments. The fund tracks the 30 stocks in the S & P 500 which the aforementioned billionaires favor the most.
The fund is, the company says, built around the investment tendencies of the portfolios of the billionaires tracked through the app.
If you want to invest in that fund, you have to download an investment-specific app from iBillionaire Capital. In that sense, it's a different thing than the iBillionaire app, which is used to keep up on news and follow the investment habits of the billionaires listed in the app.
While we think the iBillionaire app is interesting because it provides you up-to-date information about the investments of well-respected (and wealthy) investors, we believe it's just one tool among many for those who want to make wise investments.
If you aren't comfortable investing on your own, we suggest using a robo-advisor like Betterment, Wealthfront or Acorns.
Each of these apps do your investing for you; no industry-specific knowledge is required. What's more, all three sites have educational materials on their website to help you learn about investing at your own pace and in easy-to-understand terms.
Is the iBillionaire Fund Insured?
Yes, the fund is registered with the SEC and insured up to $500,000 by the Securities Investment Protection Corporation, which means that you'll get, at the most, $500,000 of your investment back if iBillionaire goes out of business.
Are Index Funds a Good Way to Invest?
In principle, index funds sound like a great idea. You look at a group of stocks (in this case, those owned by billionaires) and you build your investment portfolio based on those stocks. You can't go wrong by mimicking the investment tendencies of successful investors, right?
Most people would agree. In fact, index funds and ETF's (similar funds used by Betterment, Wealthfront and other robo-advisors) are more popular these days than ever.
Investopedia's Roger Wohlner put it this way: "Index funds and ETFs get a lot of positive press, and rightly so. Index funds, at their best, offer a low-cost way for investors to track popular stock and bond market indexes."
Even though they're mega-popular these days, index fund and ETFs are just like everything else in the investment world – there's no sure thing. For that reason, Wohlner advises the average investor to remember that index funds and ETFs:
Don't always reduce the risk of loss
Don't ensure investment success
Does the Fact That They're Billionaires Make a Difference?
In some ways, the iBillionaire Capital strategy sounds too good to be true. CNBC's Robert Frank (@RobtFrank) pointed this out when he wrote his 2013 article about the new app. He went on to say that iBillionaire is a good idea, but with two major caveats:
"Billionaires have completely different time horizons, risk tolerances, and financial tools. They can afford to lose big."
"Billionaires also possess all manner of hedging strategies and options to improve returns and reduce risks that average investors obviously don't have."
So think about iBillionaire like you would if you made your car-buying decisions based on what billionaires drove. Sure, you can go out and buy a 700 series BMW. But remember, over time you're going to have to pay for repairs, run the risk of your car getting stolen and get stuck with big gas bills if the price of fuel goes up as hybrid and electric cars increase in popularity.
A billionaire has the money to protect himself or herself from those costs and risks, but you may not.
So Should I Formulate My Investment Based on the Billionaires, or Hire Someone to Do It for Me?
So, that probably leads you to wonder who should use index funds. Based on our discussions with Raghav Sharma, CEO of financial-advisor matching service GuideVine, and Betterment CEO Jon Stein, we think someone who is new to investing should opt for a robo-advisor or a financial advisor to handle their investment choices.
These two different vehicles put index funds together on your behalf based on how much risk you want to take on.
A tool like iBillionaire, on the other hand, is something you'd use if you wanted to craft your own concoction of stocks. Choosing this route means you'll need to be savvier to create your arsenal of stocks.
iBillionaire Capital Reviews: What Other People Are Saying About This App
Bankrate.com writer Lance Davis reviewed the app, giving it high marks for features but dinged the app's overall score, 9/20, for being too buggy (it closed without warning).
Android users give the app a 3.9 out of 5 stars in the Google Play Store, with common complaints being that the app sometimes doesn't keep up with recent investments. One commenter pointed out that Warren Buffet invested $1 billion in Apple, but that the company's stock, AAPL, didn't appear in Buffet's portfolio on the iBillionaire app.
Forbes writer Charles Sizemore praised iBillionaire's index fund because it gets returns (profit) around 16%. In other words, for every $100 dollars you invest, you'll get $16 back. That doesn't sound like a lot, but think of it in terms of $1 million. In that case, the profit would be $160,000.
Sizemore did point something out, though, that we feel is important – it's never a good idea to blindly follow the investment gurus, as the app may lead you to do.
Copycatting the habits of others may work for a time, but eventually, you'll have to make investment decisions based on your own intelligence and reasoning. If you rely solely on others, you won't really know what to do when you're the one that has to make the call.
Our Conclusions About iBillionaire Capital
As we mentioned earlier, we think the fact that you can use this app to track the investments of some notable billionaires is pretty great.
However, we believe that information is only useful if you're familiar with stock trading and are comfortable making your own trades. Plus, billionaires have a lot of different tools at their disposal to make their decisions – average investors don't have them, in most cases.
We also believe that iBillionaire app should be one of many tools you use when considering your next stock trade. If you want to build your portfolio around Warren Buffet's though, you'll need a decent amount of investment knowledge.
If you feel like putting together your own portfolio is a little out of your league, opt for a robo-advisor like Betterment, Wealthfront or Acorns.
If you're thinking that all this talk about buying, selling, holding, ETF's and index funds is confusing or you don't have time to invest, take a moment to think about hiring a financial advisor. They can do the research and work you don't have time for.
But before you hire the first name in your search results, read our two-part series on hiring a financial advisor. Our first article helps you understand what type of financial professional you need, and our second article gives you tips on how to choose an advisor and how to check their background to make sure they're legit.