Ice Genie Reviews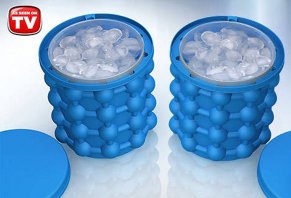 Ice Genie's unique cylindrical design provides the ability to make dozens of ice cubes at once, store them in an airtight container to avoid odors, and even hold and chill drinks.
About Ice Genie
Ice Genie is a revolutionary space-saving ice cube maker that freezes cubes in an outer chamber, which pop out with a squeeze and are then held in an inner chamber. Then, the airtight lid will keep your cubes fresh and odor free.
By holding as many as 120 ice cubes at once, the website advertises you'll also be able to replace as many as 10 traditional ice cube trays and save a ton of space in your freezer. You can even use it as a drink holder to quickly chill bottled beverages.
And when it comes time, its BPA-free design is dishwasher safe for quick and easy cleanup.
The commercial makes Ice Genie seem compelling. But are there any considerations you should keep in mind? Are there competing products that might also deliver value? Stick with us over the next few minutes as we help you find some answers.
A Quick Primer on Ice Cubes
Under normal circumstances, water molecules are constantly moving, resulting in a fluid state. When they freeze at 32°F, though, they slow down, 'stick' together, line up into crystals, and form into a solid.
Pro tip: This temperature can be lowered even more by adding salt, alcohol, or sugar to water.
And since water takes the shape of its container, ice trays utilize this concept by creating standalone pockets that are added to the freezer, frozen, and then individually removed.
Just like anything else in your icebox, though, it's possible for these cubes to absorb odors from other food, along with those from mold, old spills, and freezer burn—not to mention the material of the container they're stored in.
To help avoid potential ice cube odors, Epicurious' Anna Stockwell recommends (among other things) storing them in an airtight container, which is something that Ice Genie promises to help you accomplish.
How Much Does Ice Genie Cost & Where Can You Buy?
If purchased from Allstar Products Group's standalone website, Ice Genie is available in two offers (plus $4.99 S&H):
Single Offer: $19.99
Double Offer: $34.97
Each Ice Genie comes with a bonus set of anti-slip tongs.
We also found several Amazon sellers offering the same product, but for between $15.50 and $24 each, with free shipping. At least one company also offered them in green and black, while none offered the bonus tongs.
All direct purchases come with a 30-day money back guarantee, less S&H and any fees associated with the BOGO offer. To request one, you'll need to reach out to customer support at (800) 513-0305.
What Can We Learn from Reviews for Ice Genie's Competitors?
It's uncommon for the HighYa team to reference feedback regarding third-party products when writing an article. Given the fact that Ice Genie's direct competition appears to be functionally identical, though, we felt this warranted a rare exception.
With this said, Ezeagbor's New Ice Cube Maker Genie had a total of eight Amazon customer reviews at the time of our research, with an average rating of 4.3 stars. Common compliments related to ease of use (even for those with dexterity concerns) and quality construction. The relatively few complaints referenced small cubes and difficulty removing them.
In our specific instance, this Ice Genie model is brought to us by Allstar Products Group, an NY-based company who's been in business for years and has also released previous hits like Lo-Bak Trax, Sleep Styler, Orbitrim, and Simply Fit Board.
They held an A+ rating with the Better Business Bureau, based on 40 closed complaints, as of 4/17/18. Most related to product quality or support concerns (when details were available). A representative provided a solution in each instance.
Ice Genie vs. the Competition: How Can You Choose the Right Ice Tray?
We discussed earlier the fact that there are several other products advertised as 'Ice Genies' from third-party manufacturers, which appeared to be designed identically. So, choosing between these might largely come down to price, and whether or not you want the bonus tongs provided by Allstar.
But, is there any reason you should limit yourself to this specific design and functionality? After all, there are hundreds of different ice tray material, shape, and size combinations available. So, how can you decide which ice tray you should buy?
As you might imagine, it's not exactly rocket science. Business Insider explains:
"Basically, you are looking for a tray that allows you to extract the ice easily and one that doesn't impart distasteful odors — or freezer-burn — to the cubes. You'll also want trays that let you pop out ice easily unlike those awful hard plastic ones from your youth."
On both of these accounts, with its squeeze-to-remove functionality and airtight lid, Ice Genie seems to deliver. It obviously doesn't mean there aren't plenty of other models out there that won't, either.
Our Final Thoughts About Ice Genie
Based on what we learned from the website and commercial, Ice Genie's pliable functionality, ability to hold up to 120 ice cubes and act as a drink cooler, airtight lid, dishwasher safe design, and the competitive price seems to offer a lot of bang for the buck.
Third-party companies who sold seemingly identical models. Allstar Products Group offered a BOGO deal the others didn't, as well as a free pair of tongs with each order, if these are important factors to you.
Just keep in mind that while Ice Genie might be able to hold up to 120 cubes, they're a) much smaller than regular ice cubes, and b) based on the design (it requires inserting a sleeve and then squeezing to remove), it might be increasingly difficult to use properly as the device fills up.
Finally, it's important to point out that if maximizing space isn't one of your top priorities, flexible silicone mini-cube ice trays are widely available on marketplaces like Amazon, for very inexpensive prices. So inexpensive, in fact, that you might be able to also purchase a standalone airtight container to store them in, while still paying less than Ice Genie.
Ice Genie a big piece of crap

By Kristi H.

,

Washington

,

Dec 2, 2019
Verified Reviewer

This thing is awful, and I mean awful. My husband had to take it out to his shop and use the compressed air to get the cylinder out the first time. It fills so fast you can't believe any ice is going to be made in there. I hate it. Buying a bag of ice for a couple of bucks is much more worth it.

Bottom Line: No, I would not recommend this to a friend

---

Good idea, but needs a LOT more work!

By Terri Y.

,

Silsbee, TX

,

Oct 10, 2019
Verified Reviewer

I bought mine after seeing a TV ad.

I have a very small freezer so we opted out of making our own ice. This little gadget is just about the size of a round tub of icecream, so it is a perfect size.

I made the first batch of ice and it came out pretty well, but you have to pour the ice into another container to refill the ice maker with water for another batch of ice. THEN you can pour the ice into the center to use.

Every time you want to make a fresh batch you have to pour out the old ice in order to ad the water, then put the ice back in the center.

And MY lid does NOT screw on. It does not even snap on. We are always knocking the lid off the ice maker when going through the freezer for other items.

I think it is a GREAT IDEA, and I think they can fix it, but they were in such a rush to get it out there for millions to buy that they ignored the glaringly obvious problems.

I bought mine in January of this year, so it's already 9 months old. Maybe they have fixed it by now.

Bottom Line: No, I would not recommend this to a friend

---

Advertisement

---

Ice Genie

By Babby B.

,

South Dakota

,

Oct 4, 2019
Verified Reviewer

I'm not sure I see what all the hype is about. It is a pain to get the inside cylinder out to get to the ice cubes. Unless there is a trick to it I don't know about. The cubes are puny little things that a million of is needed to put in your glass. I will go back to my ice cube trays.

Bottom Line: No, I would not recommend this to a friend

---

Ice Genie or "Ice Crapie"

By Eileen P.

,

Illinois

,

Sep 10, 2019
Verified Reviewer

The cylinder in the middle fills with water and it's a piece of junk. I had to use pliers to pull out the cylinder (each time I used it for a total of five times). The cubes are so tiny I was able to fill one glass of water. This is a waste of money and I was so disappointed.

Bottom Line: No, I would not recommend this to a friend

---

Advertisement

---

Not worth it

By Aminah H.

,

Tampa, FL

,

Aug 27, 2019
Verified Reviewer

So, I bought this thinking it would make enough ice to at least fill my glass. Wrong! The product did actually work for me, however, it makes very little ice each time you fill it. I didn't have a problem getting out the cylinder because I just turned the container upside down into a bowl. Overall, not worth the money or effort.

Bottom Line: No, I would not recommend this to a friend

---

Junk

By Charles B.

,

New York

,

Jul 24, 2019
Verified Reviewer

This is not worth your money. No matter how hard I tried to get it to seal it will not seal. Water does not fill the ice pockets. Empties into the bottom. It looked so easy on TV so we tried it. Would be nice if it worked like they showed it.

Bottom Line: No, I would not recommend this to a friend

---

Don't waste your money

By Noreen F.

,

Ohio

,

Jul 12, 2019
Verified Reviewer

It's a piece of junk, save your money. Does not work as shown. I use mine to hold my ice cubes from the trays. Only holds about 6 ounces of water so you have to redo it time and time again to get any ice cubes.

Bottom Line: No, I would not recommend this to a friend

---

You suck

By Maria B.

,

Brush Prairie, WA

,

Jul 10, 2019
Verified Reviewer

I hate the Ice Genie and lament the $9.99 I spent on it at my neighborhood Walgreens. It was a sad waste of my time that I will never get back. I will be sending the Ice Genie company a bill for the false advertising as I only received 10 of the dime-size ice cubes of the 120 that were promised. I think a bill for the ice cube trays I went out and purchased as replacements will be the amount sent to the Ice Genie company.

Bottom Line: No, I would not recommend this to a friend

---

Don't buy this thing

By Judi D.

,

Edgewood, NM

,

Jul 10, 2019
Verified Reviewer

Well, if you aren't convinced by the 30 reviews ahead of this one, then mine probably will not convince you not to buy. This is a good concept, but really bad design. I believe there should be a class action on this to refund the buyer's money plus a little extra for the aggravation. I guess it was bound to happen. Ripoff has now come to "As Seen On TV". The other reviews had the same gripes as myself. Teeny ice cubes, just enough for one, yeah, one drink, and drink fast because they won't last long. Then, struggling with that inner chamber is impossible. Getting the cap on is a feat I was unable to accomplish. I am letting my little Genie melt and then going to take it back to Walmart for refund, I hope, since I didn't keep the receipt.

Bottom Line: No, I would not recommend this to a friend

---

Not a good product

By Janice D.

,

Southern California

,

Jul 2, 2019
Verified Reviewer

The concept is good. The practical use is terrible!

Once the ice freezes you have to be Hercules to squeeze the container, and it makes hardly any ice cube. A regular ice tray is MUCH better than the Ice Genie.

I am recommending that no one wastes their money on the Ice Genie like I did. Unless of course, you are Hercules.

Another "As seen on TV" product hits the waste bin! I only hope it is bio-degradable.

Bottom Line: No, I would not recommend this to a friend

---

Don't waste you money!

By Richard R.

,

Denver, NY

,

Jun 25, 2019
Verified Reviewer

Concept good; however, it stinks - does not work as stated. Ice cubes are very small. Makes a handful at a time. The first batch works, if you need a few VERY SMALL ice cubes. Doing what they say for subsequent batch - forget about it. You get a block of ice in the storage compartment. Lousy seal on the inner compartment for the next batch - tried several times NO LUCK.

Bottom Line: No, I would not recommend this to a friend

---