ICE Super Chexx Pro Bubble Hockey Table Reviews
Claimed This company has claimed this profile, is getting alerted on any new customer reviews entering this page, and may engage in dialogue with its customers to address their matters.

Companies cannot pay money or provide goods in order to remove or alter customer reviews.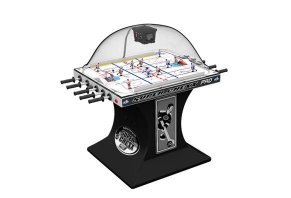 The Super Chexx Pro is a top-of-the-line bubble hockey table manufactured by New York-based ICE. The table is widely considered as the best in the business, but its high price tag may be cost-prohibitive.
About ICE Super Chexx Pro Bubble Hockey Table
Super Chexx Pro is the premier manufacturer of bubble hockey, a table-based hockey game similar to a foosball table and enclosed in a hard-plastic bubble.
You can find coin-operated Super Chexx Pro tables at bars and arcades but the game's real draw is that you can purchase a table for yourself for between $2,695 and $3,195.
ICE, the company who makes Super Chexx Pro is based in Clarence, N.Y. Its founders created the first version of the game called Chexx in the years following the U.S. Men's Hockey Team's incredible win over the U.S.S.R. in the 1980 Lake Placid Olympic Winter Games.
Since then, the company built a cult following because their bubble hockey tables are customizable and supported by a significant online community offering modifications and tips for further customizing your table.
This past November, ICE released Super Chexx Pro, which includes a jumbotron-style scoreboard, LED lights that flash during the national anthem (more on that in a minute) as well as during goals, and animations that play after goals are scored. The table also has premium sound effects like crowd cheers and boos, announcer quips and organ riffs.
In the next few minutes, we're going to look at how these tables work, how much they cost, what their return policy is and how the Super Chexx Pro compares to similar products.
At the end of our review, we'll talk about the general pros and cons of the game.
How the Super Chexx Pro Works
ICE offers four different types of tables that vary based on how much you want to customize them. You can buy a standard table with no specific team affiliation, an NHL-licensed table for which you can choose the two teams, a U.S.A. vs. Canada national team table or a Miracle on Ice-themed U.S.A. vs. U.S.S.R. theme.
Once you choose the style you want, you can choose various options for shipment, including a solid base or split base (to fit through small doorways) as well as delivery to your curb or your garage. We'll cover the cost of those things later in this review.
According to ICE, the Super Chexx Pro will arrive at your home in two pieces: the base and the cabinet (dome and playing surface).
Installing the table is pretty easy. Set the table on top of the base at an angle, connect three sets of wires, screw down four screws and plug it in.
Four buttons located on the base will be what you use to turn on the game and to change the settings.
The game's default settings will match your customized table, so if your table has two NHL teams or national teams, the game's setting will match. However, if you need to change the volume on the sound effects, you can do so via four buttons on the game's base.
Once everything is set up, gameplay consists of using a goalie knob and five foosball-style handles to twist and turn players to put the puck in the net.
Super Chexx Pro Cost and Add-ons
As we mentioned earlier, there are four versions of Super Chexx Pro and two price points:
National team and NHL tables: $3,195
Basic and custom tables: $2,695
These are base prices and do not include some of the add-ons you can purchase during the check-out process. Those add-ons are as follows:
Black or red base (free)
Home version (free) or coin-operated ($200)
Standard base (free) or split base ($100)
You unload the game from the delivery truck (free) or driver drops it off in your garage ($100)
NHL team for center ice logo ($50)
If you purchased an NHL-themed table along with all the add-ons, your final bill would be $3,645.
SuperChexx Pro Return Policy
Now, in the event that you want to return your Super Chexx Pro, you'll have to remember a few things.
First, your return has to take place within 30 days of when it was delivered to your home. Second, your table has to be returned in new condition. Third, you'll have to pay a 15% restocking fee.
To give you an idea of how much that restocking fee would cost you, 15% of the $3,645 table we referred to earlier would be $546.75. Based on this number, we suggest being completely sure of your purchase before you make it.
Also, as a heads up, it will take up to two weeks for your order to process and get ready to ship, then another 2 to 10 days for it to ship to your home.
If, in the off chance you buy your table but change your mind before the table ships, then you could be subject to a 3.25% cancellation fee, which would cost, based on our $3,645 table, $118.46. A company representative noted that the cancellation fee is at ICE's discretion, which means they may or may not hit you with it.
Super Chexx Pro Compared to Other Bubble Hockey Games
Super Chexx Pro isn't the only bubble hockey manufacturer in the market. It is, however, the most expensive. The following chart includes the price of competing tables, Amazon reviews, length of warranty and weight:
| | Super Chexx Pro | Shelti Blue Line Hockey Slapshot | Carrom Signature Stick Hockey | ESPN Original Electronic Dome Hockey |
| --- | --- | --- | --- | --- |
| Price | $2,695 | $1,699 | $1,444.63 | $674.97 |
| Reviews | 4.4 stars | 3 stars | 4.1 stars | 2.6 stars |
| Warranty Period | 1 year | 1 year | 1 year | 90 days |
| Weight | 130 lbs. | 280 lbs. | 171 lbs. | 227 lbs. |
Based on these data points, the Super Chexx Pro is by far the most expensive table. Now, exactly why that's the case is something that's up for debate.
For example, Chexx tables are widely regarded as the best in the business, so you're paying for the quality that the name brings.
Here's a quote from a user in the Reddit Bubble Hockey sub, in which the user asked for advice as she compares new Shelti and Carrom table to a used Super Chexx table:
"The used one is a super Chexx miracle on ice edition with a scoreboard that needs repaired. It is listed for $1400 on Craigslist near me. Obviously this is the table everyone played with at the rink growing up and to me is the gold standard."
This quote reveals to us that Chexx tables have been a decades-old favorite among bubble hockey players. That community devotion is evident in the fact that there are several Chexx Bubble Hockey Facebook groups and none for the other three brands listed above.
We also noticed that the Chexx table is much lighter than the competition, weighing in at a full 150 pounds less than the Shelti table.
Based on our research, we see this as an advantage when it comes to moving the table, although weight wouldn't be an issue if you were able to put sliders on the bottom of the heavier tables. If you had to move it up and down stairs, then it could be kind of tough to move a 280-pound bubble hockey table.
Judging reviews of each table is a tricky subject because the tables have very few reviews on Amazon. But, since they all have sparse reviews, the playing field is somewhat equal and, based on our research, Super Chexx Pro gets the highest user reviews.
The main red flag we saw as we did our comparison research is that the ESPN table gets poor reviews and has a feeble 90-day warranty; the other three tables have a one-year warranty.
The Final Word: Pros, Cons and Who the Super Chexx Pro Is Good For
Based on our research of this bubble hockey table, we believe the advantages are that it is the premier table in the industry and has a long history of excellence and a devoted fan base. The Chexx tables are legendary among bubble hockey players, so much so that there are Facebook groups devoted to them.
The downside to this fame is that the price for the Super Chexx Pro is significantly higher than the competing tables. The base model is about $1,000 higher than the next most expensive table. If you choose the NHL or Olympic tables, that price difference goes up another $500.
Because of this, the table could be cost-prohibitive and may drive you to check out the used market, an idea that isn't that bad considering that ICE provides parts for older versions of their bubble hockey tables.
We believe this table is best suited for those who love bubble hockey and have the money to spend on what is widely regarded as the highest-quality table in the country.