Ideal Conceal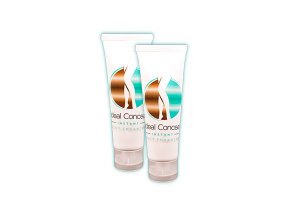 Ideal Conceal promises a waterproof solution to instant body perfection. Offering a light-weight cream, that is illuminating, sweat proof, age-defying, and completely odorless.
Ideal Conceal Reviews - Does It Enhance Your Skin?
Endorsed by Taylor Baldwin, a health and beauty expert, Ideal Conceal claims they have the model secret to effectively mask the signs of cellulite, veins, stretch marks, age spots, crepey skin, uneven skin, scars, and even tattoos.
From the information we've gathered on the company's website, we are told that Ideal Conceal is odorless, luminous, waterproof, and conceals a variety of skin imperfections.
We know that it comes in two shades of light to medium, and medium to dark and is suitable for all skin types. It comes in a compact tube that you can squirt out onto your legs, arms, shoulders, or stomach, and then easily store it in your purse or makeup kit.
Applying the concealer seems to be pretty straightforward with no mention of needing an additional applicator, brush, or a sponge. This seems to indicate you can blend the concealer into your skin with just your hands.
Most women are pretty concerned about having smooth looking skin, free from blemishes and imperfections. Cellulite and varicose veins are common aesthetic issues that can affect how a person feels and might influence their decision on what to wear.
A product like Ideal Conceal that promises to cover up uneven skin tones, hide scars and stretch marks, or even that tattoo that doesn't fall in line with corporate regulations, would seem like a solution.
But before you make your decision, let's talk about what it's going to cost you, where and how you can but it, and also compare it to a few other well-known body concealer creams currently on the market.
How Much Does Ideal Conceal Cost?
Considering Ideal Conceal is a relatively new product, it's no surprise that it is only available to order from the company's website.
At the moment the company is advertising a limited time only, double offer, of two bottles for the price of $29.99, along with free shipping.
Upon quick glance this would appear like a decent "two for the price of one deal," but after taking a closer look, we noticed the fine print which stated an additional $6.95 fee for the 2nd bottle.
To confirm the total price for their limited-time double offer, we clicked on "buy now" and discovered that the total for two bottles of Ideal Conceal would cost you $29.99 + $6.95 S&H and a $2 Web service fee bringing your total to $38.94.
After making a purchase, your product will ship to you within 30 days and comes with a 30-day money back guarantee.
At this point all we know is the cost of Ideal Conceal, and what the company claims their product is capable of concealing.
One thing we are concerned about is that there is no mention that Ideal Conceal is suitable to use on the face. Additionally, there is also no list of ingredients for us to see what is in it, which is why we decided to give customer service a call to see if they had any information for us.
We spoke to two customer service representatives to find out more information regarding the ingredients found in Ideal Conceal, although none were able to provide us with additional details other than what was listed on the website.
Three Concealer Products to Compare with Ideal Conceal
Part of our job at HighYa is to present you with the competition to help you decide on whether to buy or not to buy, any given product.
When it comes to a waterproof tattoo and body concealer, there are a handful of tried and tested products available.
Dermablend Leg and Body Make-up
Available for purchase on Amazon, Ulta, Macy's, and the company's website, Dermablend comes in 12 shades from fair nude to deep natural. Comparing it to Ideal Conceal, Dermablend has been allergy tested, and also tested on sensitive skin. In addition to that, it is non-comedogenic, and offers SPF 25.
For a 100ml bottle, you'll pay $34. However, there is mention of needing an additional setting powder which could bring your cost up to $66 for both products as well as shipping. Dermablend has been around for a while and has received a 4.7 and above rating on Ulta, and the Dermstore, and is well spoken of from sites like InStyle, BirchBox, and Allure.
Kat Von D Lock-It Concealer
Another favorite from Allure, along with a 4.7 and above rating from stockists like Sephora, is Kat Von D Lock-It Concealer. For $25, which is closely priced to Ideal Conceal, you can have a tattoo and body concealer produced by a former tattoo artist, in 21 high-pigment tones to choose from.
If you were on the market to find a concealer that could potentially hide a tattoo, the Kat Von D Lock-It Concealer could give you the results you're looking for.
Make Up For Ever
The Full Cover Extreme Camouflage Cream from Make Up For Ever is another high rating body concealer cream. You have 12 shades to choose from for a water-proof, light and creamy concealer, which provide full coverage to scars, beauty spots, depigmentation, birthmarks, and tattoos. It claims to hold under extreme conditions and is safe to use on the face, as well as the body.
It is also available from retails stores such as Ulta, Sephora, and Amazon. With 4.7 and above ratings, this product will cost you $15 for a 15ml tube.
Final thoughts: Comparing the main differences of Ideal Conceal to these three products, we would have to say they all have a good variety of shades to choose from compared to the limited two that Ideal Conceal offers. Another plus is that they have been tried and tested with excellent ratings, and they are also safe to use on the face.
The Bottom Line
As the sun comes out, you may be looking for a foundation or a concealer that won't disappear when jumping into the pool, and you may be wondering what the difference between waterproof, water-resistant, or sweat-proof is.
While there isn't too much difference between them, what makes them water-proof are ingredients like waxes, fat, and oils, and exact amounts can vary from brand to brand.
A simple way to know is how much wax they have in them according to the primary list of ingredients. If wax or oil is at the top of the list, then it's pretty water-proof.
Pro Tip on Water-proof makeup: Something to always keep in mind when using make-up that lasts a long time, is that you might want to get yourself a water-proof make-up remover as your normal cleanser may not be enough.
Mind Your Skin Type
Waterproof or otherwise, following a combination of advice from sites like Paula's Choice, Allure, and Birchbox, when on the market for a concealer, chose one that works well with your skin type.
If you have, normal, dry, combination, or sensitive skin, choose a cream concealer where coverage is buildable. For normal, dry, and sensitive skin, you can use a stick concealer that has a satin or powder matte finish. And for normal, oily, or sensitive skin, liquid concealer is easy to apply, it's versatile, and covers pimples without clogging the pores too much.
Something to think about in regards to the ingredients is that although many cosmetic companies have come a long way in ensuring their products are safe, many companies still use "safe" amounts of silicones, which some experts say may cause breakouts, skin irritation, and possible allergic reactions.
Ideal Conceal Pros & Cons
Based on the information we've gathered on Ideal Conceal, a few of the positive points of this concealer is that it is waterproof and sweat proof which means that it shouldn't come off until you want to take it off. Another bonus to a waterproof product means that it might not smudge or stain your clothes.
One observation we made when watching the short film presentation was a slight change in skin color after a few of the women applied the cream to one area of their body.
A noticeable change in the shade could be a potential concern if you only wanted to cover up a single spot, but we don't see it as a problem if your goal is to cover up both legs or both arms.
Comparing Ideal Conceal to three other tried and tested products on the market, if you're looking for a concealer with a large variety of shades, along with great reviews and a few proven results, you may want to have a look at those first.
Or you can always try out Ideal Conceal and get your money back guaranteed, but keep in mind that is isn't entirely all your money back, as you still have to pay a small fee for P&H.
---
I love it

By Carol M.

,

New Jersey

,

Feb 25, 2020
Verified Reviewer

Overall Experience:

I have some sort of condition on my arms. They are red, veiny, and blotchy. It makes my arms look beautiful again, just wish it was not so expensive. I would recommend to anyone that has imperfections on their skin.

Bottom Line: Yes, I would recommend this to a friend

---

Ideal Conceal = immense crap!

By Tina G.

,

Washington DC

,

Jun 20, 2019
Verified Reviewer

Overall Experience:

I received Ideal Conceal as a gift from my daughter to use as a cost-effective alternative to my bi-weekly airbrush/spray tan. Once was enough! The paste/glue texture and Crayola-like color are like being covered in plastic. After a spray tan I look and feel 10 years younger, using Ideal Conceal made me look and feel like a fossil.

Bottom Line: No, I would not recommend this to a friend

---

Advertisement

---