IdealShape Reviews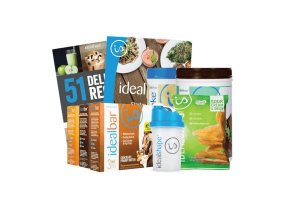 IdealShape has offered customers an extensive line of meal replacement weight loss shakes, bars, snacks, dietary supplements, and complete programs since 2003.
About IdealShape
IdealShape offers a variety of quick, easy, delicious, nutrition-filled hunger-blocking products, including meal replacement shakes, snacks, drinks, dietary supplements, and complete programs, that promise to help you create a healthy lifestyle and achieve long-term weight loss success.
In addition, the company promises to offer the social support and expert advice you need to maximize your results. Together, they advertise they've helped hundreds of thousands of people—with a goal of one million—lose weight and change their lives.
Will you be next? Take a few minutes to explore some of the highlights regarding what we learned during our research, so you can make the most empowered decision possible.
Taking a Closer Look at IdealShape's Products & Ingredients
IdealShape has been in business since 2003, so they offer an extensive product lineup that includes bars, drinks, capsules, powders, high-protein oatmeals, and vitamins. Since their meal replacement shakes and weight loss plans are the most popular, they're what we'll focus on here.
IdealShape's Meal Replacement Shakes
IdealShape meal replacement shakes are available in Chocolate, Vanilla, Strawberry, Mocha, Chocolate Peanut Butter, Salted Caramel, Chocolate Cream Pie, Cookies and Cream, and Orange flavors. All are gluten-free, except for Cookies and Cream.
To enjoy, simply mix with water or milk, or add to your favorite smoothie recipe. In general, each serving contains:
100 to 110 calories
2 grams or less of sugar
11 grams of all-whey protein
Fiber
20-21 vitamins and minerals (vitamin C, copper, magnesium, phosphorus, biotin, folate, niacin, thiamin, vitamin D, vitamin A, potassium, sodium, iron, vitamin E, riboflavin, vitamin B6, vitamin B12, pantothenic acid, zinc, chloride)
Each also features a hunger-blocking blend called Slendesta (proteinase inhibitor, or PI2), a proprietary ingredient manufactured by Kemin. According to their site, this potato protein stimulates the body's release of cholecystokinin (CCK), a hormone responsible for delivering fullness and satiation signals to the brain.
In short, according to 12 clinical studies performed by the manufacturer, it may help curb hunger for up to three hours and consequently reduce calorie intake. However, none of these studies were available for third-party review at the time of our research.
IdealShake vs. IdealShake Super
Available only in Key Lime flavor, this blend contains the same minerals and vitamins found in the standard version, in addition to a mix of seven different superfoods.
Each one features 100 calories per serving, 12 g of protein, 5 g of fiber, and is naturally sweetened with zero-calorie Stevia.
IdealShape's Weight Loss Plan
Advertised as a blueprint for encouraging you to "reach your ideal body faster than you ever thought possible," IdealShape's weight loss plan—called IdealPlan—promises to help you get motivated, reduce hunger and cravings, and learn recipes and advance meal prep.
You'll receive a complete meal plan for simple, sustainable weight loss, along with help beginning an exercise routine you'll love and assistance finding moderation and balance in your diet and lifestyle.
Specifically, this involves eating approximately every three hours throughout the day, which amounts to a total of five small, healthy meals. You won't have to count calories.
In addition to the IdealShakes we just discussed, there are two main components involved in the IdealShape 30-day weight loss plan:
Nutrition Guide e-book – This was created by the company's head trainers Kami and Zach, weight loss transformation experts who have been in the personal training business for over a decade each, during which time they've coached and trained hundreds of clients.
Called a complete guide to fat loss nutrition, you'll learn how to eat the right fat-blasting foods throughout the day, as well as to use IdealShakes to create 51 mouth-watering smoothie recipes. You'll also find done-for-you meal plans and delicious, family-friendly recipes that utilize simple, inexpensive ingredients.
IdealBar Snack Bars – Described as a high-protein low-calorie snack bar that you can enjoy anywhere. Each one contains 10-11 grams of protein, 4-5 grams of fiber, several vitamins and minerals, 7-8 grams of sugar, and 140-150 calories.
It also contains the same Slendesta blend found in the IdealShakes for hunger management and is available in Double Chocolate, Blueberry Crisp, Cinnamon Caramel Crunch, Chocolate Peanut Butter, Strawberry Yogurt, Honey Roasted Almond, and S'mores flavors.
In all, the complete 30-day program includes:
Two tubs of IdealShake
Four boxes of IdealBars or IdealChips
1 IdealShape Smoothie Recipes Volume 2 (eBook)
1 IdealPlan (eBook)
1 7-Day Guide to Weight Loss
1 IdealShape Shaker Bottle
Could IdealShape's Products or Weight Loss Plans Cause Side Effects?
According to the IdealShape website, "since Slendesta is not a stimulant, it won't conflict with your body's natural metabolism or give rise to jitters. It's manufactured using a water-based process and has no known side effects."
Outside of this, SFGate Healthy Eating indicates that common side effects related to meal replacement shapes in general (not IdealShape's, specifically) include unintentional weight gain, digestive discomfort, and nutrient deficiencies.
Any time you're considering starting a new weight loss regimen, consuming meal replacement products, or taking a dietary supplement, it's always recommended you speak with your doctor in advance. They should be able to help you avoid any common side effects, based on your specific diagnosis.
How Much Do IdealShape Products Cost & Where Can You Buy?
If purchased directly through their website, IdealShape's products are priced between:
IdealShakes: $39.99 - $49.99
IdealBars: $11.99 - $12.99
IdealChips: $19.99
IdealBoost: $24.99
30-Day IdealPlan: $119.99
Supplements: $11.99 - $155.99
We also found IdealShape's products for sale through Amazon for most of the same prices.
All direct orders less than two pounds or under $10 are charged a flat $4.99 S&H fee, while additional options are available for between $6.99 and $19.99.
All of IdealShape's products come with a 30-day satisfaction guarantee, less S&H, but according to their FAQ, this only applies if the items are new and unopened.
In order to request one, customer support can be reached at (800) 515-0896 or via live chat on their website.
What Can We Learn from IdealShape Customer Reviews?
On the IdealShape website, the company's products seemed to come with an overwhelming popular reputation among hundreds of customer reviews. On average, most had average five-star feedback, with common compliments referencing great taste, ease of use, and effective results.
Among thousands of combined Amazon reviews, the company's products seemed to come with an average rating of about four stars. Similarly, most compliments revolved around positive results and great taste, while the relatively few complaints frequently related to no results and taste preferences.
There were also 67,000+ verified customer ratings on ShopperApproved.com for IdealShape, who gave it an average rating of 4.7 stars.
As a company, IdealShape (a subsidiary of the UK-based The Hut Group) is headquartered in Lindon, UT. As mentioned earlier, they've been in business since 2003.
IdealShape held an A- rating with the Better Business Bureau, based on 13 customer reviews (nine of which were negative) and more than 10 closed complaints, as of 4/24/18. Most referenced service concerns, and a company representative responded with a resolution in each instance.
Are There Other Meal Replacement Weight Loss Products Competing With IdealShape?
Even if you only recently began researching meal replacement products as a weight loss possibility, you probably know there are perhaps hundreds of different options to choose from. Here were just a handful of popular results revealed by a quick online search:
| Brand | Product Availability | Price Range |
| --- | --- | --- |
| IdealShape | Shakes, snacks, powders, dietary supplements, complete plans | $11.99 - $155.99 |
| 310 | Shakes | $68 |
| Advocare | Meal replacement shakes, bars, snacks, dietary supplements | $5.95 - $99 |
| Visalus Nutrition | Shakes, drinks, dietary supplements | $26 - $187 |
| Quest Nutrition | Bars, powders, cookies, chips | $1.99 - $39.99 |
| Slimfast | Shakes and shake mixes, smoothies, snacks, chips, dietary supplements, recipes | $7 - $80 |
| IdealFit IdealLean | Shakes (powders) | $39.99 - $144.99 |
| GNC Lean | Shakes (powders and drinks), bars, dietary supplements | $9.99 - $67.99 |
| Shakeology | Protein shakes | $129.95 |
| Vega One | Powders, ready-to-drink shakes, snack bars, dietary supplements | $0.89 - $99.99 |
| Herbalife | Shake mixes, snack bars, dietary supplements | $19.80 - $327.40 |
Given the sheer number of companies, products (including IdealShape's), and price points, how can you possibly take a more informed step in the right direction?
Step one: Get your doctor involved. They'll help you make an empowered decision based on a science-based diagnosis, along with your specific needs, preferences, and side effect potential.
Step two: Prevention notes that meal replacement products (specifically shakes) can be useful weight loss tools, especially if you're unsure where to begin when it comes to dieting.
However, they're unregulated by the Food and Drug Administration, so they might contain added supplements and additional ingredients that aren't necessarily on their label. Along these same lines, the SFGate article cited earlier points out that:
"In one study published in 2010 by "Consumer Reports," testers discovered that 15 commercially produced protein drinks all contained traces of arsenic, and most contained traces of harmful heavy metals cadmium, lead or mercury as well. Chronic low-level heavy metal poisoning over time can produce health problems such as weakness, muscle and joint pain, headaches, fatigue, and constipation."
Step 3: Despite their potential effectiveness, Prevention emphasizes that meal replacement products are only intended for short-term use.
As a result, you'll need to learn and apply the foundations of a healthy diet, as well as form a group made of physicians, registered dieticians, and psychologists "to create a support network to help you continue to move forward" after transitioning away from these products.
Our Final Thoughts About IdealShape
While we already discussed the proven potential benefits of meal replacement shakes (when incorporated into healthy eating and exercise plans), WebMD reports that the fat-burning or metabolism-boosting benefits related to eating five to six times per day are less substantiated.
However, they emphasize that eating this way can help decrease hunger cravings and the propensity to overeat or to simply eat whatever's on hand. As a result, the method—which is central to IdealShape's 30-day program—could deliver many of the same benefits.
Just keep in mind that this program relies heavily on the company's meal replacement products, which is something you'll need to wean yourself off as you progress.
Like any other food, though, whether or not IdealShape's products will please the palate and deliver effective satiation throughout the process will be different for everyone—which is perhaps one of the reasons so many meal replacement options exist in the first place.
Fortunately, the company stands behind all of their products with a 30-day refund policy. But because this only applies to new and unopened items, you might want to start small before ordering larger quantities.
» See Also: Mediterranean Diet: A Comprehensive Beginner's Guide