iGrow Hair Growth System Reviews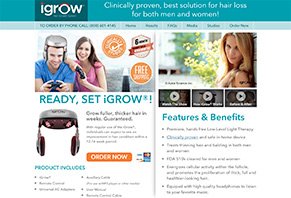 Manufactured by Apira Science, the iGrow Hair Growth System uses two kinds of low-level laser therapy to help stimulate follicle activity and regrow your hair.
About iGrow Hair Growth System
Did you know that by the age of 35, two-thirds of American men will have some degree of hair loss, and by age 50, 85% will have "significantly thinning hair"? It doesn't bode any better for women, either, 80% of which will have noticeable hair loss by the time they reach 60.
To help put a dent in these numbers, the in-home iGrow Hair Growth System is clinically proven to restore hair quality and help grow fuller, thicker hair in weeks, regardless whether you're a man or a woman. All you have to do is place the iGrow "helmet" on your head, select one of five pre-programmed session, and sit back and relax as the device's LED and laser lights help stimulate cellular activity within the follicle (more about this next).
Compared to other LLLT devices, the iGrow Hair Growth System is fully automated and hands-free, making it easy and effortless to use over the course of each 20-25 minute session. Taken together, the company claims iGrow is a premiere product that can deliver "best in class" results, without any side effects.
Just starting to notice hair loss? Or, have you been battling it for years? Either way, you probably understand that the hair loss industry is full of high-cost products that often deliver little more than empty promises. Is the iGrow Hair Growth System different, though? Have you finally found the lasting solution to hair loss?
These are just a couple of the important questions we'll cover here. Let's start with the basics.
What Is LLLT? Can It Regrow Hair?
Low-level laser therapy (LLLT) is defined as:
"A form of alternative medicine that uses low-level (low-power) lasers or light-emitting diodes (LEDs). Other names include low-power laser, soft laser, cold laser, biostimulation laser, therapeutic laser, and laser acupuncture. Whereas high-power lasers used in laser medicine destroy or cut tissue, low-power lasers are claimed to stimulate it and to encourage the cells to function."
Or, as the iGrow website puts it, this light will "energize cellular activity within the follicle, and promote the proliferation of thick, full and healthier-looking hair."
Here's the catch, though: Whether using lasers, LEDs, or a combination of both (as with iGrow), there appears to be limited clinical evidence showing that LLLT in general can provide real world results for hair loss patients. There is, however, some evidence showing LLLT might have some other therapeutic benefits.
What about the iGrow Hair Growth System specifically? Has it been clinically shown to work? That's what we'll cover next.
Is iGrow Clinically Proven To Regrow Hair?
On their website, the company references two clinical trials performed specifically on the iGrow device, both conducted in 2014 over the course of 16 weeks:
A men's study showing that it provided a "35% percent increase in hair growth," along with "significantly improved hair counts in males with androgenetic alopecia."
A women's study showing a slightly higher results ("a 37% increase in hair growth in the active treatment group as compared to the placebo group").
The iGrow website also claims that "the appearance of thicker, fuller, and healthier—looking hair" typically occurs within 24 weeks, although they don't provide any data to back this up.
Based on what we've learned so far, why is there such a big discrepancy between the clinical evidence for LLLT in general, and the LLLT for the iGrow System? Could it be because iGrow uses both LEDs and lasers, whereas other at-home systems use only one or the other?
Ultimately, there's no way to know. But even thought just two clinical trials exist, the technology certainly seems promising.
A Note About iGrow's FDA Approval Status
Did you pick up on the fact that the iGrow Hair Growth System is FDA cleared 510K? What does this even mean?
According to the FDA, products like the iGrow Hair Growth System are classified as medical devices. And within this classification, there are four different categories:
FDA-Listed – The company simply lists their device through the fee-based FDA Unified Registration and Listing System (FURLS).
510(k) Exempt – Medical devices that don't need to be reviewed by the FDA prior to being released to the public, since they're considered low-risk and to provide "a reasonable assurance of safety and effectiveness."
Cleared – Are considered "substantially equivalent to another legally marketed device." In other words, they perform essentially the same as one or more other product currently on the market.
Approved – This is generally only applicable to high-risk devices.
As you can see, the iGrow System appears to be exempt from review by the FDA, so don't mistakenly think this means they've been approved or that the FDA has in any way verified their claims or their research.
How about in the real world? What are actual iGrow customers saying?
Is iGrow's Reputation Growing With Customers?
On Amazon, the iGrow Hair Growth System had a 3.3-star rating, based on 45 customer reviews. There, common compliments cited its effectiveness for regrowing hair and increasing thickness, ease of use, and quality customer service. As might be expected, the most common complaints cited high price (more next), ineffective results, and short return windows.
There were also 55 iGrow reviews on QVC.com, where the device came in with a 3.7-star average rating, based on many of the same compliments and complaints found on Amazon.
iGrow did better on TrustPilot, with a 7.7-star average rating, where most seemed pleased with the device's performance and the company's customer service, who seems to respond to most posts.
From a company perspective, Apira Science had an A+ rating with the Better Business Bureau at the time of our research, with no closed complaints. However, the FDA sent a warning letter to the company in 2012, stating that they violated several guidelines, some related to truthfulness.
Now, let's talk about iGrow's price.
What Will It Cost To Regrow Hair With iGrow?
The iGrow System will cost you $695 (including free shipping), which includes:
iGrow unit
Remote control and cable
Universal AC adapters
Auxiliary cable (for use with MP3 player or other media)
User manual
All iGrow Systems sold directly through the company (it's also available through Amazon and QVC) come with a 6-month money back guarantee, less S&H charges and an 18% restocking fee.
Pro tip: This means you'll lose about $125 just for giving the iGrow System a try, plus whatever it'll cost you to ship it back to the manufacturer.
In order to request a refund, iGrow's customer service department can be reached at (561) 465-7000.
How does iGrow's price compare to the competition?
How Does the iGrow Hair Growth System Compare?
Recently, several popular at-home LLLT devices have hit the market, including Theradome (sold directly through the company or through Bosley), and the Extreme LaserComb Elite sold through Hair Club. From a price perspective, the iGrow System seems to fall somewhere in the middle.
According to the company though, the iGrow System's differences run much deeper than the price. For example, they claim it uses both LED and lasers, whereas much of the competition uses one or the other. On top of this, iGrow comes with clinical evidence supporting its efficacy, is super easy to use, and can be used just about anywhere you are.
It even features safety mechanisms that ensure it can only be used once it's placed firmly on your head, and that automatically turn the device off once your session's complete.
Given all of this, should you splurge on iGrow?
The Bottom Line
There's no doubt that the iGrow Hair Growth System is expensive. But if the hair loss industry understands anything, it's that we're willing to pay a whole lot of money for the hope—however slim—that we might be able to get some of our precious hair back.
Is this what you can expect with iGrow? While LLLT in general isn't supported by a lot of clinical evidence, what few studies there are for iGrow seem to be very positive, and most customers seem pleased with their experience.
Just keep in mind that you'll lose well over $120 in restocking and S&H fees just for giving the iGrow System a try. But in the battle against hair, this could be pennies in the bucket if it actually turns out to work as advertised.
Just keep in mind that iGrow is only intended for use with genetic hair loss, not hair loss caused by hormones, stress, vitamin deficiencies, etc. Also, you must have a viable hair follicle in order for it to work, so you're out of luck if you're completely bald.
What'd you experience with the iGrow Hair Growth System? Did you actually regrow hair? If so, how much? Tell us all about it by writing a review below!
---
Nine months in. No noticeable difference.

By S C

,

Chicago, IL

,

Mar 21, 2018
Verified Reviewer

Overall Experience:

For some background, I am a 23-year-old male. Sadly, I was hit with severe and rapid hair loss in the front and back, initially noticeable when I was turning 21. I've been on Rogaine for about two years, and can't say that it has made any difference, so I figured I'd try something new.

I purchased the iGrow in June of 2017, have used it 2-3 times a week as directed, every single week since June 2017. It is now March of 2018, and I can't say there is even the slightest of difference in my hair density. If anything, I might have lost more since I purchased the device, but I think it's due to the progression of hair loss and nothing to do with the device, although I still believe the iGrow helmet hasn't made any difference.

I am unsure if it's a scam or if my hair loss is just severe enough that the ever so hyped lasers have no effect, but from my perspective, I would not recommend.

Bottom Line: No, I would not recommend this to a friend

---

Product doesn't work, 6 month guarantee is a hoax

By Aug K.

,

Los Angeles, CA

,

May 22, 2018
Verified Reviewer

Overall Experience:

I used the products faithfully for almost nine months. To my disappointment, hair kept falling out. I purchased the helmet, shampoo, serum, and pills. I requested for a refund based on their guarantee, and they stated that I had missed the deadline for this request by 15 days. WOW, really? Scam company run by a bunch of scumbags. Don't waste your money on this bogus product!

Bottom Line: No, I would not recommend this to a friend

---

Advertisement

---