iLife A4S Reviews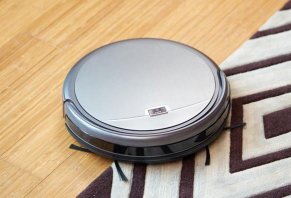 At under $200, the iLife A4S delivers a ton of bang-for-the-buck, including ultra-long battery life, four cleaning modes, remote control functionality, and two side brushes.
About iLife A4S
Even with its competitive price, the iLife A4S robotic vacuum manages to pack a lot of must-have features inside its compact plastic exterior.
These include a full set of advanced sensors, the ability to deep clean hard flooring and thin carpeting, two side brushes, a double V-shaped bristle brush, powerful suction, and four cleaning modes accessible via remote control.
And with a Li-ion battery that delivers up to 140 minutes of runtime, the manufacturer advertises that it's ideal for cleaning homes up to 2,100 square feet. Then, when the battery runs low, or the vacuum finishes its job, the A4S will automatically return to its charging dock.
Together, it's easy to see why the iLife A4S was the top budget (under $500) pick in our 2018 Robotic Vacuum Buying Guide. But, does that necessarily mean it's the top pick for you?
We'll zoom in and take a closer look at its features, pricing, online customer reputation, and competition so that you can come to a more informed conclusion.
How Does the iLife A4S Work?
Here are some quick specs for the A4S:
iLife A4S Specs
Dimensions
12.2" D x 3" H
Weight
4.9 lbs
Dust Bin Capacity
0.45 L
Battery
Li-ion 2600mAH
Runtime
140 min
Recharge Time
400 min
It also comes with a tangle-free roller brush, powerful suction and two side brushes for a deeper, more thorough clean (collectively called their CyclonePower system), a low-profile design for cleaning under beds, sofas, and other furniture, and a full set of sensors for avoiding obstacles and preventing it from getting stuck.
As it works throughout the room, the A4S will freely adapt to the different flooring types it encounters, although iLife emphasizes that it's not suitable for high-pile carpet or very dark-colored floors.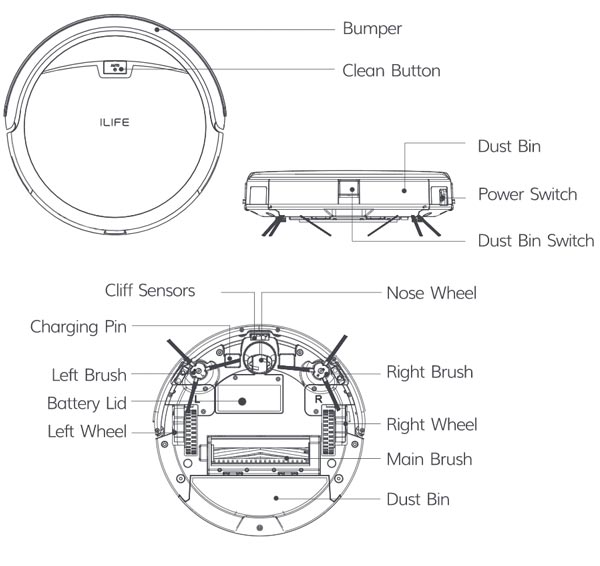 Even with its ultra-low price, the iLife A4S delivers all of the same core components as higher-priced models, including a V-shaped main brush, multiple sensors, two front side brushes, and automatic return to charger once complete. Credit: iLife Innovation, Ltd.
This model also isn't app-connected; everything is handled via the remote, including the Max mode, which increases suction in an area for a "super-powered clean with maximum pickup." Other modes are as follows:
Auto – The robot will automatically clean a room and adjust according to any situations it encounters.

Spot – If you press the Spot button on the remote while the vacuum is operating, it will spiral around in the same place, and then return to auto mode once finished.

Edge – Similarly, pressing the Edge button after placing the vacuum near a wall will make it focus on the edges of a room. It will continue in this mode until no more edges are detected, or until users manually press the Clean button on the remote.

Mini-room – Ideal for a small, single room. Double press the Auto button on the remote while the vacuum is sleeping, and it will begin working. Closing the door to the room can help it work more effectively.
The remote control is also what you'll use to program the A4S to clean when you're not home. When it's finished, or when it's running low on battery power, the vacuum will automatically return to its base.
Note: The user manual emphasizes that it might not return to its base if it finds itself in "complex surroundings" (no additional details provided).
Along these same lines, if the A4S encounters any problems when cleaning, it will start beeping and moving erratically.
You'll want to clean and empty the dustbin after each use, as well as wipe the sensor window and charging pins with a soft, dry cloth. The HEPA filter will need to be cleaned every 15 to 30 days.
What's the Difference Between the A4 and A4S?
The A4 and A4S models have more in common than not, including scheduling, anti-fall and anti-collision sensors, an anti-winding system, CyclonePower cleaning system (including Max mode), 140-minute working time, scheduling, automatic return to base, and the ability to clean tile, wood, and thin carpet flooring.
On the other hand, the new and improved S model (although you'll still find some previous A4 versions available for sale) adds the tangle-free system and mini-room mode, along with 50 percent stronger suction.
How Much Does the iLife A4S Cost and Where Can You Buy?
If purchased directly from the company (via Aliexpress), you'll pay $179.99 for the A4S. It's also sold through a wide variety of online and brick-and-mortar retailers, including Amazon, Walmart, and Bed Bath and Beyond, generally for less than $200.
For this price, you'll also receive a user guide, remote control (two AAA batteries included), charging base, AC power adapter, cleaning tool, and an extra set of filters and side brushes.
While refund policies will depend on the retailer you purchase from, iLife provides a 12-month warranty against defects in materials and workmanship on all A4S models. To file a claim, you'll need to reach out to customer service at 800-631-9676 or support@iliferobot.com.
What Can We Learn from iLife A4S Reviews?
On Amazon, more than 2,300 customers had given the A4S an average rating of 4.3 stars. Common compliments revolved around ease of use, effective cleaning, high-quality construction, silent operation, and excellent customer support. On the other hand, the relatively few complaints frequently revolved around less-than-stellar functionality.
It seemed professional feedback was equally positive, including PCmag, who gave the A4S an overall rating of four stars (excellent). They appreciated its compact size, long battery life, and functionality, but noted that it occasionally became lost. Together, they emphasized that if you're looking for a no-frills model that's competitively priced, it just might fit the bill.
As a company, iLife Innovation, Ltd. is based out of Shenzhen, China and has been in business since 2010. In addition to the A4S, other popular robotic vacuum models they manufacture include the A6, V3S Pro, V5S Pro, and V7S Pro, most of which seem to come with similarly positive online customer feedback.
iLife A4S vs. Roomba 6140, Deebot N79, Robovac 11 and Other Budget Robotic Vacuums
At this price point, you'll find that robotic vacuums like the A4S feature more similarities than differences, including:
Low-profile designs
Ability to clean hard flooring (tile, wood, etc.) and thin carpeting
Easy operation (often with the press of a single button), along with scheduling
Multiple sensors, cleaning modes/programs, and filtration systems
Hard plastic exteriors that protect sensors and the other delicate electronics inside
Front brush roll (often V-shaped) with 1-2 side brushes
High-capacity Li-ion batteries
Automatic return to base
However, there are a handful of top competing models that offer some meaningful differences:
| Model | Price | Standout Features |
| --- | --- | --- |
| iLife A4S | $180+ | 140-min runtime |
| Eufy Robovac 11 | $250+ | 90-min runtime, 1,000Pa suction, 11+ model adds Boost IQ technology |
| iRobot Roomba 614 | $270 | Dirt Detect technology for additional cleaning power, 60-min runtime |
| Ecovacs Deebot N79 | $250 | App & Alexa connectivity, 100-min runtime |
What's the best way to decide which of these—if any—is more worthy of your hard-earned money?
The best place to start is budget. And while all of the above models are technically in the same budget category, we can also see that there's a $90 difference between the lowest (A4S) and highest (Roomba 614) priced models—or, about 30 percent.
The second step is to decide which features are most important to you. So, if you could use the extra spot-cleaning power provided by Roomba's Dirt Detect technology (such as a home with pets), this 30 percent higher price could still deliver a greater level of value.
On the other hand, if battery life is your number one must-have, the Roomba 614 came in last, whereas the A4S was clearly the winner. In fact, the next closest model (Deebot N79) provides 30 percent less runtime, yet still costs $80 more.
However, the Deebot also comes with app and Alexa connectivity (the only budget model above to feature these), which might be at the top of your list, if a combination of competitive pricing and technological integration are among your must-have criteria.
Our Final Thoughts About the iLife A4S
Here at HighYa, our goal is to provide you with key information related to a product or service, and leave the final decision up to you.
And as you can see, the 'right' robotic vacuum model is going to come down to the one that most closely balances your needs and preferences—including your budget and those features most important to you.
But based on what we've learned during our extensive research into robotic vacuums, including from professional insight and customer feedback, if you're interested in the lowest-priced mainstream model with at least most must-have features, it might be difficult to go wrong with the iLife A4S.
Which—again—is why we think it deserves its position as our number one budget robot vacuum model of 2018.