Indeed Reviews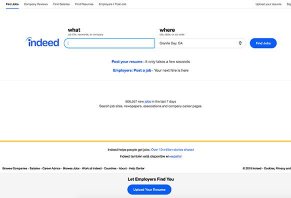 Worldwide, more than 200 million people visit Indeed each month looking for employment opportunities, earning them the designation as the #1 job site in the world.
About Indeed
Indeed combines all job listings from major online boards, newspapers, associations, and company career pages, as well as direct jobs that might not be available anywhere else, into an easily searchable—and completely free—database.
They also allow users to post their resume and apply to jobs instantly, and provide access to tips and career advice, detailed salary information, forums to interact with other job seekers, and related data and insight via their blog.
Together, Indeed's services are available in more than 60 countries and 28 languages, cover 94% of global GDP, and draw more than 200 million job seekers and employers every month, making them the "#1 job site in the world."
If you're an employee looking for a new job, is Indeed the right resource to connect you to new opportunities, as advertised on their website? We'll walk you through important details learned during our research, beginning with how you'll use their site.
How Does Indeed's Job Search Work?
On Indeed's home page, you'll start by entering a description (e.g., job title, skill employer name, etc.) of the job you're seeking in the What box. Then, you'll enter the city, state, or zip in the Where box and click Find Jobs.
On the results screen, their FAQ indicates, "organic listings are ranked solely by relevance or date, according to Indeed's proprietary algorithm." You can also further customize your search by radius (distance), salary estimate, experience level, and job type.
Scrolling down the page, you'll find the average salary for the position you're seeking. Even if you click on a specific listing and find that it doesn't include salary information, Indeed will estimate it by looking at similar positions (just keep in mind these numbers aren't endorsed by the companies listing the job).
In addition to (potential) salary information, clicking on each job listing will also reveal the company's details, a description of the position, and other relevant information. You can even click on the company's Indeed home page link, which will provide insight into their culture and allow you to read genuine employee reviews.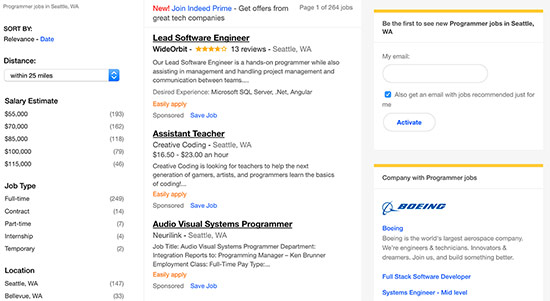 Indeed's search results page is clear, easy to navigate, and results can be further sorted by criteria like salary estimate, job type, and location. Credit: Indeed, Inc.
If you like what you see, many jobs will feature an "Apply with Your Indeed Resume" option, which allows you to quickly send your resume (upload an existing file, or build one from scratch with the site's online tools) in just two clicks. If not, you'll be redirected to the company's website, where each will have their own set of instructions on how to apply.
After signing up for a free account, Indeed allows you to save listings you're considering in the My Jobs section, which gives you a chance to review and apply for them later if you're short on time.
When necessary, each job listing can be moved between your Save, Applied, Interviewing, and Visited folders to help you keep track of your progress. You can add notes to any of your jobs in these folders, and then archive them once you're no longer interested in tracking.
You can sign up for free email alerts, a once-daily service that notifies you as soon as a position matching your criteria pops up, instead of requiring you to browse constantly.
To provide additional assistance, Indeed's Job Trends allow you to search listings based on specific titles or industries. They also offer access to their Essential Job Search Guide, as well as Forums where you can interact with other job seekers.
From a security perspective, all accounts go through a two-step verification process that involves an email address and a password, as well as a unique code sent via text or phone call, which will need to be entered on the sign-in page.
With all of these tools at their disposal, let's find out what job seekers are saying about Indeed's free service.
What Can We Learn From Indeed Online Reviews?
We encountered more than 2,000 combined reviews between sites like TrustPilot and Sitejabber, where Indeed held an average rating of about four stars.
Common compliments typically referenced ease of use and great support, while complaints often related to unclear billing practices (from a business perspective) and less-than-stellar support. A company representative responded to each of these complaints in an effort to resolve the situation.
As a company, Indeed is based out of Austin, TX (with multiple offices elsewhere in the U.S., as well as others around the world) and has been in business since 2004. It was founded by Paul Forster and Chairman Rony Kahan, who also previously founded and managed Jobsinthemoney.
Indeed held an A+ rating with the Better Business Bureau, based on 30 customer reviews (29 of which were negative) and more than 90 closed complaints, as of 5/22/18. Complaints seemed similar to those found elsewhere online, and again, a company representative responded in each instance with a solution.
Are There Other Job Board Sites Like Indeed?
As of this writing, Alexa.com ranked Indeed as the number one job search website. However, it also listed 130 other websites competing for many of the same job seekers, including big names like CareerBuilder, Jobsdb, Snagajob, and SimplyHired, to name just a few.
Even though the vast majority of these sites offer similar services, such as free job searches, the ability to upload resumes and set up notifications, and related resources to maximize members' success, how can you choose which one will help boost your odds of landing your dream job?
It's important to emphasize that, even in our modern digital age, by some estimates, as many as 85 percent of seekers report landing their current job via networking—not using a job board website. As a result, the data seem to indicate that using job boards alone could significantly decrease the speed at which you land your new job.
With this important caveat in mind, the 'best' option is largely going to come down to which sites offer access to the type of work you're looking to do. For example, while Indeed primarily acts as an aggregator of listings from other sites (with some originals), other competitors might specialize in listings based on specific criteria like:
Industry – Dice.com (Technology), ConstructionJobs.com, CoolWorks (Outdoor), Energy Jobline, Engineering.jobs, SalesJobs.com
Position – BlueSteps.com (Senior Executives), SummerJobs and BackdoorJobs (seasonal and adventure), Top-Consultant (Management Consultants), SummerInternships, Labor Ready (unskilled, semi-skilled, and skilled positions), Net-Temps (contract positions)
Overseas – SeasonWorkers.com, Goinglobal.com, Kopra.org
Age – CollegeRecruiter.com, SeniorJobBank.org
Freelance – Upwork, Freelancer.com, Guru.com, Fiverr, FlexJobs.com
What does all of this mean for your future with Indeed?
Our Final Thoughts About Indeed
According to a 2015 Money article, the average job search takes about 43 days from start to finish. However, the author emphasizes this time span can vary widely by industry, with hospitality and retail employees taking about 36 days to land a job, while healthcare workers come in closer to an average of 65 days—or, nearly twice the wait.
And as we discussed earlier, it's much more likely that you'll land your next job via networking with others in the industry, than from uploading your resume to a job board website and manually applying when a position piques your interest.
With all of this said, any employee on the hunt will want to maximize their chances of finding the 'perfect' position, and job boards still frequently play a meaningful role in the process. And since Indeed aggregates listings from other job boards and related sites, it seems they could certainly help you save time, compared to manually searching dozens of third-party sites for the same information.
On top of this, Indeed's services are completely free for job seekers, so you likely won't be out more than a bit of time if you decide to upload your resume, search for jobs, and apply to positions, but ultimately don't achieve the results you expected.
Read next: 7 Legitimate Work-From-Home Jobs That Can Put Extra Money in Your Pocket